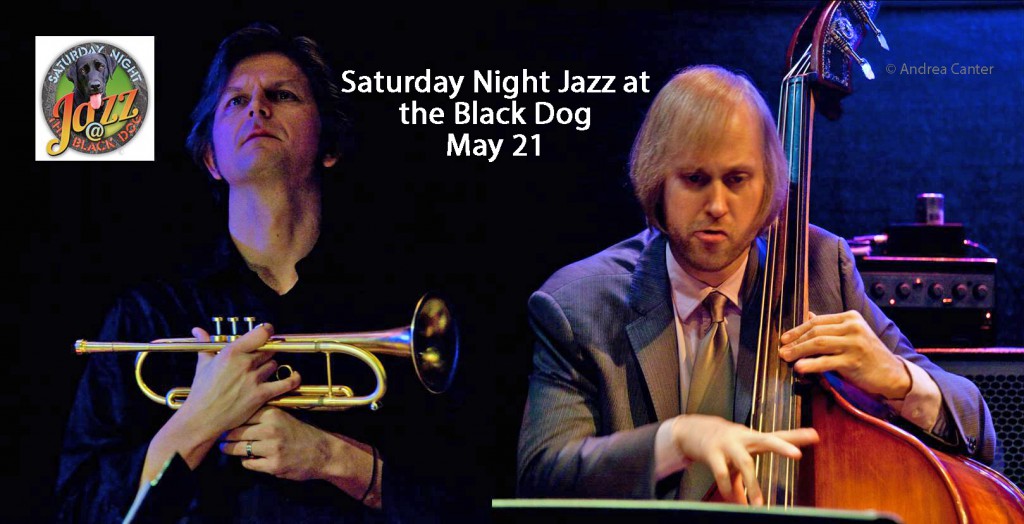 Two former Twin Cities residents, trumpeter Kelly Rossum and bassist Michael O'Brien, are in town this weekend and it was inevitable that they would find themselves together on one bandstand. Saturday Night Jazz at the Black Dog offers this opportunity as O'Brien joins the opening (7 pm) trio, Convergence, led by guitarist Joel Shapira with renowned drummer Eric Kamau Gravatt; then both Michael and Eric reconvene at 8:30 pm with the Kelly Rossum Quartet, with Dave Hagedorn on vibes. That's a lot of firepower in one venue in one evening.
Michael O'Brien (Convergence Trio, Kelly Rossum Quartet)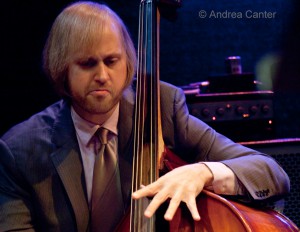 A native Minnesotan, Michael O'Brien earned a BA in Spanish at the University of Minnesota, studied bass with Anthony Cox, and West African and Haitian percussion with Marc Anderson. He taught at the West Bank School of Music and MusicTech (McNally Smith College) and was an artist-in-residence for the Minneapolis Public Schools. In addition to leading his own ensembles, Michael has composed for or played with Harry Connick, Jr., Reuben Blades, the Merce Cunningham Dance Company, Gene Pitney, David Samuels, Dave King, Matt Wilson, Wessel Anderson, David Binney, The Jazz Mandolin Project, Christian Howes, Ari Hoenig, Paul Bollenback, Assaf Kehati,  ETHEL and more. During return visits to Minnesota, Michael has appeared with Jeremy Walker, Kelly Rossum, Joel Shapira, and in his Minnesota trio, Triage, with Chris Lomheim and Jay Epstein. Michael has recently toured in Russia, Norway, and Haiti, and recorded with the Kyoko Oobe Quartet.
On his 2012 release, Tunes I Like to Play, O'Brien created a unique approach—putting the upright bass in the role of the horn, leading the melody with long flowing lines, mostly saving the punctuations of pizzicato for improvised solos and, only occasionally, walking in a supportive role. He also uses the bow as a major solo voice. "I've always felt that it is a unique color and voice in jazz relating to the 'violin' aspect of the bass violin," said Michael. "In the last few years I've been traveling internationally and garnering attention from audiences from my arco playing. That led me to the inspiration to make this record. I had never thought of highlighting that aspect of my playing before. I had always been focused on my composing."
Michael last performed in the Twin Cities in Fall  2015 with Joel Shapira's Convergence Trio at the Black Dog, in duets with Jeremy Walker and Bryan Nichols at Vieux Carré, and with his own trio at The Nicollet. During his May 2016 visit to the Twin Cities, Michael led his trio Triage (with Chris Lomheim and Jay Epstein) at Vieux Carré and was featured guest the Nathan Hanson Group and with the Latin Jazz Quartet, both gigs at Jazz Central.
Kelly Rossum (Quartet, 8:30 pm)
With his iconic mohawk and typical evening greeting ("Good Morning"), trumpeter Kelly Rossum was one of the most readily recognized and acclaimed jazz musicians in the Twin Cities. After establishing the jazz program at the MacPhail Center for Music, four recordings with his quartet, and extensive sideman duties with such bandleaders as Pete Whitman and Jeremy Walker, Rossum took flight, first to New York as a freelance performer, then to Alabama and finally to Newport News, Virginia as a college professor at Christopher Newport University.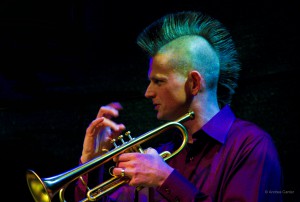 A Nebraska native, came to the Twin Cities in 1996 to pursue doctoral studies at the University of Minnesota, after earning degrees at the University of Nebraska and North Texas State, and working as the big band director for Busch Gardens in Virginia. In 2003, he was named coordinator of a new jazz program at the MacPhail Center for Music in Minneapolis, and over the next six years, led the expansion of the jazz faculty, directed the MacPhail Summer Jazz Camp, initiated the Jazz Thursdays concert series, and directed the first three editions of the Dakota Combo, a collaborative project with the Dakota Foundation for Jazz Education that brings together a small ensemble of the most talented high school jazz artists in the area.
In addition to teaching, Kelly maintained a busy performing and composing schedule – with his Kelly Rossum Quartet and Rossum Electric Company; with Pete Whitman's X-Tet; with the Dolphy-inspired Out to Lunch Quintet; with the Ellen Lease/Pat Moriarty Quintet; with Jeremy Walker's Jazz Is Now Nownet; with his Nicollet Circus Band; and as a guest performer with a long list of area artists and ensembles. Seeking to expand his performance horizons, Rossum relocated to New York City (without his mohawk!) in fall 2009, performing in diverse settings with such ensembles as Suuspended Cirque, Anti-Social Music, Michael O'Brien's Greater Than Five, off-Broadway shows and with a long list of Big Apple artists. Again rethinking his priorities, Rossum accepted a Visiting Assistant Professor position to lead the jazz program at Jacksonville State University in Jacksonville, Alabama, and in 2011, became jazz program director at Christopher Newport University in Newport News, Virginia.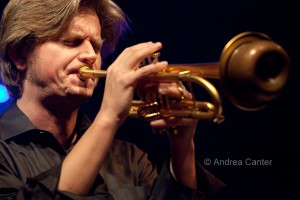 Over the past few yeas, Rossum has been invited to perform at International Trumpet Guild Conferences in Bangkok and Sydney, as well as repeat appearances at the annual Festival of New Trumpet Music in New York. A champion of new music, he has premiered compositions by Dave Douglas, Stephanie Richards, David Durst, Steven Bryant and numerous other composers. Kelly's compositions, incorporating improvisational and contemporary avant-garde techniques, have been performed and recorded by numerous artists and organizations; his works have premiered at the Spark Festival of Electronic Music and Arts, the Society of Composers, Inc.'s conference, and multiple International Trumpet Guild conferences. He has composed scores for both film and dance, and has received support from the American Composers Forum and the Jerome Foundation.  Since leaving the Twin Cities, Kelly has returned to the area to perform with his quartet and with Jeremy Walker's quartet, and to teach at the Shell Lake summer jazz camp.
Kelly has released five albums as leader, including his new 2016 outing, Blue Earth County (612 Sides) with local pals Bryan Nichols, Chris Bates, and JT Bates and adding marimba, banjo, guitar and digital electronics. The album includes nine new Rossum compositions and an original arrangement of the traditional Swedish tune, "Nikolina." While in the Twin Cities this weekend, Kelly will lead a 20-piece "Dakota Combo Alumni Big Band," including some of his former Dakota Combo students and more recent "graduates."
Convergence Trio, 7 pm
The Convergence Trio led by Joel Shapira with Michael O'Brien and Eric Gravatt performed last fall at the Black Dog, and we're eager for the repeat: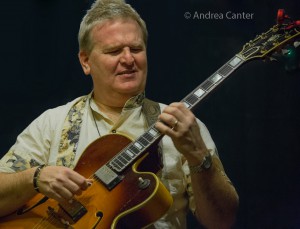 Guitarist and St. Paul native Joel Shapira studied at the Berklee College of Music in Boston and at the Mannes School of  Music in New York City, as well as with Tal Farlow, Joe Pass, Sharon Isbin, and Anthony Cox. Active in the Twin Cities for the past 16  years, he leads his trio and quartet, provides the instrumental half of the popular duo, Charmin (Michelle) and Shapira, and coleads their expanded Charmin and Shapira and Friends. He's led the ensembles Triplicate, oches Playhouse, and Bottomless Pit, and frequently appears with Dean Magraw, Pete Whitman, John Devine, Vic Volare, Dean Granros, and a who's who list of area vocalists. Joel's recordings include two releases with Charmin Michelle (Pure Imagination, Dawning and Daylight), his quartet debut (Open Lines),  two albums with Triplicate (Triplicate, Day and Age), a guitar duo with Jack DeSalvo (Inherence, 2014), and a live recording with Dean Granros (Jazz Guitar Duets: Live at the 2014 Twin Cities Jazz Festival).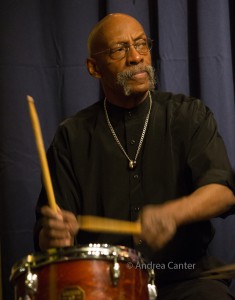 An alum of Weather Report and the bands of McCoy Tyner, Joe Henderson, Freddie Hubbard, Blue Mitchell and others, drummer Eric Kamau Gravatt essentially has had two careers in jazz with a couple decades of separation. Like John Coltrane and long-time associate McCoy Tyner, he is a native of Philadelphia. Originally a conga player, Gravatt taught percussion and music in Philadelphia and Washington, DC in the 1960s. Miles Davis invited him to join his band, but Gravatt turned down the Prince of Darkness to follow Wayne Shorter into Weather Report, with whom he toured and recorded. He moved on to the fusion band Natural Life (with Bobby Peterson and Bob Rockwell), bringing him to the Twin Cities some 30 years ago. Demands of family and a desire for financial stability took Gravatt out of fulltime music and into fulltime work as a guard at the Minnesota Correctional Facility in Lino Lakes. Only after retiring from Lino Lakes did Gravatt return to his calling, touring again with McCoy Tyner, performing with his band, Source Code, and recently engaging in more experimental improvisations with Adam Linz, Brandon Wozniak, and Dean Magraw, with whom he recently released the duo CD, Fire on the Nile.
Kelly Rossum Quartet, 8:30 pm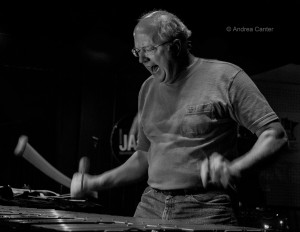 Kelly's quartet at the Black Dog offers a new configuration of veteran artists, including Michael O'Brien and Eric Gravatt, all warmed up following their Convergence Trio set, along with master vibraphonist Dave Hagedorn, a long-time colleague of Rossum's in such ensembles as the Pete Whitman X-Tet and the Out to Lunch Quintet.
Assistant Professor of Music at St. Olaf College in Northfield, MN,  Dave Hagedorn teaches percussion, jazz studies and world music. His education includes a BS in Music Education from the University of Minnesota, an MM in Percussion Performance from the New England Conservatory in Boston, and a DMA from the Eastman School of Music. Among his performance and recording credits are two albums of duos with pianist Dan Cavanagh; tours with the George Russell Living Time Orchestra; recording with Debbie Duncan; and performances with David Berkman, Anthony Braxton, Gil Evans, Happy Apple, the Out to Lunch Quintet, Thad Jones, Clark Terry, Steve Turre, Kenny Wheeler, Anthony Cox, and Roy Hargrove. Locally he is a member of the Pete Whitman X-Tet, Phil Hey Quartet, and the duo SCHAG with drummer Dave Schmalenberger, and Chris Bates' Good Vibes Trio. He released Solid Liquid on the Artegra label in 2003. About three years ago, Dave joined saxophonist David Milne to form the quintet Spiral Visions, celebrating the music of Bobby Hutcherson and Harold Lande. Dave recently directed the Downbeat award-winning St Olaf Jazz Band on a tour of Cuba.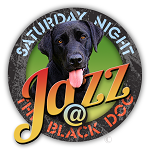 Saturday Night Jazz at the Black Dog is curated by Steve Kenny, offering a weekly evening of top local jazz ensembles, typically with a new or up-and-coming band playing an opening set. No cover but tips appreciated to support the musicians and the jazz series. The Black Dog is located at 308 Prince Street (at E. 4th Street and Broadway) in St. Paul's Lowertown arts district. Schedule for Saturday Night Jazz at www.saturdaynightjazzattheblackdog.info; more music at the Black Dog every night — www.blackdogstpaul.com