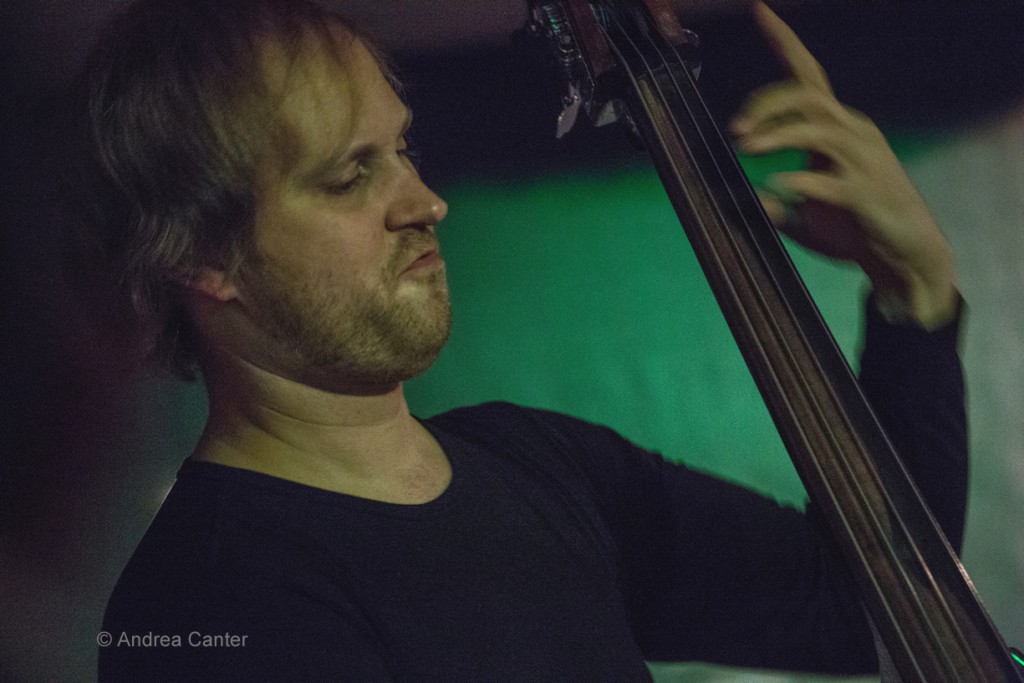 One of the hottest young jazz talents in the Twin Cities during the first part of the 00s, bassist Michael O'Brien relocated to New York about 9 years ago where he has built an enviable reputation. Fortunately he returns "home" now and then to reconnect with old pals. After a gig last week at Vieux Carré with his local group Triage, Michael has four more performances this week: with the Nathan Hanson Group (with Hanson on saxes and Cory Healey on drums) at Jazz Central on Wednesday and twice on Saturday Night Jazz at the Black Dog, in the opening set of Joel Shapira's Convergence Trio (with Eric Gravatt on drums) and in the "headline" set with another former Minnesotan, trumpeter Kelly Rossum and his quartet (Dave Hagedorn on vibes, Eric Gravatt on drums).  Michael is also the featured artist at Jazz Central Friday night, May 20 (8 pm), appearing with the Latin Jazz Quartet (Geoff Senn, Mac Santiago, Joe Strachan, Babatunde Lea).
Michael O'Brien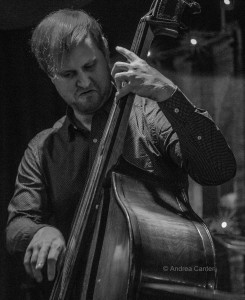 A native Minnesotan, Michael O'Brien earned a BA in Spanish at the University of Minnesota, studied bass with Anthony Cox, and West African and Haitian percussion with Marc Anderson. He taught at the West Bank School of Music and MusicTech (McNally Smith College) and was an artist-in-residence for the Minneapolis Public Schools. In addition to leading his own ensembles, Michael has composed for or played with Harry Connick, Jr., Reuben Blades, the Merce Cunningham Dance Company, Gene Pitney, David Samuels, Dave King, Matt Wilson, Wessel Anderson, David Binney, The Jazz Mandolin Project, Christian Howes, Ari Hoenig, Paul Bollenback, Assaf Kehati,  ETHEL and more. During return visits to Minnesota, Michael has appeared with Jeremy Walker, Kelly Rossum, Joel Shapira, and in his Minnesota trio, Triage, with Chris Lomheim and Jay Epstein. Michael has recently toured in Russia, Norway, and Haiti, and recorded with the Kyoko Oobe Quartet.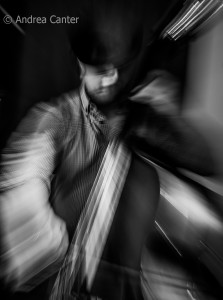 On his 2012 release, Tunes I Like to Play, O'Brien created a unique approach—putting the upright bass in the role of the horn, leading the melody with long flowing lines, mostly saving the punctuations of pizzicato for improvised solos and, only occasionally, walking in a supportive role. He also uses the bow as a major solo voice. "I've always felt that it is a unique color and voice in jazz relating to the 'violin' aspect of the bass violin," said Michael. "In the last few years I've been traveling internationally and garnering attention from audiences from my arco playing. That led me to the inspiration to make this record. I had never thought of highlighting that aspect of my playing before. I had always been focused on my composing."
Michael last performed in the Twin Cities in Fall  2015 with Joel Shapira's Convergence Trio at the Black Dog, in duets with Jeremy Walker and Bryan Nichols at Vieux Carré, and with his own trio at The Nicollet.
Michael O'Brien and the Latin Jazz Quartet (May 20, 8 pm at Jazz Central)
Michael shows his Latin side with a band of Latin jazz virtuosos on Jazz Central's "Jazz Masters" night– co-leaders of the Twin Cities Latin Jazz Orchestra, trumpeter Geoff Senn and drummer Mac Santiago, along with renowned percussionist Babatunde Lea on congas and young lion pianist Joe Strachan.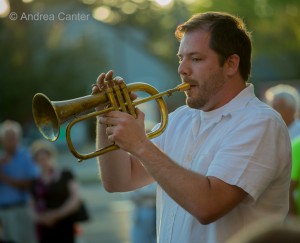 Geoff Senn is a free-lance trumpeter, composer and educator. After earning a Bachelors of Music from the University of Minnesota Duluth, Geoff received his Master of Music in Instrumental Jazz Performance from the University of Miami. He went on to work for Princess Cruises, performing around the world in their fleet orchestras. Since returning to Minnesota, Geoff has performed with regularly in the G. West Quartet, Ingo Bethke, Belagala Big Band, Davina and the Vagabonds, Rontana, and the Power of 10, in addition to playing with and co-leading the Twin Cities Latin Jazz Orchestra with Mac Santiago. He also teaches at the Anoka-Ramsey Community College.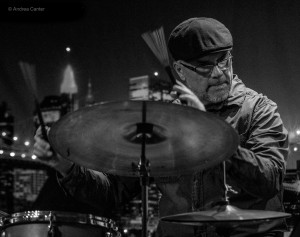 Mac Santiago is a familiar figure to Twin Cities jazz audiences as well as musicians. A native of California and son of the late percussionist Luis Santiago, he has been playing music professionally since age 16. After attending Sonoma State University for three years, he graduated from Idaho State University in 1980 with a Bachelor of Music. He toured for a few years before moving to the Twin Cities in 1983. Over his career, Mac has played in just about every possible configuration and genre, from touring with British rock band Badfinger to playing with area jazz, salsa, country and R&B bands; he's performed in pit orchestras of the Guthrie and Minnesota Opera, with blues legend Mojo Buford, Grover Washington, Jr., Doc Severinsen, Dallas Brass, Savion Glover, Jack McDuff, Paul Bollenback, Dick Oatts and more. Mac has backed a long list of area vocalists and instrumentalists, and has directed community youth jazz groups. With pianist Tanner Taylor, Mac established Jazz Central Studios in northeast Minneapolis in 2010, a nonprofit setting for teaching, recording, and performing. He also co-leads the Twin Cities Latin Jazz Orchestra with Geoff Senn.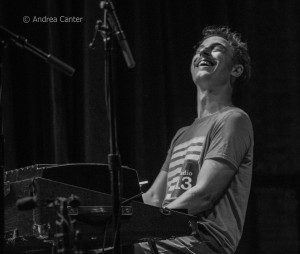 From Northfield, MN, pianist Joe Strachan displayed prodigious talent early on, winning the Schubert Club/Dakota Foundation for Jazz Education Jazz Piano Competition in 2009, performing with the Dakota Combo in his senior year of high school, and touring Europe with the Minnesota Youth Jazz Band. He attended Lawrence Conservatory and completed his undergraduate degree at the University of Minnesota. A major force on the local jazz scene though only in his mid-20s, Joe performs regularly with Latin ensembles Charanga Tropical and The Twin Cities Latin Jazz Orchestra, and with the Adam Meckler Orchestra, Pete Whitman X-Tet, Jake Baldwin Quartet, Courageous Endeavors, and a new trio with Chris Bates, Inventions and Dimensions. In addition to performing and composing, Joe provides music for community theater, ballet and modern dance classes, a hip-hop band, and theater installations.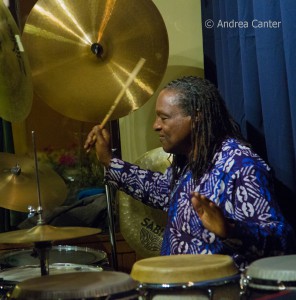 Babatunde Lea's vast experience of over 50 years as a master percussionist, along with the spiritual depth in everything he does, has made him one of the most esteemed musicians of the past half century. A New York native who was raised in Engelwood, NJ, Lea (given name Michael) saw Babatunde Olatunji and his Drums of Passion when he was 11, and soon changed his own name to Babatunde. Working in New York, the Bay Area and Virginia early on, his most influential connection was with Leon Thomas, who he had known from church back in New Jersey. Finally settling in the Bay Area, he worked with Stan Getz, Joe Henderson, McCoy Tyner, Randy Weston, Van Morrison and, particularly, Oscar Brown, Jr. Babatunde released his first album as leader, Levels of Consciousness in 1979 with a band called Phenomena; nearly two decades later, he released Level of Intent on his own label, Diaspora Records, which was reissued in 2003 when he co-founded Motema Records with Jana Herzen. Four albums later on Motema, Lea released a tribute to Leon Thomas, Ubmo Weti (2009). In 2010, he moved to Pennsylvania to teach at Gettysburg College, moving again a year later when he finally landed in the Midwest. Now based in the Twin Cities, Lea has worked with Zacc Harris, Chris Bates, Phil Aaron and more, and has remained active with education projects in California as well as in the Twin Cities area.
Jazz Central Studios is located at 407 Central SE in Minneapolis; http://jazzcentralstudios.org; Donations ($10 recommended) accepted to help pay the musicians and support the venue. More about Michel O'Brien at http://www.michaelobrienbasscom.com