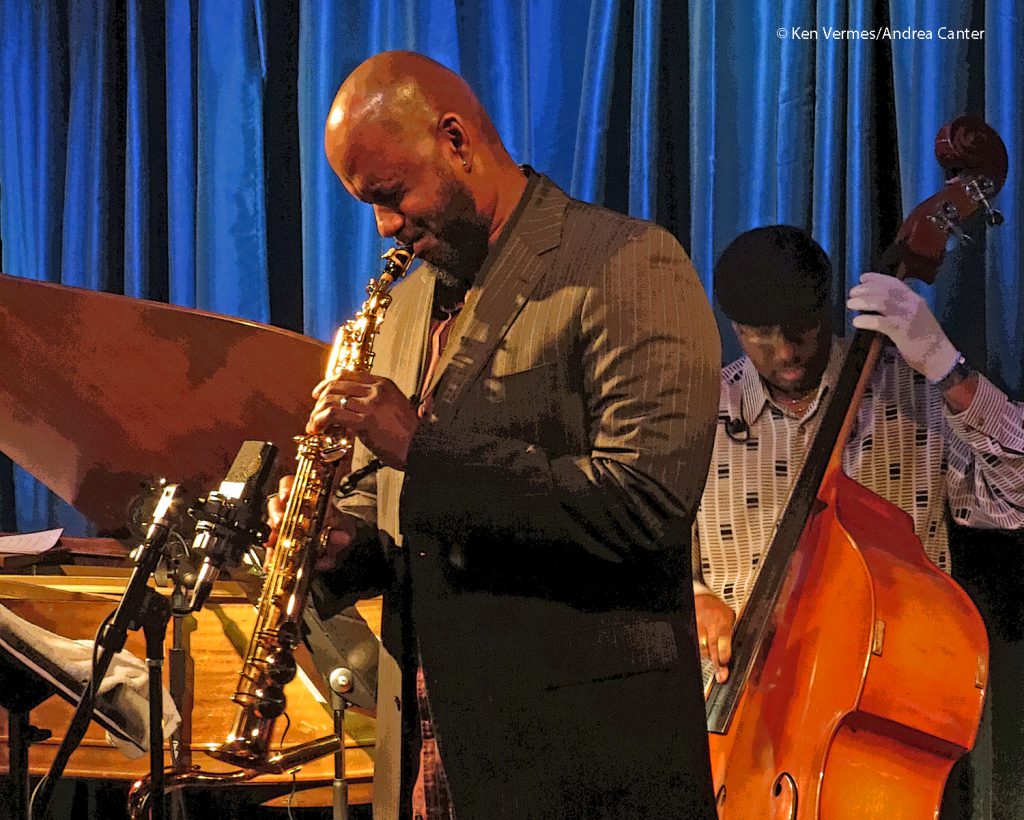 For some reason that is hard to comprehend, that I have never understood, there is a deep gulf between San Francisco and Los Angeles– it is a different universe. There does not seem to be an axis point in San Francisco that pulls the two ends of the state together. There are no music scouts flying there to find fresh new sounds, brilliant players hidden in the LA neighborhoods, obscure jazz joints, and making friends with the Los Angeles cultural institutions. In fact, San Francisco's cultural elite pretend that the area in the deep south of the state hardly exists. Never mind when some young whipper snapper (such as Gustavo Dudamel) creates a sensation of musical genius in a concert hall that looks like it has just suffered from the effects of a massive earthquake and stuns the world.  In the jazz world, there are the ghosts of Los Angeles, the musicians that the region calls their own. In a recent LA Weekly article by John Whiteside, he claimed these players as Los Angeles area legends: vocalist Kitty White, Chicano tenor sax player Gil Bernal, alto saxist and singer Vi Redd, the legendary Dexter Gordon, saxist and flautist Buddy Collette, vocalist Ernie Andrews, "Los Angeles original jazz bro' white boy, wild-o" Art Pepper, drummer Chico Hamilton, magnificent woodwind master Eric Dolphy, and bass legend Charles Mingus. There are the ghosts of Central Avenue, a legendary jazz street that was once part of the African American neighborhood by that name, long gone.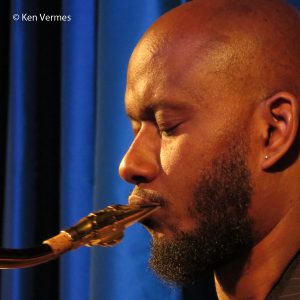 Interestingly San Francisco had a similar neighborhood on Fillmore Street. And there was the period of music when I was able to travel for business in the area and squeeze in a visit to the incredible Club Loa run by the bass great, Ray Brown; visit Catalina's on Sunset (still open and where I saw Joe Henderson put on a show that was out of this world); run into Tower Records in the same neighborhood and then spin down to Pico for the used record stores brimming with promo discs dumped by the music companies; catch an act at the Jazz Bakery, one of the first non-profit jazz clubs, all while driving a fancy rental car and listening to KJAZZ Long Beach 88.1 (still on the air). There was the sun on the beach even in the middle of winter (the sun is now brighter than ever), the waitresses from UCLA who looked at you like you were a convicted killer on a hunt for hamburgers, and the real hamburgers at a restaurant right out of the 1940's called Apple Pan in Westwood (still there). Sitting next to you was a movie agent reading a screen play in a two thousand dollar Italian suit. There was Junior's Deli (closed) with the ancient lawyers being wheeled in for one last bagel and lox. Jazz was in the air, like a beautiful retired Hollywood starlet, who like an apparition would raise her head for one last sultry walk down the street of dreams. Never mind that it all felt like an earthquake was going to push the whole scene into the ocean, or that the entire area was about to be burned to the ground by gangs of disgruntled motorists who could not take it anymore. This was part of the conservation I had with the Teodross Avery Band, back stage, waiting for the start of their gig in the Sound Room in Oakland in March. And as the players nodded their head about past glories in Los Angeles, they looked to be hungry for the same kind of excitement in the North of the state.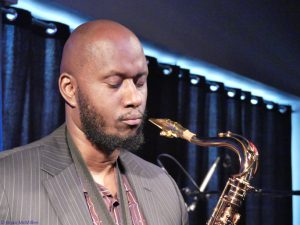 The reason I am bringing this all up is because I want to tell you about Teodross Avery,  a very impressive and powerful  saxophone player, based in the Los Angeles area, who is making a new push in the Bay Area jazz scene. His recent performance and live recording session at the Sound Room on March 31 in two sold-out sets was one of the most thrilling tenor sax performances I have seen in years, one of the best concerts of the year so far.  Avery had never recorded in the San Francisco area before even though he has played in the area many times. It was to be only the second time he had played with this group beside an abbreviated performance matinee at SFJAZZ in 2017. And it was his first live recording, ever. Avery was born in Northern California in 1973. He attended Berkelee School of Music in Boston and lived in New York City from 1996 to 2011. He was signed to GRP/Impulse Records in the mid 1990s, and earned his PhD in music in 2016 from the University of Southern California. After years performing with some of the greatest in jazz (Art Farmer, Cedar Walton, Roy Hargrove, Dee Dee Bridgewater) as well as more hip-hop influenced work (Leela James, Roy Ayers, and Mos Def) and success as a composer and producer, Avery was ready for a new start, a fresh approach in Oakland.
Throwing out the music of John Coltrane is a challenge that not everyone understands. If you look at the music of Coltrane material, many tunes are simple vamps. Others are intricate woven chordal houses of mirrors. The bottom line for even approaching all of this is a band that can play these pieces, and here we had Adam Shulman on piano, Jeff Chambers on bass and Darrell Green on drums, masters of their instruments. With Avery out front, his sound and direction propelled the group to the kind of heights that Coltrane must have experienced when he first played a note standing in front of McCoy, Elvin and Garrison. That original group, one of the most wondrous and consequential in the history of jazz, changed the entire dynamic of small group playing. It was April, 1960, and Coltrane saw an opening. His major competitor was Sonny Rollins, who would not create a steady band until years later. It was without a doubt a premonition, a vision, a leap into the future that Trane was ready for. And this moment, reverberating through the years, is what Avery was celebrating and reveling in. Like most jazz playing, the group is often the key. And for this one night, Avery had a group of power and craft.
What we loved was the power of Green and Chambers, rolling through each of the tunes as if they had been playing together for years. How they could do this is a big mystery to me, but this is the specialness of chemistry in a playing situation. Pianist Shulman had a wonderful touch on the keys, and created interesting and original sounding playing at every moment. Avery stood out front, a like powerful golfer ready to tee off, his cascade of notes was controlled and yet completely inspired. His playing, although full of great energy, never ever tires the listener. His sound is strong and clear, but completely musical and pleasing. He is not afraid to take chances, to move around the wide swath of the tenor saxophone's capabilities. At the same time he is never satisfied with gimmicks or flurries of notes. I hope to hear his music for many years to come.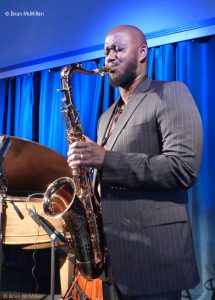 Avery choose seven Coltrane tunes to record twice in repeating sets. They were recorded live and, from our view, seamlessly. The tunes were "Blues Minor," "Bakai," "Afro Blue," "After the Rain," "Mr. Sims," "Africa", and "Pursuance." It will be some months before the recording is released on Tompkins Square Records (http://www.tompkinssquare.com). It was a big leap for Avery to do this. But the excitement that can come from this recording is hopefully just beginning. After an extensive period in academia, Avery is ready for a huge jump into his musical future. He has now formed one of the most exciting groups on the West Coast. His power and creativity is locked and ready to launch. What he needs now is an audience like the one on the night at the Sound Room, to realize that this is a player to see and experience, over and over again. This is a group that takes the listener to the stars. And this is the spirit of the deepest, most soulful music ever played on planet earth. Far beyond imitating the Coltrane sound, Avery is celebrating, shaping and re-creating a whole world of musical expression. I for one will attempt to follow this musician's every move. I hope you will, too. Avery's next performance is at the World Stage in Los Angeles on May 25th. The recording made at the Sound Room should be released in the first quarter of 2019.