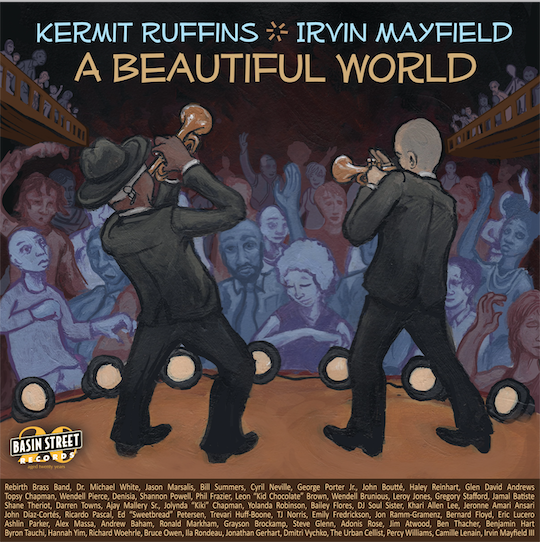 There are but a scant few variables you can count on in this woeful world: Frozen pizza is always sub-par, dogs are awesome, and New Orleans will always be known for at least two things– insurpassable food and a unique brand of music.
Historically, the city has had a wonderfully disproportionate ratio of two types of musicians. If you're talking about pianists, James Booker, Doctor John, and Allen Toussaint are just a few on a long and prestigious list.  As for trumpet, the other instrument that helped land the Crescent City in the annals of music legend, the list is even more impressive: King Oliver, Louis Armstrong.  More recently Wynton Marsalis and Nicholas Payton have helped redefine the horn landscape there and everywhere that music is enjoyed. And the two animated players on this Basin Street disc are certainly not exempt from that list: Irvin Mayfield and Kermit Ruffins.
Ruffins has spent most his gleeful career channeling Louis Armstrong in both voice and horn. Mayfield, on the other hand, is more a blend of reverence for his elders and an upstart in every circle he occupies. He's and educator, conductor, emissary, and a fierce blower.
A Beautiful World would be worth the coin if it only had these two men. But when you live in New Orleans, you've got to take advantage of the fellowship. Wendell Pierce, Cyril Neville, Rebirth Brass Band, Dr. Michael White, and many others are paraded throughout this affair, which is strictly for entertainment. Nothing wrong with that!