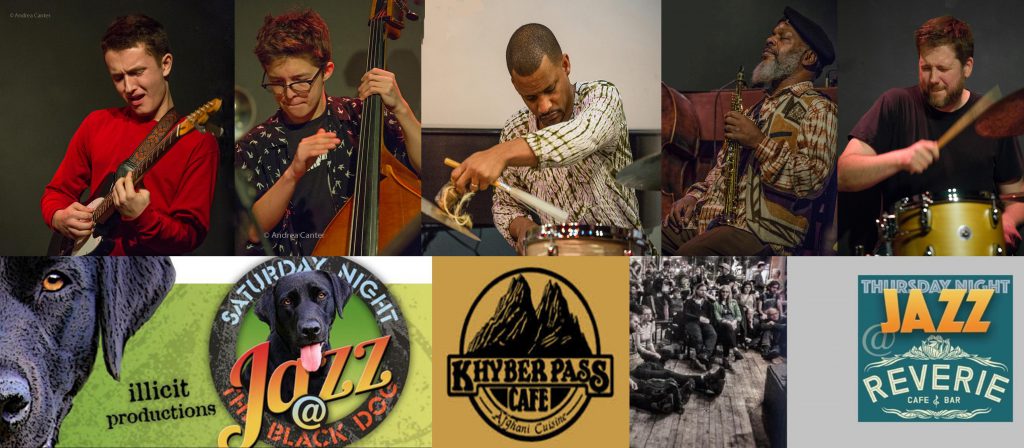 © Andrea Canter
The Twin Cities Jazz Community boasts a multi-generational affinity for modern approaches to improvisation. On Thursday, May 25, several of these forces converge on the calendar, giving fans of the music three nearly simultaneous options from south Minneapolis to St. Paul's Groveland to Lowertown, and opportunities to hear the talents of three generations. Beginning the evening at the Black Dog in St Paul, college student musicians Will Schmid and Charlie Lincoln lead an ensemble of equally young to slightly older cohorts (Peter Goggin on sax, Jake Baldwin on trumpet, Cory Healey on drums), interpreting the music of Duluth rock band Low. At Khyber Pass, the weekly improv night brings together multi-instrumentalist Douglas Ewart and percussionist Davu Seru. In Minneapolis, Thursday Night Jazz at Reverie presents the Pete Hennig Quartet (Hennig on drums, Brandon Wozniak on sax, Brian Ziemniak on keys and Yohannes Tona on bass). To take in all three seems physically impossible, although it is a straight line from Lowertown to South Minneapolis!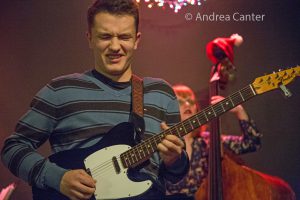 Will Schmid/Charlie Lincoln Quintet: The Music of Low (Black Dog, 7:30 pm)
Like many of their peers, guitarist Will Schmid and bassist Charlie Lincoln have found fertile ground exploring the music of rock icons. The indie-rock band Low, based in Duluth, might not have iconic status beyond the Midwest, but their music inspires jazz arrangements by two of the Metro's most creative collegians. Will, a 2016 graduate of Minnetonka High School, is continuing guitar studies as well as majoring in math and physics at Case Western Reserve University in Cleveland; Charlie, a 2015 graduate of South High, just completed his second year at the Berklee College of Music in Boston, where he studies in the Global Jazz Institute. Both perform in multiple ensembles in the Metro when school vacations permit: Among other bands, Will co-leads the Schmid-Lewis ensemble with veteran Greg Lewis (performing at Jazz Central on May 26); Charlie keeps his bass in many projects, including the quartet Hoaxer (holding its CD release at Vieux Carre' on June 2). The rest of the band has impressive credentials as well: Saxophonist Peter Goggin (Mounds View High School Class of 2015), finishing his second year of jazz studies at the University of Michigan, is also a member of Hoaxer; trumpeter Jake Baldwin, a graduate of the New England Conservatory, is busy locally with his own bands, Har Mar Superstar, Cedar Avenue Big Band, Chris Bates' Red 5, McNasty Brass, and Cory Healey's Beautiful Sunshine Band; and Cory Healey, in addition to leading the Beautiful Sunshine Band, is heard around town with an A-List of musicians including Dosh, Anthony Cox, and more.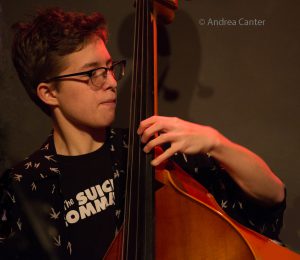 Low, one of Minnesota's most respected rock bands of the past decade, is known for their repertoire of "often dark and slow-burning, yet always gripping songs," providing plenty of material for modern jazz arrangements from Will and Charlie. Says Charlie, "I've been a fan of Low for as long as I can remember… what makes them special is Low's attention to sound and melody and general appreciation for wider dynamics… from very quiet and sparse… and they build to enormous crescendos. Their approach to sound and sonics and beautiful simplicity is unlike other bands."
Davu Seru and Douglas Ewart (Khyber Pass Cafe, 9 pm)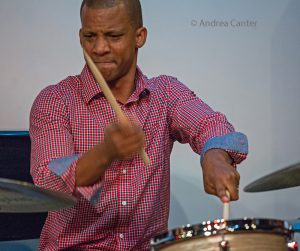 A couple generations apart but similarly steeped in modern improvisation, percussionist Davu Seru and multi-instrumentalist Douglas Ewart converge at Khyber Pass for some exciting mayhem. Among his credentials, Seru studied at Chicago's Association for the Advancement of Creative Musicians (AACM), where Ewart was an early member and one-time President.
Currently Seru leads the No Territory Band and plays with Merciless Ghost, Milo Fine, J. Otis Powell‽, Dean Magraw (monthly duo at the Black Dog), and more; curates a monthly show at Khyber Pass Cafe; and is a member of the composer-improviser collective orchestra, Cherry Spoon Collective. Davu earned a Bachelor's degree in African-American Literature and a Master's in English from the University of Minnesota, where he is now a professor of African-American Literature and Culture. He has received awards from the American Composers Forum (Minnesota Emerging Composer Award) and the Metropolitan Regional Arts Council, and commissions from the Zeitgeist Ensemble and Walker Art Center. He is the inaugural Artist in Residence at Studio Z in St. Paul.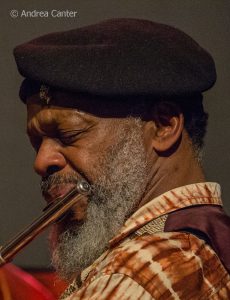 Douglas Ewart's roles in improvised music include composer, improviser, multi-instrumentalist, educator, avant garde artist, inventor, visionary and collaborator. As a performing musician, Douglas has led the Nyahbingi Drum Choir, Clarinet Choir, Douglas R. Ewart and Inventions, Douglas R. Ewart and Quasar, Ewart Sonic Tops, and Douglas R. Ewart and Stringnets.  He's also headed his own record label since 1983 (Aarawak Records), releasing a number of recordings of his music and ensembles.  Ewart not only plays a long list of instruments, he also makes many of them, including unique wind and percussion instruments used in his multi-media production "Crepuscule." A massive collective composition that celebrates sunset, "Crepuscule" brings together diverse musical groups, dancers, artists and activist for a musical and visual event that has become one of the signature programs of the Jazz Institute of Chicago.
Pete Hennig Quartet (Thursday Night Jazz at Reverie, 9 pm)
Long associated with such cutting edge ensembles as the Fantastic Merlins and Atlantis Quartet, drummer Pete Hennig moves out front with a quartet of like-minded creative musicians on the weekly Thursday Night Jazz at Reverie series.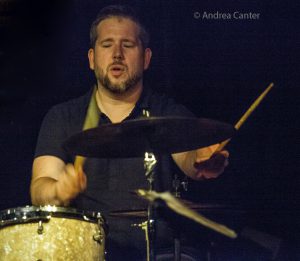 Pete Hennig came to the Twin Cities to study at McNally Smith. After graduating he spent an additional three years studying with Dave King (Bad Plus, Happy Apple). His performance credits include the Atlantis Quartet, Zacc Harris Group, Debbie Duncan, Katie Gearty, Sam Kuusisto, Tickle Fight, Patrick Harrison, Johnny Clueless, Park Evans, Monk in Motian, and the Fantastic Merlins, and he leads his own bluegrass band (Bluegrass Bandits). He also appeared in duo with bassist Cody McKinney during the "Reich Fest" at the Icehouse last month, honoring the music of Steven Reich.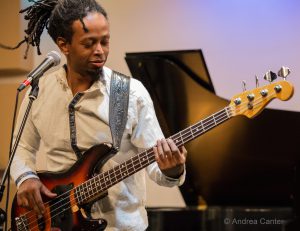 One of the most sought-after saxophonists in the area, Brandon Wozniak previously lived and worked in New York City, toured with the Tommy Dorsey Orchestra, and earned his BA from Indiana University under the tutelage of the late David Baker. Since arriving in the Twin Cities in 2006, he has performed with local bands including Red Five, Dave King Trucking Company, the Bryan Nichols Quintet, Zacc Harris Quartet, and Vector Families; and in varying combinations with Adam Linz, Billy Peterson, Dean Magraw, Kenny Horst, Zacc Harris, Steve Kenny and more. Over its first three seasons, Brandon has performed on the Jazz in the Target Atrium Series at Orchestra Hall as part of the Atrium Jazz Ensemble, led by Jeremy Walker.  Keyboard monster Brian Ziemniak has performed with Kneebody saxophonist Ben Wendel, pyrotechnic violinist Christian Howes, and noted avant garde clarinetist Jean-Brice Godet. Brian has toured recently with star-studded funk group FDeluxe and with popular Dutch saxophonist Candy Dulfer, and appeared on soul legend Alexander O'Neal's 'Live in Minneapolis' 2011 DVD. Yohannes Tona emigrated to the U.S. from his native Ethiopia in the late 1990s to  study at the Berklee College of Music. A few yeas later he was recruited to serve as music director for the Ethiopian Church in Minneapolis. Here he has played with Nachito Herrera, Kevin Washington, Doug Little, #Mpls, Foreign Motion, the Steven Hobert Quartet, and his own ensembles, as well as with top area vocalists.
One night, many choices. You might not be able to hear it all, but whatever you hear, it will be a good night of music.
The Black Dog is located at 308 Prince Street, at E. 4th Street and Broadway in the Northern Warehouse in St. Paul's Lowertown (www.blackdogstpaul.com). Khyber Pass is located at 1571 Grand in St Paul; http://khyberpasscafe.com; Reverie is located at 1931 Nicollet Ave, Minneapolis; see www.thursdaynightjazzatreverie.info