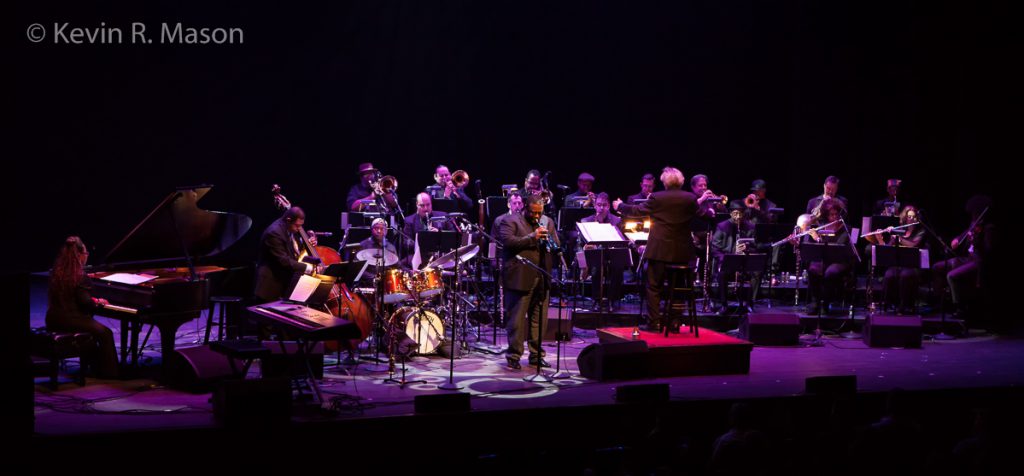 From April 20 to 23, 2017, Newark's New Jersey Performing Arts Center (NJPAC) held Wayne Shorter Weekend in tribute to one of Newark's own, iconic saxophonist/composer Wayne Shorter. This music-filled weekend included concerts by the Wallace Roney Orchestra, Cécile McLorin Salvant with Sullivan Fortner and the Emmet Cohen Trio, a tribute to Weather Report, and a one-on-one seminar/concert with Christian McBride and Esperanza Spalding, which all led up to a performance starring the Wayne Shorter Quartet and special guests Herbie Hancock and Gretchen Parlato.  The weekend was co-sponsored by the Institute of Jazz Studies at Rutgers University-Newark.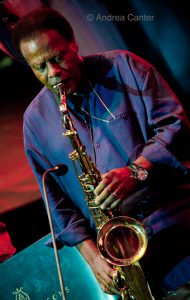 Early in his career, Shorter became known as "The Newark Flash" due to the amazing dexterity that caused his fingers to blur when he played. In the intervening years, Wayne Shorter went on to have an extraordinary career that included working with some of the biggest names in jazz, like Miles Davis, Joe Zawinul, Art Blakey, Maynard Ferguson, John Coltrane, Sonny Rollins, Max Roach, Horace Silver, and Ron Carter. Wayne's numerous accolades include NEA Jazz Master, several GRAMMY Awards, Honorary Doctorates from Berklee School of Music and New York University, and recognition from DownBeat and the Jazz Journalists Association.
Wayne Shorter's Universe – A Concerto for Miles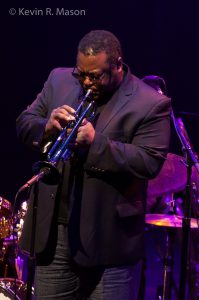 The four-day tribute began on Thursday, April 20, with a preview of the upcoming documentary, Universe. The documentary is about a composition Wayne Shorter originally wrote for Miles Davis, but was never performed. Shorter eventually gave Universe to Davis' protégé, trumpeter Wallace Roney, along with the blessing to record and perform it. Before the concert started, a clip from the documentary featured Wallace speaking about his career. He talked about loving music so much that, initially, it didn't occur to him that he could make a living playing jazz until a high school teacher encouraged him. Roney reminisced about what a great mentor Miles Davis had been, and said that receiving Wayne's unrecorded work was like "discovering the Dead Sea Scrolls." He described his musical ambitions, saying, "I'm not shooting for an arc. I am shooting for a straight line up to infinity." The full documentary is expected to be released in 2018, and it looks like a must-see for jazz lovers.
Immediately after the documentary preview, Wallace Roney came on stage and thanked the audience for coming, and said of the project, "It has been a labor of love." The first song in the set was "Devil May Care," followed by the sweeping, 15-minute title song, "Universe," which magnificently ran the gamut of human emotions. Roney was accompanied by pianist Patrice Rushen, bassist Buster Williams, drummer Lenny White, and a superb orchestra of musicians that included multi-instrumentalist Patience Higgins, trombonist Steve Turre, and tenor saxophonist Mike Lee, all conducted by arranger/composer Robert Sadin.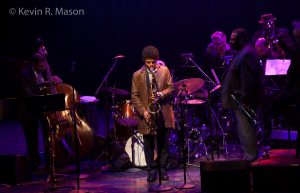 Throughout the concert, Wallace Roney continued to display the fulfillment of all the early promise Miles Davis saw in him, and he's also paying it forward by mentoring upcoming young musicians. One of Roney's most recent protégés, the talented 17-year-old saxophonist Emilio Modeste showed his skills on soprano and tenor saxophone on several numbers.
This show was filled with uncovered musical treasures, and ended with a spectacular encore, "Who Needs Forever," which included guest vocalist Dawn Jones. Wayne Shorter wrote this song for the late trumpeter Lee Morgan, who left this world much too soon, before he ever got to play the composition. Wayne Shorter's Universe – A Concerto for Miles, was a great beginning to the Wayne Shorter Weekend!
Weather Report and Beyond Reimagined
Sponsor TD Bank's Nick Miceli introduced the show, which was hosted by bassist Christian McBride, who also served as Musical Director. McBride, looking fit and in fighting form, introduced former Weather Report members, percussionist Manolo Badrena and drummer Omar Hakim. Christian referred to pianist Rachel Z as "Omar Hakim's better half," then McBride got a big laugh from the audience when he called tenor saxophonist Joe Lovano "the real J-Lo." It's a special time for this group to convene, since it is the 40th anniversary of the seminal album, Heavy Weather, on which Manolo Badrena began his professional recording and touring career. The "Reimagined" set began with "Palladium," a lively jazz-funk amalgam that started the evening of Weather Report classics in grand style. As Lovano left the stage, Steve Wilson joined the quintet and took over saxophone duties on soprano for the hypnotic and spellbinding song, "The Three Marias" from the 1985 Atlantis album. Lovano returned to the stage for "On the Milky Way Express."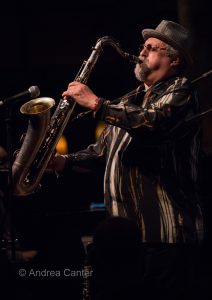 All the musicians were on top of their game, and there were riveting solos from McBride on "Footprints" and Steve Wilson on "Over Shadow Hill Way." Rachel Z's piano and keyboard work showed her to be a wonderful shapeshifter, as she managed to sound at times like an accordion or a harp, transfixing the crowd. Joe Lovano beautifully summed up the show, saying, "What an evening of music. What a body of music!" Joe continued, praising Wayne Shorter for his interpretive skills, then the band played an improvisational version of "Body and Soul" based on Shorter's rendition, with a gorgeous solo by Lovano. Steve Wilson returned and spoke of his cohorts, saying, "All these guys are my heroes," and he expressed gratitude for the opportunity to play with them. They performed a scorching "Condition Red," featuring percussion pyrotechnics from Badrena and Hakim, and segued into a song from Shorter's Blue Note days, "Charcoal Blues." For the finale, Joe and Steve joined forces on "Sightseeing." Despite an obnoxiously loud and rude conversation between two audience members near the end, the joy and virtuosity of the performances couldn't be diminished or outshone. It was an astonishingly good night of music, which delighted the audience and did justice to the legacy of the influential group, Weather Report!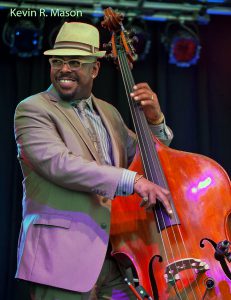 An Evening With The Wayne Shorter Quartet
Christian McBride once again assumed hosting duties and said, "It's great to see Wayne Shorter at any time, but to see him in his hometown of Newark, well you're in for a real treat!"
Vocalist Gretchen Parlato opened the last concert of the Wayne Shorter Weekend with "Butterfly," followed by a charming bossa nova-inspired tune with only subtle percussion as accompaniment. Gretchen said she was overwhelmed and humbled to be there, and sang a Shorter classic, "JuJu." Parlato said she wanted to fill the hall with the sounds of the masters the audience would be hearing later, in tribute to Herbie Hancock and Wayne Shorter. Pianist Taylor Eigsti did a beautifully calming intro to "Spring Is Here," where Parlato used her impressive range and interpretive skills to wonderful effect on this haunting duet. She closed her set with "Magnus," based on a lullaby she heard from the son of a friend. It was lovely and whimsical, with some charming audience participation.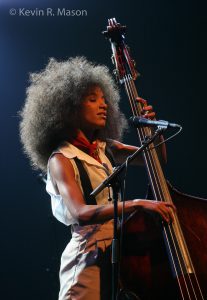 Christian McBride treated the audience to a great surprise, bringing out acclaimed bassist/vocalist Esperanza Spalding, who stuck around after her one-on-one session with McBride earlier in the day. Together, McBride and Spalding introduced "one of the architects of jazz," Herbie Hancock, who came on the stage to a thunderous standing ovation from the packed house; then Hancock introduced the man of the hour, Wayne Shorter. Hancock, Spalding, and McBride gave Wayne the cutest "We're not worthy" bows, and the tickled audience applauded even more. The first part of the set was just Shorter and Hancock, and it was an unalloyed pleasure to watch these two giants perform in a way that demonstrated that age hasn't diminished their formidable skills. Their part of the set had an especially experimental feel, and with these icons, it was a fantastic experience for the audience to hear them riff on each other. Herbie said, "This is a great occasion, in Wayne Shorter's hometown, and it's great to have a friendship I can't explain to anyone." Hancock continued his praise of Shorter, adding, "He lets me play anything!"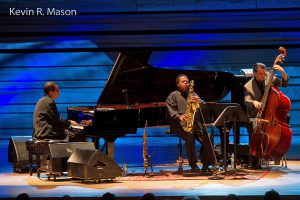 As Hancock made his exit, Shorter's usual cohorts of more than a decade took the stage, pianist Danilo Pérez, bassist John Patitucci, and drummer Brian Blade, and the quartet played "Scout," Shorter's latest composition. "Scout" was made possible by Chamber Music America's New Jazz Works, funded through the generosity of the Doris Duke Foundation, and was inspired by Scout, the daughter of crusading attorney Atticus Finch, in the novel/movie, To Kill a Mockingbird. Wayne then spoke eloquently about other musicians, including Thelonious Monk and Igor Stavinsky. He said that Stravinsky had many jazz licks in his compositions. The set continued with improvisational swings in tempo and conversational challenges between all the musicians, nuanced by Blade's colorful surges and Shorter's fluency, especially on "Prometheus Unbound." For an encore, the quartet concluded the evening with "Adventures Aboard the Golden Mean." The Wayne Shorter Weekend was a huge success, and a well-deserved honor for "The Newark Flash!"
NJPAC has more upcoming jazz events, including An Evening with Diana Krall on June 16. For more information, go to http://www.njpac.org.