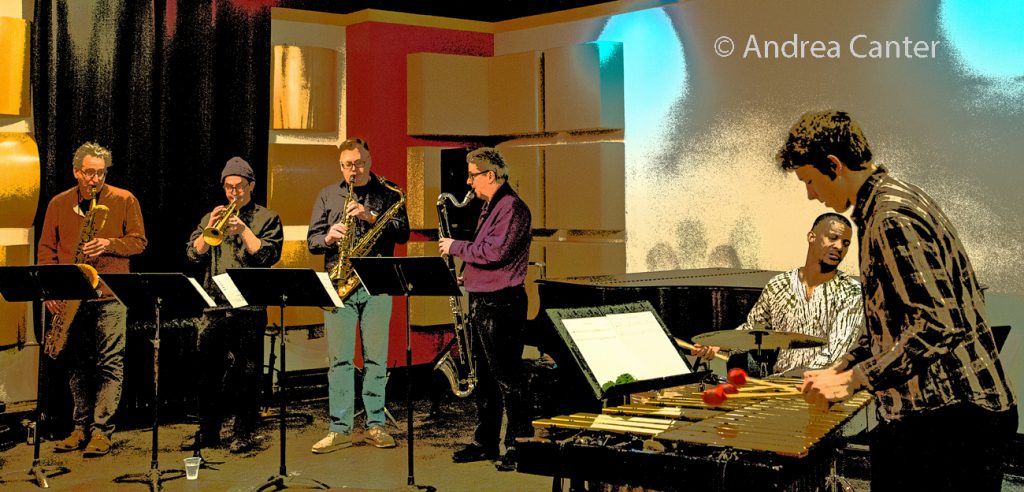 © Andrea Canter
"The squawks, silences and knotty time signatures usually associated with art-house music get a big boost from the staccato funk of hip-hop and the circular rhythms of Ghana, all underpinned by the blues."  — Britt Robson, Star Tribune
Thursday Night Jazz at Reverie on April 13 (9 pm) features a crowd favorite, the No Territory Band, lead by drummer Davu Seru and featuring Jake Baldwin (trumpet), Pat O'Keefe (clarinets), Nathan Hanson and Scott Fultz (saxophones), and Levi Schwartzberg (vibes). Special guest artist from France, Stephane Cattaneo, will provide live painting in response to the music.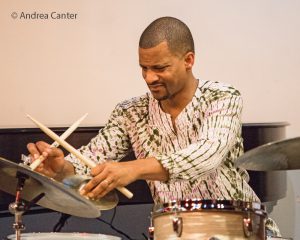 Recently highlighted in the Star Tribune, Twin Cities native Davu Seru is respected internationally for his free jazz drumming as well as his performances in  jazz, rock and avant-garde improvised music. Primarily self-taught, his percussion style is notable for its attention to sound, silence and melodic line as much as rhythmic pattern. Davu has worked with such inventive musicians as Charles Gillett, Elliot Fine, Paul Metzger, Anthony Cox, Dean Granros, Dean Magraw, Wendy Ultan, Adam Linz, Evan Parker, George Cartwright, James Buckley, Taylor Ho Bynum, and Nicole Mitchell. In addition to leading No Territory Band, he currently plays with Merciless Ghost, Milo Fine, J. Otis Powell‽, Dean Magraw (monthly duo at the Black Dog), and more; curates a monthly show at Khyber Pass Cafe; and is a member of the composer-improviser collective orchestra, Cherry Spoon Collective.
Davu earned a Bachelor's degree in African-American Literature and a Master's in English from the University of Minnesota, where he is now a professor of African-American Literature and Culture. He has received awards from the American Composers Forum (Minnesota Emerging Composer Award) and the Metropolitan Regional Arts Council, and commissions from the Zeitgeist Ensemble and Walker Art Center. He is the inaugural Artist in Residence at Studio Z in St. Paul.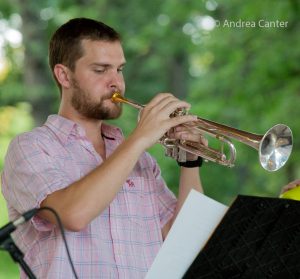 A 2009 graduate of Minnetonka High School and alum of the second and third editions of the Dakota Combo (2007-09), trumpeter Jake Baldwin studied with Jerry Bergonzi, Bob Moses, John McNeil, Joe Morris and Fred Hersch at the New England Conservatory. He was one of three finalists in the 2011 International Trumpet Guild Solo Competition; a year later he was runner-up in the jazz division of the National Trumpet Competition. After graduating from NEC in 2013, Jake moved back to the Twin Cities, where he has played in a number of bands including the Twin Cities Latin Jazz Orchestra, Thomas Nordlund Group, Endeavors, Cory Healey's Beautiful Sunshine Band, Ramtrack, McNasty Brass Band, Minnesota Hard Bop Collective, and Har Mar Superstar, in addition to the No Territory Band. About two years ago, Jake released his first album as leader, Ra Ra Ru.
Multi-reed artist Pat O'Keefe is Co-Artistic Director for the contemporary music ensemble Zeitgeist, based in St. Paul. A graduate of Indiana University (BM), the New England Conservatory of Music (MM), and University of California San Diego (DM), Pat has performed and recorded with noted new music groups around the country, including SONOR in San Diego, the California E.A.R. Unit, the Cleveland New Music Associates, and Ensemble Sospeso in New York; he was the principal clarinetist for five seasons with the Augusta (GA) Symphony. Currently Pat also performs with the free improv group AntiGravity and with Brazilian ensembles Brasamba, Batucada do Norte and Music Mundial in the Twin Cities; his resume includes concert appearances with George Lewis, Wadada Leo Smith, Fred Firth and more, as well as studies of Turkish and Brazilian music.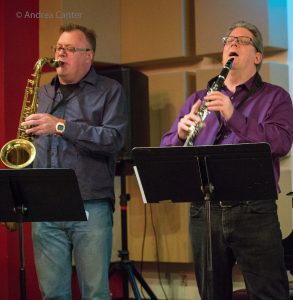 Composer/performer Nathan Hanson (tenor and soprano saxophones) has been described as "unexpectedly tasteful and dignified" by ImproJazz-France. Over his career, he has performed with such legends as Dizzy Gillespie, Cecil Taylor, Mark Dresser, Carei Thomas and Douglas Ewart, as well as with current stars Chris Potter, Tony Malaby, Liberty Ellman, Elliot Humberto Kavee and Federico Ughi.  A graduate of Newberry College and the University of South Carolina, Hanson worked on the East Coast for many years before returning to his hometown of Minneapolis. A member of the Fantastic Merlins, Nathan has maintained a longstanding duo with bassist Doan Brian Roessler and has collaborated with local luminaries George Cartwright, Viv Corringham,  and Pat Moriarty. Awards include grants and commissions from New Music USA, The American Composers Forum, Meet the Composer, City of St. Paul Cultural STAR, The Cedar Cultural Center, MN State Arts Board, The Jerome Foundation, The Southern Theater, and the National Performing Arts Convention.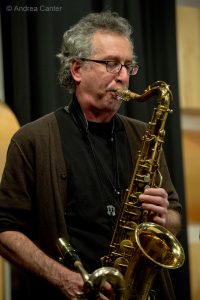 Scott Fultz (bari sax) has performed throughout the Twin Cities for 30 years, since starting out on guitar and saxophone with the soca band Shangoya. He's worked across genres from jazz and avant garde to Latin and blues, with Anthony Cox, Dave King, Bill Carrothers, Bruce Henry, Billy McLaughlin, Dean Granros, Phil Hey, Zacc Harris, Patrick Harison and more, including bands Monk in Motian and Skeleton Crew.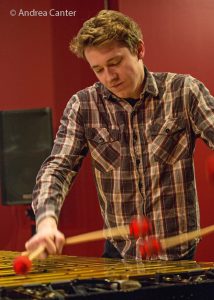 Levi Schwartzberg is only a junior at the U of M, but he's been perfecting his four-mallet technique on vibes since high school days. He is also an accomplished pianist, currently performing on both instruments in the U of M Jazz Combo. A graduate of Minneapolis Southwest High School who participated for two years with the Dakota Combo, Levi has led his own ensembles at Jazz Central, Black Dog and Khyber Pass Cafe as well as performing with Adam Linz's Le Percheron, Will Kjeer, Steve Kenny, the Charlie Lincoln Group, Sound Skirmish, and more.
Thursday Night Jazz at Reverie is curated by Steve Kenny and takes place at Reverie Bar art 1931 Nicollet Av South in Minneapolis. No cover but tips ($10 suggested) are appreciated to support the musicians and the weekly jazz series.  Thursday Night schedule at www.thursdaynightjaszzatreverie.info