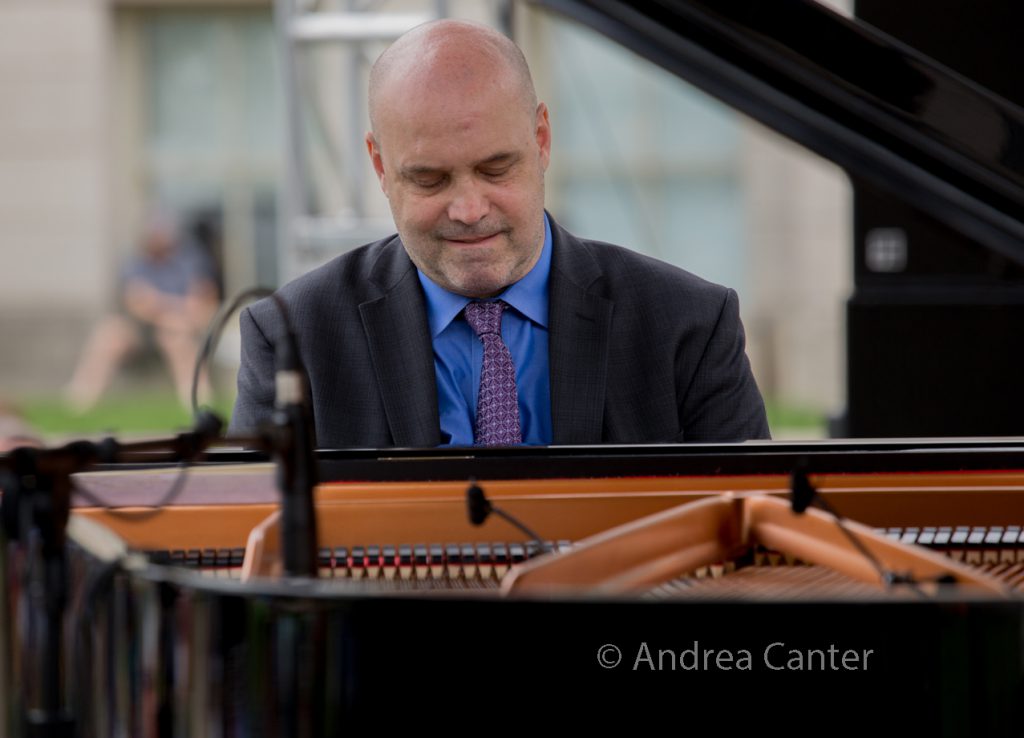 © Andrea Canter
"In his amazing gossamer piano solos, he sprinkles stardust on whatever song he plays;  you hold your breath in wonder.  — Stephen Holden, The New York Times
He brings a vitality—he swings hard and I like that!  — Ray Brown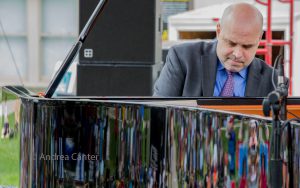 The last pianist with the Ray Brown Trio, one-time support system for the late vocalist Ernestine Anderson, a long-time collaborator with John Pizzarelli, and now leading his own acclaimed trio, Larry Fuller makes his Twin Cities debut in a leading role in the Dunsmore Room at Crooners Lounge on Tuesday, April 11 (7 pm). Larry's " effortless command of swing and stride piano stylings" (Audiophile Audition) have earned him a wide following from coast to coast. For this performance in suburban Minneapolis, he will be joined by two young New York talents, George deLancey on bass and Jason Tiemann on drums.
A native of Toledo, OH, Larry Fuller began piano studies at age 11, and first heard jazz listening to records at the Toledo Public Library. He was particularly impressed by Oscar Peterson and Count Basie, and soon was participating in an "all city" jazz ensemble led by a local saxophonist and playing some paying gigs around the city. Later, in his early 20s, playing on the Midwest jazz circuit, he met Ernestine Anderson in Ann Arbor and started touring with her (1988-93). In turn, through Anderson he connected with drummer Jeff Hamilton, playing his band and appearing on Hamilton's recordings for about six years; and through Hamilton he met Ray Brown, who hired him for his trio in 2000. After Brown's death, Larry began an 8-year association with John Pizzarelli, touring internationally with the quartet and performing on several recordings including Pizzarelli's Double Exposure and Rockin' in Rhythm. Of the latter, The International Review of Music noted that Fuller's "brilliant work throughout – especially the buoyant stride solo – nearly steals the record".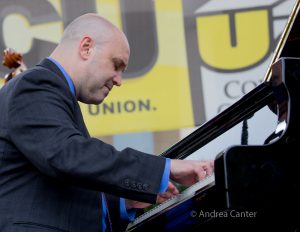 Over his career, Larry has also performed with Harry "Sweets" Edison, Stanley Turrentine, Phil Woods, Clark Terry, Herb Ellis, Marlena Shaw, Kevin Mahogany, John Clayton, John Heard, Bennie Golson, Emily Remler, Jimmy Witherspoon, Eddie Harris, Anita O'Day, Steve Allen, Regina Carter, Nicholas Payton, and John Legend. After leaving Pizzarelli, he began touring and recording with his own trio, releasing his self-titled album in 2014, prompting All About Jazz to note that "chops, class, and in-the-pocket ensemble playing are all on full display. There's plenty to marvel at."
For his Minnesota appearance, Larry will bring in two talented New York artists: George deLancey (bass) is also an Ohio native (Cambridge) where he participated in the Columbus Youth Jazz Orchestra before moving on to Michigan State University and studies with Rodney Whitaker. He has worked with notable bandleaders Johnny O'Neal, Wessell Anderson, Willie Jones III, Winard Harper, Christian Howes, Houston Person, Tia Fuller, and Bria Skonberg, and is an active educator with programs including Jazz at Lincoln Center's Jazz for Young People, Christian Howes' Creative Strings Workshop, and Keith Hall's Summer Drum Intensive. He is also the director of the Midwestern arts initiative Appalachian Muse. Jason Tiemann (drums) cites Philly Joe Jones, Tony Williams, Elvin Jones and Billy Higgins as primary influences. His credentials include performing with Benny Golson, David Liebman, Harold Mabern, Eric Alexander, Mike LeDonne, Peter Bernstein, Slide Hampton and countless others on the New York scene. Also an active educator, Jason taught drums and percussion at the University of Louisville for 12 years, and has served as artist/clinician for the Jamey Abersold Summer Jazz Workshops since 1998.
The Twin Cities contingent at the 2016 Iowa City Jazz Festival was impressed by Larry Fuller, one of the festival's headliners. Those who were there–and the many here who heard Larry several times with John Pizzarelli and Ray Brown– know that we're in for a swinging good time when Larry and his trio arrive on the Dunsmore Room stage.  Hearing him on the venue's 9-foot Steinway D should be an unforgettable experience.
The Dunsmore Room at Crooners Lounge is located at 6161 NE Highway 65 (Central Av NE) in Fridley, just north of I-694 and about 15 minutes north of downtown Minneapolis. Tickets ($25, $50 for dinner show) are available at www.croonersloungemn.com