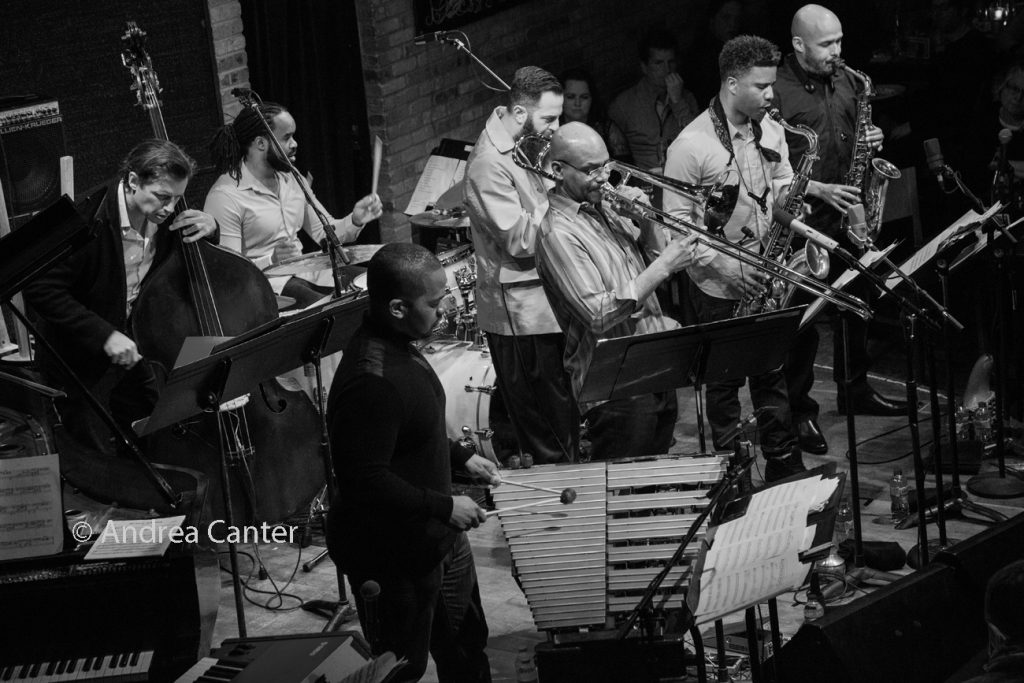 © Ken Vermes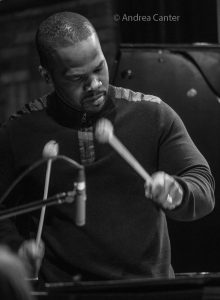 SFJAZZ kicked off the second half of its fifth season in its dedicated building at San Francisco's Civic Center with an ambitious and exciting series of shows celebrating the music and lives of Tony Williams (January 19), Joe Henderson (January 20), Bobby Hutcherson (January 21), and John Handy (January 22). These concerts were built around the SFJAZZ Collective in residence, including Warren Wolf (vibes), Miguel Zenon (alto saxophone), David Sanchez (tenor saxophone), Sean Jones (trumpet), Robin Eubanks (trombone), Edward Simon (piano), Matt Penman (bass), and Obed Calvaire (drums). No group on the West Coast is better prepared to do these tributes. A case could be made that much of jazz, throughout its history, is based on the idea of celebrating some aspect of its past. After one hundred years of music, there is virtually no aspect of music that jazz has not touched in some way.
Tribute to Bobby Hutcherson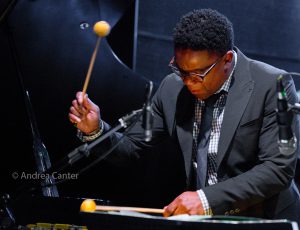 The Hutcherson show, led by former Collective vibraphonist Stefon Harris (assisted by current Collective counterpart, Warren Wolf), was the second memorial tribute that the SFJAZZ Center had presented. Stefon was a perfect host and soloist for this show, as he plays in a style akin to Hutcherson, but is not copying or mimicking it. The high point of Stefon's contribution was his version of "I Loves You Porgy" from the Gershwin classic opera. This was a brilliant choice of material, as it highlighted the intense melodic focus of Hutcherson's career.
The tribute also included a star-laden group of guests, including Bill Frisell, Joe Lovano, Joshua Redman, Terence Blanchard, Zakir Hussein, and Mary Stallings, who did a beautiful version of "The Very Thought of You."  This was followed by "Hutcherson's Hug", an original by Collective trumpeter Sean Jones. Finally, the entire group played a Hutcherson original, "Now." At the end, a video of Bobby playing lit up the enormous screen over the stage. It is worth saying that one show could not possibly encompass Hutcherson's brilliant contributions to the evolution of jazz and the vibraphone. Hopefully the Jazz Center will continue with the exploration of Hutcherson's music. It would be great to hear more from his large body of work explored by Warren Wolf, for example, and for the Center to reach out to any younger players trying to master the vibes.
Tribute to John Handy
The John Handy tribute was hosted and organized by the alto saxophonist Miguel Zenon, who would later in the season perform his own music with his own group, in a rip-roaring set in the Joe Henderson Lab. On this night he was hosting another all-star line-up including the musicians of the Collective, along with Terence Blanchard, Joshua Redman, Joe Lovano, Bill Friselll, Stefon Harris, Eric Harland, Mary Stallings, and local conga player, John Santos. The band featured Handy originals such as "Ganesh's Jubilee, Scheme #1," Ellington's "The Sound of Love," and closed with a roaring version of Handy's funk hit, "Hard Work." It was great to see Handy on the stage playing. And as a local player who made a big impact on the Monterey Jazz Festival with a wonderful group of Columbia record recordings, as well as performances with Charles Mingus, Handy certainly deserved this tribute and remembrance.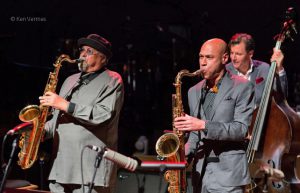 Future Tributes
Tributes will certainly be a format the will continue at SFJAZZ, both with the SFJAZZ Collective and with a series of shows in the Joe Henderson Lab that feature tributes to individual artist's recordings and to the entire works of artists as well. Personally, we love both types of shows. And it would be great to include other types of tributes that might include some of the scholars of jazz who could do presentations based on their books and research. Meeting these authors and scholars is an experience that could add a deeper level of presentation to these types of shows, or could be done separately. For example, the recent appearance at SFJAZZ of Ted Gioa, Stanford University scholar and author, demonstrated, with a large turnout, that there is an audience for informational presentations.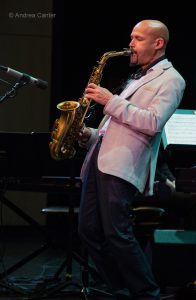 Finally, it must be said that there are hundreds and hundreds of jazz players throughout one hundred years of history who deserve greater recognition and thanks for their contributions. Hearing live musicians perform these tributes is a way to enter new worlds of music and history. In a way, this endless opportunity of exploring our own cultural legacy is their gift to all of us. There is no greater thrill than to discover the music waiting for us through the players of our own time, re-interpreting this glorious heritage that is ours to cherish and hold. These experiences are at the very core of the music called jazz.