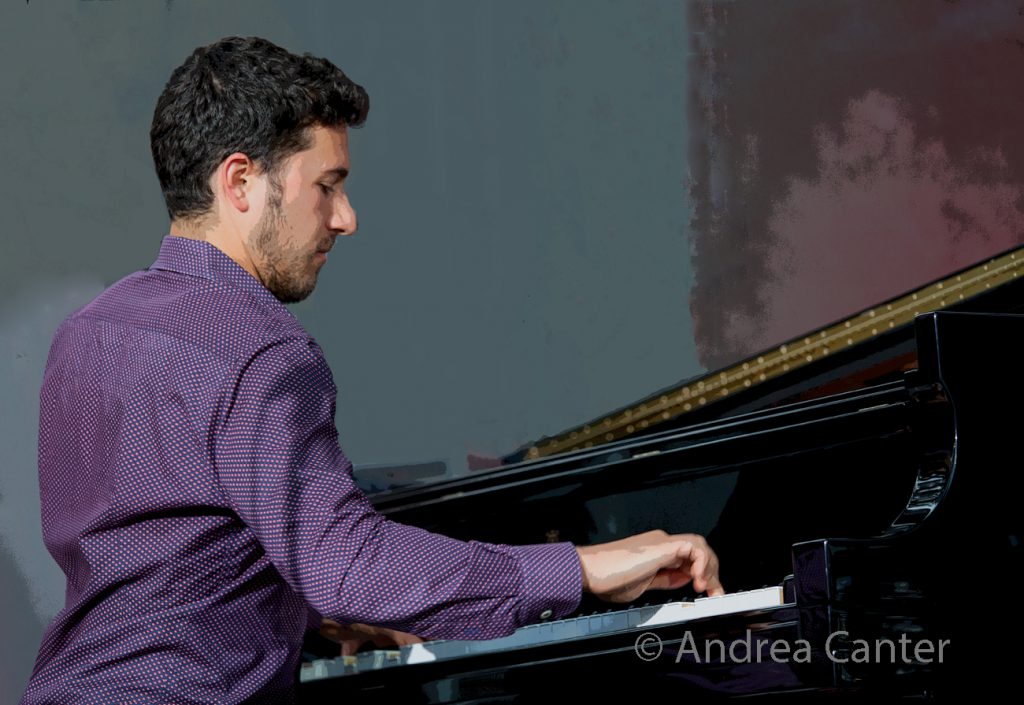 © Jon Morgan
Editor's note: Jazz Police is happy to announce the addition of Jon Morgan to our minescule "staff". Jon curates a monthly gig at Jazz Central Studios and will be contributing his writing skills to the Twin Cities Jazz Festival. The following article is adapted and expanded from Jon's recent post on the Twin Cities Jazz Festival Facebook site. Watch for more Jon Morgan bylines on the Jazz Police website!
Jazz fans who have enjoyed being exposed to up-and-coming young talents during the past few years, such as Joey Alexander and Melissa Aldana, will not want to miss seeing the Emmet Cohen Trio during their three-night stop in the Twin Cities, March 19-21. The Emmet Cohen Trio with Brian Lynch performs in the Dunsmore Room at Crooners Lounge, Sunday, March 19 at 6:30 and 8:30 pm; the trio performs two sets (7 and 9 pm), two nights, Monday and Tuesday, March 20-21, at Jazz Central Studios.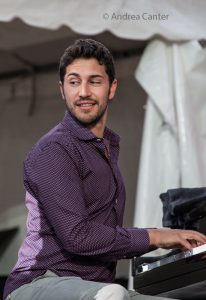 For the young Harlem-based jazz pianist Emmet Cohen, 2017 has brought a maelstrom of activity that shows no signs of dissipating. On the heels of his tremendous new recording, Masters Legacy Volume 1, Featuring Jimmy Cobb on Cellar Live Records, Cohen has balanced a slew of shows around New York City, including CD release performances with Mr. Cobb and taking his own working trio out on the road. After hitting the West Coast and Pacific Northwest in February, Cohen, along with bassist Russell Hall and drummer Joe Saylor, is spending March crossing the Midwest, including stops in Fridley and Minneapolis. The month of May will find Cohen in the employ of bassist extraordinaire Christian McBride's new group, Tip City. When not on tour, Cohen maintains an active itinerary in New York, and has become a regular performer at Smalls, Smoke and Minton's among others.
Still in his late twenties with degrees from the University of Miami Frost School of Music and Manhattan School of Music (MA), Cohen has garnered growing attention since 2011 when he was a finalist in the Monk International Piano Competition and Cole Porter Fellowship Competition, won the Phillips Piano Competition, and released his self-produced debut recording in 2011, In the Element, with bassist Joe Sanders and drummer Rodney Green. He raised his profile even further, winning the American Jazz Pianists Competition in 2014 and again placing as a finalist in the Cole Porter Fellowship competion in 2015. He also co-led the recording Questioned Answer (2014, Hollistic MusicWorks) with Grammy Award-winning trumpet player Brian Lynch, and recorded with Herlin Riley's group on New Direction (2016, Mack Avenue), albums that showcased Cohen's ability to play incredibly nimble and nuanced lines without sounding overly busy or abstruse.
With the Masters Legacy Series, Cohen, like Ethan Iverson's projects with Billy Hart, Tootie Heath and Ron Carter, has set out to collaborate with jazz's living legends, starting with Miles Davis' former drummer, the esteemed Jimmy Cobb. Talk of a project with saxophonist Jimmy Heath is in the works. In addition to McBride's new group, Cohen is also a member of the Ali Jackson Trio, and is clearly motivated by what each performing opportunity will bring in terms of continual musical expansion and growth.
Despite his youth, Emmet Cohen is already heavily immersed in jazz education. An alumnus of the YoungArts Foundation, he now produces and directs multidisciplinary high school YoungArts programs nationally, including creative writing, theater, dance, visual arts, cinematography, music, voice, and jazz; Cohen keeps busy designing student curricula and selecting master artists as teachers and mentors. He also visits 50 schools yearly through Jazz at Lincoln Center's "Jazz for Young People" program and regularly presents jazz history and performance lectures. With the likes of Cohen and his contemporaries, such as  Gerald Clayton, Glenn Zaleski, Nick Sanders, and Sullivan Fortner, the future of jazz piano appears to be in good hands.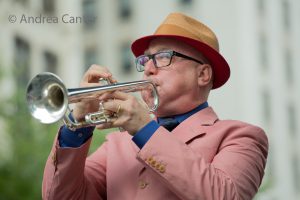 Grammy-winning trumpet master Brian Lynch has been on a steadily rising trajectory since his early days with Art Blakey and Horace Silver, more recently in such company as Phil Woods and Eddie Palmieri as well as fronting his own projects. Over his career he has also collaborated with Benny Golson, Toshiko Akiyoshi, and Charles McPherson; with Latin music icons Hector LaVoe and Lila Downs; and pop stars such as Prince. With Palmieri, Lynch won a Grammy for Best Latin Jazz Album in 2007 for Simpatico, and received a 2017 Grammy nomination in the same category for his album Madera Latino on his own Holistic Musicworks label. In addition to a long discography (20 albums as leader) and busy touring schedule, Lynch is Associate Professor at the Frost School of Music at the University of Miami. He was most recently in the Twin Cities as guest artist with the Twin Cities Latin Jazz Orchestra at Jazz Central's Jazz Festival in April 2016.
It will be a busy and exciting three days with the Emmet Cohen Trio: With Brian Lynch, the trio performs in the Dunsmore Room on Sunday, March 19, two shows at 6:30 and 8:30 pm. Emmet Cohen presents a B-3 Organ clinic at Jazz Central at 4 pm on Monday, March 20. And the Emmet Cohen Trio performs at Jazz Central on March 20-21, two sets per night at 7 and 9 pm.
The Dunsmore Room at Crooners Lounge is located at 6161 Highway 65 NE (Central Av) in Fridley, just north of I-694 and about 15 minutes north of downtown Minneapolis. Reservations encouraged at www.croonersloungemn.com.  Jazz Central Studios is located at 407 Central SE in Minneapolis. Advance reservations are available for these shows — http://jazzcentralstudios.org