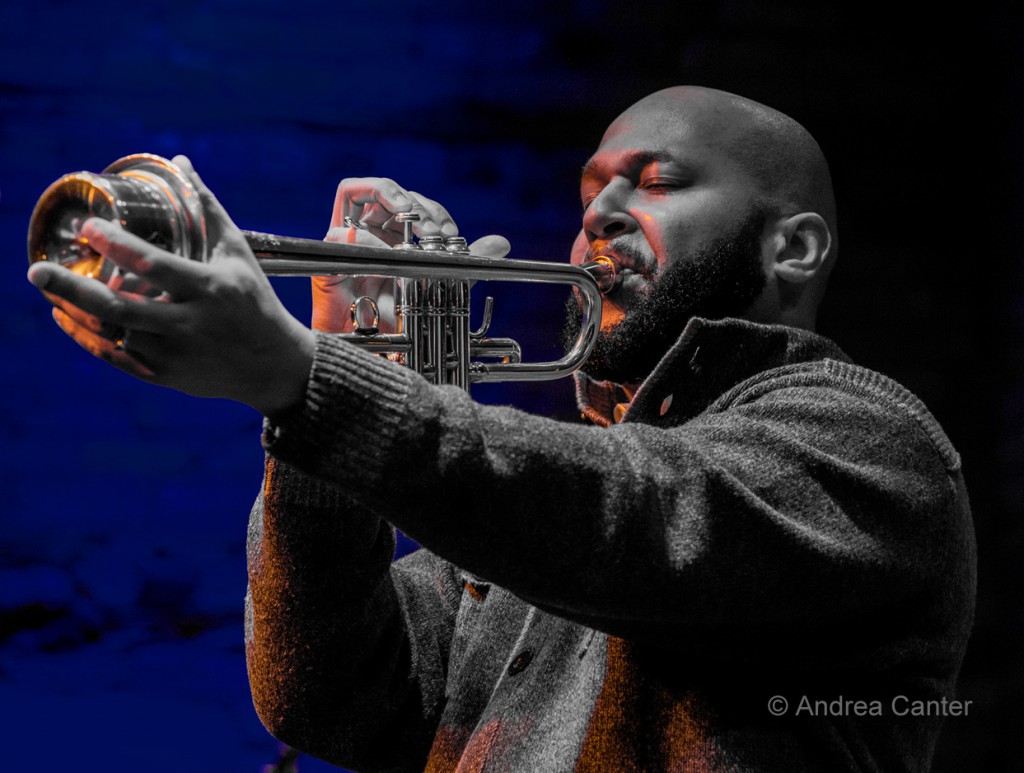 © Andrea Canter, Senior Editor
Most gigs on the Saturday Night Jazz at the Black Dog series feature two bands, an opening set at 7 pm (often a group of young artists or a new ensemble) followed at 8:30 pm by a veteran group. With the Black Dog hosting a special event earlier in the evening, the January 14th installment of Saturday jazz is pared down to one band at 8:30 — but there's no diluting of the talent on stage. The Solomon Parham Quintet features a combination of youngish veterans and an older generation of masters, with leader/trumpeter Parham joined by trombonist Dave Graf, guitarist Dean Magraw, bassist Chris Bates, and internationally renowned drummer Eric Kamau Gravatt. The music should help boost temperatures well above freezing!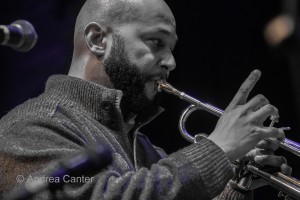 Trumpeter and educator Solomon Parham came to the Twin Cities from Detroit where he taught in public school and performed at Baker's Keyboard Lounge. He's also performed with Delfeayo Marsalis' Jazz for Kids, "Jazz and Jasmine Meets the Jazz Band," Wessell Anderson, Eric Gravatt's Source Code, and at the Twin Cities Jazz Festival, Artists Quarter, Dakota, Bedlam, Jazz Central and more. Currently, Solomon teaches in the St. Paul Schools and directs jazz ensembles at Walker West Music Academy. He led a weekly "Solomon's Sessions' at The Bedlam (now closed), which he hopes to move to a new venue soon. Solomon recently completed his master's degree at McNally Smith College of Music.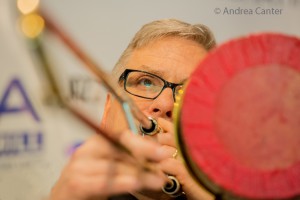 Dave Graf is one of the most versatile and talented trombonists in the Twin Cities. He's worked in diverse musical settings, including Dixieland, swing (Twin Cities Seven), modern mainstream jazz (Source Code, X-Tet), salsa (Salsa del Soul) and Brazilian music, big bands (JazzMN Orchestra, Cedar Avenue Big Band), trombone ensembles (Locally Damaging Winds, Valve Meets Slide), and pit orchestras. He has performed with Dizzy Gillespie, Slide Hampton, Jack McDuff, the Toshiko Akiyoshi/Lew Tabackin Big Band, and the Woody Herman Orchestra, and has appeared on Prairie Home Companion and with the St. Paul Ragtime Orchestra, Mandala, and the Steve Wright Big Band. Dave had an eleven-year association with the late trumpeter Red Wolfe in his Port of Dixie Jazz Band and Ellington Echoes. In 2005 he released his debut recording as a leader, Just Like That (Artegra Records). One of his more recent collaborations has been as half of Valve Meets Slide, an ensemble with valve trombonist Brad Bellows. In addition to performing, Dave teaches, writes, arranges, and works as a graphic designer.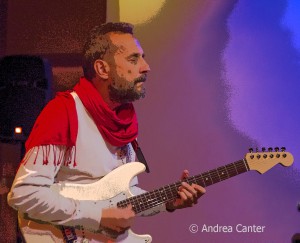 Dean Magraw is one of the Twin Cities' most eclectic musicians, with a career spanning more than three decades and multiple genres and cultures, from blues to classical to folk and jazz, from Japanese and Indian to Celtic and middle American. In addition to leading his long-standing trio Red Planet (with Chris Bates and Jay Epstein), Dean has collaborated with many local artists at the Artists Quarter, Black Dog, Nicollet, Jazz Central, Studio Z, and more, including Brandon Wozniak, Bryan Nichols, Billy Peterson, Steven Hobert, Eric Gravatt, Davu Seru, and Kenny Horst.  He's released a series of recordings spanning his musical universe, including a duo with tabla master Marcus Wise, How the Light Gets In. Over the past six years, Dean has co-led a monthly duo with percussionist Davu Seru at the Black Dog (first Tuesdays), more recently launched a duo with veteran drummer Eric Kamau Gravatt, leading to their CD release, Fire on the Nile, and in the past year has performed in duo with eclectic pianist Steven Hobert.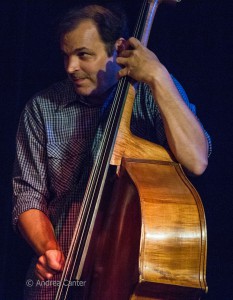 Chris Bates is well known locally for his affiliations with the Atlantis Quartet, Red Planet, Volcano Insurance, Framework, How Birds Work, Tall Tales, Leisure Valley, Pushing Chain, Bill Simenson Orchestra, Adam Meckler Orchestra, and many other cutting edge ensembles in addition to his own bands, the Good Vibes Trio and Red Five, both of which released debut albums in the past few years. He recently revived another vibes trio, Low Blows, launched a trio with Joe Strachan and Matt Buckner (now Miguel Hurtado), and curates a monthly improvisation series at Jazz Central, one Wednesday night per month. Chris studied at the University of Wisconsin–Eau Claire and later with Anthony Cox, was an original member of the Motion Poets, and a 1999 McKnight Composer Fellow. He was one of four jazz artists to be awarded a composition commission from Zeitgeist, which was premiered at the 2014 Twin Cities Jazz Festival. He shares a recent McKnight Award with his cohorts in the Atlantis Quartet.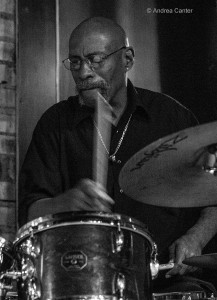 An alum of the bands of McCoy Tyner, Joe Henderson, Freddie Hubbard and Blue Mitchell as well as Weather Report, Eric Kamau Gravatt essentially has had two careers in jazz with a couple decades of separation. Like John Coltrane and long-time associate McCoy Tyner, he is a native of Philadelphia. In the early 70s, Miles Davis invited him to join his band, but Gravatt turned down the Prince of Darkness to follow Wayne Shorter into Weather Report, with whom he toured and recorded. He went on to join the fusion band Natural Life (with Bobby Peterson and Bob Rockwell), a move that brought him to the Twin Cities some 35 years ago. Demands of family and a desire for financial stability took Gravatt out of fulltime music and into fulltime work as a guard at the Minnesota Correctional Facility in Lino Lakes. Only after retiring from Lino Lakes did Gravatt return to his calling, touring again with McCoy Tyner, performing with his band, Source Code, and engaging in some more experimental improvisations with metro area musicians including Bottomless Pit, Adam Linz, Brandon Wozniak, and, recently, Dean Magraw, with whom he released Fire on the Nile.
Saturday Night Jazz at the Black Dog is curated by Steve Kenny. No cover but donations (tip jar) appreciated to support the series and musicians (suggested $10). Weekly schedule at www.saturdaynightjazzattheblackdog.info. The Black Dog is located at 308 Prince Street in the Northern Warehouse in St. Paul's Lowertown; www.blackdogstpaul.com