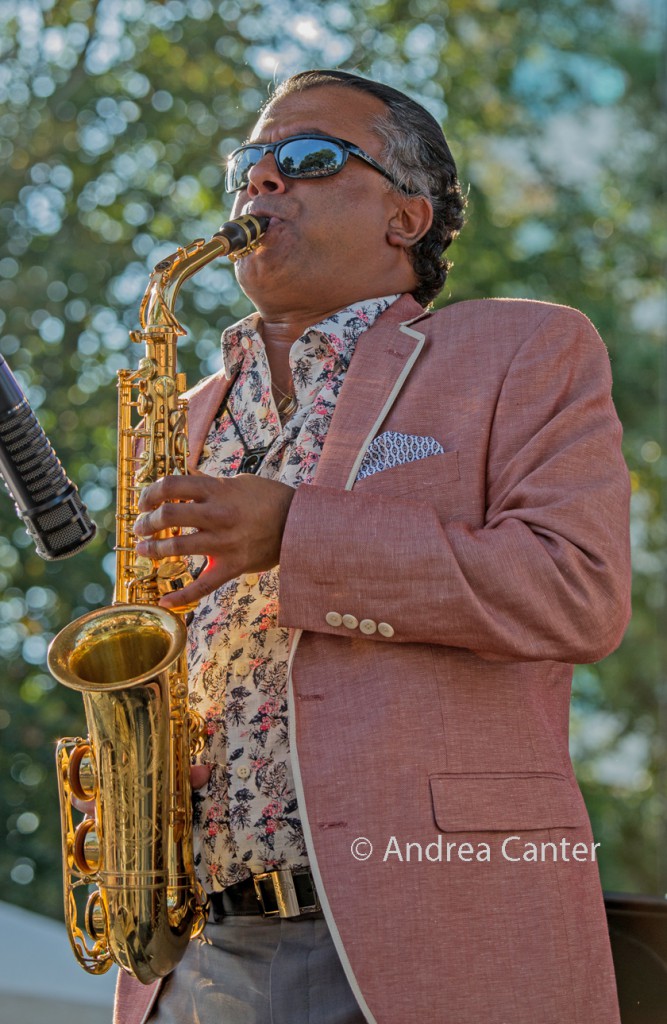 Recognized for his creative blending of his South Indian heritage and modern jazz, alto saxophonist Rudresh Mahanthappa is one of the leading artists of his generation as well as one of the busiest. On tour with his Bird Calls ensemble, Rudresh returns to the Twin Cities for one show at Vieux Carré on Sunday night, October 23 at 8 pm. He's most recently appeared here in a collaboration with the Ragmala Dance Company in 2014 and with Rez Abassi and Vijay Iyer at the Walker Art Center earlier this year. In St. Paul, he will be joined by brilliant young trumpeter Adam O'Farrill, bassist Thomas Kneeland, and long-time cohort, drummer Dan Weiss.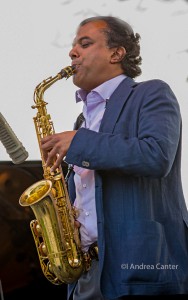 Born in 1971, Rudresh Mahanthappa grew up in an Indian-American family in Boulder, CO. As a youngster, he first studied Baroque recorder before switching to alto saxophone at age eleven. Through his teacher, he was introduced to a diverse range of music, from Sidney Bechet to Frank Zappa. By the time he started high school, Mahanthappa was leading a band performing the music of Charlie Parker and John Coltrane. He went on earn his undergraduate degree from the Berklee College of Music, followed by a master's degree in jazz composition at DePaul University in Chicago.  Soon he met another Indo-American jazz artist, pianist Vijay Iyer, forming a heady partnership that continues today.
Rudresh moved to New York in 1997 where he worked and recorded extensively with Iyer, including their duo album Raw Materials, Iyer's Blood Sutra and the recent Tragicomic,  and Mahanthappa's Black Water, Mother Tongue, and Codebook. Of their explorations of the melding of American post bop and South Indian classical music, Gary Giddes (The New Yorker) noted: "To the degree that they borrowed anything from South India, it was subsumed by the sheer ebullience they brought to playing jazz—Iyer with his percussive attack, rangy moods, and fastidious wit…and Mahanthappa with his lavish timbre, which places particular emphasis on the often neglected lower register of his instrument, and his ability to convey a state of elation."
One of Mahanthappa's most important collaborators is Indian saxophonist Kadri Gopalnath. After receiving a recording of Gopalnath from his brother, Rudresh was fascinated by the use of microtones. Rather than using the intonation techniques of Ornette Coleman, John Coltrane and Albert Ayler, Gopalnath uses alternate fingerings and innovative embouchure. A grant enabled Rudresh to visit India and study Carnatic music, ragas and talas, leading to compositions blending Western harmonies with South Indian traditional music without giving up American improvisational approaches. Working with Gopalnath, Mahanthappa performed in sold-out concerts and recorded his highly regarded Kinsmen, which also included guitarist Rez Abbasi, an American musician with family roots in Pakistan, and Indian violinist A. Kanyakumari, now performing as the Dakshina Ensemble.  Rudresh followed Kinsmen with Apti, featuring Abbazi and percussionist Dan Weiss on tablas as the Indo-Pak Coalition.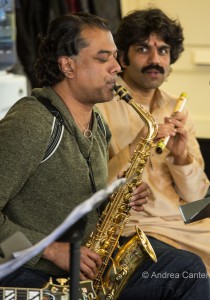 Other projects have included Mauger, a trio with Mark Dresser and Gerry Hemingway (recently releasing The Beautiful Enabler); the trio MSG with Ronan Guilfoyle and Sandler Sardjoe;  Dual Identity, an ensemble co-led with altoist Steve Lehman; his Raw Materials duo with Vijay Iyer; his Quartet, usually with Iyer, Weiss and Francois Moutin; and Samdhi, his electric project which evolved from a Guggenheim Fellowship. Rudresh's Apex is a cross-generational ensemble with saxophonist Bunky Green, pianist Jason Moran, bassist Francois Moutin, and drummer Damion Reid. Mahanthappa also appears with the Danilo Perez Quintet on Perez's Providencia. The 2013 album Gamak featured guitarist David "Fuze" Fiuczynski, whose own microtonal vocabulary opened new possibilities for Mahanthappa's compositional imagination, alongside bassist Francois Moutin and drummer Dan Weiss. (Weiss will join Rudresh at Vieux Carré.)
Rudresh's most recent project, Bird Calls (2015, Blue Note), was named #1 album of the year by both Downbeat and NPR Music's Jazz Critics Poll. This 21st century tribute to Charlie Parker includes a stellar band of pianist Matt Mitchell, bassist François Moutin, drummer Rudy Royston, and 20-year old trumpet prodigy Adam O'Farrill; O'Farrill will be with Mahanthappa at Vieux Carré.
In addition to a Guggenheim Fellowship, a New York Foundation for the Arts Fellowship, and commissions from the Rockefeller Foundation MAP Fund, Chamber Music America and the American Composers Forum, other recent accomplishments include a 2013 Doris Duke Performing Artist Award; Rudresh was named a United States Artists Fellow in 2015 and Director of Jazz Studies at Princeton University in June 2016.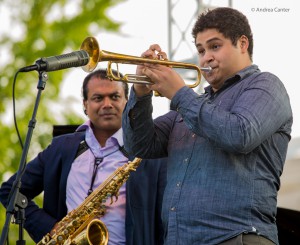 Twenty-two year-old Adam O'Farrill's jazz legacy includes grandfather Chico O'Farrill and father Arturo O'Farrill, as well as mother Alison Deane (classical pianist) and older brother, drummer  Zack O'Farrill. After starting piano at age 6, Adam began trumpet studies at age 8, eventually moving into the famed music program at LaGuardia High School of Music, Art and Performing Arts in his native Manhattan. He is completing trumpet studies at the Manhattan School of Music as well as touring with Bird Calls, the O'Farrill Brothers Band and his own quartet, Stranger Days. Adam was awarded third place in the 2014 Thelonious Monk International Trumpet Competition and won Best Soloist prize that year in the Keep an Eye Competition in Amsterdam. With the MSM Jazz Arts Quintet, he was awarded First Place in that competition, and also received an ASCAP Gershwin Award and ASCAP Student Jazz Composer Award.  Of his performance on Bird Calls, the New York Times described Adam as  "a poised and battling straight-ahead jazz musician, running variations on the unusual melodic material and attacking it with complete presence, in his own voice."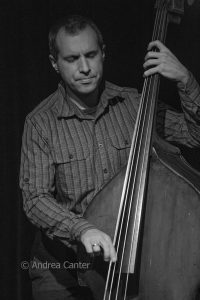 Bassist Thomas Kneeland is equally at home playing classical counterpoint and 20th century chamber music, Indian Carnatic music, Balkan folk music, fusion, and more.  Kneeland has released 5 albums as a leader, including Mazurka for a Modern Man and The Voice of Silence (2010). In 2012, as a member of the Jed Levy Quartet, Kneeland was selected to participate in the Rhythm Road Abroad program sponsored by Jazz at Lincoln Center and the US State Department. A noted composer as well as performer, Kneeland has worked with a long list of artists including Rudresh Mahanthappa, Alex Sipiagin, Jerry Bergonzi, Kenny Werner, George Garzone, Bobby Avey, Ted Rosenthal, Dave Liebman, Matana Roberts, Darcy James Argue's Secret Society, Joe Maneri, Gunther Schuller, Peter Leitch, Peter Mazza, Paul Bollenback, and many others.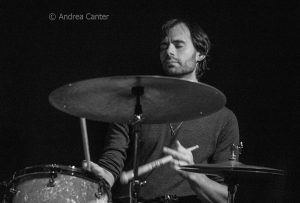 The New York Times dubbed Dan Weiss one of the top five jazz drummers, and his large ensemble recording Fourteen made the top ten list of their best recordings of 2014. With his trio, which includes Jacob Sacks and Thomas Morgan, he's released two recordings which have been critically acclaimed for their unique approach to song structure and endless creative improvisation. Weiss has been studying tabla under his guru Pandit Samir Chatterjee for twenty years; has performed classical Indian music with the legendary Ashish Khan and Ramesh Misra, and recorded Teental Drumset Solo (2005) and Jhaptal Drumset Solo ( 2011) where he performs classical Indian repertoire on drum set. As a sideman he has recorded nearly one hundred albums and toured the world with musicians such as Lee Konitz, David Binney, Rudresh Mahantthapa, Rez Abbasi, Tim Berne, and Miguel Zenon, among others. Weiss has placed in the Downbeat Critics Polls and was one of the Top Five Drummers in Modern Drummer  magazine in 2014. Weiss was most recently in the Twin Cities last June with David Binney's Quartet at Walker West.
Vieux Carré is located in the lower level of the Hamm Building at 408 St. Peter Street in downtown St. Paul. Tickets available from the Dakota box office (612) 332-5299 or www.dakotacooks.com; general seating so you are advised to arrive early. Dinner and full bar available