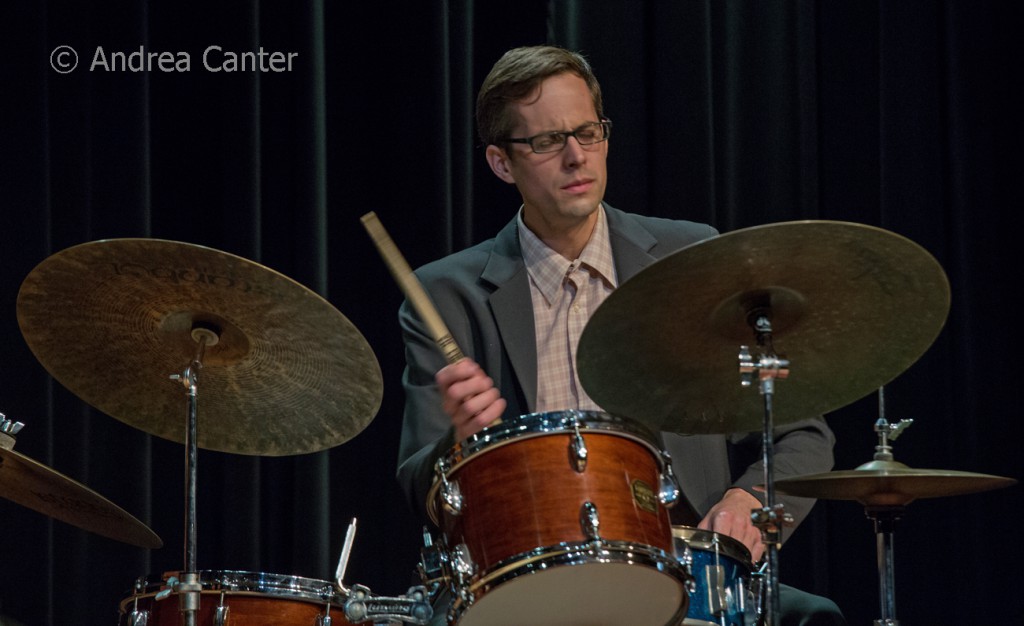 "Slocum's writing and playing emphasize a breathing, expressive, virtually speech-like flow of shifting meters… The young drummer constantly surprises, embracing the kit as a reactive and explorative multi-percussion whole. A fresh voice."  – Modern Drummer
From St. Paul to Los Angeles to New York, drummer Matt Slocum has traveled a steep artistic trajectory, and is now regarded as one of the premier drummers on the modern jazz scene. With his fourth recording as leader just released a week ago, Matt returned "home" to the Twin Cities for two nights at Studio Z on October 21-22, with his new trio of Dayna Stephens (saxophones) and Steve Cardenas (guitar). The music of Trio Pacific Vol. 1 showcased Slocum's talents as composer as much as his skill as a drummer.
Matt Slocum and Trio Pacific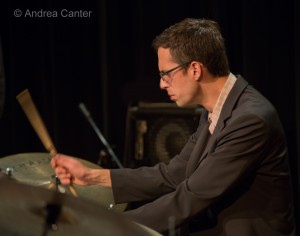 Born in St. Paul and raised 40 miles away in New Richmond, WI, Matt Slocum was exposed to music from early childhood. "My parents are both very hip and they would take us to hear concerts around the area," Matt recalls. "No one in the family was a professional musician…[but] there were instruments around the house for us to play and it was a nice creative environment." His first instrument was the piano, which he began to study at age 9, picking up drums at 11. "I wanted to play the drums right away, but to join the percussion program at school we had to first study piano for two years…My first memory of hearing the drums was actually a marching band–maybe it was a parade or July 4th. The initial attraction was the rhythmic energy and drive of the percussion instruments." Thinking more seriously about music and particularly jazz during high school, Matt noted, "Although there was a good music program at the school, New Richmond isn't exactly a jazz mecca. But, My mom is a Macalester alumna, so she called the college to ask about a drumset instructor." Soon Matt was studying with local drum titan Phil Hey. "Because I didn't have much experience playing jazz, he really helped me out with building a foundation, learning various styles, reading music, working out of Marv Dahlgren's 'Four Way Coordination' and the Philly Joe Jones's brush method book. He stressed the importance of listening to a lot of music…It was a treat to get to hear and study with such a first rate musician."
Inspired by Hey as well as drum legends Max Roach and Philly Joe Jones, Matt Slocum went on to garner numerous awards and scholarships, including a full scholarship to the Thornton School of Music at the University of Southern California where he studied with Peter Erskine, Alan Pasqua, John Clayton, Joe LaBarbara and Shelly Berg. "The Thelonious Monk Institute of Jazz was also on campus at the time, so we got to play with those musicians and check out master classes when artists like Terence Blanchard, Kenny Barron, Dave Holland or Lewis Nash who would come into town."  After graduating from USC and after establishing himself on the West Coast, Matt moved to New York in 2007, where he quickly became an active part of the jazz scene. Building a reputation for his writing as well as his drumming, Matt received composition grants from the American Music Center, the Puffin Foundation, and the Meet the Composer Foundation, the latter of which supported his first recording as leader, Portraits (Chandra Records, 2009). Featuring cohorts from USC, Gerald Clayton and Massimo Biolcati, with the rotating horns of Walter Smith III, Jaleel Shaw and Dayna Stephens, Portraits included eight of Matt's original compositions. Noted the All Music Guide, "This auspicious debut should put Matt Slocum's name firmly on the jazz map."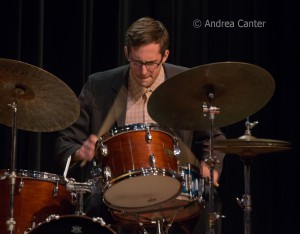 And if Slocum was not so firmly on the "jazz map" already, his second recording, After the Storm (2011), featuring just the trio, left no doubt! Slocum's original compositions again were at the forefront, including six new works augmented by covers of "It's Easy to Remember" and "Everything I Love," as well as Matt's new arrangement of Ravel's "La Vallée des Cloches." Noted the Star Tribune, "Slocum clearly places empathy and ensemble eloquence over solo fireworks, with sublime results." Next, armed with another composer's grant from the Puffin Foundation, Slocum returned to the quartet and quintet format on Black Elk's Dream, featuring frequent collaborators Walter Smith III and Dayna Stephens rotating on saxophones. The project was inspired by the visionary Native American leader Black Elk and the book Black Elk Speaks; again, Slocum's duel talents as composer and arranger set him apart from most of his peers, regardless of instrument. "Black Elk's Dream confirms that the positive reception Matt Slocum earned as a newcomer should only grow now that he's a seasoned vet who keeps elevating his craft" (S. Victor Aaron, Something Else.com).
With the new Trio Pacific, Vol. 1, Slocum significantly changes instrumentation, moving away from the more traditional piano trio format to a far less traveled configuration of sax, guitar and drums, now featuring longtime collaborator, tenor saxophonist Dayna Stephens and inventive guitarist Steve Cardenas.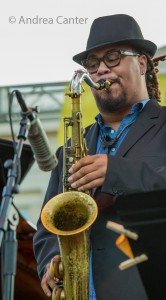 A leading voice in modern jazz, saxophonist Dayna Stephens boasts a long list of impressive collaborators, including pianists Brad Mehldau, Muhal Richard Abrams, and Kenny Barron; drummers Brian Blade, Al Foster, Eric Harland, and Matt Slocum; trumpeters Roy Hargrove and Ambrose Akinmusire; saxophonists Chris Potter, John Ellis and Walter Smith III; bassist Kiyoshi Kitagawa, Linda Oh, and Larry Grenadier; vocalists Gretchen Parlato, Becca Stevens and Sachal Vasandani; and guitarists Julian Lage and Lage Lund. Regarding his improvisational talents, The New York Times heralded Stephens as a "must see," and wrote, "Everything flows with unusual flow fluency and makes you feel rewarded." A Brooklyn native who grew up in California, Stephens began saxophone at age 12 and attended the Berklee College of Music in Boston, then the Thelonious Monk Institute of Jazz in Los Angeles, where he studied with Terence Blanchard, Wayne Shorter and Herbie Hancock. In addition to performing at major venues in New York, Dayna teaches at the New School for Jazz and Contemporary Music and at Stanford University.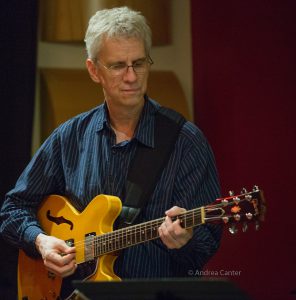 Steve Cardenas launched his music career in Kansas City and has been part of the New York jazz scene since 1995. He was a longstanding member of Paul Motian's Electric Bebop Band (later the Motian Octet) and of Charlie Haden's Liberation Music Orchestra and Joey Baron's Killer Joey. Currently Steve works with the Steve Swallow Quintet, Ben Alison Band, Jon Cowherd's Mercy Project and John Patitucci's Electric Guitar Quartet. He's released four albums as leader including Melody in a Dream (2014, Sunnyside). Well respected as an educator, Cardenas is on the faculty of the New School for Jazz and Contemporary Music and has served on the faculties of the California Institute of the Arts, Brubeck Summer Jazz Colony, Stanford Jazz Workshop and Banff International Workshop in Jazz and Creative Music.
Trio Pacific Vol. 1 (2016, Chandra Records)
Unlike his earlier efforts that focused on Slocum's extended compositions, particularly Black Elk's Dream, the new Trio Pacific Vol. 1 sheds more light on the drummer's collaborative nature.  "For these sessions I was interested in working with more open compositional frameworks designed with the trio's aesthetic approach in mind," notes Slocum. "This group seems to be geared more towards collective interaction rather than extended individual solo statements. It's still a relatively new format as we have been playing together as a trio for only a year or so, but the initial musical connection is the strongest that I've experienced."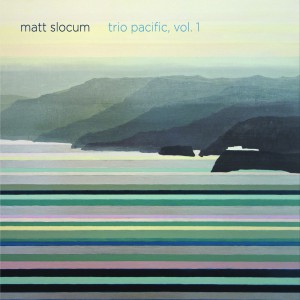 He also notes that, "The title of the recording isn't meant to imply a deep underlying meaning or anything. It just seemed appropriate as the first gigs that I played with Dayna and Steve were on the West Coast, and we all lived in California for different periods of time. There's also a certain warmth in their playing, both sonicly and in terms of content, that for whatever reason makes me think of the Pacific."
Six of the eight tracks are Slocum originals, while the trio covers two standards, Jimmy McHugh's "I Can't Believe That You're In Love With Me" and Charlie Parker's "Relaxin' at Camarillo."  Cardenas sets a swinging and playful pace on the less familiar McHugh tune and Stephens –in twisty delight–and Slocum–with hollow beats and quick stops/starts– follow suit. Slocum opens the Parker track with a brief solo to introduce Cardenas and Stephens (on alto), tossing the bebop ball back and forth with Cardenas before sending it back to Slocum for a display of fluttering toms.
Slocum's "Passaic" opens the album, referencing the twisting Passaic River and what he describes as "a type of dark beauty" in the Great Falls of the Passaic, the second largest waterfall of the Eastern U.S. And like the river, the trio flows with strength and beauty, undercurrents of gentle motion from Slocum and Cardenas while Stephens elegantly glides through the river's twists and turns, arriving at a somewhat ominous bend accented by the restrained anxiety of Slocum's percussion. "Yerazel" is Armenian, meaning "to dream," and Steve Cardenas appropriately leads a floaty dreamscape. Matt wrote "For Alin" for his wife, and recorded it initially on his debut album Portraits. Here the trio's collaboration shines, Slocum's lovely melody stimulating a gentle three-sided interaction that unites in a single, exquisite voice.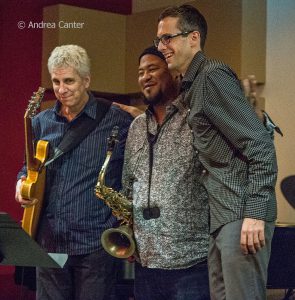 Slocum composed three works specifically for this album. Stephens washes "Afterglow" in deep tenor tones as he explores Matt's gentle, not-quite-dark melody. "Descent" highlights the talents of each member of the trio with Slocum interacting assertively and conversationally with each of his cohorts, first Stephens (on tenor), then Cardenas, who makes his most impressive statements of the album here. It's a lush three-way conversation in the final segment. For "Atlantic," Stephens picks up the soprano, which sings a wistful song over Cardenas' supportive chords, while Slocum inserts his full arsenal of brushes, mallets and sticks, adding textures and colors that give life to the moody ocean.
I am a long-time fan of Matt Slocum the composer. In this new configuration, he is no less remarkable, and perhaps more so given the challenging interaction of sax, guitar and drums. If there was any doubt that this instrumentation would work–and work so well, Trio Pacific Vol. 1 should dispel any doubts– this is a magical collaboration, and we should be grateful that it is apparently only the first volume, with more to come!
More about Matt Slocum, ordering his recordings, and his current tour at www.mattslocumjazz.com