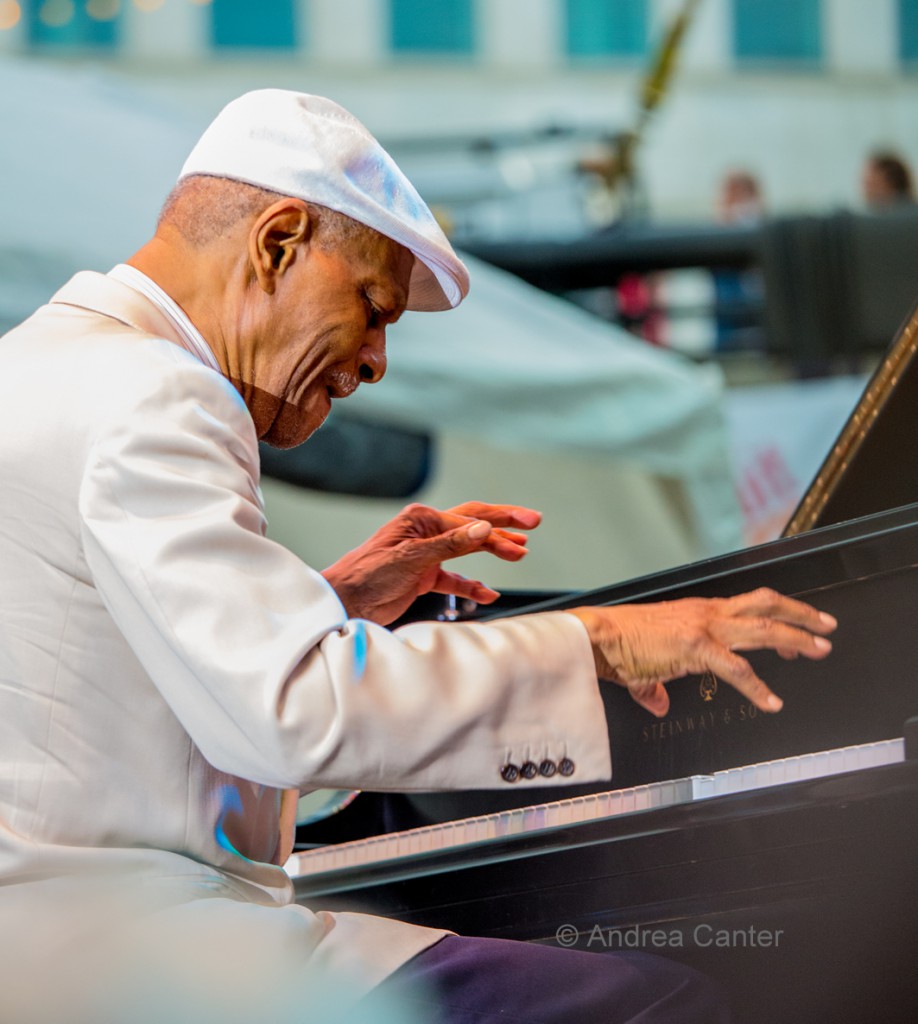 Pianist McCoy Tyner is one of the working legends of his generation, an artist whose long and diverse career spans the heyday of bop, the emergence of Coltrane, and the evolution of the complex structures that are hallmarks of modern jazz. His percussive attack, orchestral voicings, and modal harmonies have influenced several generations of musicians, and his ongoing work exemplifies the life of a creative artist constantly seeking to grow and respond. Tyner is now well into his 70s but continues touring with bassist Gerald Cannon and drummer Francisco Mela, and often as a quartet with special guest and long-time collaborator, saxophonist Gary Bartz. Tyner and his quartet make a two-night stop at the Dakota in downtown Minneapolis, October 20-21, in the wake of several significant tribute concerts over the past year. Tyner with this quartet was most recently in the Twin Cities in 2013 at the Hopkins Center for the Arts.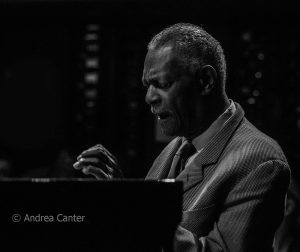 Born in Philadelphia in 1938, Alfred McCoy Tyner was encouraged by his parents to study music, and started formal piano lessons at thirteen on a neighbor's piano. Soon he began hosting his own jam sessions and was introduced to African drumming, an influence that continues to infuse his music 50 years later. Young Tyner's interest in bop was galvanized by early encounters with musicians in the neighborhood, including Bud Powell, Lee Morgan, Archie Shepp, Bobby Timmons, and Reggie Workman. Other early influences included classical composers such as Stravinsky and Debussy, as well as Duke Ellington, Art Tatum, and Thelonious Monk, whose percussive style would leave an indelible imprint on Tyner. As a teenager, Tyner played regularly at the Red Rooster, where, at age 17, he first worked with fellow Philadelphian John Coltrane. Sax virtuoso Benny Golson first brought the young pianist to New York to join forces with Art Farmer in the first edition of the Jazztet. In 1960, when Coltrane left Miles Davis to form his own band, he hired Tyner and formed what many believe to be one of the greatest quartets in jazz, with Jimmy Garrison and Elvin Jones.
During his years with Coltrane, Tyner also recorded on his own for Impulse and then Blue Note. Despite the focus on rock, which eroded interest in jazz in the late 1960s, Tyner refused to follow the trend toward electronic music. With an increasingly complex approach to harmony, he found a more appreciative audience in the 1970s; and through the following three decades, has remained productive across a broad range of groupings and styles, from solo and trio to big band, from inventive post bop to compositions embracing African and Latin themes. Now 70, Tyner still tours and records, often in the company of a new generation of musicians such as Charnett Moffett, Ravi Coltrane, and Terell Stafford. His 2005 release, Illuminations, earned Tyner his fourth Grammy for Best Jazz Instrumental album.  Tyner was named an NEA Jazz Master in 2002, and in 2008 received the Presidential Merit Award from the Grammy Foundation. His latest release, Guitars (2008), features Tyner in the company of some of the finest guitarist in jazz and beyond– Bill Frisell, Marc Ribot, John Scofield, Derek Trucks, and Bela Fleck. In 2016, tribute concerts honoring Tyner's five-decade career have been held in Chicago at Symphony Place with Geri Allen and Danilo Perez, at SFJAZZ in San Francisco with Chick Corea, Kenny Barron, Geri Allen, Benny Green and more; and at Jazz a la Villette (France) with Craig Taborn and Geri Allen.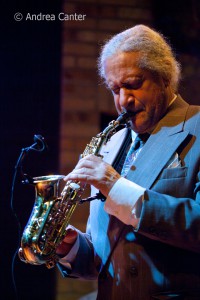 Now 70+ himself, Grammy-winning saxophonist Gary Bartz has worked with a Who's Who of modern jazz, from Charles Mingus and Art Blakey to Miles Davis and Jackie McLean. The Baltimore native graduated from Juilliard and played with the Max Roach/Abbey Lincoln Group before joining Art Blakey's Jazz Messengers in the mid 1960s. He was also a member of Charles Mingus' Jazz Workshop during this period, and had his first collaborations with McCoy Tyner in the late 60s, including appearing on the Expansions and Extensions recording sessions. He was invited to join Miles Davis in the early 70s, playing in the famed Isle of Wight Festival of 1970. In the early 70s, Bartz founded his funk/soul/fusion/avant garde Ntu Troop. Over the next thirty years, Bartz recorded and toured in various formats on both alto and soprano, appearing as leader on more than 30 albums and as sideman on more than 100. He's appeared frequently with McCoy Tyner in recent years.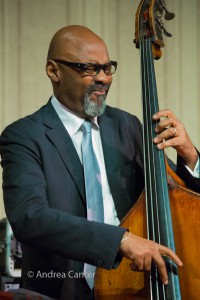 A native of Racine, WI, Gerald Cannon followed his guitarist-father's footsteps into music. His first professional gigs at age 12 were as bassist for his father's group, Gospel Expressions. As a physical education major at the University of Wisconsin-LaCrosse, he met the great bassist Milt Hinton, and soon transferred to the Wisconsin Conservatory of Music to study jazz and classical bass and piano; he also studied art at Marquette University. He formed first band, Gerald Cannon's Jazz Elements, before relocating to New York where he initially collaborated with Russell Malone, Winard Harper and Justin Robinson. Later he gained invaluable experience with Art Blakey's Jazz Messengers, Cedar Walton, Jimmy Smith, Frank Foster, Stanley Turrentine and more. A big break came when he joined Roy Hargrove's band, touring with the trumpeter for seven years. He went on to work with Elvin Jones, Wynton Marsalis, Pat Martino, Louis Hays, Abbey Lincoln, Steve Turre and more, as well as leading his own quartet. He has appeared several times in the Twin Cities including with the Cyrus Chestnut Trio at the 2016 Twin Cities Winter Jazz Festival.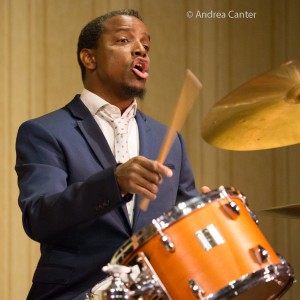 Cuban native Francisco Mela has become a go-to drummer for many of today's top artists, including Joe Lovano (Us Five), John Scofield, Joanne Brackeen, Kenny Barron and McCoy Tyner. Mela moved to Boston in 2000, earning his degree at Berklee and immediately taking a teaching position there. Soon he was part of the two-drum artillery of Lovano's Us Five. Mela's Cuban Safari draws upon two of his strongest influences, Weather Report and Irakere—jazz fusion meets Latin jazz? Cuban Safari released its debut album in 2012, Tree of Life, featuring vocals from Esperanza Spalding. Mela has become a frequent visitor to the Twin Cities, appearing with Joe Lovano several times and with Cuban Safari and Crash Trio at the Twin Cities Jazz Festival, and now more often as Artistic Director of the Twin Cities Jazz Festival.
The McCoy Tyner Quartet performs two sets each night (October 20-21) at 7 and 9 pm at The Dakota, 1010 Nicollet Mall in downtown Minneapolis; reservations at 612-332-5299 or www.dakotacooks.com