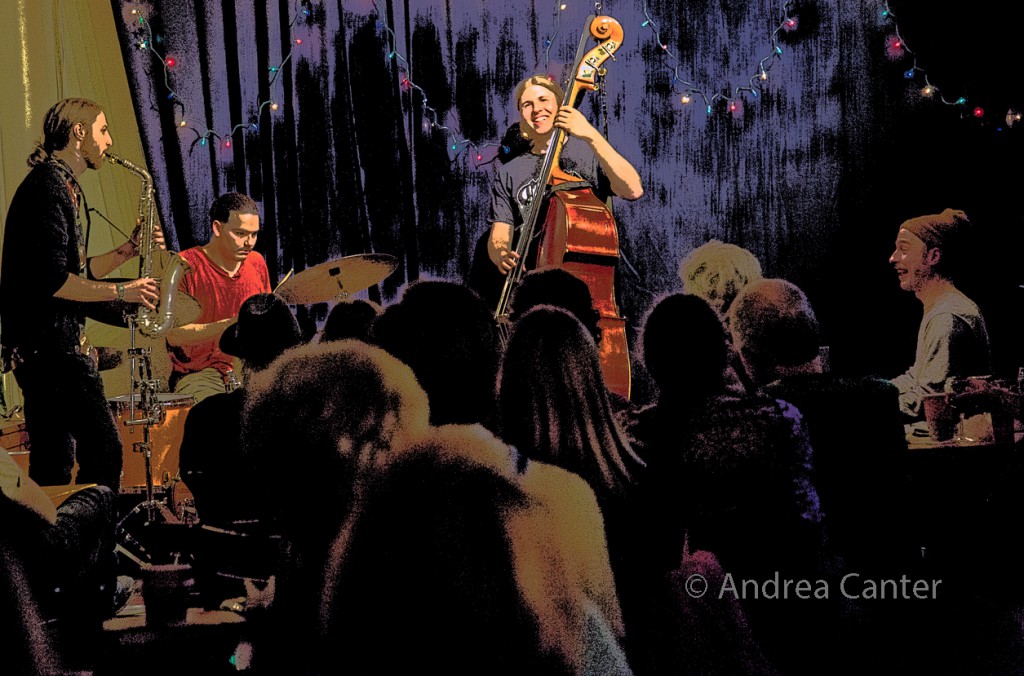 He moved back to his native New York two years ago, but bassist Brian Courage has not severed his ties with musical cohorts in the Twin Cities, returning several times to play with former bandmates and new collaborators. After a stop in Chicago, Brian comes "home" to Minnesota for gigs at Reverie (October 6), Vieux Carré (October 7) and The Icehouse (October 10).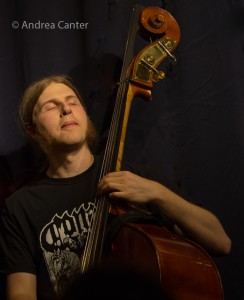 Brian Courage is a bassist and composer originally from Long Island, NY. Courage moved to Minneapolis in 2012 after finishing his studies at the Lawrence University Conservatory of Music in Appleton, WI. In the Twin Cities, Brian became more than a first-call sideman, joining forces with other (mostly) young artists to lead or co-lead some of the most exciting ensembles in town. In addition to his Courageous Endeavors and Mountain King (three-bass) ensembles, Brian performed with the No Coast Quintet, Dave Karr Quartet, a trio with Pat Moriarty and Ellen Lease, the Pete Whitman X-Tet, Gypsy Mania, the John Raymond Quartet and Peter Kogan Group, as well as with many area vocalists and such visiting artists as Lew Tabackin, David Hazeltine, J.D. Allen, and Walter Smith III. Since his return to New York City in fall 2014, Brian has performed at several venues around Brooklyn and Manhattan as a member of the Chris Misch-Bloxdorf Dectet. Brian most recently was in town to gather a quartet for the Jazz at Studio Z series last spring.
October 6, Brian Courage Quartet, Thursday Night Jazz at Reverie (9 pm)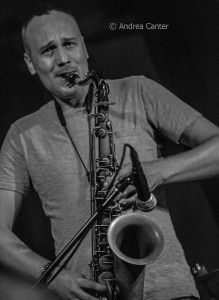 For this Thursday edition of the Brian Courage Quartet, the bassist joins forces with three top artists– Brandon Wozniak on sax, Steven Hobert on piano and Pete James Johnson on drums. Wozniak is well known for his soaring horn in such bands as the Atlantis Quartet, Dave King Trucking Company, Bryan Nichols' ensembles, and Jeremy Walker's Atrium Jazz Ensemble, among others. A creative composer and eclectic performer on both accordion and piano, Steven Hobert leads his own quartet, performs in duo with Dean Magraw, and works in Adam Meckler's bands including the Adam Meckler Orchestra and Lulu's Playground. Drummer Pete James Johnson has led a number of ensembles in the Twin Cities, including his trio and quartet, and the Basement Society, and has performed with Andrew Walesch, Adam Meckler, Nelson Devereaux, the Nexus Ensemble and more.
October 7, Chris Misch-Bloxdorf Dectet at Vieux Carré (9 pm)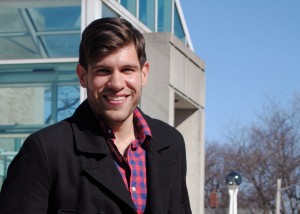 Notes Brian, "Chris Misch-Bloxdorf is a trombonist who went to Lawrence, who I've been playing with a lot in New York. He's going to be splitting his time between here and the Midwest, so hopefully you'll be seeing more of him soon." Chris is based in Brooklyn but is a native of Wisconsin.  He moved to New York after graduating from Lawrence, obtaining a Master's Degree at NYU where he studied with Alan Ferber and Kenny Werner. He's performed with a long list of veterans including Bobby McFerrin, John and Gerald Clayton, Joel Frahm, Conrad Herwig, Snarky Puppy, Billy Drewes, Kurt Elling, Jim Pugh, and Joe Lovano. In December of 2015, Chris's ten piece chamber jazz ensemble (Dectet) released a full-length album of original music entitled Snapshots. The band brings a combination of a classical chamber ensemble's sensitivity and the bombastic nature of a punk band, featuring undercurrents of hip-hop, contemporary classical, metal, electronic, indie-rock, and folk. The Dectet continues to expand their repertoire, including collaborations with hip-hop artists Elucid, Milo, and Hemlock Ernst.
At Vieux Carré, the Dectet will include Chris Misch-Bloxdorf, trombone; Jake Baldwin, trumpet; Aaron Hedenstrom, alto sax; Mitch Stahlmann, flute; Michaela Helms, oboe; Carley Olson, bass clarinet; Joe Strachan, piano; Kevin Gastonguay, keyboards; Brian Courage, bass; and Miguel Hurtado, drums.
October 10, The Westerlies/Brian Courage Quartet at the Icehouse (9:30 pm)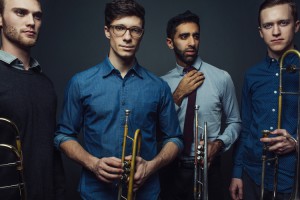 The opening set on JT'S Jazz Implosion features a New York-based, Seattle-bred brass quartet, the Westerlies, with two trumpets (Riley Mulherkar and Zubin Hensler) and two trombones (Andy Clausen and Willem de Koch).  Formed in 2011, the band explores jazz, roots and chamber music influences to create a hybrid of both, which is performed without sheet music. Says Brian, "They're picking up steam pretty quickly these days and will be playing some West Coast shows with Dave Douglas later in October." They're followed by another edition of Brian's quartet, this time with Dean Granros on guitar, Noah Ophoven-Baldwin on trumpet, Brian on bass, and JT Bates on drums.
Reverie is located at 1931 Nicollet Av, just south of downtown Minneapolis. No cover but tips appreciated to support the musicians and Thursday Night Jazz series; www.thrusdaynightjazzatreverie.info. Vieux Carré is in the lower level of the Hamm Building at 408 St Peter Street in downtown St. Paul. Cover $10, www.vieux-carre.com. The Icehouse is located at 2528 Nicollet in south Minneapolis; cover $8; www.icehousempls.com