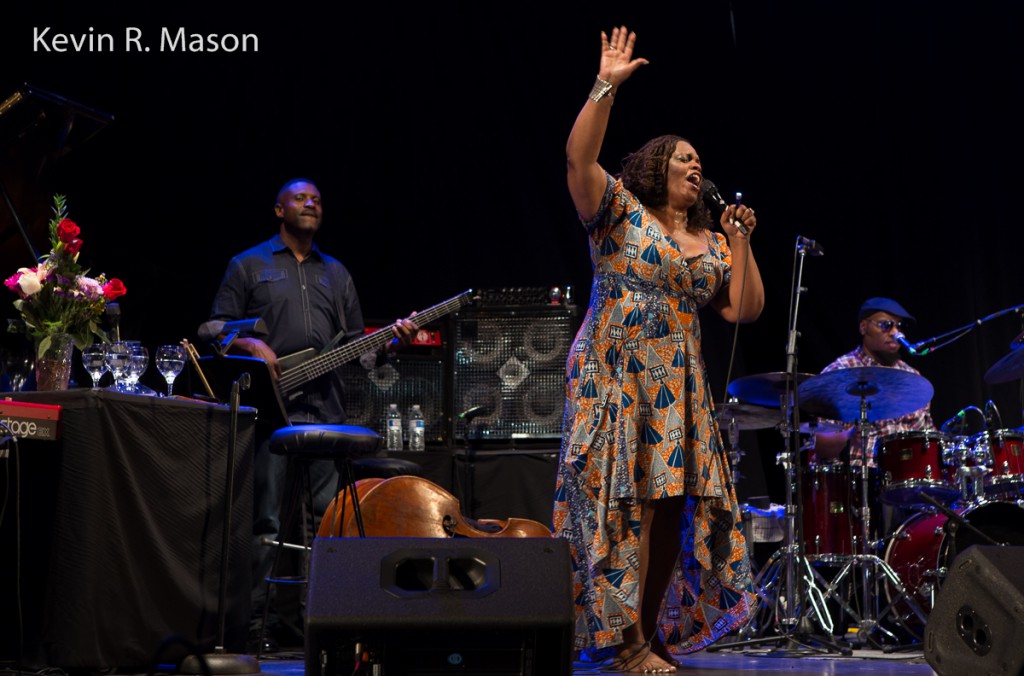 The 2016 SummerStage Festival continued a dazzling season of free jazz concerts on July 27, when acclaimed vocalist Dianne Reeves performed in New York City's Queensbridge Park.
Dianne Reeves
Dianne Reeves was the recipient of the 2015 Grammy Award for Best Jazz Vocal Album, Beautiful Life, the latest of five Grammy Awards that she has earned during her illustrious career. The recording also received the honor of Jazz FM Album of the Year. On her website, Dianne said this about the title of the CD. "At its essence, life is beautiful, and I wanted to celebrate that which is too often overlooked." Produced by Terri Lyne Carrington, Beautiful Life also featured bassists Esperanza Spalding and Richard Bona, vocalists Gregory Porter and Lalah Hathaway, pianists Robert Glasper and Gerald Clayton, and the late, great George Duke, who collaborated with Dianne on numerous occasions, and was also her cousin. This latest recording from Reeves is now part of her discography of critically acclaimed albums that have made her a jazz icon.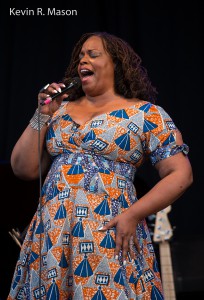 From her first recording in 1987, the eponymous Dianne Reeves, to her holiday CD, Christmas Time is Here, to the soundtrack for the 2005 George Clooney Academy Award-winning film, Good Night, and Good Luck, Reeves has a list of recordings that have elevated her name to be mentioned in the same breath as the greatest singers in jazz. She has appeared at concerts and festivals all over the world, performed at the White House, and worked with some of the biggest names in the business, including Wynton Marsalis and the Jazz at Lincoln Center Orchestra. Dianne has toured with fellow vocalists Lizz Wright and Angélique Kidjo ("Sing the Truth"), was guest vocalist with the Chicago Symphony Orchestra and the Berlin Philharmonic, and served as the first Creative Chair for the Los Angeles Philharmonic. She is one busy, prolific artist!
Dianne Reeves at SummerStage
The day of Dianne Reeves' SummerStage concert had been blisteringly hot in New York. In fact, it was so hot in the blazing sun that most people didn't come to Queensbridge Park until the last minutes before the show. Luckily, at sunset, it started cooling down a bit, and by the time the music started, it was a little more comfortable, and people started filling up the park.
DJ Greg Caz got things started, spinning a perfect combination of jazz and Latin music to warm up the crowd. Most people were content to tap their feet and nod their heads, some no doubt still enervated by the earlier heat. However, a few folks couldn't resist dancing, especially one little girl who showed off her best moves, delighting the crowd in the process.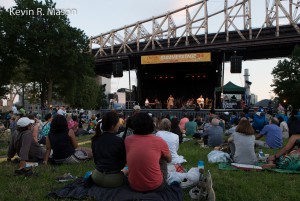 After the DJ's set, the crowd was more than ready for Dianne. Her quartet—Musical Director and pianist Peter Martin, guitarist Romero Lubambo, drummer Terreon Gully, and bassist Reginald Veal—started the set by displaying their talents on "You Will Know."   Dianne entered to thunderous applause, wearing a striking printed dress, and demonstrated her vocal prowess from the start. Welcoming the crowd, she acknowledged the steamy weather, saying, "We're going to cool you down, but it's still going to be hot!" She started improvisational scatting, encouraging the audience to sing along, and they were more than happy to comply. The resulting music had Reeves exclaim to the crowd that it was really beautiful. Dianne began fanning herself, and she did it with the same graceful, yet down-to-earth style she does everything on stage, and turned it into a charming little dance. The concert continued with "Nine," from the album Quiet After the Storm, which Reeves wrote in collaboration with pianist/composer Eduardo del Barrio. "Nine" is all about the joys of childhood, and Dianne introduced the song with a witty monologue about all the milestones that come at every stage of life. Reeves joked about how she used to make fun of people who have a drawer full of reading glasses, until she had a drawer of her own. Dianne continued, "I am now 59, and I have been celebrating all year." When I turn 60, it's really going to be something!" She dedicated "Nine" to innocence and hope, and made the fervent wish that those two expressions of the best of human traits will never be completely lost, no matter how old you are.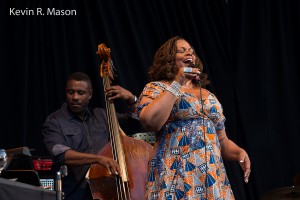 In a different tone, Dianne performed the very moving and intuitive song, "Cold," from Beautiful Life. The song is all about surviving the drama and heartbreak of a passionate and turbulent love affair that is finally and irrevocably over, something many people in the crowd could fully relate to. A concert by Dianne Reeves is a deeply emotional event, and touches on almost every human experience. In addition to her exquisite voice, she has considerable dramatic skills, and infuses the lyrics with so much meaning. On "Afro Blue," she updated some of the lyrics to pay tribute to the President and First Lady, Barack and Michelle Obama, and you could tell that those lyrics really meant something to her.
Reeves' songs tell compelling stories, and there's no better example of this than her ode to her grandmother, "Better Days," from the album Welcome to My World. The sentiment, warmth, and love depicted in the song is a touching honor to the relative she adored, and the ease with which Dianne traversed octaves with her voice gave the audience goosebumps. Near the end of the show, she said, "I wish you peace, light, love, joy, and good health. And don't forget to vote!" The audience started chanting "More!" almost as soon as she said good night. Returning to do her encore, she said, "The news is full of hate and fear. But we travel all over the world and meet all kinds of people, and there's more love in the world than the news ever shows. We're stronger than we think." At the end of the encore, Reeves sang the stirring words from Michelle Obama's memorable speech at the recent Democratic National Convention, "When they go low, we go high," and asked the audience to raise their lighted cell phones in a show of unity. Dianne then did her distinctive singing introduction of her band, that never gets old, with virtuosity that was as great as any other part of the show. Reeves is so gifted; she turns her introductions into high art. Cell phones weren't the only things that lit up the night; Dianne Reeves sparkled brightly like a brilliant musical jewel in Queensbridge Park.
For more information about Dianne Reeves' tour dates and upcoming events, go to: www.diannereeves.com.