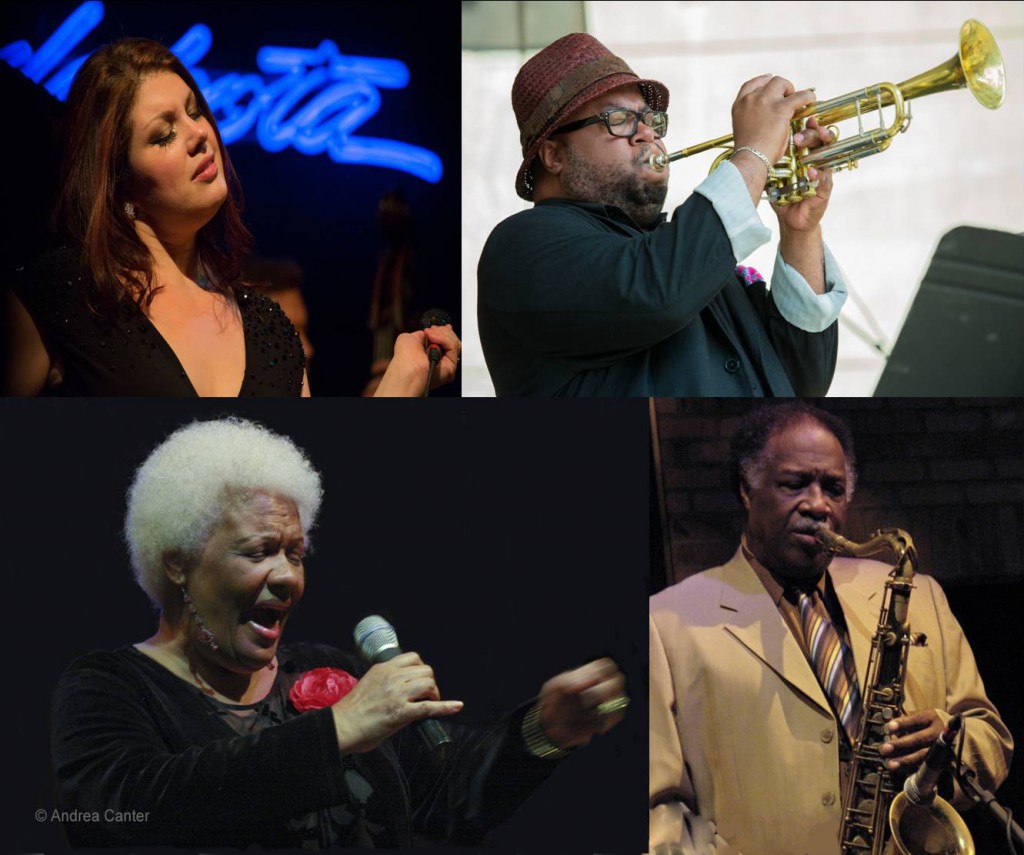 Voice and horn have long provided magical pairings throughout the history of jazz, from Billie Holiday/Louis Armstrong to Ella Fitzgerald/Oscar Peterson and into the 21st century with the likes of Roberta Gambarini and Roy Hargrove. This week, the Dakota offers two such collaborations with back to back shows, two nights each, as Jane Monheit and Nicholas Payton salute "Ella and Louis on August 30-31, followed by long-time partners Barbara Morrison and Houston Person on September 1-2. Monheit has been an almost-annual performer at the Dakota, while Morrison was a popular draw a decade ago (recording Live at the Dakota with Person in 2005), and has recently returned to national touring.
Jane Monheit and Nicholas Payton, August 30-31 
"I've never felt more connected to an artist. Working with Nicholas was a really big deal. I can't wait to see what we do next." –Jane Monheit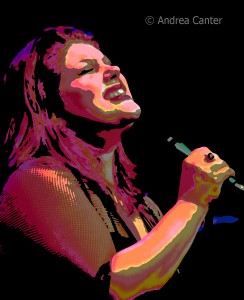 Contemporaries and much-lauded solo artists, Jane Monheit and Nicholas Payton have both enjoyed considerable success, commercially and artistically, over their approximately two-decade careers, but only recently formed the partnership that yielded Jane's Songbook Sessions: Ella Fitzgerald (2016) on her new, self-directed label, Emerald City Records; Payton serves as producer and arranger as well as contributing on trumpet. "I had no idea what to expect from Nicholas because we had never worked together," notes Jane, "but it was evident from the start that he is a sensitive soul and his knowledge and understanding of history was beyond compare. I felt an instant trust in him I had never felt before with any other producer…It's the first time I've made a recording without a label and so I was able to make all the decisions myself… It was a little scary because there's a certain raw quality to some of the vocals but we gave no thought to fixing them. These were the vocals of a 38-year-old woman with a lot of life experience. These tracks really express who I am… I thought it was important to capture the side of Ella that sometimes gets played down, her warmth and sincerity and the depth of her singing. I'm closer to that side, as a musician, than the crazy swinging total genius side of her."
This approach shines through the album and permeates critics' praise: "The album is actually a tribute to two distinctive singers, one majestic voice from the past and one powerfully impressive songstress of today," notes Edward Blanco (All About Jazz).  And while Monheit has long expressed the influence of Ella, "to her great credit, she hasn't tried to be a Fitzgerald clone, or even indulged in a full-scale tribute before this one. And she isn't offering an ingénue's take on the subject: There's an anchoring sense of lived experience in her singing," noted Nate Chinen (The New York Times).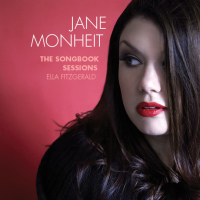 Jane Monheit's early career resembled a fairy tale: She was runner-up (to the late Teri Thornton) in the 1998 Monk Competition; attended the Manhattan School of Music where she studied with Peter Eldridge, graduating in1999 with a recording contract in hand; and in 2002 was dubbed by Jazz Times as the "Golden Girl of Jazz." Overcoming some early doubts among critics, Jane since "has astonished listeners with the depth and range of her irresistible gifts: a deluxe voice and a passionate spirit spiked with an uncanny jazz sense that reinvents the great standards of American popular music" (Jazz at Lincoln Center).  Each new album has documented continuing growth as Jane explores new songs, new songwriters, new arrangements, new emotions. Her recent show "Hello Bluebird" was her first themed production (a salute to Judy Garland), while her 2015 release 2 in Love marked her first duo with pianist David Benoit, as well as Benoit's first release with a vocalist. During 2015, Jane also paid homage to the centennial of Frank Sinatra, and paired her salute to Judy Garland with songs from the male singers and songwriters who have long been a major source of inspiration.
Defining Jane Monheit as a "jazz singer" has often elicited debate. Yet, even earlier when some artistic choices were limited by her label, Jane always displayed more emotional range in live performance. She can be romantic and wistful, a bit cool and deliberate, or sultry and playful. And if repeating a playlist over multiple sets, Jane rarely repeats herself in her expression of emotion, her tempo, her phrasing. By definition, this is the art of jazz.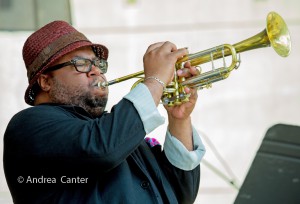 New Orleans native Nicholas Payton was surrounded by musicians growing up (his mom sang opera, his dad was a respected jazz and classical bassist) and began playing trumpet at age 4. "Discovered" by Wynton Marsalis, young Payton played with Marcus Roberts and later Marsalis' bands; attended the New Orleans Center for the Creative Arts and University of New Orleans, and, in 1991, played with Jazz Futures II along with Roy Hargrove. At only 21 he joined Elvin Jones, eventually becoming the band's music director; he also did stints with the Lincoln Center Jazz Orchestra and Carnegie Hall Jazz Band. Along with numerous recordings and appearances as a sideman and leader, Payton toured and recorded a set of duets with the late Doc Cheatham, for which he won a Grammy (at age 24) for his performance of "Stardust."
Revitalizing the jazz traditions of his native New Orleans, Payton has been acclaimed throughout the past two decades for his "crackling spirit and the fiery chops of one of this generation's most gifted trumpet players" (Isaac Josephson, Jazz Times), issuing recordings that included his reworkings of Louis Armstrong (the Grammy-nominated Dear Louis) and Herbie Hancock. Feeling that he had exhausted the potential of his working quintet, Payton shifted gears with Sonic Trance, a new ensemble fusing hip-hop, rock, African rhythms, funk grooves, and R&B. The resulting open-ended compositions have been compared to the effects attained by Miles Davis on Bitches Brew. Payton was a founding member of the SF Jazz Collective (2004), joined the Blue Note 7 (2008), led the 21-piece Television Studio Orchestra (2011), composed The Black American Symphony on commission from the Czech National Symphony Orchestra (2011), and formed his own record label, BMF Records. He was a Distinguished Artist and Visiting Lecturer at Tulane University, 2011-13. Payton was most recently in the Twin Cities as special guest with Francisco Mela's band at the 2015 Twin Cities Jazz Festival.
Barbara Morrison With Houston Person, September 1-2
"She can be as playful as Ella, as thoughtful as Sarah, as naughty as Etta… Barbara Morrison… has gained a national following with her big personality and delicious sense of swing."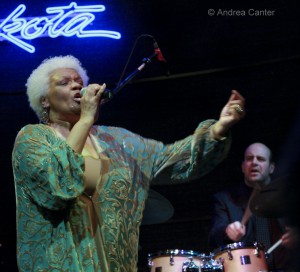 A crowd pleaser every time she takes the stage, acclaimed vocalist Barbara Morrison returns to the Dakota after nearly 8 years. She can warm up the blues, torch a torch song, and squeeze the soul out of soul, and along the way, she's a dazzling entertainer and comedienne. At the Dakota, she will be joined by one of the living legends of jazz saxophone and long-time collaborator, Houston Person.
A native of Ypsilanti, Michigan, Barbara Morrison made her show business debut recording for Detroit radio at age 10. Ever since, she has been performing at festivals, including the Montreux and the North Sea Jazz Festivals, and on stage with such  legends as Dizzy Gillespie, James Moody, Ron Carter, Etta James, Jimmy Smith, Johnny Otis, Dr. John, Kenny Burrell, Terence Blanchard, Joe Sample, Cedar Walton, Nancy Wilson, Mel Torme, Joe Williams, Tony Bennett, and Houston Person. She opened for Ray Charles and was guest vocalist for the Count Basie Orchestra, the Clayton-Hamilton Orchestra, and Doc Severinsen's Big Band. Other credits include lead vocalist on the movie sound track for The Hurricane (starring Denzel Washington), guest vocals on The Duke Ellington Millennium and Johnny Otis' Ooo Shoo Be Dooo recordings, and appearances on the NBC TV comedy The Naked Truth, The Tonight Show With Jay Leno and The Dennis Miller Show.
Said Rob Adams in the Glasgow Herald, "She makes an audience feel good, like we're all round at her place and she's feeding us in the kitchen." But it is indeed her voice with its two-and-a -half octave range that ultimately puts her at the top. With over 20 recordings (three Grammy nominations) in almost every genre from jazz to blues to gospel and pop, she has received world-wide acclaim: "She can swing a tune with the best of them, and the pointed quality of her vocals allows her to penetrate even the most formidable instrumental accompaniment. To hear her ride the great, roaring orchestral sound is to behold one of the more accomplished jazz-blues singers in the business"  (Sidney Morning Herald). In 2010, Barbara was recognized by NPR as one of the "Fifty Greatest Jazz Vocalists."
When not touring, the Los Angeles-based Morrison teaches at UCLA, where she is on the faculty of the Ethnomusicology Program. She is also the founder and director of Young Educated Singers, Inc. ("YES"), a California not-for-profit corporation dedicated to the preservation and proliferation of jazz and the blues by inspiring children 12-17 to choose careers as jazz and/or blues singers. In 2008 she opened the Barbara Morrison Performing Arts Center (BMPAC).  The 99-seat theatre and adaptable performance space is located in the historic Leimert Park District, which is considered the center of the African American arts scene in Los Angeles.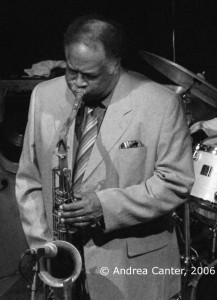 Dubbed "the natural heir to the Boss Tenor crown worn so long and so well by Gene Ammons" (Bob Porter, liner notes for The Party), 82-year-old global performer Houston Person knows the music business inside out, from booking his own tours to producing his own albums. As eclectic as he is talented, Person has recorded everything from disco and gospel to pop and r&b, in addition to his trademark, souful hard bop. After years as producer and house tenor for High Note Records and touring with the late Etta Jones, Person in the past decade has received renewed recognition as a master of popular songs played in a relaxed, highly accessible style.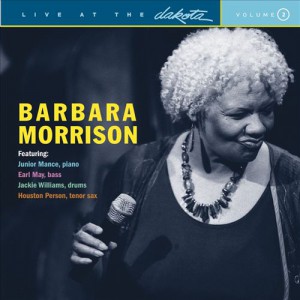 Person grew up in Florence, South Carolina, and remembers his parents listening to lots of music at home, including jazz. First playing piano before switching to the tenor sax at age 17, he went on to study music at South Carolina State College (where he is included in the school's Hall of Fame), and later pursued advanced studies at Hartt College of Music in Hartford, Connecticut. As a member of the United States Air Force band stationed in Germany, he played with Eddie Harris, Cedar Walton, and Don Ellis, later working as a sideman for organist Johnny "Hammond" Smith in the mid 1960s.  Person built his reputation as a leader with a series of soulful recordings for Prestige in the 60s. However, he was often upstaged by his legendary partnership with the great vocalist, Etta Jones, which lasted over 30 years until her death in 2001. More recently he has performed with Barbara Morrison, with whom he recorded Live at the Dakota in 2005. He's also appeared on recordings with Etta Jones, Lena Horne, Lou Rawls, Dakota Staton, Horace Silver, and Charles Brown, and as producer has worked with Etta Jones, Freddy Cole, Ernie Andrews and more.
Tickets for these and other shows available at www.dakotacooks.com or call the Box Office at 612-332-5299. The Dakota is located at 1010 Nicollet Mall in downtown Minneapolis.