One of the most acclaimed and prolific jazz artists of his generation, saxophonist/composer David Binney and his quartet close out the first 8 O'Clock Jump season at Walker West Music Academy on Friday, June 17 (8 pm). Joining Binney are three innovative performers–Jacob Sacks (piano), Eivind Opsvik (bass) and Dan Weiss (drums). This will be Binney's first Twin Cities appearance with his quartet; Weiss was at Walker Art Center this past February with guitarist Rez Abbasi.
David Binney was cited by Jazz Times as one of a handful of "players who have created an alternative jazz scene… all of whom are playing adventurous, original music." A native of Miami, FL, Binney was raised in southern California, moving to New York at 19 where he studied with Phil Woods, Dave Liebman and George Coleman.  Over his career, he has performed in clubs in Manhattan jazz festivals around the world, as leader and as sideman to the likes of Medeski, Martin and Wood, Chris Potter, Donny McCaslin, Drew Gress, Uri Caine, Aretha Franklin, Maceo Parker and more. A producer as well as performer, David has produced each of his 22 albums as well as albums for Lost Tribe, Donny McCaslin, Scott Colley and more, and launched his own Mythology Records in 1998. He appears regularly at the 55 Bar in Manhattan.
David Binney has won the Downbeat Critics Poll 3 different times in the Alto Saxophone category, and has placed in numerous polls as producer.  He has appeared as featured artist on the cover of Downbeat and Jazz Times, the former which referred to him as "a strikingly original composer, leader and conceptualist."
Pianist Jacob Sacks is a Michigan native who studied with Gary Dial at the Manhattan School of Music. A finalist in the 1999 Thelonious Monk International Jazz Piano Competition, he has performed with Clark Terry, Eddie Henderson, Christian McBride, Brian Blade, Chris Potter, Mark Turner, Matt Wilson, the Mingus Big Band, Paul Motian Septet and David Binney's Balance as well as trio. He has a long-standing duo with vocalist Yoon Sun Choi, co-led a quartet with Eivind Opsvik featuring Paul Motian, and performs in a trio with bassist Thomas Morgan and drummer Dan Weiss.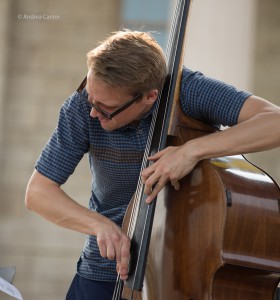 Norwegian bassist Eivind Opsvik studied classical bass and was active on the jazz scene in Oslo before relocating to New York City in 1998. He attended the Manhattan School of Music and has worked with Anthony Braxton, Paul Motian, John Zorn, Bill Frisell and more. Colleagues from Manhattan School of Music, including Jacob Sacks, collaborated with him on his first solo project, Overseas. He also has been active in experimental chamber music ensembles. Currently Opsvik performs with Tonly Malaby, Nate Wooley, Anthony Braxton, Ben Monder, Mary Halvorsen, Kris Davis, Julian Lage and more, in addition to David Binney.
The New York Times dubbed Dan Weiss as one of the top five jazz drummers, and his large ensemble recording Fourteen made the top ten list of their best recordings of 2014. With his trio, which includes Jacob Sacks and Thomas Morgan, he's released two recordings which have been critically acclaimed for their unique approach to song structure and endless creative improvisation. Weiss has been studying tabla under his guru Pandit Samir Chatterjee for twenty years; has performed classical Indian music with the legendary Ashish Khan and Ramesh Misra, and recorded Teental Drumset Solo (2005) and Jhaptal Drumset Solo ( 2011) where he performs classical Indian repertoire on drum set. As a sideman he has recorded nearly one hundred albums and toured the world with musicians such as Lee Konitz, David Binney, Rudresh Mahantthapa, Rez Abbasi, Tim Berne, and Miguel Zenon, among others. Weiss has placed in the Downbeat Critics Polls and was one of the Top Five Drummers in Modern Drummer magazine in 2014.
Walker West Music Academy is located at 760 Selby Ave in St. Paul; tickets ($15) at http://www.brownpapertickets.com/event/2478525