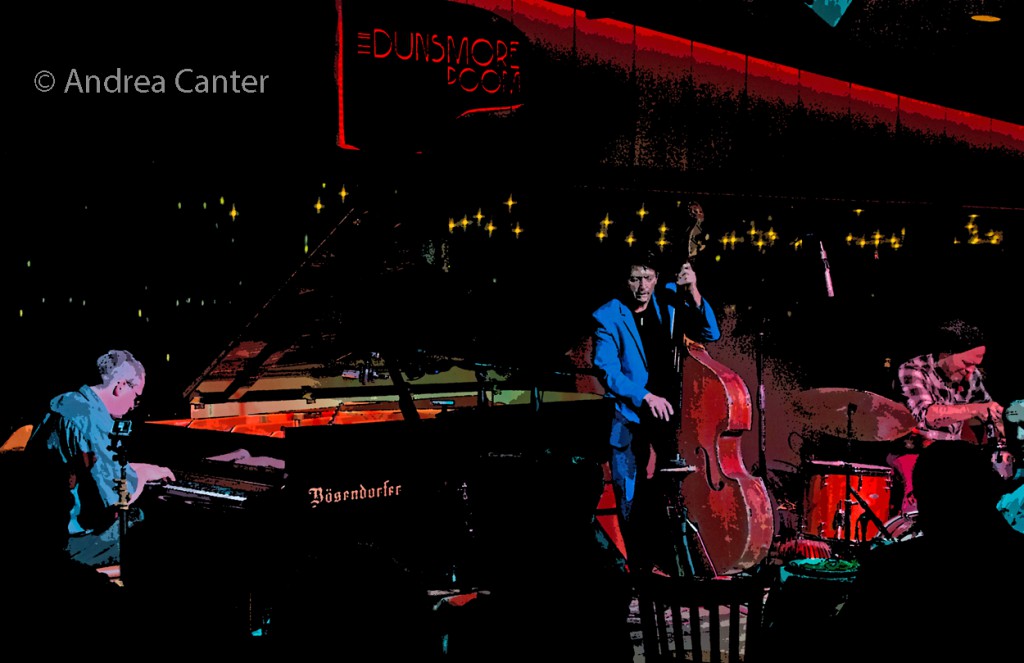 After a dozen-plus years as the acoustic engine for iconic bands The Bad Plus and Happy Apple, as well as launching his own Trucking Company, Dave King is accustomed to arguments about the proper classification of his music. Jazz? Fusion? Rock? If his solo piano release, Indelicate, was a surprise, perhaps his trio recording, I've Been Ringing You (Sunnyside, 2012) was even more so—a set of music that will be difficult to define as anything but modern jazz…. Whatever that is.  His two native Minnesota collaborators–pianist Bill Carrothers and bassist Billy Peterson–are both known for their own eclectic explorations, and the configuration is Bad Plus-familiar. The music is anything but. The trio officially opened the Dunsmore Room at Crooners to a capacity-plus crowd in December, and now the band makes its debut at Vieux Carré in St. Paul this weekend, April 1-2, 9 pm. Not, this is not an April Fool's joke, although there are bound to be some shenanigans with these musicians on the bandstand.
The Trio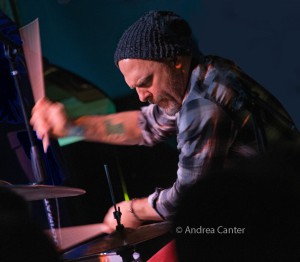 If Dave King's long-standing work with The Bad Plus and Happy Apple has brought him the most attention, his talents and affiliations hardly end there. In fact, at any given moment, King is likely involved in at least ten projects ranging from the jazz-oriented  Dave King Trucking Company, Bad Plus, Happy Apple and Buffalo Collision to rock bands like Halloween Alaska and impossible-to-define electronic outfits like Gang Font. Whatever the band of the moment or decade, King remains the Energizer Bunny of drummers, both in terms of his frenetic musical wizardry and his simultaneous association with numerous and diverse bands. Traditional approaches to percussion have never appealed to King, whose technique was described by Matt Peiken (St. Paul Pioneer Press) as relying "on incredible finger control to nuance his fills, which often defy the neat subdivisions of typical beats."
King grew up in the Twin Cities, starting off on piano at age four before switching to drums in fifth grade. As a teen he forged his early music connections with fellow Golden Valley residents Reid Anderson and Craig Taborn, whose paths would intersect again and again. He attended Cooper High School and the MacPhail Center for Music, studying jazz and rock. At 19, King headed west, working as a session musician in LA in the early 90s before returning to the Twin Cities to find his own voice. "I always wanted to be in the mix," he told the Pioneer Press some years ago, "to help design and define the sound of the ensemble rather than just be the guy who plays drums." Soon he helped design and define the sound of Happy Apple, the trio that came together in 1996, ultimately complete with saxophonist Michael Lewis and electric bassist Erik Fratzke and straddling avant garde jazz and alternative rock. In addition to his discography with The Bad Plus and Happy Apple, and his recent tours and recording with the Dave King Trucking Company, King appears on a long list of other recordings. In 2010, he released a solo album combining his skills as drummer, pianist and composer, Indelicate (2010).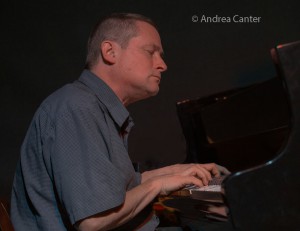 Nominated for the French "Grammy" equivalent, Les Victoires du Jazz, pianist Bill Carrothers spends much of his playing time in Europe and most of his down time in rural Michigan. The Excelsior, MN native has garnered rave reviews throughout the U.S. and Europe for his diverse recordings, including  Keep Your Sunnyside Up, Home Row, Joy Spring, the solo spontaneous improvisation set, Excelsior, the 2-volume A Night at the Village Vanguard (his first live recording with his European trio), and his solo release, Family Life, dubbed a "blatantly intimate" disc displaying a "tender, evocative soulfulness" (Britt Robson, Jazz Times). Bill was a frequent draw at the Artists Quarter, and most recently has performed at Studio Z and solo in the Dunsmore Room. He also supports the next generation of jazz artists through his faculty appointment at the Lawrence Conservatory in Appleton, WI.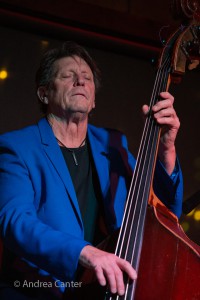 From Minnesota's "First Family of Music," bassist Billy Peterson sang in commercials with sister Linda at age 9 and played bass and drums in his father's ensembles while in junior high. He played in a variety of combos and big bands throughout his high school years, including a summer tour with the Righteous Brothers and a stint with the Lawrence Welk All-Stars. After graduation, Billy played three years with Billy Wallace (Clifford Brown's pianist) and co-founded the band Natural Life with saxman Bob Rockwell. He has recorded with Leo Kottke and performed or recorded with BB King, Johnny Smith, Lenny Breau, and the late Les Paul. Due to tour commitments, he passed on an invitation to join the Bill Evans Trio (Marc Johnson's good fortune!). In 1975, he appeared on Bob Dylan's acclaimed Blood on the Tracks, and a few years later began a long-standing collaboration with Ben Sidran, which led to his 20+ year association with the Steve Miller Band. Billy continues to tour with Bob Rockwell in Europe, appearing in the Twin Cities with The Peterson Family, How Birds Work, and other ensembles.
I've Been Ringing You and Beyond
Dave brought Billy Peterson and Bill Carrothers together as trio with a goal of recreating the feel of the dark, moody standards of the Bill Evans and Paul Bley trios, as well as recording some favorite ballads.  To capture that sound, he rented a neighborhood church, and the musicians' first collaborative moment came on the first note of the four-hour recording session. Overall, I've Been Ringing You presents a subdued mood, but such a gorgeous mood it is! We can find much delight in the (mostly) somber tones that recall Bill Evans and Fred Hersch, but leaning farther outside. From start to finish, the recording carries the unmistakable signature of the maverick Bill Carrothers, pleasingly the best jazz sensibilities of Billy Peterson, and surprisingly, a side of Dave King we hope to know better. Seven standards, from jazz classics ("Lonely Woman") to songbook gemstones ("So in Love") to Broadway charms ("People Will Say We're In Love") are given unique reworkings, while the set ends with the title track, a collaborative invention that offers a perfect summation of the whole. (See full Jazz Police review.)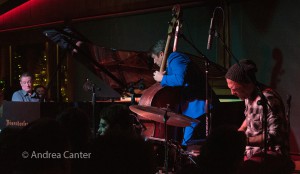 More than one reviewer has noted that Dave King is one of the most underappreciated drummers in jazz despite the high profile of The Bad Plus. The same can be said for each of these musicians—the prolific Bill Carrothers is recognized far more often in Europe than in his home territory; Billy Peterson was so long associated with Steve Miller and such that many do not realize he is one of the premier jazz bassists on earth.  Perhaps in this trio format, each will finally get that well-deserved recognition for his individual talents as well as finding their place as one of the most elegant jazz trios working today. (Their gigs at the Village Vanguard and spotlight performance at the 2016 New York Winter Jazz Fest are surely steps toward such recognition!) And yes, it is time for the trio to go back into the studio, this time for ECM, later in 2016.
Vieux Carré is located in the lower level of the Hamm Building at 408 St. Peter Street (entry on W. 7th Place); cover (cash only) is $15. Pianist Jeremy Walker opens on Friday at 6 pm (no cover); guitarist Scott Graves opens at 6 pm on Saturday (no cover).