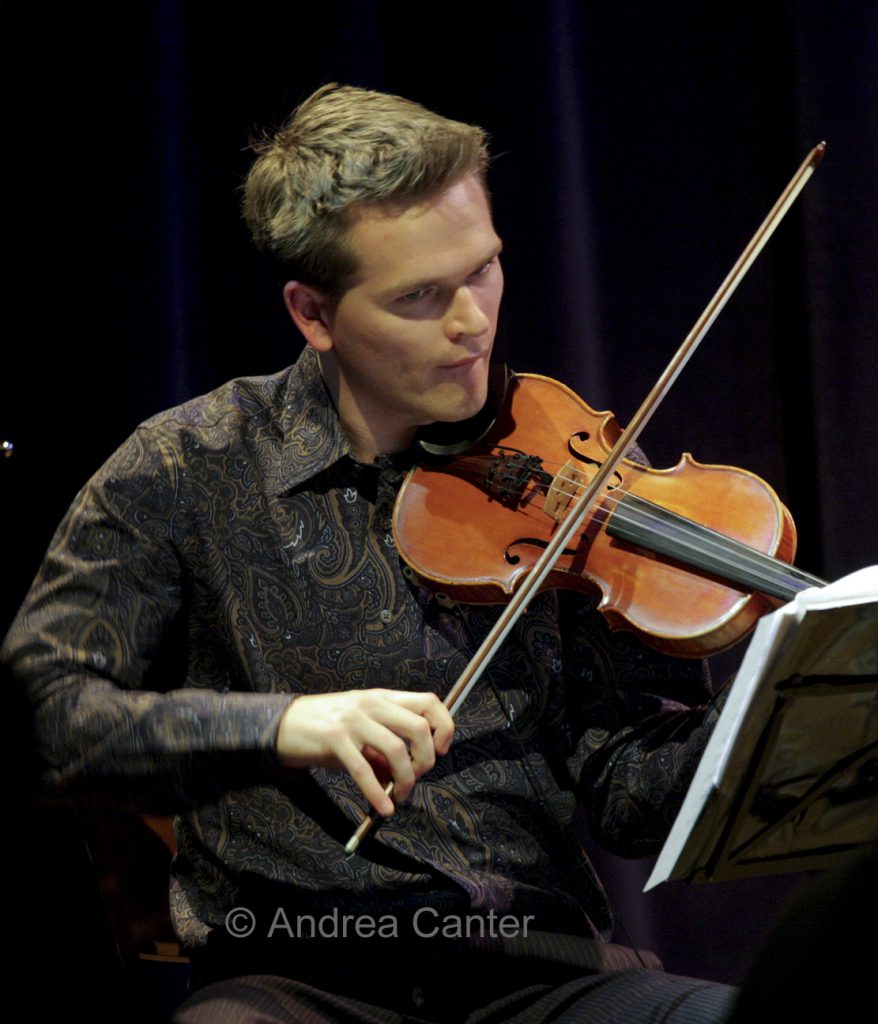 By Paul Juhl
The Grammy award winning Danish jazz violinist, Mads Tolling, will perform with one of Europe's premier jazz guitarists, Jacob Fischer, at Mindekirken Norwegian Church on Tuesday evening, October 15th. The duo is touring in tribute to the famous Danish jazz violinist Svend Asmussen, also known as the "Fiddling Viking". Asmussen, who died in 2017 at age 100, was a swing style virtuoso who played and recorded with many of the Jazz greats including Duke Ellington, Benny Goodman and Stephane Grappelli. In the late 1950s, Asmussen formed the trio Swe-Danes with singer Alice Babs and guitarist Ulrik Neumann.
Tolling has resided in the U.S. since 2000, where he began his studies at Berklee College of Music in Boston. Soon after graduating he was discovered by French Jazz violinist, Jean-Luc Ponty, who recommended him to join bassist Stanley Clarke's band. This encounter led to eight years of international touring and recording with Clarke. Tolling has performed with some of the biggest names in jazz including Ramsey Lewis, Kenny Barron, Chick Corea, Paquito D'Rivera, and Leo Kottke. He has won two Grammy Awards as part of the string group, Turtle Island Quartet, and was a 2016 DownBeat Magazine Rising Star Poll Winner.  As a 15-year-old, Mads called Asmussen and the two of them stayed in contact till Svend's death. Back then, Asmussen told Mads to listen to violinist Stuff Smith, and soon after Asmussen donated a large chunk of his music collection to Mads – including many handwritten charts.
Many have compared Jacob Fischer to the great Django Reinhardt. He was a member of Asmussen's quartet for the last 20 years of Svend's life, and is featured on several albums with the quartet. Mads and Jacob connected in 2014, when Mads put a new group together to tour Scandinavia. The two of them have performed over one hundred concerts in Northern Europe.
Their program will feature a mix of tunes from Svend's s collaboration with guitarist Ulrik Neumann back in the 40s and 50s, up to his more recent quartet works. Svend's signature tune "June Night" and the Swe-Danes hit "Scandinavian Shuffle" are on the set list, along with Danish folk tune, "I Skovens Dybe Stille Ro," as well as songs from the Great American Songbook.
Tickets:  Mindekirken Church, 924 E 21st St, Minneapolis, MN 55404  October 15th,  7pm.  Suggested donation $20.  For further information: https://www.leifmn.org/index.php/home/2019-leif-events/108-mads-tolling-and-jacob-fischer-in-concert-tuesday-october-15
Mads Tolling: www.madstolling.com
Videos:
It Don't Mean a Thing:  https://www.youtube.com/watch?v=o8JXQkyGJos
Honeysuckle Rose (Duo):  https://www.youtube.com/watch?v=agsdMtp2bxA
Audio:
Libertango:  http://madstolling.com/wp-content/uploads/2016/07/2.-Libertango.mp3
After You've Gone (duo):  http://madstolling.com/wp-content/uploads/2016/03/1.-After-You_ve-Gone.mp3
June Night:  http://madstolling.com/wp-content/uploads/2016/03/6.-June-Night.mp3