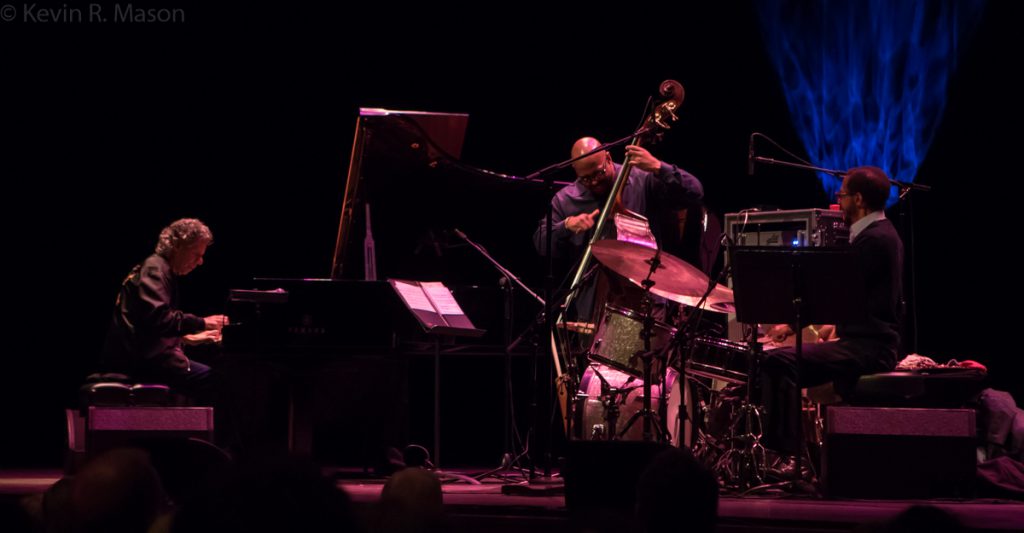 On Friday April 12, the New Jersey Performing Arts Center (NJPAC) presented a stellar evening of jazz, starring renowned pianist Chick Corea, esteemed bassist Christian McBride, and accomplished drummer Brian Blade.
Joey Alexander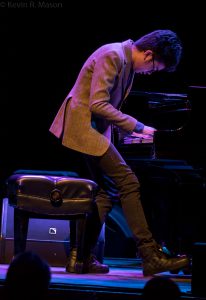 The opening act was the young pianist extraordinaire, Joey Alexander. Born in Bali in 2003, this young artist is really making a name for himself in music. At only 15 years old, Joey has already recorded several acclaimed CDs, including My Favorite Things (his debut album), Countdown, Eclipse, and Joey. Monk. Live!, and he has received a number of Grammy Award nominations. He has also worked with some of the biggest names in jazz, including Joshua Redman, Wynton Marsalis, Ulysses Owens, Jr., Larry Grenadier, and Chris Potter, just to name a few.
With no introduction, Joey came on stage and started playing solo piano. However, considering his meteoric rise in the jazz world in just a few short years, he doesn't really need an introduction. His first song, which he composed on the spot, was a stunning combination of changing rhythms and moods; up tempo at times, and introspective at others. At one point, Joey stood up, which has become a signature move, and really threw his body into his playing.
He said, "It's such an honor, a blessing, to be here tonight. I am also honored to be sharing the stage with these jazz heavyweights." With so much talent and promise, he is well on his way to becoming a jazz heavyweight himself! His set included a wondrous rendition of "All the Things You Are" and a rich, lovely version of "Everything Happens to Me." Joey's playing has power, intensity, and fire, as well as subtlety and grace.  Despite all the accolades he has received in the past few years, Joey Alexander's on-stage demeanor is charmingly modest. He brilliantly reminded the audience of the beauty and power of solo piano. At the end of his hour-long set, Alexander was rewarded with a resounding standing ovation, and he deserved every moment of it!
Chick Corea Triology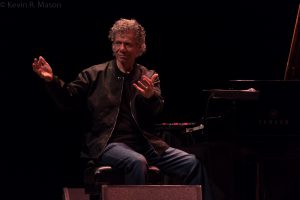 Pianist/composer Chick Corea has one of the most prolific careers in jazz, with 63 Grammy Award nominations, and 22 wins! He is an NEA Jazz Master, and over the years, he has played with a veritable Who's Who in jazz. He has had some of the greatest collaborations, including his jazz fusion group Return to Forever with Stanley Clarke holding down the bass. He has also worked with Herbie Hancock, Michael Brecker, Joshua Redman, Kenny Garrett, Sarah Vaughan, Stan Getz, Herbie Mann, Joe Henderson, Gary Peacock, Victor Wooten, Avishai Cohen, Roy Haynes, Lenny White, Gary Burton, Al Di Meola, John McLaughlin, Dizzy Gillespie, Donald Byrd, Wallace Roney, Béla Fleck, Bobby McFerrin, and Jean-Luc Ponty, and that's just a partial list!
Six-time Grammy-Award-winning bassist Christian McBride is one of the hardest-working musicians in jazz. He has formed several groups, including the Christian McBride Big Band, and he has had an extensive recording career. Notably, he has collaborated with an astonishing array of artists in almost every genre of music. Of course, there were jazz artists: Freddie Hubbard, Sonny Rollins, George Duke, J.J. Johnson, Ray Brown, Milt Jackson, McCoy Tyner, Roy Haynes,  Herbie Hancock, Christian Sands, and Pat Metheny;  R&B musicians: Isaac Hayes, Chaka Khan, Natalie Cole, Lalah Hathaway, and the Godfather of Soul himself, James Brown; pop/rock: Sting, Paul McCartney, Carly Simon, Don Henley, and Bruce Hornsby; hip-hop/neo-soul: The Roots, D'Angelo, and Queen Latifah; and classical: Kathleen Battle and Sonus Quartet. In addition to all his recordings and live performances, McBride is the Artistic Director of the Newport Jazz Festival, Artistic Advisor for Jazz Programming at NJPAC, and Co-Director at the National Jazz Museum in Harlem. He also hosts radio programs for National Public Radio, Sirius XM, and WBGO Radio. He also supports his wife, vocalist Melissa Walker, in her mentoring and fundraising activities the organization she founded, Jazz House Kids. When Christian McBride sleeps is anybody's guess!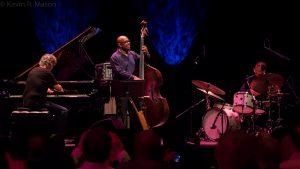 Louisiana-born drummer Brian Blade grew up influenced by the music he heard at Zion Baptist Church, where his father, Brady L. Blade, Sr., has been the pastor for fifty-two years. Later, during high school, Brian was influenced by the music of John Coltrane, Charlie Parker, Miles Davis, Thelonious Monk, Joni Mitchell, and Elvin Jones. Like his fellow group members, Blade has worked with several musical luminaries, including Ellis Marsalis, Joni Mitchell, Seal, Bill Frisell, Emmylou Harris, Danilo Perez, Kurt Rosenwinkel, Herbie Hancock, Bob Dylan, and has toured with Wayne Shorter for years in Shorter's quartet.  In addition to his many other musical partnerships, he is the leader of The Fellowship Band, and he is also a fine singer/songwriter. In 2016, Brian took part in the International Jazz Day Global Concert at the White House.
When Chick Corea came on stage, after introducing drummer Brian Blade, he joked that he didn't know who that was on bass, to the amusement of the crowd, then he called out, "Christian McBride on bass!" Chick did an interactive call-and-response warm-up with the audience, where some phrases were easy, but others were quite challenging. Still, it was a great deal of fun for everyone, and it sounded pretty good, too! Their first song, "La Fiesta," was an up-tempo delight that switched back and forth between major and minor keys, and each musician did some fine solo work.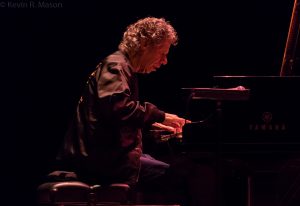 Next came a tribute to Bill Evans, a beautiful version of Evans' "Alice in Wonderland." The Kurt Weill song, "This is New," was on Chick Corea's first recording, and the group performed a Latin-tinged, swinging rendition.  Corea recently wrote a song, but he didn't know what to call it. So, in a pinch, he named it "The Spanish Song." It started with a lush piano solo by Chick, then featured an excellent extended bass solo by Christian.
Corea introduced the Michel Legrand song, "Once Upon a Summertime," which has a lot of personal meaning for Chick, and he divulged that he was greatly influenced by the recording of this song by Miles Davis and Gil Evans.  Then, the group did a classically beautiful interpretation of Stevie Wonder's "Part Time Paradise" with such a great solo by McBride, that there was a standing ovation in the middle of the song, and another one at the end! Chick spoke a bit about how everyone loves Stevie Wonder, then    switched gears and said, "Let's play some Monk." Corea acquitted himself brilliantly with an extended piano solo at the start. The musicians got so into the song, that they literally ran out of time! They played their hearts out, and gave the crowd at NJPAC their money's worth, and more. Joey Alexander was right; this was a concert filled with jazz heavyweights, and the audience basked in all the great music.