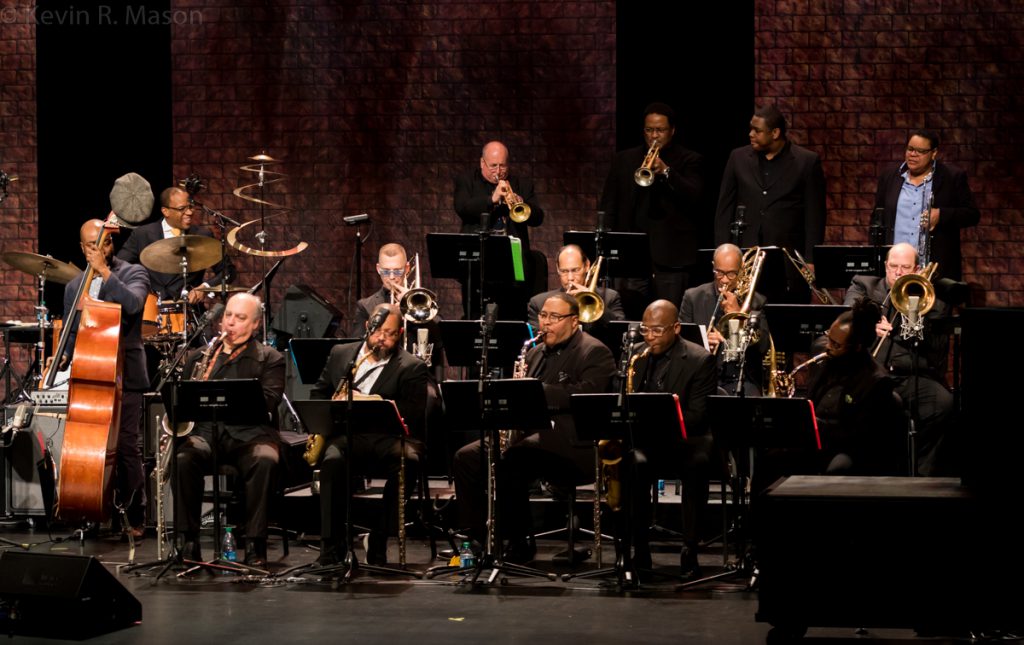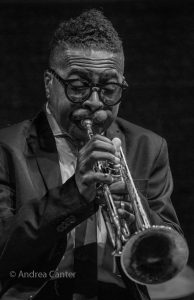 Tuesday, January 8, a memorial was held for the late, great trumpeter/flugelhornist/composer Roy Hargrove, at Jazz at Lincoln Center. It was originally supposed to take place at the Cathedral of Saint John the Divine, but the location was changed to Jazz at Lincoln Center to follow the 2019 Jazz Congress. The free event was on a first-come, first-serve basis. So many people showed up, that JALC had to live stream the concert to other rooms at the venue for the overflow!
In the memorial program, it said the following about the late musician: "Roy Anthony Hargrove, one of the most respected and loved musicians in the New York community and the world at large, was a trailblazing multiple Grammy Award winning trumpeter. He was known just as intensely for his brimming fire and fury as he was for his gorgeous, signature balladry. Over and over, his sound attested to and sanctified his deep love for music. His unselfish timbre covered the waterfront of every musical landscape. Owning his music, his sound, Roy inspired generations of musicians. He was a game changer."
The memorial program also had the following quotes:
"Having been fortunate to play with the super, super trumpet stars of the day, I found it inconceivable that this new kid on the block could be in that class, could be that good. He was, is, and always will be." – Sonny Rollins on Roy Hargrove
"He just had everything. Like another coming of Dizzy Gillespie." – Jimmy Heath on Roy Hargrove
From the honoree himself, two quotes were included:
"You have to love it. I live and breathe this thing. It's your morning coffee. It's your food. If you're true to the music, you will get what you need. You've got to give it all!" – Roy Hargrove
"It's important to understand history so that you can create something that stands on some kind of integrity." – Roy Hargrove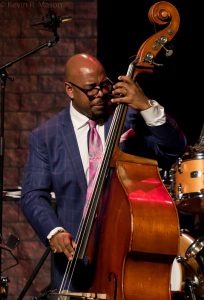 The memorial started with a New Orleans-style parade of musicians, including trumpeter Wynton Marsalis and members of the Jazz at Lincoln Center Orchestra. Host for the evening, bassist Christian McBride, came on stage and talked about the Jazz Congress, then said, "Tonight, we're here to celebrate the life and work of our dear, departed Roy Hargrove. He was a man with a huge heart, and a lot of empathy. We loved him and he loved us." McBride discussed Hargrove's music, his dedication, his mentorship to young musicians, and his great talent. He said Roy was also a fun-loving and funny guy, and Christian called him a trend-setting fashion icon.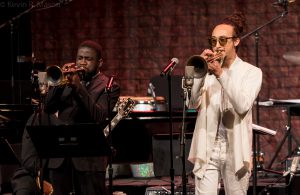 The Roy Hargrove Big Band played a beautiful, elegiac song with several great solos. Then vocalist Roberta Gambarini took the stage and sang a lovely and touching, "Every Time We Say Goodbye." Theo Croker joined fellow trumpeter Giveton Gelin on "September in the Rain." Croker and Gelin not only played their trumpets with gusto, they also sang and scatted with style. Next came one of Hargrove's quintets: trumpeter Freddie Hendrix, drummer Karriem Riggins, alto saxophonist Antonio Hart, pianist Jon Batiste, and bassist Christian McBride. They played an energetic bop number, with top-notch solos.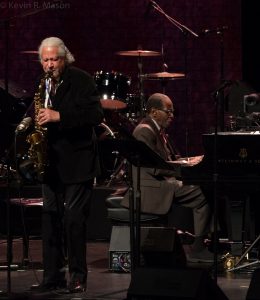 McBride announced, "We're going to bring a group of titans to the stage now," and introduced pianist George Cables, bassist Ray Drummond, alto saxophonist Gary Bartz, and drummer Jimmy Cobb. Christian exclaimed to the crowd, "Let's hear it for the legends!" The group played a marvelous version of "The Song is You," amply demonstrating that they haven't lost a step along the way. Then, to turn it up a notch, they were joined by singer Dee Dee Bridgewater, who said, "It is so good to see so many here, all because of our Roy." Dee Dee and the band performed Horace Silver's gorgeous ballad, "Peace."
The group that followed was made up of alto saxophonist Antonio Hart, drummer Karriem Riggins, trumpeter Giveton Gelin, bassist Danton    Boller, and pianist Marc Cary. They played a minor-key song that was hauntingly beautiful.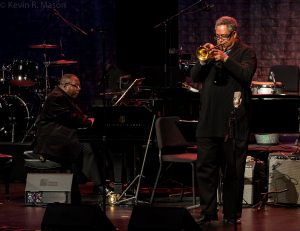 Christian McBride gave a shout out to Hargrove's friend and manager for 30 years, Larry Clothier, who put this event together. Then, the Dizzy Gillespie Big Band, that included Cyrus Chestnut on piano and Jon Faddis on trumpet, played in grand big-band style, with wonderful group chemistry. There were many excellent solos, including splendid phrasing from Mike Rodriguez on trumpet. "I'm Beboppin' Too," which Hargrove had sung on a recording with the group, was a danceable delight, with superb vocals by Mark Gross.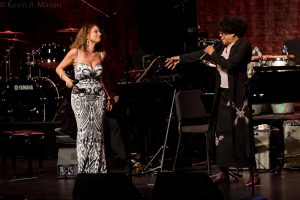 Roberta Gambarini and Dee Dee Bridgewater came out together and did an exciting scat duet, filled with vocal pyrotechnics that really wowed the crowd. The group followed with the high-energy "Things to Come."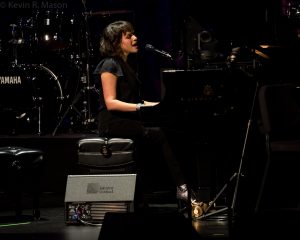 Norah Jones was introduced by McBride, after he discussed their respective high schools, and reminisced about the time when music was still taught in most high schools. Norah went to the same high school as Hargrove, Booker T. Washington High School for the Performing and Visual Arts in Dallas, Texas. Jones attended the school 10 years after him, and she said, "Roy was the pride of our high school. He really was. We were all in awe of him." Norah sang and played solo piano on an enchanting, emotion-filled "The Nearness of You."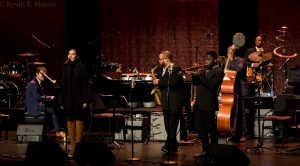 Members of another of Hargrove's many quintets took the stage. Justin Robinson on alto sax, Tadataka Unno on piano, bassist Ameen Saleem, drummer Quincy Phillips, trumpeter Giveton Gelin were joined by Hargrove's wife, Aida Brandes-Hargrove, who sang a heartfelt "Divine Spirit." Vocalist Renée Neufville came out and performed an elegant ballad. Pianist Gerald Clayton sat in on a very soulful song that stirred the crowd.
The next group on the bill was drummer Willie Jones III, bassist Danton Boller, trombonist Steve Davis, pianist Cyrus Chestnut, and vocalist Roberta Gambarini. They played a wonderful ballad with lyrics written just for Hargrove. It was a beautiful tribute.
Christian McBride told a funny story about a call he received from Roy. One of McBride's compositions that they had recorded together was playing on a Lifetime TV movie. Christian was not only surprised that Hargrove was watching Lifetime, he was also surprised that the song was being played, since he had never signed a permission waiver. He did eventually receive a check for $20, and McBride quipped that Hargrove's solo was worth at least twice that, alone!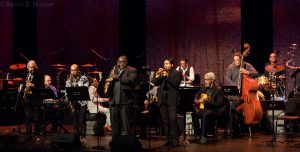 Roy's Latin Jazz group, Crisol, included guitarists Russell Malone and Ed Cherry, saxophonists Gary Bartz, Jacques Schwarz-Bart, and Sherman Irby, bassist John Benitez, pianist John Hicks, trumpeter Michael Rodriguez, and drummer Horacio "El Negro" Hernandez. They really set the stage on fire with Kenny Dorham's classic composition, "Una Mas," and some more brilliant Latin-infused jazz. Among the many accolades Hargrove received during his life was the Grammy Award for "Best Latin Jazz Performance" for the recording, Habana with the group Crisol in 1998.  Most of the musicians in this memorial group were a part of that album or the touring group.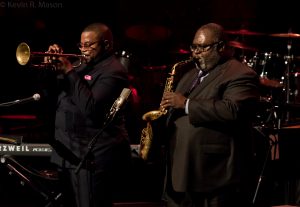 Next, drummer Evan Sherman, organist Ben Patterson, guitarist Saul Rubin, and vocalist Lezlie Harrison performed a heartwarming, touching ballad with great skill and feeling. They were followed by drummer Willie Jones III, bassist Gerald Cannon, pianist Larry Willis, saxophonist Sherman Irby, and trumpeter Jeremy Pelt. Their set included a remarkable, introspective rendition of "Nature Boy."
At this point, McBride acknowledged Hargrove's family in the audience, who stood to great applause from the crowd.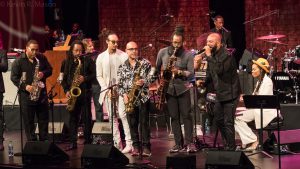 The RH Factor, Hargrove's progressive group was the final act of the evening of fabulous music. Although they were last, they were certainly not least. They really brought it with their funky, soul-inspired jazz, as well as some straight-ahead jazz. The group included trumpeters Maurice "Mobetta" Brown and Theo Croker, keyboardists Brian Hargrove (Roy's brother), and Bobby Sparks, saxophonists Jason Marshall and Bruce Williams, and vocalist Renée Neufville. Surprise guest was rapper Common, who reminisced about meeting Roy in Chicago, then he did a powerful, impassioned rap in honor of Hargrove.
The evening was truly a befitting remembrance for such a towering talent as the unforgettable Roy Hargrove. At almost five hours, it was a night overflowing with music from some of the biggest names in jazz. In closing, Christian McBride said, "Ladies and gentlemen, I think we can say that Roy was celebrated tonight! Thank you for coming. God bless you, and God bless Roy Hargrove!"