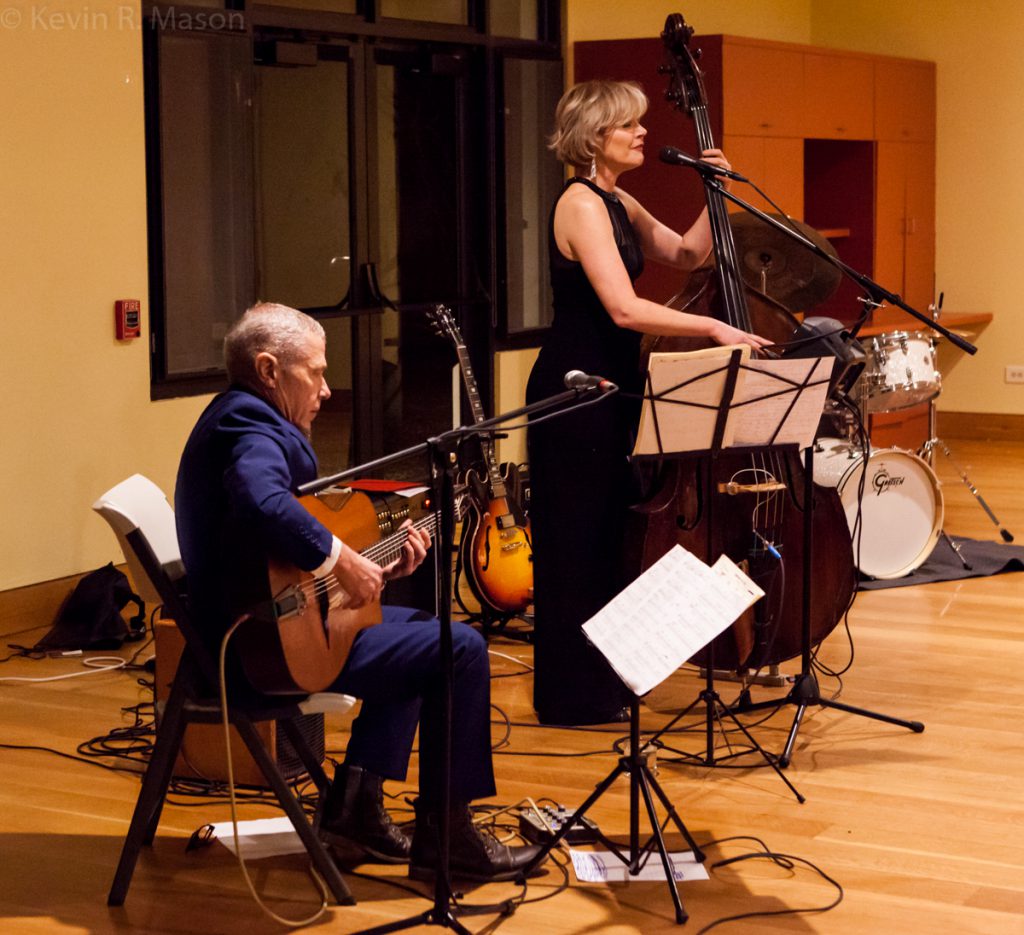 With winter almost over, here is a look back at one of the most sparkling musical nights at the end of 2018. On Saturday, December 15, Litchfield Performing Arts/Litchfield Jazz Festival hosted "Jingle & Mingle" at the Litchfield Community Center. Although winter wouldn't technically start for a few more days, it was the heart of the holiday season. "Jingle & Mingle" was a fundraising event for the Litchfield Jazz Camp. In addition to the proceeds from ticket sales for the evening, there were two "Giving Trees" where there were leaves with the name gifts to the Jazz Camp in many denominations; something for every budget!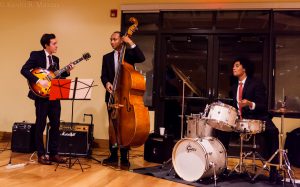 The evening started with some excellent music by bassist Zwelakhe-Duma Bell le Pere, guitarist Devlin Tenney, and drummer Anton Kot. Tenney and Kot, 17 and 16 years old, respectively, are current Litchfield Jazz Camp members. Bell le Pere is a former Jazz Camper and current Jazz Camp faculty member, as well as being a professional musician. Their set included a gorgeous version of Lee Mendelson and Vince Guaraldi's classic song, "Christmas Time is Here" from the timeless album and television special, A Charlie Brown Christmas. Zwelakhe-Duma is an established talent, so it isn't surprising that that he played so well, but the students Devlin and Anton were remarkably accomplished. From the Jazz Campers' performances, it is clear why they were picked to be a part of this event. Later in the set, saxophonist/composer/bandleader and Litchfield Jazz Camp Director of Operations Albert Rivera joined the group.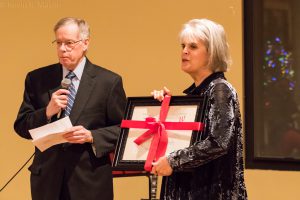 Then, Peter Adomeit, President of Litchfield Performing Arts, Inc., came to the microphone and welcomed the crowd. He talked about his children's wonderful experiences at Jazz Camp. Next, he introduced Sarah Lagousky of the Connecticut Women's Hall of Fame, who gave an award to Vita West Muir, Founder & Executive/Artistic Director of Litchfield Performing Arts, Inc. that welcomed her into the Hall of Fame.
After the dinner, which was a delicious buffet meal, Anton Kot and Devlin Tenney spoke about their experiences at the Jazz Camp, and all the wonderful opportunities that it has afforded. They also stressed how the faculty was always supportive. Then, bassist/vocalist Nicki Parrott and guitarist Doug Munro took the stage for a truly charming set that started with "Hallelujah, I Just Love Him So." They followed with a medley of classics from the songbook of Antônio Carlos Jobim. Nicki Parrott told a cute story about how she grew up in Australia and didn't know who Charlie Brown and Snoopy were. She quipped that it turns out she had something in common with the characters – they all worked for Peanuts!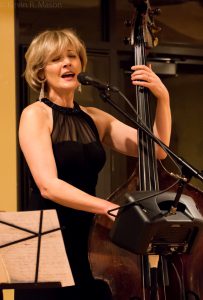 Parrott became more serious when she paid tribute to the late singer Nancy Wilson, saying how she listened to her over and over. She said that Nancy was always elegant and beautiful, and she sang like a dream. Parrott added that Wilson's version of "The Very Thought of You" was probably her favorite, and she performed a lovely rendition of the song.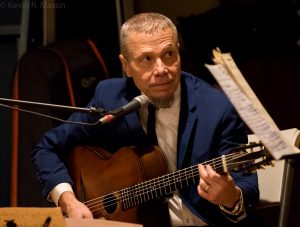 In a change of pace, the duo played a catchy "Ode to Billie Joe," which Nicki introduced with the fact that it sold 750,000 copies in the first weekend of its release, knocking the Beatles out of the #1 spot.  She then brought drummer Anton Kot back on stage for a medley of Gershwin songs. On "But Not For Me," Doug Munro added stellar vocals to his superlative guitar play. They followed up with an enchanting "They Can't Take That Away From Me."
Parrott discussed the film, The Great Muppet Caper, where she said that Kermit the Frog sang "The Rainbow Connection" with all the wistfulness of a "short, green Judy Garland." Nicki infused the song with a great deal of wistfulness and longing, herself. Next was a funky "I'm A Woman," that Nicki added some extra humor to, and dedicated the song to Vita West Muir, whom she described as a very strong woman.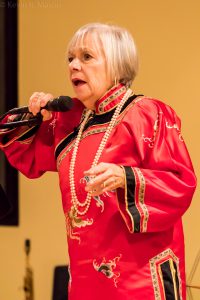 Vita came to the stage and sang the praises of all the musicians who performed that evening. She made special mention of both Anton Kot and Devlin Tenney, and she added how surprised she was to learn that in addition to his guitar skills, Devlin is also a talented singer. He came and joined the band to sing a wonderful version of "There Will Never Be Another You."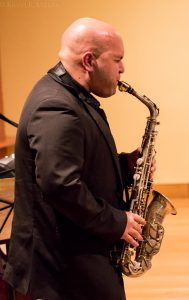 For the last song of the evening, Kot and Rivera rejoined the group for a delightful "Have Yourself a Merry Little Christmas" with a standout saxophone solo by Rivera, and exquisite vocals by Nicki Parrott. It perfectly captured the spirit of the holiday season, as well as the night's excellent festivities. It was a superb night that was enjoyed by all the participants.
Upcoming events of Litchfield Performing Arts, Inc include "Spring Spirits," on Saturday, May 4, 2019 at the Litchfield Distillery. It will be a fundraising evening for the Litchfield Jazz Camp. Then, off course, there's the annual Litchfield Jazz Festival.
This year, there are some big changes for Litchfield Jazz Festival. On the website, it states the following:
"Litchfield Jazz Festival 2019, will be held in the Emerson Performing Arts Center at The Gunnery in Washington, CT.  The 2019 Festival will keep up the star quality for which it has become famous while it begins a transition to a new location with a more intimate setting and a closer connection to its teaching arm, Litchfield Jazz Camp. This year's Festival is set for July 26 – 28, with a selection of ticketed concert pairs, giving buyers the chance to select specifically what pleases them.
The rain or shine event will retain all the outdoor elements of the traditional LJF format– student concerts, artist talks and clinics, arts and crafts, food and drink and family entertainment, now called the "OuterFest"– in addition to Festival concerts in the intimate Emerson Performing Arts Center, next door.  While seating for the mainstage is ticketed and space is limited this year, the Outerfest, on Saturday, July 27, will be free and open to all visitors. Parking is also free.
The 2019 format allows LJF to offer two party events, the Friends of the Festival Gala, Friday, July 26th, at the lovely Judi Black Memorial Part and Gardens in Washington Depot prior to Friday's concerts and a Sunday Jazz Brunch, starring the inimitable vocalist Antoinette Montague and the Don Braden Sextet before the July 28th concerts.
Opening Night starts with the Litchfield Jazz Orchestra and guest vocalist Alexis Cole, a fixture on the NY club scene and winner of both the Jazzmobile and Montreux Jazz Vocal Competitions. Backed by artists from the Litchfield Jazz Camp's faculty, including trumpeters Dave Ballou and Jean Caze, saxophonists Albert Rivera and Kris Allen, bassist Avery Sharpe (with support from the New England Foundation for the Arts) and pianist Julian Shore, this concert will provide an exciting kickoff for one of the longest running jazz festivals in New England.
On Saturday, July 27, one ticket buys two Mainstage shows, beginning at Emerson PAC at 1PM with the exciting vocal trio Duchess. Amy Cervini, Hilary Gardner and Melissa Stylianou channel vintage songs with evergreen swing and irresistible stage presence.  One reviewer called them "a serious musical force that makes some seriously friendly music" guaranteed to make you smile.  The next show is great ensemble of rising stars and a surprise headliner you won't want to miss.  The announcement of this show will be made shortly.
After a mid-afternoon break to permit Mainstage audiences to visit the free OuterFest (Saturday only) and enjoy and student concerts (these begin at 11 AM and continue until the end of the OuterFest in the late afternoon), food vendors, artists and crafters and all the action across the street, a second set of two concerts begins at 5:30.
The first show features a stunning tribute to Herbie Hancock's rarely-heard-these-days masterwork Speak Like a Child. This gorgeous opus is reimagined for us by award winning pianist Carmen Staaf [and she] stars with Don Braden, on flugelhorn, trombone (TBD) and Dave Ballou on trumpet.  Staaf has previously appeared as a leader on the Litchfield Mainstage and is on the teaching staff of Litchfield Jazz Camp. She took a hiatus recently to accept a full scholarship to the prestigious Thelonious Monk Institute of Jazz Performance in California where she studied with Hancock and others.
Wrapping up the Saturday shows will be the stellar guitarist and band leader Mike Stern.  Stern who first appeared on the Litchfield stage in 2015 was such a hit he was invited back on the spot for 2016.  His CV is nothing short of stunning. After graduated from Berklee, and joined Blood, Sweat and Tears he went on to work with Billy Cobham and, later, Miles Davis in the trumpeter's comeback band with Marcus Miller, Al Foster and Bill Evans. In 1992 he became a member of the Brecker Brothers Band. One of the most exciting performers anywhere, Stern will appear with Danny Walsh on sax, Edmond Gilmore on bass and Richie Morales on drums.
After the kickoff Sunday Jazz Brunch hosted at the Gunnery at 11AM on Sunday, July 28, an all-headliner show will wrap up the 24th Litchfield Jazz Fest.  The final show will begin with one of the world's most famous jazz trombonists and most entertaining performers in the business, Wycliffe Gordon.  Veteran member of the Wynton Marsalis Septet, Gordon is also an original member of Lincoln Center Jazz Orchestra and a has appeared with artists like David Sanborn, Paul Simon, Natalie Merchant, Dianne Reeves, Anat Cohen, Ricky Skaggs, Arturo Sandoval, Doc Severinsen, Dizzy Gillespie, Lionel Hampton, Tommy Flanagan, Shirley Horn, Joe Henderson, and others. He first appeared on the Litchfield Stage in 2009 with Jay Leonhart and again in 2015 with his own quartet.
The festival will come to a close with an encore performance by the Mike Stern Band.  The fest planned a second show by this very popular artist to accommodate the maximum number of attendees possible with this summer's limited seating.
Tickets for the festival will go on sale to the general public mid-to-late March.  Timely responses are suggested as seating is very limited this one summer."
For more information, go to: www.litchfieldjazzfest.com.