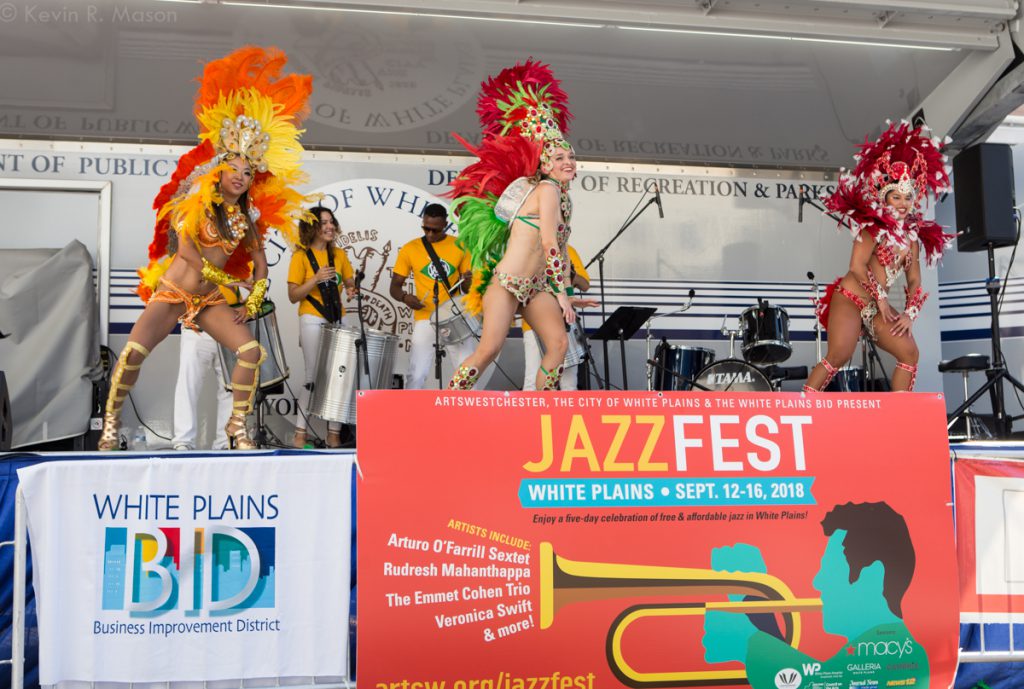 Now that the end of the year is almost here, this is a look back at one of the best up-and-coming jazz festivals in the Northeast.
The seventh annual JazzFest White Plains was held from Wednesday, September 12 to Sunday, September 16, 2018. This year's five-day event continued the tradition of bringing free and affordable world-class jazz to Westchester County. Since the City of White Plains, NY is accessible to New York City, New Jersey, and Connecticut, in seven years, this festival has become a go-to experience in the tri-state area. JazzFest presented artists from all over the world; it was really a wonderfully international musical week.
Wednesday, September 12
JazzFest started at 12:00 noon with a concert from the Downtown Music at Grace Church series that featured Colombian pianist Pablo Mayor. The Art Bennett Quartet, featuring prolific saxophonist Art Bennett, performed at the White Plains Farmer's Market at 12:30 pm.
Jazz Stroll
The festivities continued that evening with a Jazz Stroll at four restaurants in downtown White Plains, all within walking distance of each other.
Mediterraneo White Plains – The Albert Rivera Jazz Quartet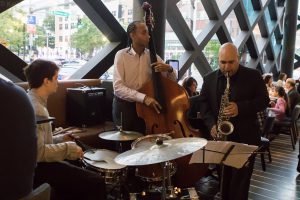 The lovely restaurant, Mediterraneo, hosted the first group, The Albert Rivera Quartet, from 6:00 to 7:00 pm.  Saxophonist Albert Rivera was joined by drummer Ian Carroll, bassist Zwelakhe-Duma Bell le Pere, and pianist Damian Curtis. They packed a lot of music into their set, which included "Me, Myself, and I," "New View," and "Bye, Bye Blackbird." "B's Blues" was written for restauranteur B. Smith, with whom Albert Rivera worked several times over the years. The set concluded with "Blue Bossa," and "The Chicken." This talented crew gave their all, in a great set that was played from the heart by everyone in the group. They were so good, it could have easily gone on for another hour, as they helped whet the appetite for the music of the soul and the delicacies on the menu!
Morton's Steak House – Alexis Cole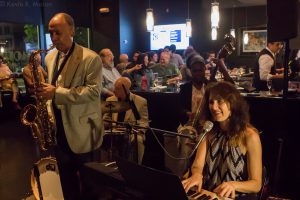 In the elegant atmosphere at Morton's Steak House, from 7:00 to 8:00 pm, vocalist/pianist Alexis Cole was joined by saxophonist Don Braden, bassist Mimi Jones, and drummer Kenny Hassler for a set that included "Georgia," "Quiet Nights of Quiet Stars," "Moonlight in Vermont," and a sultry "Summertime." Alexis has an easy, deft way with a song, and there were excellent solos by all the musicians. A special stand-out was Don Braden on tenor sax and flute. The set ended with "All the Things You Are" and "Fly Me to the Moon."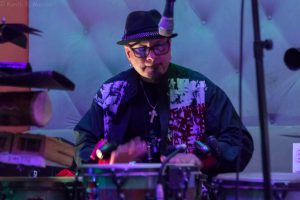 Sofrito White Plains – Emedin Rivera & Tropical Turbulence
The charming restaurant Sofrito was the location for the next stop in the Jazz Stroll, and it starred Emedin Rivera & Tropical Turbulence, from 8:00 to 9:00 pm. The music was filled with hot and spicy Latin rhythms, that smoothly transitioned from high-energy percussive songs to slow, sensual, and seductive music that drew the audience in, and really got them going. The group included drummer percussionist Emedin Rivera, bassist Michael Vina, guitarist Bele Beledo, Premik Russell Tubbs on saxophone, flute, and wind synthesizer, and Ken Kresge on keyboards. One of songs they played was a favorite of Puerto Rican immigrants who came to New York in the 1950s, "Bonnie's Salsa," and this number became an anthem of the time.
Ron Blacks Beer Hall – Open Jazz Mic, Hosted by Gil Parris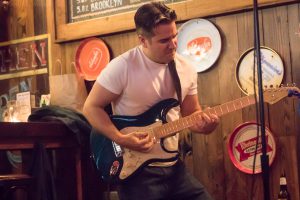 The final event of the Jazz Stroll was the Open Jazz Mic at the sporty Ron Blacks Beer Hall. The host was Grammy Award-nominated blues, smooth jazz, and rock guitarist Gil Parris. People sat in on an eclectic set that included a rock/jazz hybrid version of "Sunshine of Your Love." There were also performances of "The World is a Ghetto" and "I'll Make Love to You." It was a free-for-all in the best sense, with Gil Parris on guitar, Joe Piteo on drums, and bass guitarist Anthony Candullo. There were some great blues interpretations by vocalist Curtis Winchester. Tom Dudley, aka "Blues Buddha" gave a powerful rendition of "Unchain My Heart." Singer Jessie Lambiase sang a strong version of Carly Simon's "Tranquillo." It was an exciting close to the evening, and from place to place, the Jazz Stroll was an excellent offering on the first night of the JazzFest.
Thursday, September 13
Double Bill: The Emmet Cohen Trio
Veronica Swift with The Emmet Cohen Trio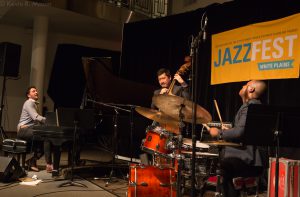 Aaron Paige, Artistic Director of JazzFest White Plains, welcomed the guests to the ArtsWestchester venue, and gave an overview of the Festival, including some highlights of the different performances to come. Then he introduced The Emmet Cohen Trio, with a short bio of each musician. The nattily dressed trio, pianist Emmet Cohen, bassist Yasushi Nakamura, and drummer Bryan Carter, started with an up-tempo "That Old Feeling" that begun with Emmet playing with brilliance and style, then Yasushi and Bryan joined in, offering excellent support. The song went from energetic to whisper soft, and it was a wonderful beginning. They segued into some spirited bop where each player got a chance to shine with passionate solos, and followed with "Two Bass Hit." Cohen thanked everyone for coming, introduced the band, then played the romantic ballad, "The Second Time Around." They did two songs by Bud Powell and Thelonious Monk, who Emmet called two geniuses of the piano. He prefaced the songs with a funny story about Monk, and Cohen added that he likes to touch on all aspects of life, like humor, and even mystery.  "Through this music, you can paint all these pictures." Then the trio performed an original composition, "You Already Know," a lively, Latin-infused number. Cohen talked about playing in New Hampshire the night before, then traveling that day to White Plains, and listening to all kinds of music on the way. He introduced vocalist Veronica Swift for a guest appearance in this set, as a tease for the second part of the show. She performed an emotional "Stardust" and a sparkling "September in the Rain," singing and scatting with ease, and even encouraging some fun audience participation. Emmet, Yasushi, and Bryan closed the set with a delightful "Keeping out of Mischief Now/Two Sleepy People/Ain't Misbehaving" mash-up, followed by some virtuoso piano playing by Emmet, with some "Honeysuckle Rose" thrown in at the end.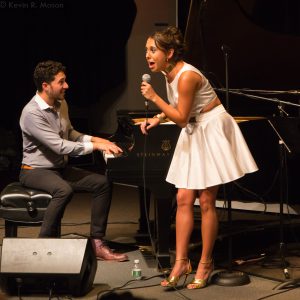 After a short intermission, The Emmet Cohen Trio returned to perform Duke Ellington's high-energy "Braggin' in Brass." Then, Veronica Swift came out and sang a witty "You're Gonna Hear From Me" and a heart-tugging "The Man I Love." At one point, Veronica imitated a trombone, to great effect, and it really went over with the audience. She discussed being at ArtsWestchester for the first time, and how it's always a pleasure to sing for a new audience. She also sang the praises of the group, saying what a pleasure it is to perform with such brilliant young musicians. Next, she sang "Forget About the Boy," and followed with the whimsical "Dat Dere," and continued with Mel Torme's poignant song, "A Stranger in Town." Veronica did a scatting number that featured Yasushi, and they played off each other in quite a magical way.  She said that "You Don't Know What Love Is" is usually sung as a ballad, but she did it at a rapid-fire tempo that really put a different spin on the song. They closed out the excellent show with "An American In Paris," with resounding applause from the audience.
Friday, September 14
The Rudresh Mahanthappa Trio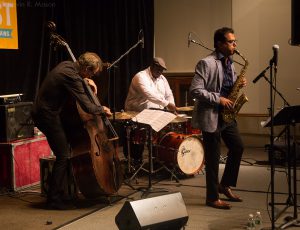 Once again, Aaron Paige, Artistic Director of JazzFest White Plains acted as host and introduced The Rudresh Mahanthappa Trio at the lovely ArtsWestchester space. After Aaron read very impressive bios on each of the musician, Rudresh got a big laugh when he said, ruefully, "Bios should never be read out loud!" With Rudresh Mahanthappa on alto sax, Johnathan Blake on drums, and Francis Moutin on bass, the group started with a seductive number with a Middle-Eastern sound that evoked snake charmers and enchantment; it really cast a spell. The set continued with a charming "What is This Thing Called Love." Often, Francois Moutin would be hunched over his bass, playing with great energy and intensity, hair flying with every move. Johnathan Blake, on the other hand, played with a veneer of absolute cool, while performing with as much intensity as Francois. They were a study in performance contrasts that somehow worked together very well, indeed. They played Stevie Wonder's "Overjoyed" in a manner that was quite a departure from the original, filled with minor-key riffs, and very effective in its dark originality, while still paying homage to the source. Next came a lovely and affecting "In a Sentimental Mood." On one of Rudresh's original tunes, the group seemed to particularly enjoy themselves, exchanging smiles and nods, and having a time! The audience was having just as much of a time, being treated to the music of this gifted trio. "Come On, Get Happy" was played with a good deal of verve. They received well-deserved, enthusiastic applause from an appreciative audience.
After the concert, there was a jazz jam that was led by Jake Robinson from the Music Conservatory of Westchester, Ed Palmero from Hoff-Bathelson Music School, and Pete Malinverni from SUNY Purchase College. It was open to all musicians, and it was a very entertaining session.
Saturday, September 15
Farmer's Market – Brian Carter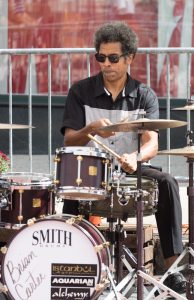 At 11:00 am, drummer Brian Carter was joined at the White Plains Outdoor Farmer's Market by bass guitarist Paul Ramsey, keyboardist Alvin Nelson, and singer Ras Chemash Lamed. It was a lovely, Indian Summer day. Whether you were there to shop, eat, or just listen to the music, the jazz was the perfect accompaniment to the day. They started with Horace Silver's "Song for My Father," which was sung by Lamed in a smooth and mellow voice. Carter said that it is normal in jazz for the audience to applaud solos and even yell out encouragement, so it would be fine to do that here. Carter also talked about Dr. Martin Luther King, who thought that jazz, or "African American classical music" was important. Lamed read an essay Dr. King wrote in praise of jazz and the blues, as an introduction to a beautiful rendition of Miles Davis' "All Blues." Following with, "You Don't Know What Love Is," he said, "I like to keep it romantic, yet still in the blues tradition. I hope you never experience a devastating loss of love, but it is part of reality." Next came a swinging "Fly Me to the Moon" and a sweet "Unforgettable." The group paid tribute to the recently departed Randy Weston and Aretha Franklin, and Brian noted "We've lost some of our greatest musical talents." On a different note, Carter introduced Wayne Bass, Commissioner of Recreation and Parks, City of White Plains, saying, "Thanks to Wayne Bass for having us at this wonderful Festival." After a short break, the group returned with "Caravan," then guest saxophonist Art Bennett sat in on a jumping, Caribbean-influenced song, followed by Freddie Hubbard's "Little Sunflower" with Lamed on vocals.  Lamed continued, saying, "The elders told me, whenever in doubt, do some Duke," before he sang Duke Ellington's "Satin Doll." The concert continued with a passionately rendered "Come Sunday," when Lamed said he wanted to get spiritual. Then he dedicated Stanley Turrentine's "Sugar" "to the sweetness of all the ladies," and it featured fine solos by each musician. They closed with a stirring rendition of Pharoah Sanders' "The Creator Has a Master Plan."
The Arturo O'Farrill Sextet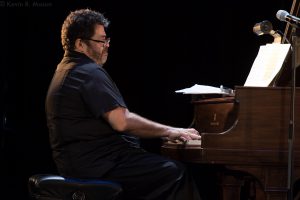 On Saturday evening at the White Plains Performing Arts Center, Wayne Bass welcomed the crowd, saying, "It's been an amazing four days!" He told the story of meeting Arturo O''Farrill at the Saratoga Jazz Festival almost a decade earlier, and how Arturo promised to one day appear at this Festival. As one of the most important figures in Latin Jazz, Grammy-Award-winner O'Farrill was accompanied by trumpeter Jim Seeley, saxophonist Chad Lefkowitz-Brown, drummer Zack O'Farrill, bassist Gregg August, and percussionist Keisel Jiménez. From the start, the band came out swinging, with outstanding solos and tight work as a group. Arturo paused and asked for a moment of silence to remember Randy Weston. The rhythmic riffs played by the sextet were so enticing, that it was all the audience could do to stay in their seats. Arturo's piano virtuosity was particularly on display, and he said it has been a stand-out year for him. One of the highlights was recording at the border between San Diego, California and Tijuana, Mexico. This concert included some Mexican folk music, which was quite entrancing, with each player getting a moment in the spotlight, where they all shone like polished gems. After a short intermission, the group returned to delight the crowd with more music, including Chad Lefkowitz-Brown's energetic composition, "With Bated Breath." Then, Arturo discussed his composition about a mother's lament for her lost child, which he said was particularly poignant in light of all the children being separated from their parents at the Mexican border.  It was a beautifully mournful tune. At the end of the concert, Arturo said, "It never ceases to amaze me that I do this for a living, that I play music with people I love, for people I love. Thank you for letting us do it." The show was a real party, with stellar players, all.
Sunday, September 16
White Plains Jazz and Food Festival
The final day of the 2018 JazzFest White Plains was a flawlessly beautiful day. The JazzFest presented an entire free day of great music, with excellent food and craft vendors on hand, including Alex Lounge Bar and Grill, Anthony's Coal Fired Pizza, Buffalo Wild Wings, Gaucho Burger Company, and Hastings Tea & Coffee Lounge.
SUNY Purchase Jazz All-Stars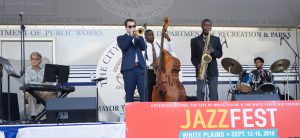 SUNY Purchase Jazz All-Stars included faculty and students from the college, led by pianist/composer Pete Malinverni. The players were bassist Jason Clotter, drummer Jordan Carr, saxophonist Kendrick McAllister, and trumpet John Hasselback, III. They started with a swinging version of Cedar Walton's "Martha's Prize" that was beautifully played by the group. Malinverni said how thankful he was for the people who came out that day, and for the gorgeous weather. He also described all the different kinds of love there are, especially the kind where you wish you had never fallen in love with that person. Then they sweetly played "Prisoner of Love," a beautiful melancholy ballad. Malinverni then introduced "Just Squeeze Me," a song by a man he called "one of the two greatest musicians of the 20th century," Duke Ellington. The quintet was remarkably accomplished, and they got the day off to a wonderful start.
The Jay Hoggard Quintet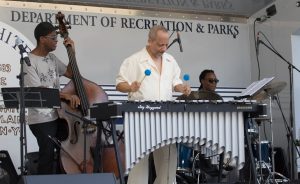 Vibraphonist/composer Jay Hoggard blends music from many influences. His brilliance on the vibraphone, as well as the strong support he received from the band, made for an excellent set. Hoggard was joined by bassist Beldon Bullock, keyboardist Christopher Bakriges, drummer Yuron Israel, and percussionist Brian Jarawa Gray. The show started with a vibrant rendering of Sonny Rollins' "Airegin." The group continued with "Piety and Redemption," "A Walk Through the Colorful Forest," and several other original compositions by Hoggard. There wasn't much talking during this set, but plenty of fine music.
Samba New York!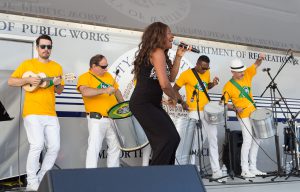 Founded by Philip and Valerie Galinsky, Samba New York! is a group of percussionists and dancers. The samba dancers were visually striking, wearing elaborate, bright, feathered and bejeweled costumes, while dancing with skill and tons of energy! One of the dancers gave a dance lesson to several audience members. At one point, the music got very fast, but the crowd did their best to keep up. Then, singer Ana Fernandez took the stage and performed "Mas Que Nada," and other Brazilian songs. The group really brought the music of Brazil alive. They were a ball of energy on stage, with sizzling beats that matched the sunny weather.
Lakecia Benjamin and Soul Squad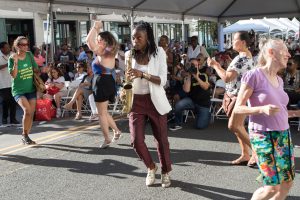 Saxophonist Lakecia Benjamin has performed with a virtual Who's Who of show business luminaries, including Macy Gray, Gregory Porter, Alicia Keys, Hugh Masekela and Stevie Wonder. Benjamin thanked the audience for being there, and for appreciating and supporting live music. Her band, Soul Squad, included bassist Shelly Shellz, drummer Eric Brown, and keyboardist Da-Vine Touch. Benjamin dedicated the song "March On" to everyone who is in a dark place and needs a message to keep moving forward. Keyboardist Da-Vine Touch electrified the crowd when he stood in front of the keyboard and played with his hands behind his back! It was astonishing to witness, and he moved back around the instrument near the end of the song without missing a note. The group was filled with dynamic players, and they really lit up the stage, as individuals and collectively. Their rendition of "Jump and Shout" had a driving rhythm, musicianship, as well as some winning choreography to punctuate the song, and they continued right into "Flashback." The encore, "Little Children," was dedicated to all the young people who need inspiration and a positive word, with all the negativity in today's news. The band really left it all on the stage, for a very receptive audience.
White Plains Mayor, Thomas Roach, and Westchester County Executive George Latimer both spoke a few words at the end of the set, praising the musicians, and thanking the crowd for their attendance. In the break between acts, Wayne Bass introduced Janet Langham, CEO of ArtsWestchester and Kevin Nunn, Executive Director of White Plains Business Improvement District, who were his partners in presenting the JazzFest. He expressed that he couldn't have done it without them.
The Marquis Hill Blacktet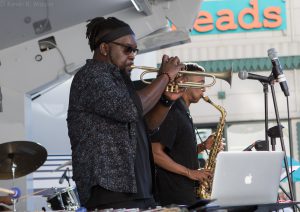 The final act, of a day filled with wonderful music, was The Marquis Hill Blacktet. Winner of the 2014 Thelonious Monk International Jazz Trumpet Competition, Hill was backed by vibraphonist Joe Ross, saxophonist Braxton Cook, drummer Jonathan Pinson, and bass guitarist Jeremiah Hunt. The quintet performed music from the newly released CD Modern Flows Vol. 2. The set opened with "Twin Flame" and flowed seamlessly into "Ego vs Spirit," continuing with the thoughtful "Prayer for the People," then "To Be Free," and into the beautiful "Her Story." The flow of this set was magic, and the group had both a lovely, mellow sound on some songs, and a driving force on others. It all worked. Hill didn't speak much during the set, other than to introduce the band, but the fine music spoke volumes for him and his fellow musicians. They closed with Hill's composition "The Watcher," which was inspired by Marquis' grandmother.
In Conclusion
In the JazzFest program, Mayor Thomas Roach said, "JazzFest adds a special vibrancy and spirit to the downtown. It has become a tradition the community looks forward to all year long, bringing people together in a shared passion for music, culture, and food."  JazzFest White Plains has definitely become a highly anticipated event over the past seven years, and the 2018 edition more than lived up to that anticipation.