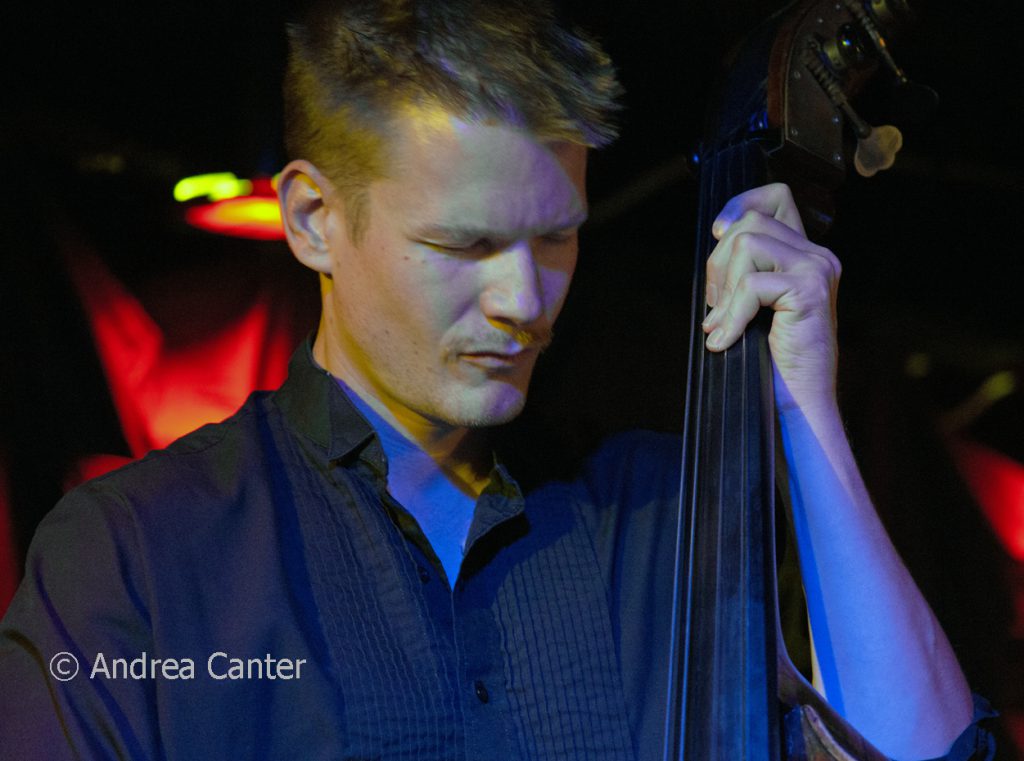 © Andrea Canter
As is the usual plan for Saturday Night Jazz at the Black Dog, this weekend features an opening set from a relatively new ensemble of young lion performers, followed by the headline sets featuring a well-established group of jazz scene leaders. Chronic Icecream starts the night at 7 pm, followed by the Graydon Peterson Quartet at 8:30 pm.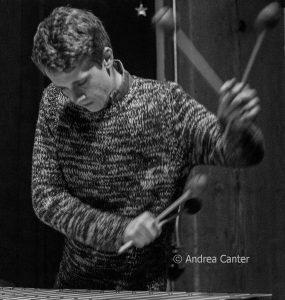 Chronic Icecream (7 pm)
Given the young talents in this group, it is very unlikely that the band name refers to the temperature of the music. Perhaps the better interpretation is "always dessert"–something we always look forward to. The mostly 20-something musicians include Mac Wilms (tenor sax), Matthew Trice (alto sax),  Cody LeDuc (trombone), Levi Schwartzberg (vibes/keys), Drew Stinson (bass), and Bobby T. Rossen (drums).
Graydon Peterson Quartet (8:30 pm)
Ever since graduation from the University of Wisconsin-Eau Claire, bassist Graydon Peterson has been a first-call performer and now bandleader on the Twin Cities jazz scene. And his quartet includes some of the area's busiest musicians: Adam Meckler on trumpet, Joe Strachan on piano, and Adrian Suarez on drums.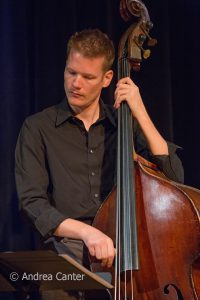 Graydon Peterson played electric bass in his high school pep band and dabbled in rock music in his spare time. The school's jazz director saw him play, and encouraged him to join the jazz band. Soon he earned a spot in the All-State Jazz Band, and his musical aspirations solidified. Next, Graydon enrolled at the University of Wisconsin-Eau Claire where he was a member of UWEC's Downbeat Award-winning Jazz Ensemble I. At UWEC, he performed with such guest jazz artists as Lewis Nash, Ingrid Jensen, Jason Marsalis, Chris Botti, and Christian McBride.  In Minneapolis, Peterson is a first-call bassist who works often with area vocalists as well as in a long list of ensembles, including Charanga Tropical, Firebell, the Adam Meckler Quartet and Orchestra,  and other small groups and big bands. He's also a frequent accompanist throughout the annual Twin Cities Jazz Festival. Peterson launched his quartet in fall 2011 at the Shanghai Bistro in Hudson, WI,  and later a trio dubbed Ghost Tour. He's led performances at Jazz Central, the Artists Quarter, Amsterdam, Twin Cities Jazz Festival, Icehouse, Black Dog, and more. In 2014, Graydon released the quartet's first recording, The Graydon Peterson Quartet, and followed a year later with Duets, featuring all original compositions with each quartet member paired with the others.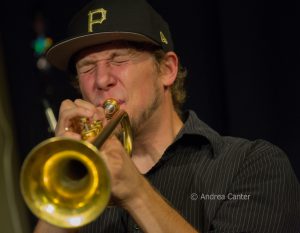 A performer, composer and educator, Adam Meckler received his undergraduate degree in trumpet performance with a jazz studies emphasis from Lawrence University in Appleton, WI and his Master's Degree at the University of Minnesota. A member of LU's Downbeat award-winning Jazz Ensemble, he studied with acclaimed composer and educator Fred Sturm. Based for more than a decade in the Twin Cities, Adam has performed with the Pete Whitman X-Tet, Stan Bann Big Band, Nova Jazz Orchestra, Brass Barn Polka Band, Nookie Jones, Jack Brass Band and JazzMN Orchestra, as well as with the Graydon Peterson Quartet and with wife/vocalist Jana Nyberg's ensemble (Jana Nyberg Group).  Adam leads his Adam Meckler Quintet, Lulu's Playground, and his acclaimed Adam Meckler Orchestra. He released his debut recording, For Dad, in 2010; in 2014, the AMO released When Clouds Look Like This. In late summer 2015, Adam brought his quintet to three club venues for live recording sessions, yielding a new release in 2016. Adam further keeps himself busy as a jazz educator, coordinating jazz for the MacPhail Center for Music's Chanhassan campus. A former instructor at McNally Smith College of Music, Adam also teaches at Minneapolis Technical College.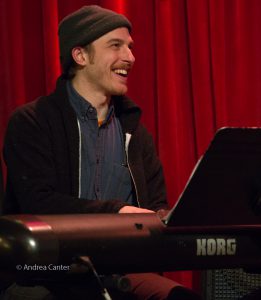 Pianist Joe Strachan is a 2013 graduate of the University of Minnesota,  and was the pianist for the third edition of the Dakota Combo (2008-09) while attending Northfield High School. A former student of Laura Caviani and Bryan Nichols, he began college studies at Lawrence Conservatory of Music, then transferred to the U of M in Minneapolis where he found more performance opportunities, appearing at the Artists Quarter, Dakota, Icehouse and Studio Z and playing with John Raymond, Jake Baldwin, Alicia Steele, the Jazz Wonderband and more. More recently he has performed with the Adam Meckler Orchestra, Courageous Endeavors, Pete Whitman X-Tet, in a duo with Graydon Peterson, and recently in a trio with Chris Bates and Miguel Hurtado.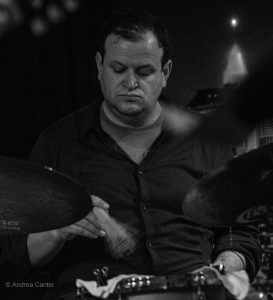 Another UWEC graduate (Classical Percussion Performance), Adrian Suarez performed with award-winning college ensembles and received the Downbeat student award for Best Drum Performance in 2001. Adrian also attended the Academy for Emerging Artists at Jazz Aspen Snowmass, where he performed and studied alongside jazz greats such as Ray Brown, Christian McBride, Monty Alexander, Bobby Hutcherson, Lewis Nash, Kermit Ruffins, Herlin Riley and Warren Wolf, and performed in the U.S. All-Collegiate Honors Jazz Ensemble in Washington, DC, under the direction of Arturo Sandoval. In the Twin Cities, Adrian performs regularly with These Modern Socks, Vicious Vicious, and the Adam Meckler Orchestra, as well as the Graydon Peterson Quartet. He is in-demand in the jazz, rock and studio music scenes as a percussionist, beat programmer, engineer and producer. He also maintains a private teaching studio of university-level students. In 2005, Suarez founded the successful web and graphic design studio, Soire Design.
Saturday Night at the Black Dog has presented the best in Twin Cities jazz for over 200 consecutive weeks. The Black Dog is located at 308 Prince Street, in the Northern Warehouse in St. Paul's Lowertown Arts District. While there is no cover, donations ($10 per set suggested) are appreciated to support the series and the musicians, and to maintain the high level of artistry that is the hallmark of the series. Saturday schedule at www.saturdaynightjazzattheblackdog.info; full Black Dog schedule and other information at www.blackdogstpaul.com