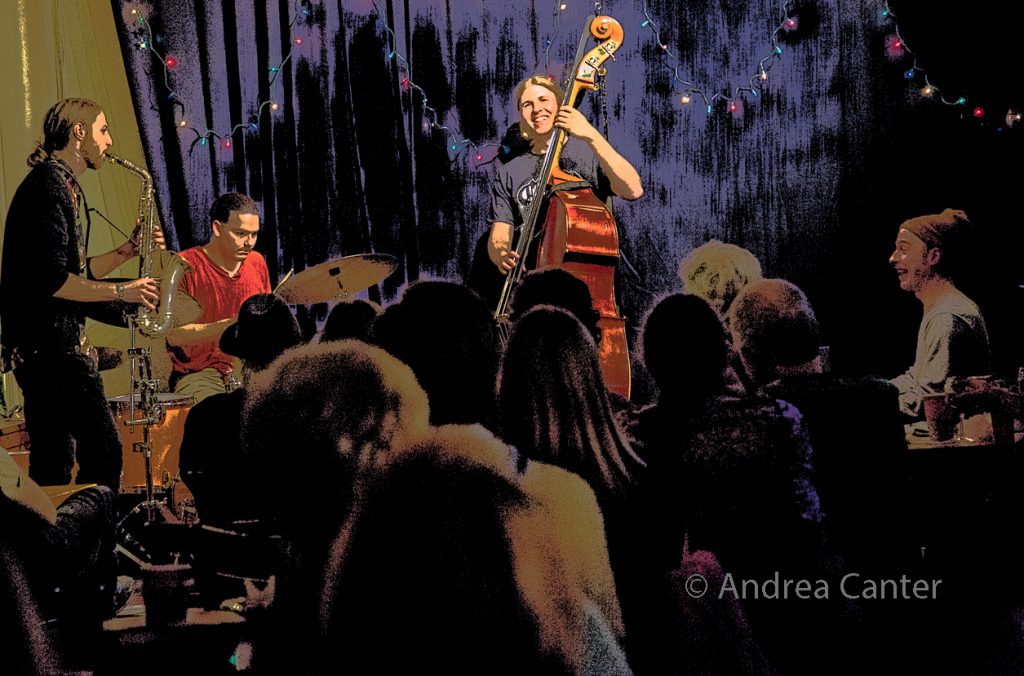 © Andrea Canter
When they made their debut at the Artists Quarter six years ago, Courageous Endeavors was a band of young upstarts, recent college graduates who were already making waves in the Twin Cities jazz community–Nelson Devereaux, Joe Strachan, Brian Courage and Miguel Hurtado. They continued to snag gigs at top area venues, making their first recording in 2014. But shortly thereafter, Courage left the area to return to his home territory in New York. Fortunately he returns to Minnesota about once per year, and this week he's performing in several configurations, including an April 7th reunion with Courageous Endeavors at the Black Dog. The opening set features the youthful cross-generation Carter Pearson Quartet.
Carter Pearson Quartet (7 pm)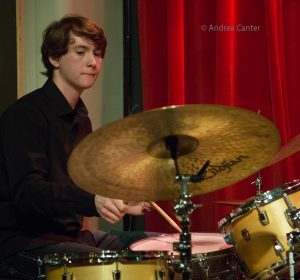 He's only a junior in high school but drummer Carter Pearson is not intimidated by older musicians. In fact he's leading a quartet at the Black Dog featuring one fellow high school senior (guitarist Bruce Acosta from Edina HS) plus pianist Abebi Stafford and bassist Graydon Peterson. Carter, who attends Maple Grove High School, has played on the Black Dog stage a few times already, including with the band Elevator Jazz for the February 2018 "Jazz Ink Youth Showcase").
Courageous Endeavors (8:30 pm)
Since their debut in 2012, Courageous Endeavors has been heard at the Artists Quarter, Jazz Central, Icehouse, Studio Z and the Black Dog; recently their gigs have been limited to annual "reunion" dates–when bassist Brian Courage is back in town. This gig serves as the 2018 reunion!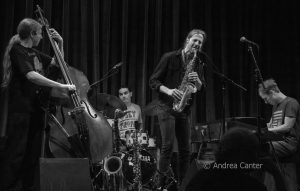 Before Courage left the metro, the band recorded a studio album, Prototype. The repertoire is all original music from Courage (two tracks), Strachan (3 tracks) and Devereaux (2 tracks), with Strachan and Devereaux collaborating on the final track. Overall, the music rises above what many other 20-somethings are recording these days, in part because the individual musicians are clearly committed to a true collaboration in sound and spirit, and in part because the music keeps moving — they don't get bogged down in the excesses that seem to plague many of their contemporaries (endless rumination, repetition, and inaccessible wanderings). Rather, the music pulls in the listener with challenging ideas, playful surprises, and genre-bending arrangements.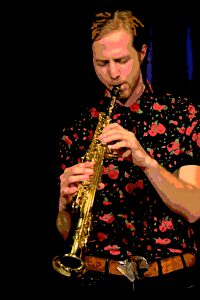 Nelson Devereaux began saxophone studies at age 8, inspired by recordings of Charlie Parker, Sonny Stitt, and the Elllington and Basie Big Bands. Growing up in Milwaukee, he was involved in music programs starting in elementary school and later studied jazz at the Wisconsin Conservatory of Music, adding clarinet and flute to his arsenal. Nelson came to the Twin Cities in 2007 to attend the University of Minnesota, studying here with Dave Milne, Mike Lewis, and Eugene Rousseau, and also with Clay Jenkins and Berkeley Fudge. He graduated with degrees in Saxophone Performance and Music Education, and has performed around the metro and beyond with New Sound Underground, Hustle Rose, Tasty Tones, Courageous Endeavors, Adam Meckler Orchestra, Brass Barn Polka Band, Jazzland Wonderband, Chihuahua City, the Jax Ravel Gang, and more. He currently directs 4th-5th grade bands at Waite Park School in Minneapolis and is a woodwind instructor at Twin Town Guitars.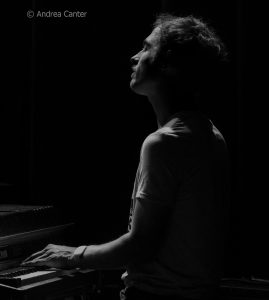 Pianist Joe Strachan is a 2013 graduate of the University of Minnesota and former student of Laura Caviani and Bryan Nichols. Keeping busy on the local jazz scene, Joe performs with the Adam Meckler Orchestra, Pete Whitman X-Tet, Charanga Tropical, Graydon Peterson Quartet, Twin Cities Latin Jazz Orchestra, Jake Baldwin Quartet, Jax Ravel Gang, and Chris Bates Dimensions and Inventions Trio. He also provides piano accompaniment for the U of M School of Dance, community theater productions, a 16-piece live hip-hop band, and theater installations.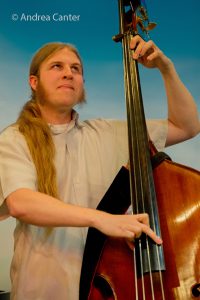 Bassist and New York native Brian Courage graduated from the Lawrence University Conservatory in 2012. He wasted no time getting his chops warmed up on the local jazz scene, playing with many of the local ensembles at the Artists Quarter, Dakota and Jazz Central, and last fall, with ace saxophonist Lew Tabackin. Before leaving the Twin Cities, Brian was also one-third of the very hip three-bass ensemble, Mountain King, and locally played with everyone– Laura Caviani, Bryan Nichols, Vicky Mountain, Pete Whitman's X-Tet, and more. Since his return to New York City in fall 2014, Brian has performed at several venues around Brooklyn and Manhattan as a member of the Chris Misch-Bloxdorf Dectet, and has toured with the rock band Hollis Brown.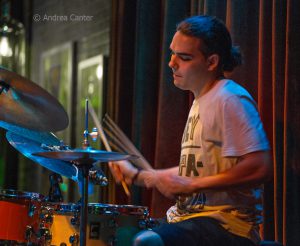 Miguel Hurtado (drums) played throughout the Twin Cities as a teenager in several youth bands, as well as with South High jazz ensembles. After graduating from the Manhattan School of Music in 2010, he returned to the Twin Cities where he quickly became a busy member of the local jazz scene. He's led his own ensembles at the Twin Cities Jazz Festival and performed at the Artists Quarter, Dakota, Jazz Central, Icehouse, Black Dog and more. In addition to leading his own bands, he has performed with Jake Baldwin, John Raymond, Jeremy Walker, Javi Santiago, Joe Strachan, Ted Olsen, Jax Ravel, Courageous Endeavors, and Steve Kenny. He's also expanding his musical resumé, playing with some local pop and R&B singers, particularly Alicia Steele and vocalist/rapper Toussaint Morrison.
Saturday Night Jazz at the Black Dog is curated by Steve Kenny as a "crowd-funded" series, nearing its fourth anniversary of weekly performances. No set cover but audience donations of $10 per set recommended to support the musicians and the series. The Black Dog is located at 308 E. Prince Street in the street level of the Northern Warehouse in St Paul's Lowertown Arts District; Saturday night schedule at www.saturdaynightjazzattheblackdog.info; full Black Dog schedule, menu and more at www.blackdogstpaul.com. Brian Courage winds up his Twin Cities visit on Sunday, April 8, with Mountain King at Jazz Central Studios.