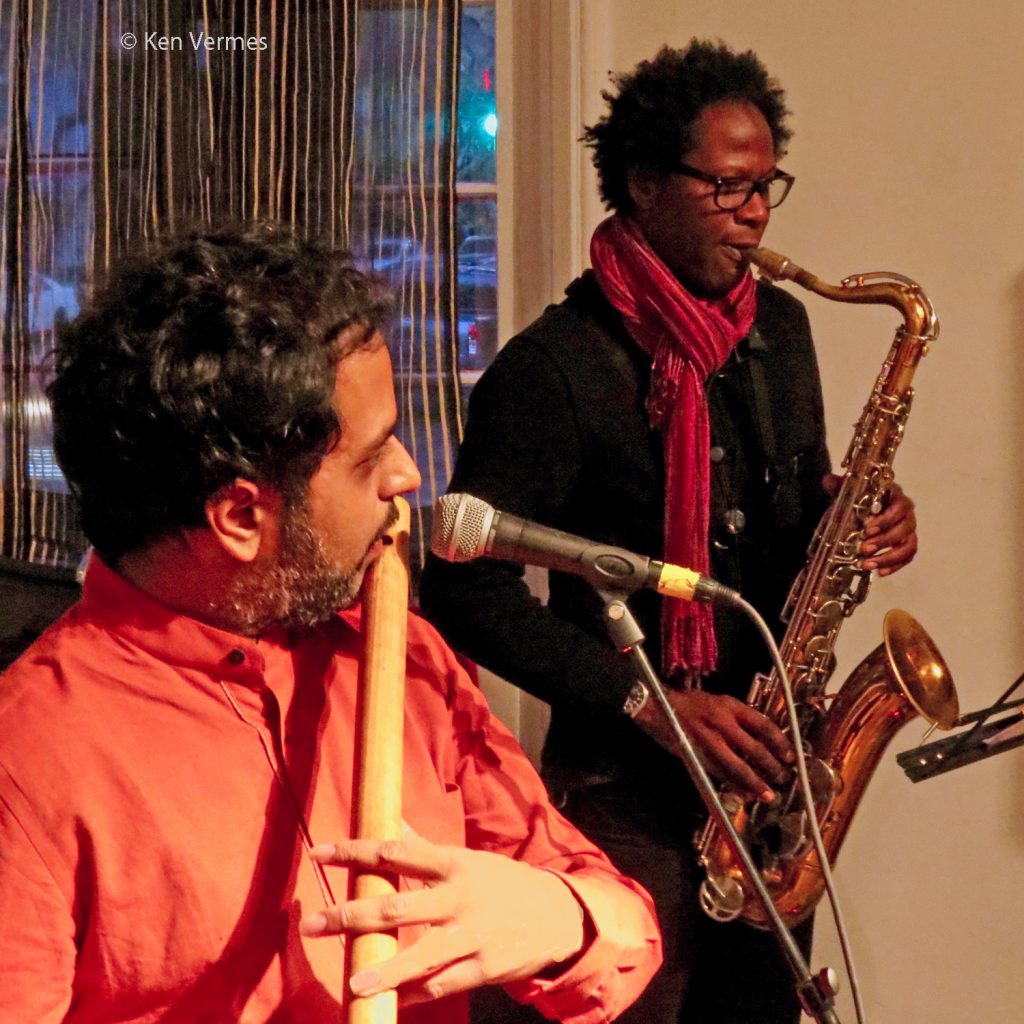 What do we mean by "save jazz"? Let's get to the points. There is a crises in this music that appears in clearly distinct areas. First, the music may be losing the younger generation audience. When I speak with members of this group, including my own daughter, who has seen many jazz shows, they seem to be reaching for music that will speak to them directly and that comes with an energy that they can relate to. They never seem to mention any aspect of the historical narrative to jazz, do not have specific contemporary players they are following, and with a few exceptions like the Bad Plus, are not very aware of younger performers. Esperanza Spalding had a full house at the rock club Independent in San Francisco, playing a rock show. But unlike in Britain, where jazz players are making a real push in club culture, we see no evidence of this here. The Donny McCaslin Group did a thrilling rock/jazz show at SFJAZZ last year, but there were only a handful of younger listeners present. Moon Hooch is a young person's rave, but they are not a "jazz" group in any way that I can think of.
Second point: Jazz has almost completely disappeared from the music charts, from television, from the movies, and from old school media, such as print. This is not a good sign. Most so-called jazz journalism reads like public relations releases in old media print and websites, desperate for advertisers. There is no Ralph Gleason, Leonard Feather, or Ira Gitler getting regularly published as they were back in the day. There is an exception in the Bay Area, Andrew Gilbert covers the local jazz scene extensively. Many of the jazz writers today have lost their regular beats and are not in publications young people read. If this wasn't enough, young people seem dedicated to a music style that excludes acoustic instruments entirely. We're speaking of shows with electronic sounds produced by DJs. This dance and rave style is still widely popular and takes place in enormous festival settings. We could go on.
Is there any point of hope? In San Francisco, the answer is yes. And it can be called the community music model. This isn't exactly something new. A number of jazz clubs which at one point existed in San Francisco and many other cities epitomized this idea. We're talking about the scenes that existed in North Beach and the Fillmore district in the City and places like Central Avenue in Los Angeles, and perhaps the most famous one of all, 52nd Street in New York. These scenes were wiped out by gentrification, the destruction of African American neighborhoods, and the enormous cost increase for the club and restaurant business in the last twenty years or more in all the major cities of the country. That has left an opening for community-based music and art centers, community based musicians and bands, and neighborhood institutions including bookstores and galleries, opening their doors to fill the void.
So where can you see the music now in San Francisco? Let's start with a small art and music club called the Red Poppy. This place is intimate to say the least, with the audience so close to the musicians that you can see every single move. The small venue is run entirely by volunteers, and includes graphic artists as well as weekly music shows. One of the artists we saw here recently is the wonderful traps drummer and tabla player, Sameer Gupta, visiting from New York City. Sameer runs a collective that most often includes the wonderful flute player (bansuri, the traditional Indian flute), Jay Gandhi,  and other performers. Jay Gandhi plays with an intensity and beauty that is remarkable and moving. On the night we saw this group, there was also a tenor sax player named David Boyce, someone who we were listening to for the first time. One of the highlights of this performance was a mesmerizing version of "Naima", a gentle ballad by John Coltrane.
There is so much more to the community jazz movement and the growth of both clubs and alternative spaces in the City by the Bay. We look forward to covering the Bird and Beckett Bookstore, music at the new San Francisco Conservatory Jazz program, new clubs like the Black Cat and Mr. Tipples, Club Deluxe, The Sound Room, and the Bach Dynamite and Dancing Society, and much more. A we can't fail to mention the Joe Henderson Room at SFJAZZ, where the marvelous Jackie Ryan played a set as good as any in the world. I know, I was sitting three feet from her and the band. Stay tuned.