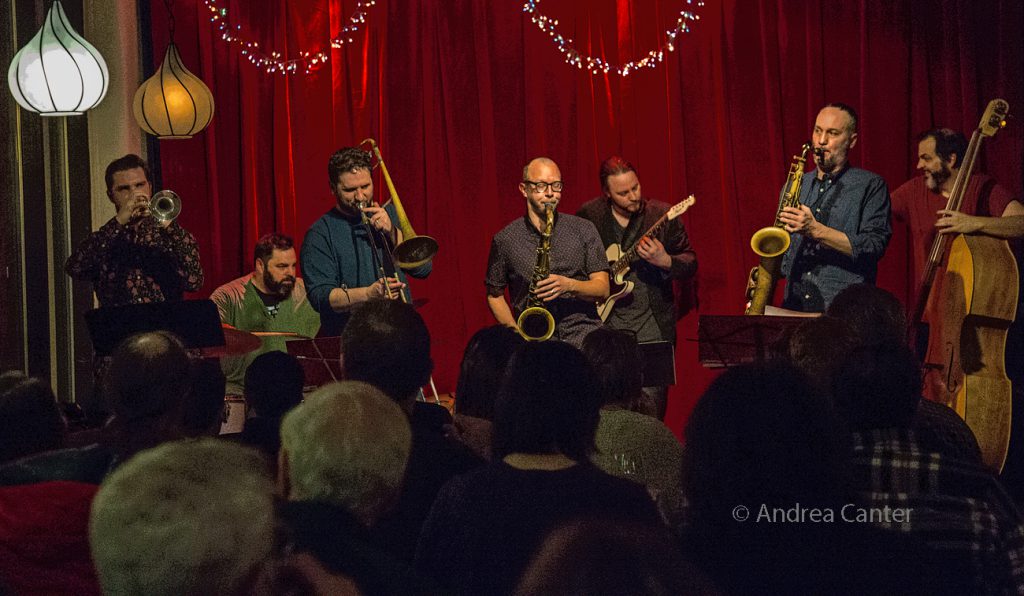 © Andrea Canter
Two popular gigs go back-to-back at the Black Dog this Saturday, November 18, as Steve Kenny presents Saturday Night at the Black Dog. The monthly JazzINK Youth Showcase kicks off at 7pm, featuring the teens of the Tamberwood Quartet. Prime time (8:30 pm) brings Chris Bates' Red 5 to the stage — actually now a septet of some of the top jazzers in the Metro.
Tamberwood Quartet (7 pm)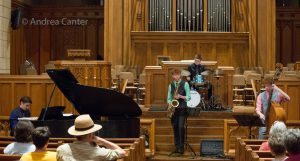 The JazzINK Youth Showcase is pleased to present the talents of the Tamberwood Quartet, a group of teens from the Twin Cities area. Twins Charlie (saxophone) and Harry Menken (bass) form half of the ensemble. Currently both are enrolled in the University of Minnesota via the Post Secondary Education Options program and participate in the U of M jazz bands. Pianist August McKinney is a junior at Minneapolis Southwest High School, and appeared on the Youth Showcase earlier this fall with Below Zero. Drummer Nick Adams also performs with Below Zero and leads Liquid Vinyl (scheduled on the Youth Showcase for January 6), and is a member of the 2017-18 Dakota Combo.
Chris Bates Red 5 (8:30 pm)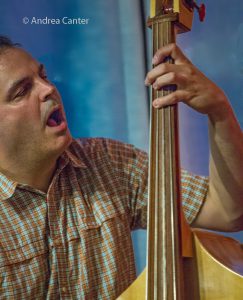 Chris Bates launched Red 5 in 2012 via a series of "open sessions" at Jazz Central Studios, bringing original compositions to the band to test drive and tweak before live audiences before heading into the studio to record New Hope. The album pleased audiences and critics alike, the only jazz release in the top 20 choices of Star Tribune critics for 2012. Originally a quintet, the band now has a somewhat fluid cast of six-seven musicians. Tonight the ensemble includes Steve Kenny(trumpet), JC Sanford (trombone), Chris Thomson and Pete Whitman (saxophones), Thomas Nordlund (guitar), Chris Bates (bass) and Davu Seru (drums).
Chris Bates grew up with jazz, son of trumpeter/bandleader Don Bates and brother of well-known drummer JT Bates. He began bass lessons in 4th grade and progressed to jazz studies at the University of Wisconsin-Eau Claire before returning to the Twin Cities to study with Anthony Cox. A member of the 1990s ensemble, the Motion Poets, Chris was a 1999 McKnight Composer Fellow and in 2014 was awarded a commission from local new music ensemble Zeitgeist. He often lends his compositions to the many ensembles that he juggles throughout his busy performance schedule. Over his career, he has played with Mose Allison, Lee Konitz, Joe Lovano, Steven Bernstein, Howard Levy, Michael Attias, Ira Sullivan, Bill Carrothers, Eric Alexander, Ari Hoenig and Tim Sparks, among others. In addition to his local ensemble work (Atlantis Quartet, Red Planet, How Birds Work, Klezmerica, Enormous Quartet, Framework, Leisure Valley, Zacc Harris Group, Dean Granros' Tall Tales, Bill Simenson Orchestra) and leading Red 5, the Good Vibes Trio, and new Inventions and Dimension Trio, Chris has played solo concerts using both acoustic and electronic instruments, and appears on over 30 recordings. In spring 2013, Chris launched a monthly improvisation series at Jazz Central Studios in Minneapolis, "Magica Improvisado" and was a recipient of a Zeitgeist commission in 2014. Most recently he has been a "visiting artist" in the jazz program at the University of Minnesota Morris.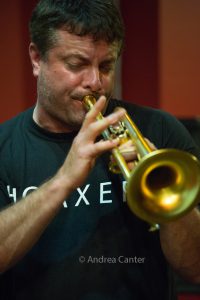 Steve Kenny studied at the University of Wisconsin-River Falls. Among many projects, he has performed with What Would Monk Do, the Cedar Avenue Big Band, and Larry McDonough's quintet (tribute to Chet Baker) as well as leading several editions of his own quartet and Group 47. He's best known as co-founder of the Illicit Sextet, an ensemble popular in the 1990s before taking a long hiatus, and back in action for the past six years. Steve has received a Minnesota Music Award, West Bank School of Music Jazz Composer award, and multiple honors as Best Jazz Trumpet at the Eau Claire Jazz Festival. With support from a state arts board grant, he curated the ten-week "All Originals" jazz series at Studio Z, now in its fourth summer season. In fall 2014 he launched the weekly Saturday Night Jazz at the Black Dog series, and in spring 2015, brought a similar series (Friday Night Jazz) to The Nicollet, later rebranded and rescheduled as Thursday Night Jazz at Reverie, running until the venue closed at the end of July 2017. In his spare time, Steve juggles a fulltime tech job, graduate studies in Computer Science, gigs with a number of bands, and also manages the Jazz Police website. And that instrument he plays? It's a FLUMPET™– a hybrid trumpet/flugelhorn.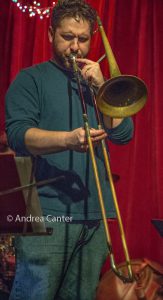 A protégé of legendary composer Bob Brookmeyer, trombonist and Northfield native JC Sanford studied at the University of Northern Iowa and completed graduate studies at the New England Conservatory. Living in New York for the past sixteen years, JC's compositions have been performed by leading artists such as John Abercrombie and Dave Liebman, and he has built a reputation as conductor of large ensembles including the John Hollenbeck Large Ensemble, Alan Ferber Nonet, Alice Coltrane Orchestra and his own JC Sanford Orchestra. JC recently returned to Northfield, in time to celebrate the release of his 2016 quartet album, Can You Believe It, which had its Minnesota release gig at the Icehouse.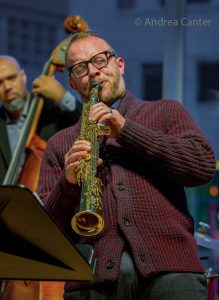 Saxophonist/composer Chris Thomson attended the U of M and Lawrence Conservatory, toured with the Glenn Miller Orchestra, and has appeared with Delfeayo Marsalis in addition to local collaborations with the New Standards, Anthony Cox, Dosh, Chris Morrissey, Dave King, Bryan Nichols, Michael Lewis, Adam Linz, Adam Levey, Kelly Rossum and more. Most recently he has been on tour with Bon Iver. Chris has released two recordings as leader and keeps a busy teaching schedule at the Performing Institute of Minnesota Arts High School  (PiM) in Eden Prairie, Hamline University, and MacPhail Center for Music.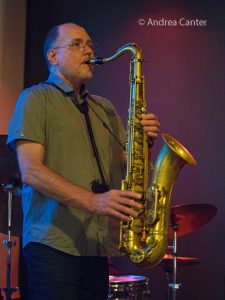 Veteran sax/flute performer, composer, and arranger Pete Whitman launched his career in Kansas City before moving on to  jazz jazz studies at North Texas State University. He toured internationally with the Glenn Miller Orchestra, then moved to the Twin Cities in 1988. Pete's credits on tenor, alto, soprano and flute include performing with Randy Brecker, Jack McDuff, the Woody Herman Orchestra,, Michael Feinstein, Debbie Boone, Rosemary Clooney, Barbara Dennerlein, Lavay Smith & Her Red Hot Skillet Lickers, Dave Stryker, Curtis Fuller and Andres Prado. Perhaps best known as the co-founder and leader of the X-Tet, Pete also led Departure Point and works regularly with the Jazz MN Orchestra and Mississippi. He was commissioned to score the film, Been Rich All My Life, about a quartet of octogenarians reprising their dancing days in vaudeville. A dedicated educator, Whitman heads the Woodwind and Brass Department at St. Paul's McNally Smith College of Music, teaching saxophone, improvisation, and arranging, and leading the McNally Smith X-Tet as well as his Pete Whitman X-Tet as well as curating a monthly series at Jazz Central.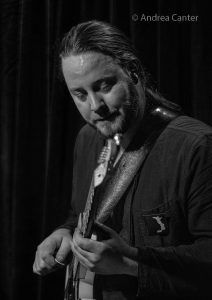 Twin Cities guitarist Thomas Nordlund earned a BA in Guitar Performance at the University of Minnesota-Morris and a certificate in Jazz Studies from the Universit of Auckland, NZ. He recently released an album of eight original compositions (Divide Avenue), featuring a strong cast of metro musicians.  In addition to leading his own band, Thomas performs regularly with vocalists Sarah Morris and Jana Nyberg, and has performed with Andrew Foreman, Patrick Harison, Adam Meckler, Ben Abrahamson, and other area standouts.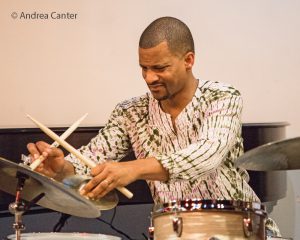 Drummer Davu Seru leads the No Territory Band and plays with Merciless Ghost, Milo Fine, J. Otis Powell‽, Dean Magraw (monthly duo at the Black Dog), and more; curates a monthly show at Khyber Pass Cafe; and is a member of the composer-improviser collective orchestra, Cherry Spoon Collective. Davu earned a Bachelor's degree in African-American Literature and a Master's in English from the University of Minnesota, where he is now a professor of African-American Literature and Culture. He has received awards from the American Composers Forum (Minnesota Emerging Composer Award) and the Metropolitan Regional Arts Council, and commissions from the Zeitgeist Ensemble and Walker Art Center. He is the inaugural Artist in Residence at Studio Z in St. Paul.
Saturday Night Jazz at the Black Dog has presented weekly jazz programs continuously for the past three years, curated by Steve Kenny. The Black Dog is located at 308 E. Prince Street in the Northern Warehouse in the St. Paul's Lowertown. No cover but donations (tip jar) appreciated to support the series and the musicians ($10 suggested). Saturday night schedule at www.saturdaynightjazzattheblackdog.info; full music schedule and more information at www.blackdogstpaul.com