© Andrea Canter
Piano legend Chick Corea has brought a number of projects to the Dakota Jazz Club in downtown Minneapolis, including reunions with Gary Burton and Bela Fleck. Now he reunites with Return to Forever drummer Steve Gadd  in the sextet, Corea/Gadd Band, performing two nights at the Dakota on October 10-11, two shows each night at 7 and 9 pm. Filling out the band are artists who are stars in their own right–guitarist Lionel Loueke, saxophonist Steve Wilson, bassist Carlitos del Puerto, and percussonist Luisito Quintero.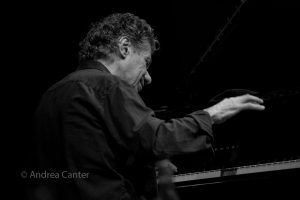 Pianist/keyboardist and NEA Jazz Master Chick Corea has accumulated 23 Grammy awards (and more than 60 nominations) over his five-decade career. Making waves early with Miles Davis, Corea has since explored a vast range of music, leading bands Circle, Akoustic Band, Elektric Band, Circle, Touchstone and Five Peace as well as Return to Forever, and delving into modern post bop, Latin, and fusion. Arriving on the heels of Bill Evans and McCoy Tyner, Armando Anthony Corea was born in Chelsea, Massachusetts and was studying piano by age four. As a youngster he heard recordings of Charlie Parker, Dizzy Gillespie, Bud Powell, Lester Young and Horace Silver, as well as Beethoven and Mozart, all of whom became sources of inspiration. In the mid-60s he worked in Blue Mitchell's band, leading to his first project, Tones for Jones Bones.  He developed a love for Latin music in the bands of Cal Tjader, Herbie Mann and Mango Santamaria, and honed his chops during a year with Sarah Vaughan before getting his big break with Miles Davis. Later, with the Bitches Brew and In a Silent Way sessions to his credit, he formed avant garde Circle with Dave Holland, Anthony Braxton and Barry Altschul; in the early 70s his focus shifted to fusion with the Moog synthesizer and Return to Forever; in the 80s he led the Elektric Band, and in the late 90s, moved back into acoustic piano with Origin and other projects.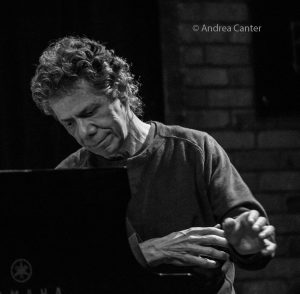 Corea cofounded Stretch Records in 1992 which morphed ultimately into a subsidiary of Concord. Over the past two decades, his collaborations have included celebrated duos with Gary Burton and outings with the St. Paul Chamber Orchestra and London Philharmonic. And he explored his Latin roots with his ensemble, Touchstone. The 21st century has been one of reviving past partnerships—the "return tours" of Return to Forever; the revival of his collaboration with John McLaughlin from his Miles Davis days (Five Peace Band); a duet with Japanese superstarlet Hiromi, with whom he first played when she was in high school; a tour with Stanley Clarke and Lenny White; his eagerly anticipated reunion with Gary Burton, which yielded two 2013 Grammies (Best Improvised Solo, Best Instrumental Composition) and two more nominations for Hot House; and his partnership with Béla Fleck, which has yielded two albums and several tours to date.
In 2014, Corea with Christian McBride and Brian Blade released a live triple-disc set that won two Grammys, and toured as Trilogy, coming to the Dakota in summer 2016; Chick also recently toured with fellow piano star Herbie Hancock in duo. Now he revives his partnership with drummer Steve Gadd (the first electric drummer for Return to Forever), with whom he recorded The Leprechaun, My Spanish Heart, Three Quartets, and Friends.  The Corea/Gadd Band is their first project as co-leaders.
One of the most influential drummers of all time, Steve Gadd  recorded such legendary drum tracks as "Aja","Fifty Ways to Leave Your Lover," and "Nite Sprite." A native of Rochester, NY, Gadd was encouraged to take drum lessons at age 7 by an uncle who played drums in the Army. He sat in with Dizzy Gillespie at age 11 and went on to study music at Eastman in Rochester, where he with Chick Corea, Chuck Mangione and more at area clubs. He ultimately located to New York City, joined Corea's first Return to Forever band, and recorded with Paul Simon and Al DiMeola's Electric Rendezvous Band. Corea commented, "Every drummer wants to play like Gadd because he plays perfect . . . He has brought orchestral and compositional thinking to the drum kit while at the same time having a great imagination and a great ability to swing." Other artists who have collaborated with Steve Gadd include Aretha Franklin, Carly Simon, Bob James, Nancy Wilson, Joe Cocker, Gato Barbieri, George Benson, Stanley Clarke, Steely Dan, Maynard Ferguson, Roberta Flack, and Jim Hall. In the 90s, Steve become Eric Clapton's first-call drummer. He continues to tour with Clapton, Paul Simon and James Taylor.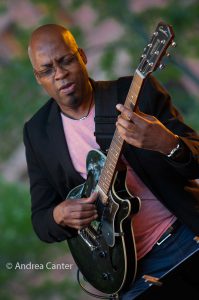 Guitarist/vocalist Lionel Loueke  was born in Benin, moving to Ivory Coast to study at the National Institute of Art. He attended the American School of Modern Music in Paris, France from 1994–1998. In 1999, Loueke was awarded a scholarship to the Berklee College of Music in Boston, where he earned a degree in Jazz Performance in 2000; the following year he was selected for the Thelonious Monk Institute of Jazz program in Los Angeles where he met and began performing with Terence Blanchard. Loueke has performed with Herbie Hancock, Diane Reeves, Cassandra Wilson, Wayne Shorter, Jeff Tain Watts, Charlie Haden, Marcus Miller, Sting, Kenny Garrett, Roy Hargrove, Santana, Dave Holland and more. He released two albums with his trio Gilfema, debuted on Blue Note in 2008 and has released six albums as leader in addition to his work with Gilfema. He continues to tour with Hancock as well as the ensemble Aziza (Dave Holland, Chris Potter, and Eric Harland).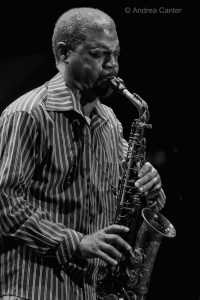 Steve Wilson gained fame as sideman in Chick Corea's Origins and the Dave Holland Quintet, as well as touring with such artists as Jon Hendricks, Ellis Marsalis, Don Byron, Mingus Big Band, and more. He topped Downbeat polls in the last 90s as Talent Deserving Wider Recognition on soprano and alto saxophone, and gained wider recognition as leader the Steve Wilson Quartet and the multi-generation project Generations with Ben Riley, Mulgrew Miller, and Ray Drummond. In 2009 he toured with the Blue Note 7, a septet honoring the 70th anniversary of Blue Note Records. In recent years he has toured with his quartet Wilsonian Grain, the Maria Schneider Orchestra, Christian McBride Big Band, Billy Childs Quartet, Ron Carter Big Band, and the Buster Williams Quartet. His most recent release is a vinyl LP titled Sit Back, Relax & Unwind (2017).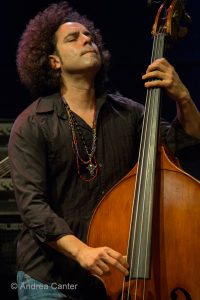 Carlitos Del Puerto, son of Cuban bassist and founding member of Irakare, Carlos Del Puerto, has followed in his father's footsteps, performing and recording with Bruce Springsteen, Stevie Wonder, Celia Cruz, Don Grusin, Ricky Martin, Paquito De Rivera, Patti Labelle, Sheila E, Chucho Valdes, Roy Hargrove, David Sanchez, Danilo Perez, Gonzalo Rubalcaba, Steve Coleman, Jane Bunnett, and more. Now 30, in 1991, Carlitos won the Grand Prize and and  first Honorable Mention for excellence in interpretation of Cuban Music at the Amadeo Roldan National Music Competition; at age 17,Carlitos was named Best New Jazz Artist at the international Jazz Festival in Havana. He earned a degree in Cello Performance and later attended the National School of Music and Arts in Cuba and was named Professor of Contrabass and Ensemble Performance. Carlitos has also worked in television and music videos with such stars as Michael Jackson and Herbie Hancock. He received a Grammy nomination (Best Latin Jazz Tropical album) for his performance on Carabana Cubana.
Master Timbalero Luisito Quintero is a native of Caracas, Venezuela, where he was tutored by his father, a respected percussionist in his own right. He studied at the respected Orquesta Simfonica de Venezuela and performed with popular music ensembles Grupo Guaco and Oscar D'Leon. He went on to work with the Rolling Stones, George Benson, Joe Sample, Bill Cosby, the late Celia Cruz, Tito Puente, Cachao, Eddie Palmieri, Marc Anthony, Gloria Estefan, Richard Bona, Ravi Coltrane, Nathalie Cole, Diana Krall, Giovanni Hidalgo, Toshiko Akiyoshi, Spanish Harlem, Willie Colon and countless others.  He has worked extensively with Jack DeJohnette's Latin Project, and touredand recorded with the Tony and Grammy Award-winning jazz artist, Dee Dee Bridgewater.
The Dakota Jazz Club is located in downtown Minneapolis at 1010 Nicollet Mall. Reservations recommended at 612-332-5299 or www.dakotacooks.com