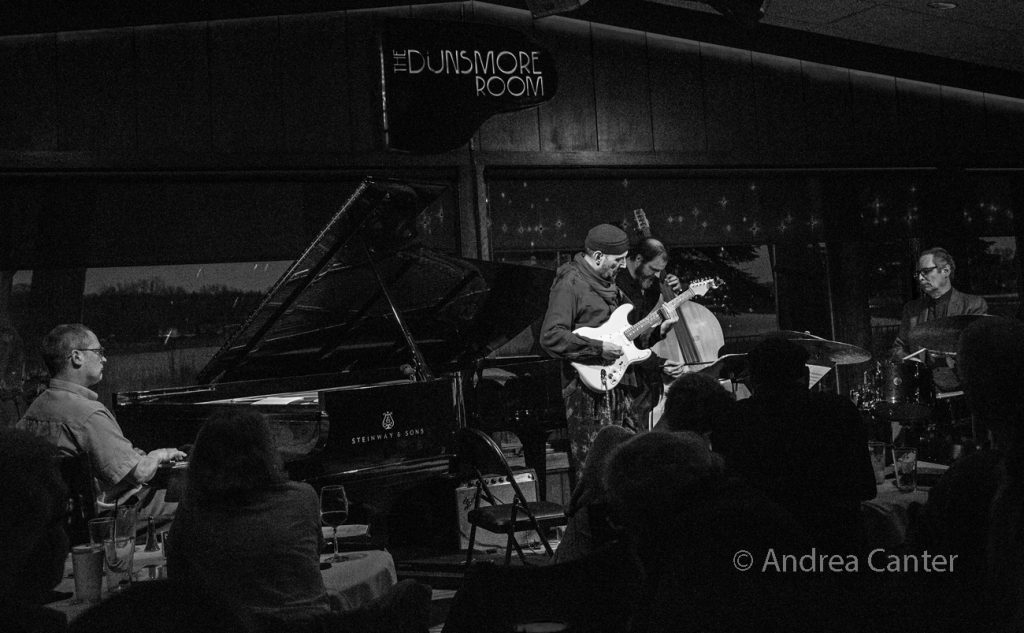 © Andrea Canter
"Carrothers' feathery textures go nicely with the wave of effects Dean Magraw wrings from his guitar…bassist Chris Bates and drummer Jay Epstein spin the eruptions with aplomb." – Star Tribune
"Musically, Red Planet is a trio of wide open spaces, and Carrothers fills those spaces subtly but colorfully, his improvisations and accompaniments brimming with blue-hued melody."– Downbeat Magazine (4 stars)
In fall 2015, one of the area's most innovative musical trios joined forces with one of the world's most creative pianists at Creation Audio, recording their magnificent mayhem in front of a small live audience. The final product, Red Planet With Bill Carrothers, was released last spring in the intimate Dunsmore Room at Crooners Lounge in suburban Minneapolis. Now the foursome return, reprising the recording as well as offering some additional collaborations.
Red Planet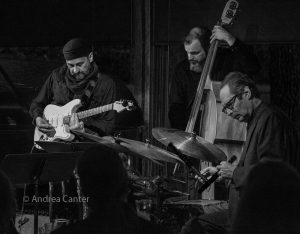 Red Planet –Dean Magraw, Chris Bates, and Jay Epstein–was described by the Artists Quarter as "creative jazz for the 21st Century, inviting you to put one ear on the launching pad of neo-bop Trane/Hendrix/Monk burn, and your other ear on the celestial weightlessness from the musical cosmos." Searching the jazz galaxy for the past 15+ years, the trio released their debut recording, Space Dust, in 2011. Most recently they have appeared at the Twin Cities Jazz Festival, Jazz at Studio Z, Vieux Carré, Reverie, the Black Dog, and more.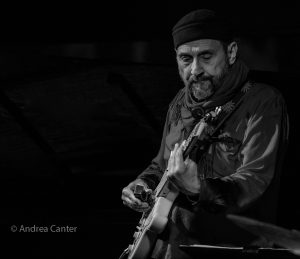 Dean Magraw is one of the Twin Cities' most eclectic musicians, with a career spanning more than three decades and multiple genres and cultures, from blues to classical to folk and jazz, from Japanese and Indian to Celtic and middle American. He has performed with and/or recorded with mandolin virtuoso Peter Ostroushko; vocalists Ruth McKenzie, Claudia Schmidt, Bruce Henry, Lucia Newell, Maud Hixson and Greg Brown; accordionist John Williams; Japanese shamisen prodigy Nitta Masahiro; classical violinist Nigel Kennedy; South Indian vocalist and vina virtuoso, Nirmala Rajasheker; Irish supergroup Altan; Garrison Keillor and Prairie Home Companion; jazz bassist Anthony Cox; and avant garde French saxophonist, Francois Corneloup.  Dean has collaborated with many local artists at the Artists Quarter, Black Dog, Nicollet, Reverie, Jazz Central, and more, including Brandon Wozniak, Bryan Nichols, Billy Peterson, Steven Hobert, Eric Gravatt, Butch Thompson, and Kenny Horst.  He's released a series of recordings spanning his musical universe, including a duo with tabla master Marcus Wise, How the Light Gets In. Dean co-leads a monthly duo with percussionist Davu Seru at the Black Dog Café, and over the past few years has launched duo projects with pianists Steven Hobert and Butch Thompson, and with veteran drummer Eric Kamau Gravatt, leading to their CD release, Fire on the Nile.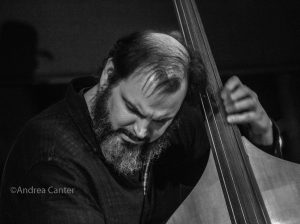 Chris Bates, with his brother, drummer JT, grew up with jazz, sons of trumpeter/bandleader Don Bates. One of the region's most sought-after bassists, Chris has covered a wide musical territory over the past 20+ years, earning a McKnight Composers Fellowship in 1999 and appearing on countless recordings with the likes of Kelly Rossum, Bryan Nichols, Zacc Harris, and Dean Magraw, and appearing on club and concert venue stages with such acclaimed ensembles as The Motion Poets, How Birds Work, A Love Electric, Framework, Red Planet, Fall of the House of Usher, Leisure Valley, Tall Tales, and the Atlantis Quartet.  About five years ago, Chris stepped out as bandleader and composer, heading his Good Vibes Trio (with Dave Hagedorn and Phil Hey), his ensemble  Red 5, and his trio Dimensions and Inventions. Recent credits include launching an improv series at Jazz Central, releasing the first recordings of the Good Vibes Trio and Red 5, joining Dean Granros' Tall Tales ensemble, and receiving a composition commission from Zeitgeist.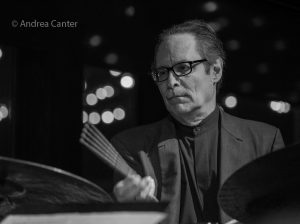 Of trapset master Jay Epstein, Cadence Magazine's David Lewis noted that "his dazzling cymbal and snare work extends the lineage of Tony Williams and Jack DeJohnette." For many years, Epstein managed time for the Phil Aaron Trio with a long-running weekly gig at the Hotel Sofitel in Bloomington and later at Enjoy! Restaurant in Apple Valley; more recently he toured with Richie Cole and Five by Design. These days, in addition to Red Planet, Jay keeps busy with Framework, Firebell, Dean Granros' Tall Tales, the Sam Miltich Trio, and in support of a long list of area vocalists and instrumentalists. Jay released Long Ago on Igmod Records, has recorded with Bill Carrothers, and appears on each of Gordon Johnson's Trios, among a long list of sideman credits with such luminaries as Chris Lomheim.
Bill Carrothers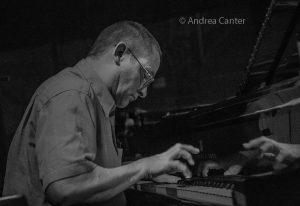 Bill Carrothers has hardly followed the typical path of a musical prodigy. Although he started lessons at age 5, he initially hated the piano. But eventually Carrothers was turned on to jazz by his piano teacher, the late Bobby Peterson, who introduced young Bill to Bill Evans, Herbie Hancock, and most importantly, Miles Davis. After playing in his high school jazz bands, Carrothers moved on to the jazz program at North Texas State on a scholarship. He gained experience playing with visiting artists like James Moody and Billy Higgins, and recorded a well-received CD (A Band in All Hope) in 1986. By 1988, he'd had enough of college studies and headed to New York, where he recorded with Gary Peacock and Bill Stewart, and had gigs at the Village Gate, Birdland and Visiones. But the big city never felt like home, and after five years, Carrothers gave up on the Big Apple, recognizing he preferred a quieter, more rural life than the frenetic pace of most jazz musicians. " After trying upstate New York (Woodstock) for a couple years, he returned to the Midwest, and now makes his home in Michigan's Upper Peninsula. These days he tours throughout the U.S. and  Europe.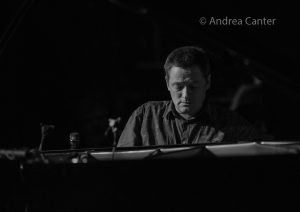 As a sideman, Bill has appeared with Joe Beck, Scott Colley, Buddy DeFranco, Dave Douglas, Curtis Fuller, Billy Higgins, Lee Konitz, James Moody, Dewey Redman, Charlie Rouse, and Toots Thielemans, among others; as a leader he has released 26 recordings, receiving such European honors as the 2000 French Diapason d'Or de l'Année and the 2004 Grand Prix de l'Academie Charles Cros, and numerous Top 10 of the Year lists in France. Bill's Birdology recording, 2000's Duets With Bill (Stewart), was awarded the German Schallplatten Preis. Bill's interest in American history led to several projects, including his tributes to the Civil War (The Blues and the Greys, Bridge Boy Music, 1997; Armistice 1918, Sketch, 2004; and the live solo CD, Civil War Diaries, Bridge Boy Music, 2005).  Armistice was nominated for the 2005 French "Grammy" equivalent, Les Victoires du Jazz. Bill's more recent recordings include a 2010 trio tribute to Clifford Brown (Joy Spring), the solo spontaneous improvisation set, Excelsior, and the 2-volume A Night at the Village Vanguard, his first live recording with his European trio, both released on Pirouet in 2011. More recently, Carrothers appeared with Billy Peterson on Dave King's trio debut, I've Been Ringing You (2012, Sunnyside), and released another solo set reflecting his life in Minnesota, Family Life (2012), a "blatantly intimate" disc displaying a "tender, evocative soulfulness" (Britt Robson, Jazz Times).
Recent exploits have included two solo performances at the famed Gilmore Keyboard Festival and appointment as a Lecturer at the Lawrence Conservatory in Appleton, WI, and release of two albums on French labels, Love and Longing and Sunday Morning (both 2013). In recent Twin Cities gigs, Bill has performed with his Dublin trio (Kevin Brady and David Redmond) at Studio Z in St. Paul, in Crooner's Lounge with his trio, in the grand opening of the Dunsmore Room with the Dave King Trio, with vocalist/wife Peg Carrothers at Studio Z, and in solo and trio configurations in the Dunsmore Room.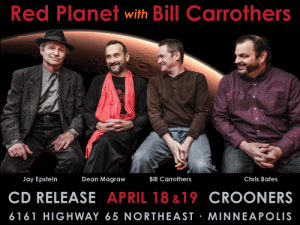 Red Planet With Bill Carrothers (2017, Shifting Paradigm Records)
In October 2015, Red Planet and guest Bill Carrothers convened for several recording sessions at Creation Audio, inviting a small audience to witness the magic during one session. The results are at times quirky, ethereal, and high voltage as the recording presents ten tracks — four Magraw originals, another from Chris Bates, two each from band favorites Coltrane and Monk, and even a Sammy Cahn/Jimmy VanHeusen standard ("Come Dance With Me"). The spirits of Trane, Monk, Hendrix, and Frisell (and local hero Dean Granros) are ever-present at one time or another (or all together!), and the addition of Bill Carrothers provides a common bluesy denominator, exquisite on Monk's "Reflections," solemnly elegant on Dean's "Ann R Chi", maintaining the thinnest thread of melody on "Come Dance With Me."  One has to wonder why this quartet did not come together earlier as Carrothers fits so naturally with the trio. Hopefully this is just the beginning of Red Planet's wider orbit.
Red Planet with Bill Carrothers performs on September 12 in the Dunsmore Room at Crooners Lounge, located at 6161 NE Highway 65 (Central Ave NE) in Fridley, just north of I-694 and about 15 minutes north of downtown Minneapolis. Reservations recommended at www.croonersloungemn.com   CDs available at the show and via Shifting Paradigm Records (www.shiftingparadigmrecords.com)