© Andrea Canter
"She can be lusty and discreet, openly hip and lazily reflective. She can make you sway and reduce you to tears, often simultaneously." –Rex Reed, New York Observer
One of the most prized Brazilian exports since coffee, multi-Grammy nominee, 2016 Grammy winner (Best Latin Jazz Album) Eliane Elias returns to the Dakota Jazz Club in downtown Minneapolis with her trio on September 7 for just one night, two shows.  Widely acclaimed as a pianist, vocalist, and composer, Elias blurs the boundaries between Brazilian, jazz, and classical styles, but it's her Brazilian roots that are on full display as she tours in celebration of her new recording, Dance of Time.
Born in Sao Paulo, Brazil, Eliane Elias began piano studies at 7, and by age 12 was transcribing legendary jazz solos. By age 15 she was teaching piano and improvisation, and by 17 she was working with Brazilian singer/songwriter Toquinho and the great poet, Vinicius de Moraes (Antonio Carlos Jobim's co-writer/lyricist). Moving to New York, she landed a spot in the acclaimed group Steps Ahead in 1982, and later toured with (and married) trumpeter Randy Brecker.
Eliane Elias' first recording, Amanda (Passport, 1984), was a collaboration with trumpeter Brecker (named for their daughter), and her career took off from there. To date she has released over fifteen albums on Blue Note Records (all topping Billboard and other charts), documenting dozens of her own compositions, her playing and arranging, and beautiful vocals. She was voted Best New Talent by the jazz critics poll of JAZZIZ magazine in 1988; and was nominated for a Grammy in the "Best Jazz Solo Performance" category for her 1995 Blue Note release, Solos and Duets (with Herbie Hancock), which Musician Magazine referred to  as "a landmark in piano duo history." In the 1997 Downbeat Readers Poll, she received the "Best Jazz Album" award for her recording, The Three Americas (Blue Note), and was named in five other categories: Beyond Musician, Best Composer, Jazz Pianist, Female Vocalist, and Musician of the Year. Eliane Elias Sings Jobim topped the charts in Japan for over three months and was awarded the Best Brazilian Album in Jazziz Critics Poll of 1999. In 2002, Elias recorded The Lost Days with opera sensation Denyce Graves, which included two of her arrangements of Brazilian classical pieces and an original composition written especially for Ms. Graves ("Haabia Tupi").
The long-time signee with Blue Note following its 1984 revival, Elias jumped to RCA Music Group/Bluebird in 2002 with the release of Kissed by Nature. Dreamer (2004) features her vocals supported by a full orchestra, and includes rarely performed tunes from the American songbook, Brazilian bossa novas, and new Elias originals, including her first songs written with English lyrics. In addition, Dreamer marked the first time that Elias has recorded an album with almost all the vocals sung in English. Her 2006 release, Around the City, was a global mix of Bossa Nova, Latin, Italian, jazz and rock 'n roll. It won "Best Vocal Album of the Year" and "Gold Disc" awards in Japan, reached #1 on the World Music Charts USA and debuted on the French Jazz Charts as #1. Returning "home" to Blue Note, Elias released her Bill Evans tribute, Something For You, in 2007, again garnering top awards in Japan and topping World Music Charts USA.
Her 2009 release, Bossa Nova Stories, celebrated the 50th anniversary of Bossa Nova and received a Brazilian Grammy nomination. "I grew up in Sao Paulo in the '60s, hearing the Bossa Nova which was all around us," says Elias. "This was the popular music of our day, with its infectious rhythm and poetic lyrics. It was romantic, cool, jazzy, sensuous. I lived and breathed this music. It's in my DNA."  EMI Japan released Eliane's first live instrumental recording in July 2009. Eliane Elias Plays Live was recorded in 2002 as all-instrumental, with Eliane on piano, Marc Johnson on bass and Joey Baron on drums.
Moving to Concord Picante, Eliane released Light My Fire in 2011, featuring four compositions written or co-written by Elias herself as well as diverse covers of familiar works by Jim Morrison and the Doors, Stevie Wonder, and Paul Desmond; Elias worked overtime here as singer, pianist, composer, arranger and producer. Her song "What About the Heart (Bate Bate)" was nominated for a Latin GRAMMY® in the category of Best Brazilian Song. In 2013, Concord Jazz released Elias' I Thought About You (A Tribute To Chet Baker), demonstrating that jazz repertoire can sound totally fresh when delivered with ingenuity and passion.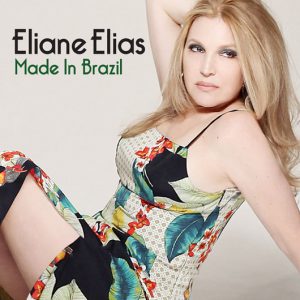 Considered one of the great interpreters of Jobim's music, Eliane Elias has been involved in a number of concert tributes to Jobim, and has recorded two albums of his music for Blue Note, Plays Jobim (1990) and Sings Jobim (1998).  In addition to her own recordings, she has performed and/or recorded with Joe Henderson, James Taylor, Michael Franks, Mingus Dynasty, the Brecker Brothers, Toots Thielemans, Denyce Graves, and Steps Ahead, among others. Her compositions, as arranged by Bob Brookmeyer, have been performed by the Danish Radio Big Band, leading to a Grammy nomination for "Best Large Jazz Ensemble Album" in 2001. In the same year, the soundtrack for Calle 54, the highly acclaimed documentary film by Oscar-winning Spanish director Fernando Trueba, featured Elias's performance of "Samba Triste," and was also nominated for Best Latin Jazz Album.
Made in Brazil (Concord Jazz, 2015) was a musical homecoming for Elias, the first time she had recorded in her native Brazil since moving to the U.S. more than 30 years ago.  As always, Elias wore many hats on this project as producer, composer, lyricist, arranger, pianist, and vocalist. Orchestral arrangements for 7 tracks were arranged by Rob Mathes and recorded by the London Symphonic Orchestra at the legendary Abbey Road studios.  Elias wrote the arrangements for the basic tracks as well as six of the songs on Made in Brazil, and also included two Ary Barroso standards, two Roberto Menescal chestnuts, and two Antônio Carlos Jobim classics. Although she wanted to incorporate three generations of Brazilian composers, Eliane notes that this is "not a retro record. It's very contemporary yet with the tradition and authenticity of Brazil. It's music of the world with Brazilan DNA."  And winner of the 2016 Grammy for Best Latin Jazz Album.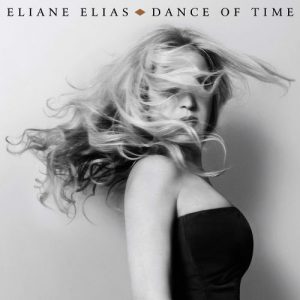 Her new Dance of Time (Concord, 2017) brings Eliane back again to her Brazilian roots, and again the album was recorded in Brazil with Elias balancing her talents as pianist and singer/songwriter. The cast includes Brazilian and US artists, including pianist Amilton Godoy, singer-songwriter and guitarist João Bosco, guitarist and vocalist Toquinho, trumpeter Randy Brecker, vibraphonist Mike Mainieri, and vocalist Mark Kibble (Take 6).
It's been cooler than normal in the Twin Cities lately,  but we'll warm up with two sets of Rio magic when Eliane Elias takes the stage at the Dakota, September 7th.
The Dakota is located at 1010 Nicollet Mall in downtown Minneapolis; tickets and information at www.dakotacooks.com. Sets at 7 and 9 pm.