© Andrea Canter
Nearing its third anniversary, the Saturday Night Jazz at the Black Dog Series, curated by Steve Kenny, expands its offerings this weekend with some vocal jazz to kick off the evening. Katia Cardenas and her trio perform at 7 pm, followed by the headline sets from Chris Bates' Red 5 at 8:30 pm.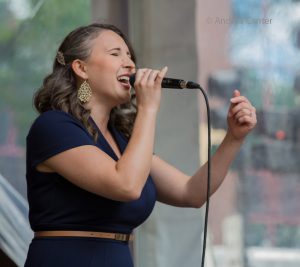 Katia Cardenas (7 pm)
Now on a steady upward trajectory on the Twin Cities jazz scene, vocalist Katia Cardenas has performed locally at major venues including Vieux Carre', The Dakota, Jazz Central, Icehouse and Crooners Lounge, as well as at the 2017 Twin Cities Jazz Festival. She's also one-third of Jazz Alley (with Maryann Sullivan and Sarah M. Greer), tours with the Casablanca Orchestra, and is a performing member of the Twin Cities Cabaret Artists Network.
Born and raised in the Pacific Northwest, Katia grew up in a musical family. Her mother, Janis Kelly, is an accomplished vocalist; her father, Mark Cardenas, is a professional keyboardist and Platinum and Gold recording artist (Prince, Morris Day and the Time, Janet Jackson).  In junior high, Katia moved to Sacramento, California, where she sang in select choirs, jazz and show choirs, and developed a passion for musical theater. At 16, she attended the Visual and Performing Arts Charter School, where she became deeply involved in music, theater, and dance. At 17, she began gigging with her mother's band, The Groove Ambassadors. Katia relocated to the Twin Cities in 2006 to attend Macalester College, where she sang with The Sirens (female a cappella group), won first place in the Macalester Idol singing competition, sang in a rock and blues quartet, and a co-ed the a cappella group, Late Night Menu. After graduating with a major in Psychology and minor in Theater, Katia co-composed and directed an original a cappella musical (Zombie High School), which was named Best Musical at the 2010 Minnesota Fringe Festival, and began performing in duos and as a featured soloist around the Twin Cities.
Joining Katia at the Black Dog will be her long-time pianist Ted Godbout, with bassist Matt Senjem and drummer Beth Varela.
Chris Bates Red 5 (8:30 pm)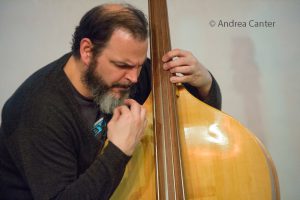 Chris Bates launched Red 5 in 2012 via a series of "open sessions" at Jazz Central Studios, bringing original compositions to the band to test drive and tweak before live audiences before heading into the studio to record New Hope. The album pleased audiences and critics alike, the only jazz release in the top 20 choices of Star Tribune critics for 2012. Originally a quintet, tje band now has a somewhat fluid cast of six-seven musicians. Tonight the ensemble includes Jake Baldwin (trumpet), JC Sanford (trombone), Michael Lewis and Donnie Norton (saxophones), Thomas Nordlund (guitar), Chris Bates (bass) and JT Bates (drums).
Chris Bates grew up with jazz, son of trumpeter/bandleader Don Bates and brother of well-known drummer JT Bates. He began bass lessons in 4th grade and progressed to jazz studies at the University of Wisconsin-Eau Claire before returning to the Twin Cities to study with Anthony Cox. A member of the 1990s ensemble, the Motion Poets, Chris was a 1999 McKnight Composer Fellow and in 2014 was awarded a commission from local new music ensemble Zeitgeist. He often lends his compositions to the many ensembles that he juggles throughout his busy performance schedule. Over his career, he has played with Mose Allison, Lee Konitz, Joe Lovano, Steven Bernstein, Howard Levy, Michael Attias, Ira Sullivan, Bill Carrothers, Eric Alexander, Ari Hoenig and Tim Sparks, among others. In addition to his local ensemble work (Atlantis Quartet, Red Planet, How Birds Work, Klezmerica, Enormous Quartet, Framework, Leisure Valley, Zacc Harris Group, Dean Granros' Tall Tales, Bill Simenson Orchestra) and leading Red 5, the Good Vibes Trio, and new Inventions and Dimension Trio, Chris has played solo concerts using both acoustic and electronic instruments, and appears on over 30 recordings. In spring 2013, Chris launched a monthly improvisation series at Jazz Central Studios in Minneapolis, "Magica Improvisado" and was a recipient of a Zeitgeist commission in 2014. Most recently he has been a "visiting artist" in the jazz program at the University of Minnesota Morris.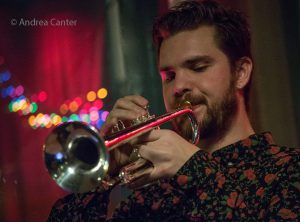 A 2009 graduate of Minnetonka High School and alum of the second and third editions of the Dakota Combo (2007-09), trumpeter Jake Baldwin studied with Jerry Bergonzi, Bob Moses, John McNeil, Joe Morris and Fred Hersch at the New England Conservatory. He was one of three finalists in the 2011 International Trumpet Guild Solo Competition; a year later he was runner-up in the jazz division of the National Trumpet Competition. After graduating from NEC in 2013, Jake moved back to the Twin Cities, where he has played in a number of bands including the Twin Cities Latin Jazz Orchestra, Thomas Nordlund Group, Endeavors, Cory Healey's Beautiful Sunshine Band, Ramtrack, McNasty Brass Band, Minnesota Hard Bop Collective, No Territory Band, Peter Kogan's Monsterful Wonderband, and Har Mar Superstar, in addition to Red 5. About two years ago, Jake released his first album as leader, Ra Ra Ru.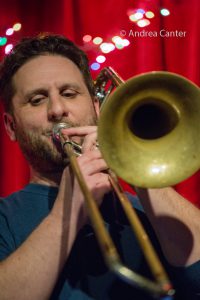 A protégé of legendary composer Bob Brookmeyer, trombonist and Northfield native JC Sanford studied at the University of Northern Iowa and completed graduate studies at the New England Conservatory. Living in New York for the past sixteen years, JC's compositions have been performed by leading artists such as John Abercrombie and Dave Liebman, and he has built a reputation as conductor of large ensembles including the John Hollenbeck Large Ensemble, Alan Ferber Nonet, Alice Coltrane Orchestra and his own JC Sanford Orchestra. JC recently returned to Northfield, in time to celebrate the release of his 2016 quartet album, Can You Believe It, which had its Minnesota release gig at the Icehouse.
Michael Lewis is best known around town as one of the area's most creative sax players, lending his blowing skills to Happy Apple, Fat Kid Wednesdays and the Bryan Nichols Quintet. Lewis has been increasingly visible in New York, performing at the Stone with Happy Apple as well as with Fat Kid Wednesdays, and appearing on David Letterman in connection with his 2009 tour with Andrew Bird, on which he played electric bass. Drummer Dave King refers to Lewis as "this gunslinger in his outpost. If you're in a room and he's playing, you're going to feel it." A few years ago, Lewis relocated to North Carolina, but this seems to have had little impact on his appearances in the Twin Cities and beyond.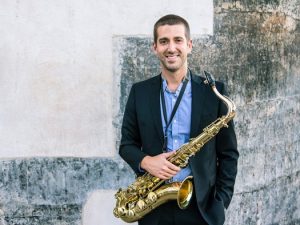 Donnie Norton serves as Instructor of Saxophone, Jazz Combos, and World Music at Gustavus Adolphus College in St. Peter, MN, and Instructor of Saxophone and Clarinet at Minnesota State University, Mankato. He also teaches online courses in Music Appreciation and Introduction to American Music for Spoon River College in Macomb, IL. He earned his B.M. in Music Performance from Northern Illinois University, his M.M. in Jazz Studies from the New England Conservatory, and his Doctor of Arts degree in Jazz Studies and Saxophone Performance at the University of Northern Colorado. Don has performed with Cecil McBee, Rakalam Bob Moses, Harold Jones, Fareed Haque, Liam Teague, and Orlando Cotto, among many others, and throughout the United States and internationally, appearing at the Festival Internacional Jazz Peru in Lima, Peru and at the Festival Internacional de Ensambles de Percusion in Costa Rica.
Twin Cities guitarist Thomas Nordlund earned a BA in Guitar Performance at the University of Minnesota-Morris and a certificate in Jazz Studies from the Universit of Auckland, NZ. He recently released an album of eight original compositions (Divide Avenue), featuring a strong cast of metro musicians.  In addition to leading his own band, Thomas performs regularly with vocalists Sarah Morris and Jana Nyberg, and has performed with Andrew Foreman, Patrick Harison, Adam Meckler, Ben Abrahamson, and other area standouts.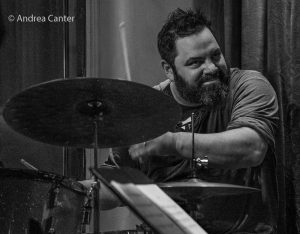 J.T. Bates is one of the busiest drummers in the Twin Cities, on and off the bandstand. He was a member of Motion Poets and has worked with a variety of Latin, electronic, and experimental ensembles, including Bryan Nichols' Quintet and Trio, Chris Bates' Red Five, Fat Kid Wednesdays, the Zacc Harris Group, and The Pines; he leads the B-3 Organ Trio, Grain, and appears in a drum duo with Dave King, dubbed Raging Bulls. In addition to curating his Jazz Implosion series at the Icehouse on Monday nights, JT often appears on the Icehouse stage with such musicians as brother Chris, Dave King, Brandon Wozniak and more.
Saturday Night Jazz at the Black Dog has presented weekly jazz programs continuously for the past three years, curated by Steve Kenny. The Black Dog is located at 308 E. Prince Street in the Northern Warehouse in the St. Paul's Lowertown. No cover but donations (tip jar) appreciated to support the series and the musicians ($10 suggested). Saturday night schedule at www.saturdaynightjazzattheblackdog.info; full music schedule and more information at www.blackdogstpaul.com