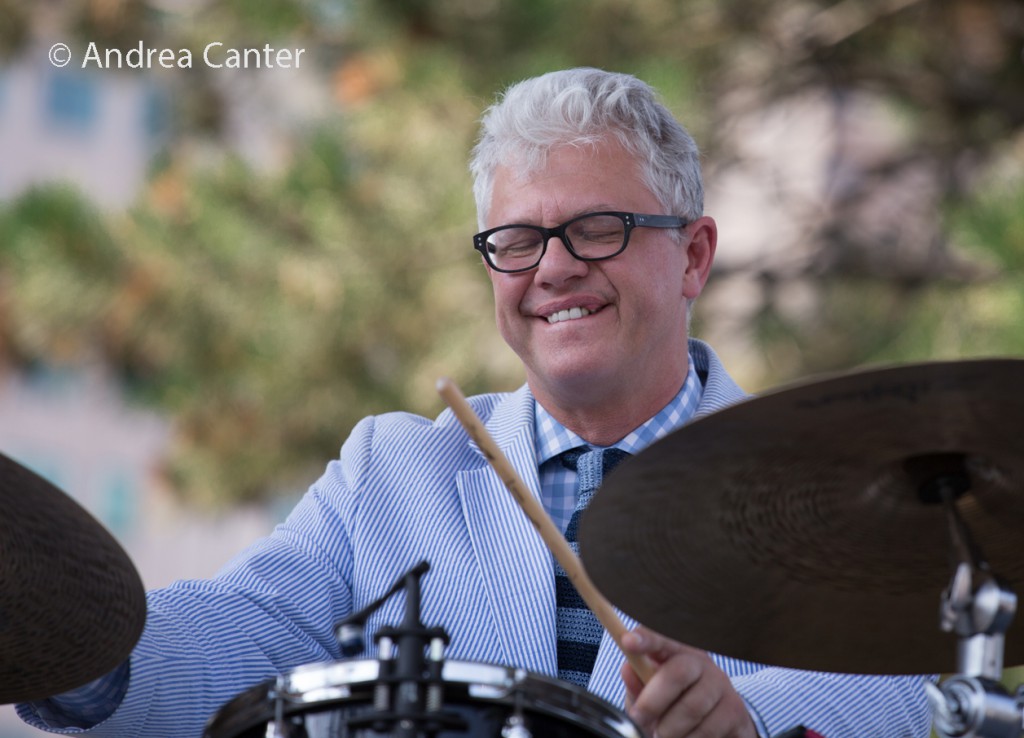 The University of Wisconsin-River Falls RADD Jazz Series returns this weekend with special guest, renowned drummer Matt Wilson. Two free concerts include the Jazz Club Cabaret on Friday night, February 19, featuring Wilson with the UWRF Jazz Faculty Group (University Center, Falcons Nest), and Wilson with the UWRF Jazz Ensemble, directed by David Milne, on Saturday night, February 20,  in the William Abbott Concert Hall. Both concerts are free and open to the public. The concerts are part of the annual UWRF Jazz Festival, featuring workshops and clinics for area high school and middle school jazz ensembles.
Matt Wilson has been collecting more than percussion instruments: His resume includes multiple titles as DownBeat critics' "Rising Star" drummer";  "Best New Artist" by the New York Jazz Critics Circle; numerous Jazz Drummer of the Year Awards including nods from Modern Drummer Magazine and the Jazz Journalists Association. His ensembles including the Matt Wilson Quartet and Arts and Crafts, have received similar accolades.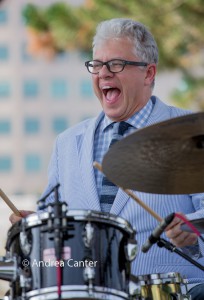 Born in Knoxville, IL, where his parents encouraged him to explore art and music, Matt was inspired to take up the drums after seeing Buddy Rich on an episode of I Love Lucy. He bought a pair of drum sticks and "began exploring a wide range of suitable cookware and five-gallon buckets as sound sources." Wilson went on to play in school ensembles, and in 8th grade was hired by his high school band director to play drums in his weekend dance band. He soon had other gigs–a big band, country bands, Dixieland bands, "anything I could play." After high school, Wilson attended Wichita State University where he studied with Dr. J.C. Combs, "not only a fantastic percussionist but he possesses one of the most creatively fertile imaginations on the planet." With Combs, Wilson found ways to use a number of atypical percussion sources, including pinball machines, cloggers, bowlers, and professional wrestlers. After moving to Boston, Matt played with the Either/Orchestra, Charlie Kohlhase Quintet, and John Medeski. With encouragement from such jazz virtuosos as Cecil Mc Bee and Andrew Cyrille, he relocated to New York, where Wilson notes that "I loved the energy of the scene immediately and began playing with some amazing musicians."
Wilson has made hundreds of recordings as sideman and ten as leader, and has played on numerous national jingles and soundtracks. His resume includes work with a wide array of artists, including Dewey Redman, Ray Anderson, Bill Mays, Janis Siegal, Cecil McBee, Leni Stern, Fred Hersch, Michael Brecker, Dave Liebman, Ravi Coltrane, Mark Taylor, Sheila Jordan, Lee Konitz, Rufus Reid, Ted Rosenthal, Mario Pavone, Joanne Brackeen, and many others.  Significant collaborations have included the Denny Zeitlin Trio with Buster Williams, Trio M (Myra Melford and Mark Dresser), Ted Nash, Frank Kimbrough, Deana DeRose and Charlie Haden's Liberation Orchestra, in addition to his own ensembles. The Matt Wilson Quartet was initiated in 1996; in 2002 he founded his other touring band, Arts and Crafts. "Both groups swing and have these interesting personalities," explains Wilson, "just with different instrumentation." Wilson also continues to lead his Carl Sandburg Project and released a holiday recording in 2010 with his "Christmas Tree-O" trio (with saxophonist Jeff Lederer and bassist Paul Sikivie). He recently launched a new ensemble, Big Happy Family, and will their debut recording (Beginning of a Memory) in May which is dedicated to the memory of his late wife.
As a popular instructor, Wilson has conducted workshops throughout the U.S., Canada, Europe, Japan, and South America, covering drumset performance, rhythm section performance, music business, and creativity and expression for all instruments. He is also a member of New York's Jazz Composer's Collective.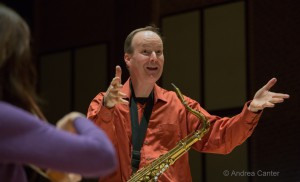 The RADD Jazz Series is dedicated to the memory of John Radd, Professor of Music and Jazz Ensemble Director at UW-River Falls. The RADD Jazz Series is a collaboration between the UWRF Music Department and UWRF Falcon Programs, Office of Student Life. For the 2015-16 season, the RADD Jazz Series is honoring Billy Strayhorn's contributions to American music; each concert features select compositions and arrangements by Billy Strayhorn. The November concerts featured special guest, pianist and composer Laura Caviani.  The December event was a big band swing dance featuring the UWRF Big Band directed by David Milne. The final concert of the season, on April 23, will feature special guest Laura MacKenzie and an evening of Celtic music, including arrangements for jazz big band.
The February 19 concert takes place at 7:30 pm in Falcons Nest of the University Center; the February 20 concert takes place at 7:30 pm in the William Abbott Concert Hall, Kleinpell Fine Arts Building, all on the UWRF campus. More information at https://www.uwrf.edu/MUS/Jazz/