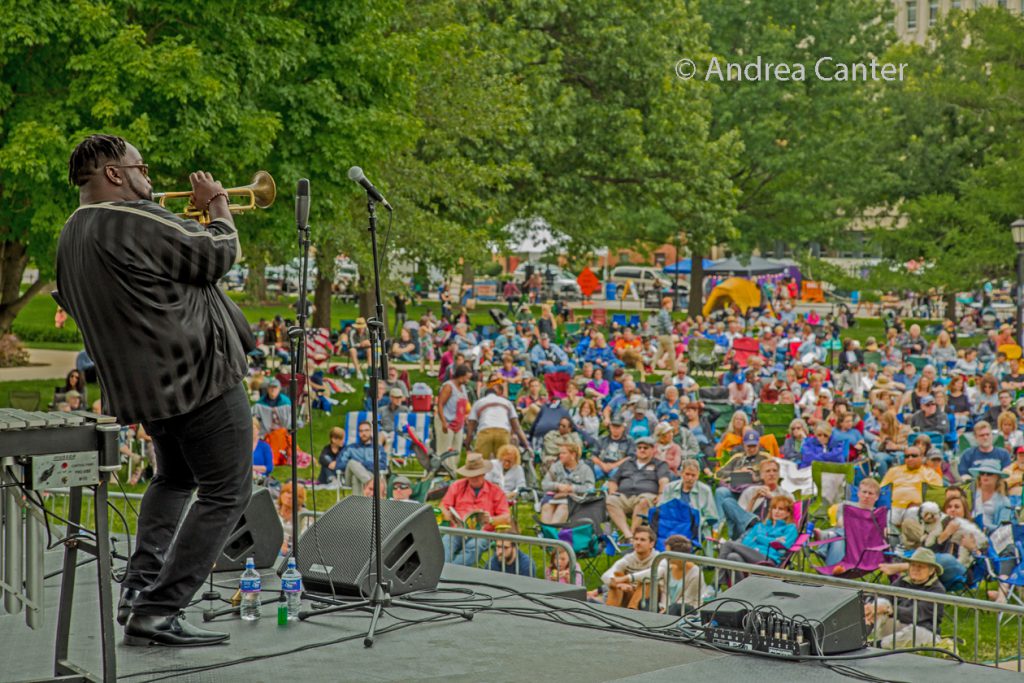 Ed note: Portions of this article are taken from artist bios posted on the festival website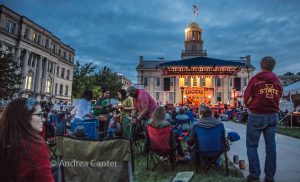 Now in its 27th year, the Iowa City Jazz Festival (June 30-July 2) boasts a line-up of who's who in modern jazz, featuring internationally renowned artists The Cookers, Donny McCaslin, Stacey Kent, Kris Davis, and Jeff Coffin; rising stars trombonist Jacob Garchick (with another rising star, guitarist Mary Halvorsen), violinist Jason Anick, and trumpeter (and Minnesota native) John Raymond. The Iowa-Minnesota Festival Exchange, launched two years ago, is back, with Twin Cities veteran pianist Laura Caviani and her trio on the Main Stage, and the Dakota Combo on the Youth Stage. In return, the Iowa-based Christopher's Very Happy.Band traveled to the Twin Cities festival last weekend, and will perform in Iowa City as well.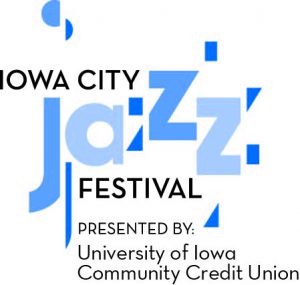 The free festival, regarded as one of the nation's finest small jazz festivals, is presented by the U of I Community Credit Union, and is part of the city's Summer of the Arts. Drawing about 25,000 each year, the festival includes the Main Stage on the famed Pentacrest lawn in the heart of the University of Iowa campus, three side stages along adjacent Clinton Street and Washington Street (with bands playing between sets on the main stage), Culinary Row, Beverage Garden, FunZone, Artists Booths, and concessions; the Iowa City public fireworks display will take place following the final Main Stage set Sunday night. Iowa City is about five hours south of the Twin Cities, about five hours north of St. Louis, and 4 hours west of Chicago, making it a convenient destination for jazz lovers throughout the Midwest.
Main Stage Artists: June 30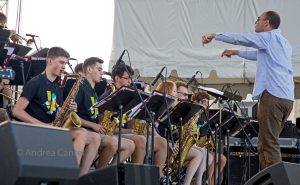 5 pm, United Jazz Ensemble. Every May, this collaborative high school ensemble comes together to prepare for the Iowa City Jazz Festival. Directed by Rich Medd and Ryan Arp, the band is composed of students from City High School and West High School in Iowa City. For 20 years, this group has served as of one of the signature elements of the Jazz Festival's commitment to education outreach. The deep immersion of students in jazz over the summer not only strengthens their musical growth, but builds a strong bond between the programs at the two schools.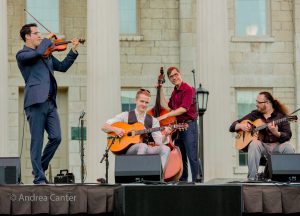 7 pm, Rhythm Future Quartet. The acoustic Rhythm Future Quartet has a straightforward agenda: to keep the spirit of Gypsy jazz alive and expanding in today's musical universe. The virtuosic foursome, named for a Django Reinhardt tune, offers up a newly minted sound, influenced by the classic Hot Club of France, yet wholly contemporary. Led by violinist Jason Anick and guitarist Olli Soikkeli, the quartet performs dynamic and lyrical arrangements of both Gypsy jazz standards and original compositions that draw upon diverse international rhythms and musical idioms. Jason Anick, an award-winning composer and one of the youngest professors at the esteemed Berklee College of Music in Boston, has shared the stage with an array of artists including Grammy Award-winning guitarist John Jorgenson, Stevie Wonder, The Jim Kweskin Jug Band, and Tommy Emmanuel. Olli Soikkeli (coined "the Finnish boy wonder") recently made the move from Scandinavia to New York City, where he quickly became a top call guitarist in the bustling Brooklyn jazz scene. He has performed alongside rising star Cyrille Aimee, world-renowned Gypsy guitarist Stochelo Rosenberg, Bucky Pizzarelli and many others.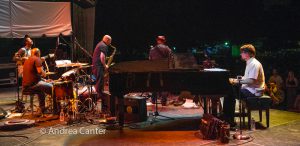 9 pm, In Orbit with Jeff Coffin & Michael Occhipinti & Felix Pastorius. In Orbit brings together musicians from both sides of the Canada-USA border, centered on the original compositions of saxophonist Jeff Coffin and guitarist Michael Occhipinti, joined by brilliant bassist Felix Pastorius, Nashville/Toronto pianist Tom Reynolds, and drummer Davide Direnzo.  Jeff Coffin is an omnipresent saxophonist based in Nashville, best known for his work with Bela Fleck and the Flecktones, and more recently as a member of the Dave Matthews Band.  However, Jeff has been composing original music and releasing albums with his M'utet for many years and is one of the most active instructors/clinicians working with young musicians in the United States.  Felix Pastorius is the son of legendary bassist Jaco Pastorius, and in recent years has established himself as a gifted bassist with an approach all his own.The music is energetic, imaginative, and freely flows across styles.  In Orbit shares a love of great grooves expressed with soulful spirt and deep musicianship.
Main Stage Artists: July 1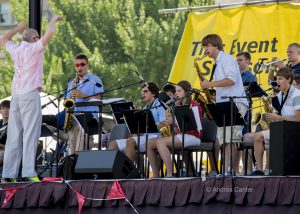 1 pm, North Corridor Jazz All Stars. The North Corridor Jazz All Stars return for their fourth performance at the Iowa City Jazz Festival. Like the United Jazz Ensemble, this group is composed of some of the state's most talented high school jazz musicians, drawing on students in the Northeast Iowa "Corridor" from Cedar Rapids to Cedar Falls. Under the direction of Coe College music professor Steve Shanley, the North Corridor Jazz All Stars will present a musically diverse program featuring the many facets of Big Band repertoire. Always ensured to be a romping and swinging live jam, the North Corridor Jazz All Stars will certainly have the crowd moving to the beat and grinning with local pride.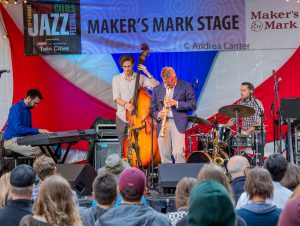 3 pm, Christopher's Very Happy. Band. The jubilant sound of Christopher's Very Happy.Band results from a combination of bright sounding compositions played with joyous abandon by its four members. All have interests and experiences across the gamut of current musical styles ranging from classical to pop, electronica to soul. All of this experience comes to bear in their work together. Christopher Merz, composer and saxophonist, is busy trying to figure out how to combine aspects of all of the music he loves (jazz, rock, pop, folk, and classical) into a satisfying and original whole. Michael Conrad is a composer, improviser, educator, and music lover. Pulling bits and pieces from a variety of musical sources and genres helps Dave Tiede create a versatile sound that he can call his own.  Drew Morton, bassist and multimedia artist, performs with various groups in the area, including Koplant No.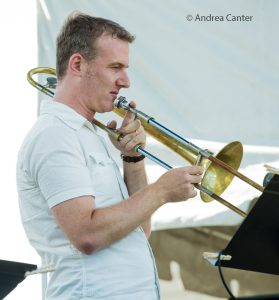 5 pm, Jacob Garchik's Ye Olde. Ye Olde explores progressive rock influences, faux-medieval architecture, and surrealistic notions of a Brooklyn that never was. From trombonist and composer Jacob Garchik comes a fantastical and sublime work of the imagination. Ye Olde is a superband of three of Brooklyn's baddest guitar heroes, let loose in a funhouse, playing ping pong with our ears: guitarists Mary Halvorson, Ava Mendoza and Jonathan Goldberger are joined by drummer Vinnie Sperrazza and Garchik on trombone. Garchik, multi-instrumentalist, composer, and arranger, was born in San Francisco and has lived in New York since 1994. In 2013 he was named a "Rising Star" in the Downbeat Magazine Jazz Critic's Poll. Halvorson was recently described by Nate Chinen (The New York Times) as "the most critically acclaimed jazz guitarist to emerge (in the past dozen years)… an unflinching original who has revealed new possibilities within the music."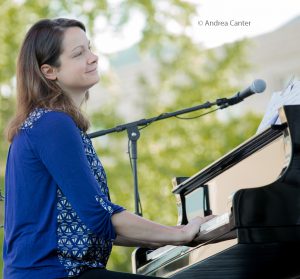 7 pm, Kris Davis Quintet. Pianist-composer Kris Davis has blossomed as one of the singular talents on the New York jazz scene, a deeply thoughtful, resolutely individual artist who offers an "uncommon creative adventure," according to JazzTimes. Reviewing one of the series of striking albums that Davis has released over the past decade, the Chicago Sun-Times lauded the "sense of kaleidoscopic possibilities" in her playing and compositions. She made her debut on record as a leader with Lifespan (Fresh Sound New Talent, 2003), followed by several more albums with various groups, many earning Best of the Year accolades from various publications. She was named one of "25 for the Future" by Downbeat in 2016 and teaches at the School for Improvised Music.  For the Jazz Festival, Davis will be joined a stellar group of acclaimed artists– Mat Maneri on viola, Ingrid Laubrock on saxophone, Trevor Dunn on bass, and Tom Rainey on drums.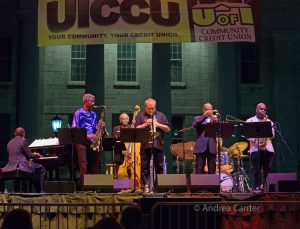 9 pm, The Cookers. The Cookers– Billy Harper, Eddie Henderson, David Weiss, Donald Harrison, George Cables, Cecil McBee and Billy Hart–bring a truckload of experience to the bandstand and to their three critically acclaimed recordings, Warriors, Cast the First Stone, and Believe. This exciting all-star septet summons up an aggressive mid '60s spirit with a potent collection of expansive post-bop originals marked by all the requisite killer instincts and pyrotechnic playing expected of some of the heaviest hitters on the scene today. Hart and Henderson were members of Herbie Hancock's groundbreaking Mwandishi group; McBee anchored Charles Lloyd's great '60s quartet alongside Keith Jarrett and Jack DeJohnette; Harper was part of Lee Morgan's last group, as well as a member of Max Roach's Quartet and Art Blakey and the Jazz Messengers. Cables held down the piano chair in numerous bands including groups led by Sonny Rollins, Joe Henderson, Freddie Hubbard, Dexter Gordon and Art Pepper. David Weiss and Donald Harrison, from a more recent generation and the youngest members of the band, gained experience performing with Art Blakey, Bobby Hutcherson, Freddie Hubbard, Charles Tolliver, Roy Haynes, and Herbie Hancock.
Main Stage Artists: July 2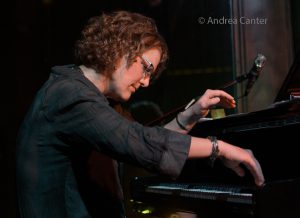 2 pm, Laura Caviani Trio. Twin Cities -based pianist and composer Laura Caviani is a veteran of more than two decades of performing, recording and composing. Recent projects include arranging classical pieces in a jazz style, and revisiting the music of Thelonious Monk, Mary Lou Williams, Horace Silver and more. In addition to leading her trio and quartet, she has often performed with acclaimed vocalist Karrin Allyson.  In 2010, she was a finalist at the International Jazz Piano Competition in Jacksonville, Florida. Laura is on faculty at Carleton College, where she directs jazz ensembles and big band, coaches chamber groups, and teaches jazz piano.  Chris Bates is a bassist who has worked professionally for 25 years, including as a member of the Atlantis Quartet, Framework and Red Planet, and as leader of the Good Vibes Trio and Red 5. He has won Mcknight Fellowships for his composing and performing. Bates was on the Iowa City Main Stage two years ago with the Atlantis Quartet.  Drummer David Schmalenberger has performed with several notable artists, including John Scofield, Larry Grenadier, Steve Turre, the Jimmy Dorsey Orchestra, Cab Calloway, the Fifth Dimension, and The Mills Brothers. He is the Co–Chair of the Percussion Department at McNally Smith College of Music in downtown St. Paul, MN.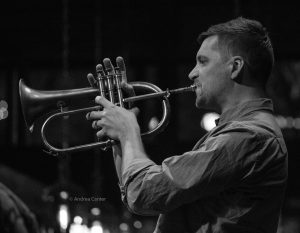 4 pm, John Raymond and Real Feels. Labeled "a prepossessing young trumpet player…" (The New York Times), John Raymond has been making a name for himself as one of the most promising, up-and-coming jazz musicians in New York. Originally from Minneapolis, John has performed with some of most well-respected names in jazz including Billy Hart, Orrin Evans, Kurt Rosenwinkel, Ethan Iverson, and Linda Oh, among others. John was awarded the 2015 Herb Alpert Young Jazz Composer Award presented by ASCAP, and was included in the "Rising Star Trumpet" category in Downbeat Magazine's 2016 Critic's Poll.  His newest album – Real Feels – Live Vol. 1 (2016) – is a follow up effort to Real Feels that was recorded live on tour. The album includes rising stars Gilad Hekselman (guitar) and Colin Stranahan (drums), and the unique bass-less trio incorporates indie-rock inspired originals and covers with fresh takes on familiar songs stemming from Raymond's roots as Midwesterner. From American folk songs like Woody Guthrie's "This Land Is Your Land," to classic hymns such as "Amazing Grace," to Lennon & McCartney's "Blackbird," to Thom Yorke's "Atoms for Peace," the music undoubtedly evokes a nostalgia for the past. However, Real Feels is far from being antiquated; the band's improvisational, free-wheeling, keep-you-on-the-edge-of-your-seat kind of approach to the music makes the songs feel entirely relevant.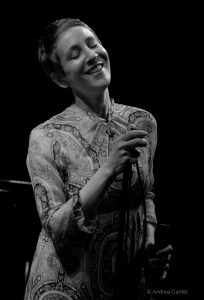 6 pm, Stacey Kent. The story of Stacey Kent's rise to international fame reads like a Hollywood script. An American language student visits Europe to study French, Italian and German for a Master's degree in Comparative Literature. Her life takes an unexpected twist that sees Stacey Kent become one of the world's foremost jazz singers. Stacey now boasts seven best-selling albums including The Boy Next Door (2003), which achieved Gold status, a string of awards, including the 2001 British Jazz Award and 2002 BBC Jazz Award for 'Best Vocalist,' the 2004 Backstage Bistro Award for best live performance, and the 2006 "Album of the Year" for Jim Tomlinson's album, The Lyric on which she was the featured vocalist, as well as a fan base that enables her to sell out concert halls around the world.  If there is one theme that runs through Stacey's music, it is that of romance. Stacey is herself an avowed romantic, and the songs she sings are timeless stories that touch young and old alike, fulfilling a desire for sophisticated love songs that is not catered to by today's pop music industry.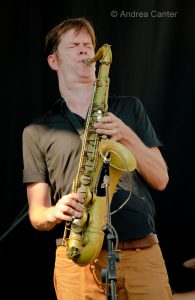 8 pm, Donny McCaslin Group. Acclaimed saxophonist Donny McCaslin took a bold leap forward with his tenth album as a leader, Casting for Gravity (2015). Couching his trademark gift for brawny melodies in lurching dub rhythms, swirling electronica-inspired atmospheres, and arena-rock power, McCaslin crafted a game-changer of an album, fusing a wealth of forward-looking influences into one wholly new modern jazz sound. McCaslin and band earned crossover accolades when they served as the backing combo on David Bowie's last album, Blackstar. It was a coming out party for a performer the jazz community knew well, and McCaslin has taken that opportunity to broaden his sound – and his audience – while maintaining his fierce allegiance to improvisational jazz. At the Jazz Festival, he will be joined by Jason Lindner on keyboards, Jonathan Maron on bass, and Nate Wood on drums.
More information, schedules, bios, etc. available on the festival website at https://summerofthearts.org/sota-events/iowa-city-jazz-festival/