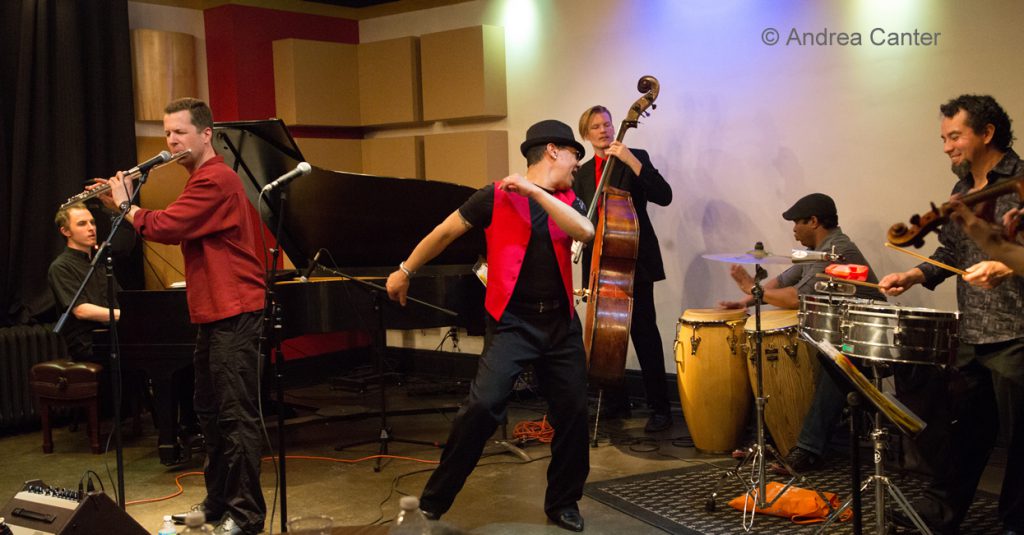 © Andrea Canter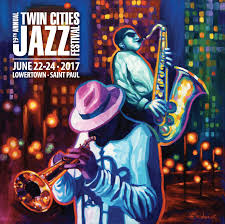 The Twin Cities Jazz Festival officially gets underway June 22, but there's already been some pre-fest music, continuing this weekend and into the week with performances at the Hennepin Avenue United Methodist Church in Minneapolis and at the George Latimer Central Library, Walker West Music Academy, and Merriam Park Library in St. Paul. All events are free and open to all, no reservations.
Saturday, June 17: Tamberwood Ensemble (6 pm) and Cameron Kinghorn Quartet (7 & 8:30 pm)
Twin Cities Jazz Fest activity comes to Minneapolis as the Hennepin Avenue United Methodist Church hosts a double-bill featuring the youth of the Tamberwood Ensemble and the young veterans of the Cameron Kinghorn Quartet.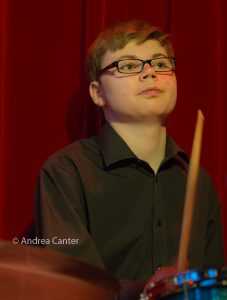 The Tamberwood Ensemble includes four high school students who recently completed the Combo Workshop series at Jazz Central: Charley Menken (tenor sax), who attends Woodbury High School and performs with MYJB and Liquid Vinyl; Harry Menken (upright bass), who attends Woodbury High School and performs with the Minnesota Youth Symphonies and Liquid Vinyl; Robert Dean (piano), who attends St. Paul Central High School and studies with Laura Caviani; and Nick Adams (drums) who attends Totino Grace High School and performs with MYJB, Liquid Vinyl and Below Zero.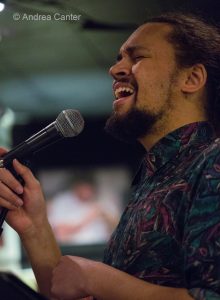 The Cameron Kinghorn Quartet features trumpeter/vocalist Kinghorn, heard throughout the Metro with Black Market Brass, Nooky Jones, the Adam Meckler Orchestra, and his own ensembles. A graduate of the U of M, Kinghorn has become one of the most in-demand talents on the local scene, for both his incendiary horn and his neo-soulful vocals. He will be heard again during the festival with Black Market Brass (June 22 at the Amsterdam) and will join Nooky Jones for their CD release at the Icehouse at the end of June.  Rounding out his quartet will be three of the most talented young lions in town–pianist Javier Santiago, bassist Ted Olsen, and drummer Miguel Hurtado.
Hennepin Avenue United Methodist Church is located at 511 Groveland Av, across from Loring Park in Minneapolis. Large (free) parking lot adjacent to the church.
Sunday, June 18: Charanga Tropical (2 pm)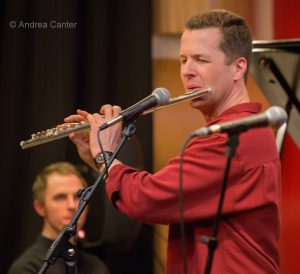 Part of the annual "Jazz in the Library" collaboration between the Twin Cities Jazz Festival and St. Paul Library system, the downtown George Latimer Central Library hosts this Father's Day afternoon performance of one of the region's most lauded Cuban ensembles, Charanga Tropical. Directed by jazz flautist/saxophonist Doug Little, the (usually) nine-piece Charanga Tropical includes violins, viola, flute, keyboards, bass and percussion to create a harmonically rich, rhythmically enchanting blend of Cuban roots and modern salsa. The ensemble's repertoire features rarely heard danzons as well as son, salsa, cha cha cha, and timba.  The musicians include master musicians from Cuba, Brazil, Mexico, and the United States with collective resumes that include international tours, platinum recordings, doctorate degrees, and multiple Latin Grammy nominations. In 2015, Charanga Tropical became the first American ensemble to be invited to perform at the International Danzón Festival in Havana, a biannual event celebrating the musical style of danzón that features the top charanga bands in Cuba. The band plays monthly at the Icehouse as well as performing at other venues throughout the Twin Cities and beyond.
The George Latimer Central Library is located at 90 W. 4th Street in downtown St. Paul.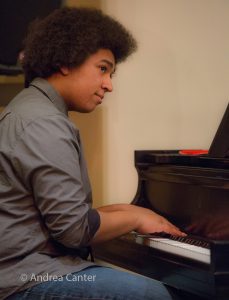 Tuesday, June 20: Jordan Anderson Trio (7:30 pm)
Walker West Music Academy hosts a pre-festival performance featuring former WWMA piano student Jordan Anderson and his quartet with Peter Goggin (saxophone), Chris Bates (bass), and Mac Santiago (drums). Anderson just completed his first year of jazz studies at the University of Michigan, where he is a student of the great pianist Benny Green. A graduate of the Nova Classical Academy (St Paul), Jordan participated in the Dakota Combo for two years as well as the Minnesota Youth Jazz Band, PipJazz Youth, and Walker West's jazz ensembles; he was also an active member of the local jazz scene during his high school years, with a weekly gig at 5-Watt Coffee in Minneapolis and frequent appearances at the Black Dog, Reverie and Jazz Central. And he's keeping busy during his summer break, already on the schedules at Jazz Central, 56 Brewing, and more. Alto saxophonist Peter Goggin was a cohort of Anderson's in the Dakota Combo and PipJazz Youth before graduating from Mounds View High School. He will be starting his third year of jazz studies at the University of Michigan this fall. Peter performs with a number of "young lion" ensembles, including Hoaxer.  Bassist Chris Bates is one of the busiest musicians in town, playing in a long list of bands from the Atlantis Quartet and Red Planet to Leisure Valley and How Birds Work, leading Red 5 and the Good Vibes Trio, and curating a monthly show of new music at Jazz Central. Veteran drummer Mac Santiago not only manages the trapset for many local and visiting artists, he owns and manages the nonprofit venue Jazz Central in Minneapolis, presenting jazz 5-6 nights per week.
Walker West Music Academy is located at 760 Selby Av West in St Paul.
Wednesday, June 21: Lee Engele With Reynold Philipsek and Matt Senjem (6 pm)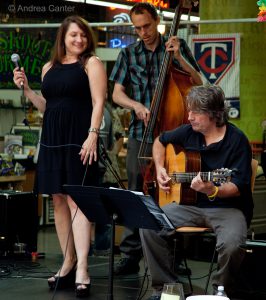 The Merriam Park Library hosts this pre-fest performance featuring vocalist Lee Engele with frequent cohorts, guitarist Reynold Philipsek and bassist Matt Senjem. A veteran of local big bands, small ensembles and solo performances, Lee has released three recordings to date. She has performed in New York (Metropolitan Room, TONY Lounge) and at major Twin Cities venues, including the Dakota, Artists Quarter, Twin Cities Jazz Festival, Bloomington Center for the Arts, Hopkins Center for the Arts, and Old Log Theater. Lee has also been active in the jazz community as President of the Twin Cities Jazz Society. Her partners at Merriam Park Library are also veteran performers. Reynold Philipsek is one of the area's most prolific artists, releasing 40 recordings and composing dozens of songs. His guitar (and voice) is often heard in gypsy jazz ensembles such as the Twin Cities Hot Club as well as with the quartet East Side and his own groups, and often in solo as well. Rochester, MN native Matt Senjem started out on trombone before picking up the bass, and is now one of the busiest musicians on the Twin Cities scene. In addition to his frequent appearances with Lee Engele and Reynold Philipsek, he performs with the Mill City Hot Club, Sidewalk Cafe, Parisota Hot Club, East Side, Robb Henry, and more.
Merriam Park Library is located at 1831 Marshall Av in St Paul.
See the full Twin Cities Jazz Festival line-up and schedule at www.twincitiesjazzfestival.com