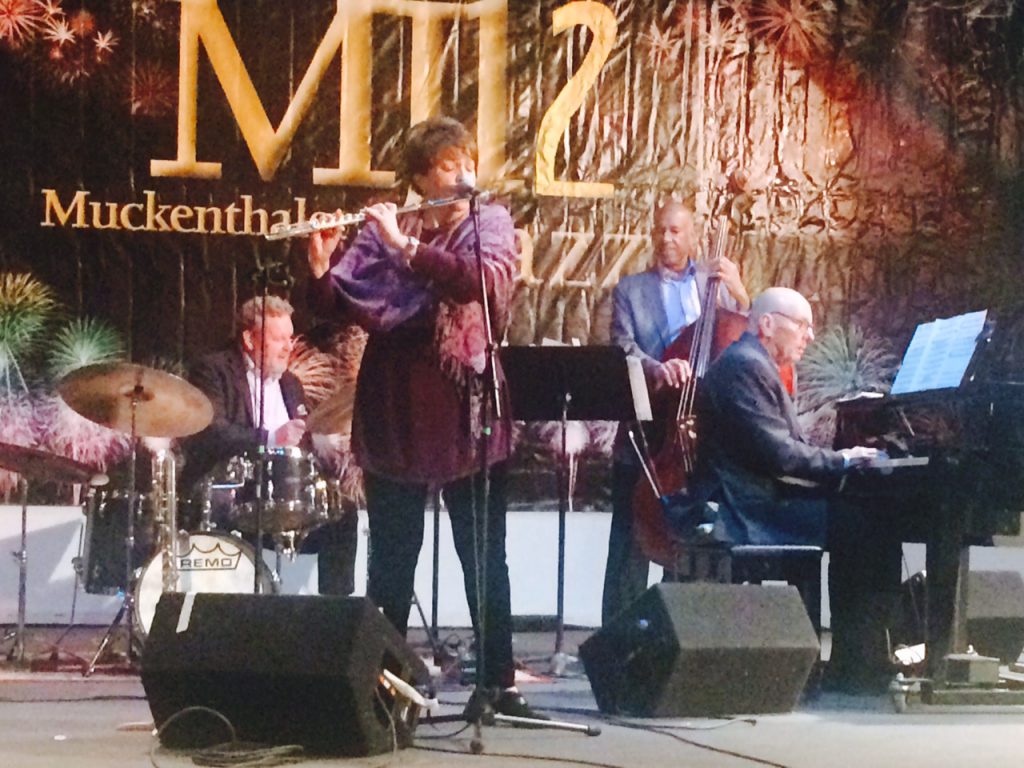 A great assemblage of jazz musicians appeared at Muckenthaler's 12th Annual Jazz Festival in Fullerton, CA on Thursday, June 1, 2017.  There was no doubt these stellar musicians–the Holly Hofmann/Mike Wofford Quartet with John Clayton and Jeff Hamilton– would give the sold-out audience at Muckenthaler Center a rare and exceptional performance.
In starting the show, the four artists came out individually, Clayton first beginning with fine walking basslines.  Hamilton came next, continuing some fascinating rhythm.  Next, pianist Wofford came out and began playing a beautiful, pleasant-sounding blues.  Finally, star Hofmann added her gorgeous flute, making this an excellent quartet.  They sounded as good as ever and turned this medium-paced blues into the well-known gem, "I'm Walkin'."
Hofmann talked a little bit about being at Muckenthaler, thanked the audience for coming and announced the wonderful standard "You, The Night and The Music." After a fast start, Mike Wofford took some fine choruses with the band.  Solos came from both Clayton and Hamilton,  Clayton playing some intricate maneuvers with his walking bass; Hamilton added nice breaks in the choruses.  Although Hofmann uses two flutes, here she used her standard a C flute with terrific choruses as well. She introduced her alto (G) flute next and announced a beautiful number, "Making Rainbows" by the great John Williams.  Wofford never stopped producing marvelous  chords and melodic runs with both hands throughout the many tunes he performed.  Clayton gave another terrific and meaningful bass solo.  The audience gave very appreciative applause.
Something different followed: a duo with Clayton and Hamilton only, beginning with "What Is This Thing Called Love." Clayton showed his lovely arco work on his bass and Hamilton added many drum breaks in this gem.  In Antonio Carlos Jobim's "How Insensitive," Hamilton displayed his versatility playing hand drums while Clayton finished this gorgeous number pizzicato.  Hofmann noted Clayton's talented writing, arranging and bandleading, announcing the next tune which he wrote for his friend Cedar Walton, titled "Cedar Would."  Hofmann used her alto flute in this sensational tune.  Wofford gave fantastic playing in all parts of the number.  Clayton, once again, played a phenomenal solo, and Hamilton played great 4-bar breaks with a superb ending to this number.  The audience gave rounds of applause at the intermission.
Set two was a shorter but musically dynamic.  They opened with a good quartet number, "Soul Leo" by late /great Mulgrew Miller, a tune everyone enjoyed.  The quartet played two well-known numbers from Hofmann's CD, Minor Miracle, Cole Porter's "Everything I Love" and the moving "CRS – Craft," an exceptional blues. The quartet made it a vibrant, cooking affair, adding guest artist, Glenn Cashman on tenor saxophone.  One more Clayton creation, "Touch the Fog," was well received.  Ending the concert was a neat number, "Truer Blues,"  which prompted a big standing ovation for these fantastic musicians.
This was one of six concerts presented at Muckenthaler by Producer Eric Futterer and Artistic Director Glenn Cashman.
See websites: http://themuck.org/ and www.hollyhofmann.com       
Adapted from L.A. Jazz Scene, June 2017