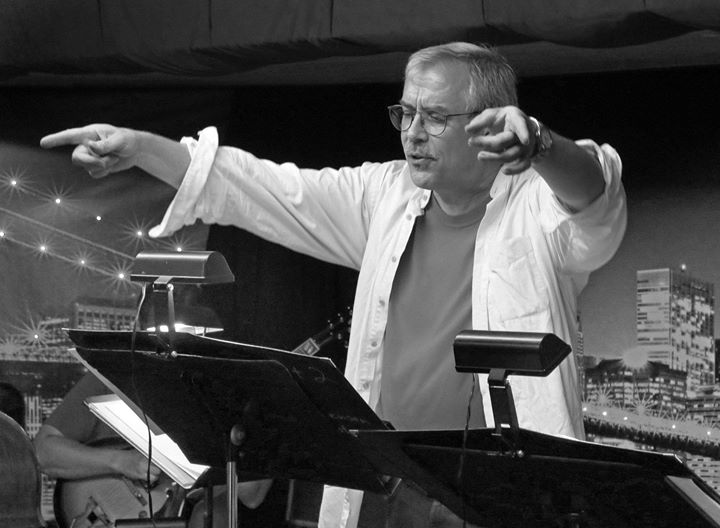 © Andrea Canter
"Mixing splash and sophistication in a manner akin to '50s swing-bop ensembles, Simenson canvasses a dynamic range of moods and textures over the course of a dozen original songs…" Britt Robson, Star Tribune
Long-time performer and bandleader Bill Simenson gathers up his 17-piece orchestra for a double celebration on June 6 (8:30 pm) at Jazz Central Studios: The evening marks the 5th anniversary of monthly performances at Jazz Central for the Bill Simenson Orchestra as well as a celebration of the band's February 2017 release, Big Alpaca, cited by the Star Tribune as "a  midyear contender for the best local jazz disc of 2017" (Britt Robson).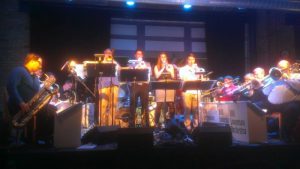 Bill Simenson studied trumpet with Laurie Frink (New York NY), Michael Hesse (Norwegian Opera, Oslo, Norway), Reidar Bye (Trondheim Symphony Orchestra, Norway), Dag Tunaal (Trondheim Symphony Orchestra, Norway), Michael Brand (St. Paul Chamber Orchestra, MN), Greg Lewis, (Minneapolis), and Ron Hasselmann (Minnesota Orchestra). His three-decade-plus career as a trumpeter, composer, educator, and bandleader has included stints with the Wolverines Classic Jazz Orchestra, Latin Sounds Orchestra, the Cedar Avenue Big Band (founding member), the Jazz Composers' Art Ensemble, the Jerry O'Hagan Orchestra, Salsa Blanca, and Seven Steps to Havana. He worked with David Byrne of "Talking Heads" on the the Robert Wilson production of The Knee Plays at the Walker Art Center and has also performed at Mixed Blood, Guthrie, Cricket, and Children's Theaters; with groups and artists such as the JazzMn Big Band, Jimmy Dorsey Orchestra, the Ordway Big Band, De Stiljistics, the American Classic Jazz Orchestra, the big band for the Minnesota Vikings, and Jack McDuff, as well as with his own ensembles and leading the band for the Minnesota North Stars hockey team. Playing diverse styles from classical to rock and R&B to polka, over his career he has backed such artists as Cab Calloway, Steve Allen, Tony Sandler, Maureen McGovern, Joan Rivers, Mitzi Gaynor, the Temptations, and the Four Tops.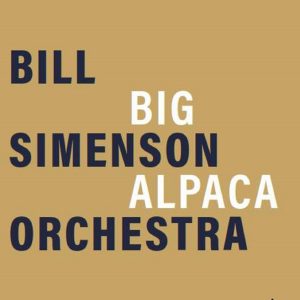 In June of 2012 he launched the Bill Simenson Orchestra, performing his original music on the Big Band Night (the first Tuesday of every month) at Jazz Central Studios. Bill also leads the Bill Simenson Quintet and teaches trumpet privately in a variety of locations in the Twin Cities. Among his awards, he has received a Bush Foundation Fellowship in Music Composition (1999) and Jerome Foundation Travel and Study Grant (1990).
The Bill Simenson Orchestra includes 17 "A-List" musicians who appear throughout the Metro and beyond in many configurations:
Reeds: Joe Mayo , Doug Little, Clay Pufahl, Scott Johnson, Gus Sandberg
Trumpets: Paul Stodolka, Bill Simenson, Elizabeth Stodolka, Parker King-Fournier
Trombones: Pete Enblom, Nick Syman, Matt Hanzelka, Carson King-Fournier
Rhythm: David Martin (guitar), Ted Godbout (piano), Chris Bates (bass), Dave Schmalenberger (drums)
Jazz Central is located at 407 Central Av SE in Minneapolis. This non-profit venue for performance and education hosts live music at least five nights per week, including the Tuesday Night big band series. Donations of $10 ($5 for students with ID) are appreciated to support the musicians and the venue. Full schedule at http://jazzcentralstudios.org