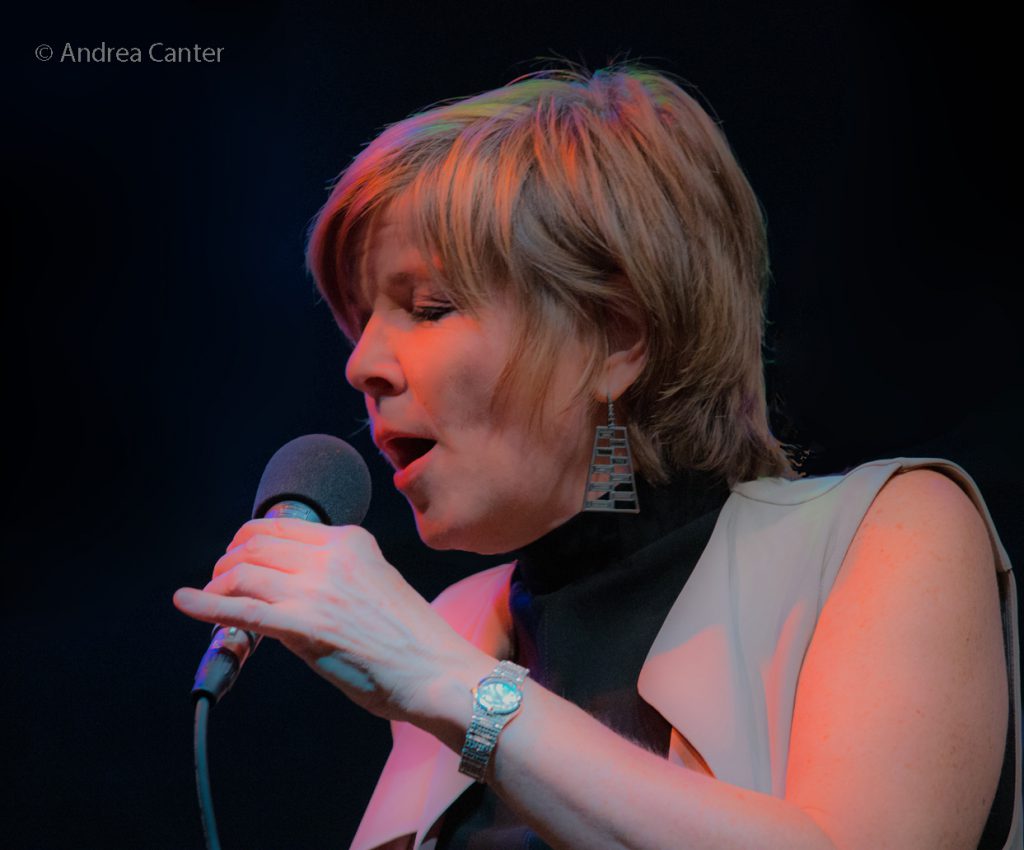 © Andrea Canter
"She brings a timbre that is part ice and part grain…incisive, original, and emotionally convincing."– Gary Giddens
A five-time Grammy nominee whose discography ranges from Paris to Rio, from ballads to blues, from upbeat swing to gloomy contemplation, Karrin Allyson keeps forging new directions. In 2013, she finally put her talents as vocalist, songwriter, pianist and arranger into a Yuletide Hideaway, a sharp 180-degree turn from her previous project, 2011's critically acclaimed Round Midnight. In 2015, Allyson released her tribute to the great songs of Rodgers and Hammerstein, drawing from some of America's favorite Broadway shows in the pared down company of Kenny Barron and John Patitucci, and earning a fifth Grammy nomination for Best Jazz Vocal Album. Karrin returns to one of her "home" bases, the Dakota in downtown Minneapolis, for one night, two shows, on Monday, May 15 (7 and 9 pm). She's joined by two New York musicians, Miro Sprague on keys and Marty Jaffee on bass. Expect to see Karrin on the piano bench, too.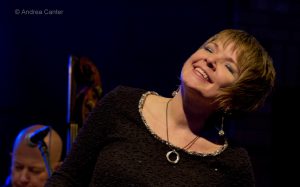 Born in Kansas and raised in Omaha and San Francisco, Karrin Allyson studied classical piano before being turned on to jazz (and the songs of Nancy Wilson, Carmen McRae, Billie Holiday and Ella Fitzgerald) as a college student. After graduating from the University of Nebraska with a degree in piano, she spent her early professional career in Minneapolis and then Kansas City, finally moving to New York City with orchestra conductor/husband Bill McGlaughlin in the late 90s. In addition to her frequent appearances in jazz clubs and festivals around the world, she has appeared at Carnegie Hall (tribute to Ella Fitzgerald), Lincoln Center's Avery Fisher Hall, and with symphony orchestras around the country, including the Carnegie Hall concert series at Zankel Hall. In 2009 she was a featured guest at Jazz at Lincoln Center honoring Marian McPartland on her 90th birthday, and served as teaching artist and performer at the Litchfield Jazz Festival. Among many honors, she was named at the top of the list of Rising Star Vocalists by Downbeat in 2013; she was featured multiple times at the 60th Newport Jazz Festival in 2014. On the road about two days of every three, Karrin continues to tour extensively, from coast to coast, continent to continent.
Since her first release, Karrin made thirteen recordings for Concord reflecting classic American jazz roots as well as French and Brazilian influences. In fact, her minor in college was French (her major was music), and her love of both French and Portuguese seeps into her live performances as well as recordings, most notably on From Paris to Rio and Imagina. Her 2001 CD, Ballads: Remembering John Coltrane, was nominated for a Grammy (best female vocalist). Wild for You (2005), a tribute to the popular songs of her youth, garnered another Grammy nomination.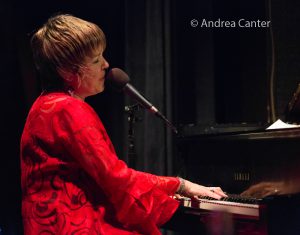 Footprints, released in 2006, brought Allyson back to the classic jazz literature. Working with lyricist Chris Caswell, classic jazz works by Nat Adderley, Hank Mobley, Wayne Shorter, Dizzy Gillespie, John Coltrane and more were transformed into modern songs, along with contributions from Oscar Brown, Jr. and Jon Hendricks and guest tracks with Hendricks and Nancy King. Chris Caswell also played an integral role on Allyson's 2008 bilingual, Grammy-nominated recording, Imagina, providing English lyrics to two songs. With Allyson serving as co-producer and arranger or co-arranger for most tracks, Imagina was described by Christopher Loudon (Jazz Times) as "among the best nods to Brazil ever crafted by an American singer."  By Request: The Best of Karrin Allyson was released in 2009. Even six years ago, it was hard to imagine narrowing her "best" to fit onto one CD.
And perhaps the "best" was yet to come. On her ballad-laden 'Round Midnight (2011), Karrin assumed all keyboard duties, backed by guitarist Rod Fleeman, bassist Ed Howard and drummer Matt Wilson, along with Bob Sheppard on supporting woodwinds and guest harmonicist Randy Weinstein. Touching that universal human vulnerability is what Allyson strived for—successfully, elegantly–as she unfolded each tale, drawing on great songs from jazz giants (Bill Evans, Duke Ellington, Thelonious Monk), Songbook standards (Landesman and Wolf, Johnny Mandel), film and show tunes (Charlie Chaplin, Carroll & McCarthy, Stephen Sondheim) and pop (Paul Simon, Gordon Jenkins, Anthony Newly). "They're heartbreak songs," said Allyson, "and one cathartic way to get over heartbreak is to sing about it, or listen to someone else sing about it." Round Midnight brought another Grammy nomination, and for 2012, Allyson was also nominated as Female Vocalist of the Year by the Jazz Journalists Association.
Allyson veered off the Concord label to produce Yuletide Hideaway (kasrecords, 2013), realizing a long-time desire to record a set of holiday tunes. With her ever-faithful Kansas City rhythm team of guitarist Rod Fleeman, bassist Gerald Spaits and drummer Todd Straight, along with songwriter/keyboardist Chris Caswell and electric bassist Lee Sklar, the music was recorded coast to coast in studios from Hollywood to Kansas City to New York. As bright and homey as Round Midnight was dark and introspective, Yuletide Hideway offers a wide-ranging collection of popular tunes, less familiar covers and a handful of originals, all presented with Allyson's signature savvy and nuanced delivery.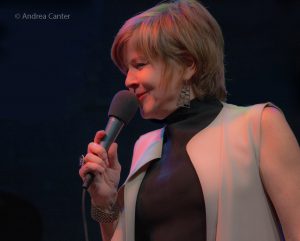 In 2015,  Many a New Day brought Karrin to the Motéma label and into the studio with piano legend Kenny Barron and ace bassist John Patitucci, only the second time Barron and Patitucci have recorded together.  Rather than address the broad swath of Rogers and Hammerstein tunes, Karrin chose to limit the setlist to witty, romantic and swinging interpretations of songs from four of the greatest Broadway shows– The King and I, South Pacific, The Sound of Music, and Oklahoma!, thus including songs that are far less represented in the recorded canon of R&H (e.g., "When I Think of Tom," "We Kiss in the Shadow," "Something Wonderful"), as well as a few to which Karrin just could not say no–"Oh What a Beautiful Morning," "Surrey With the Fringe on Top," and "Bali Ha'i." 
We missed Karrin's almost-annual visit to the Dakota in 2016, but now she's back with a new project reflecting an old favorite–the songs of the late Mose Allison. "Allyson Sings Allison" highlights Karrin's talents with the blues and one of her frequent sources of material for live performance.
The Dakota is located at 1010 Nicollet Mall in downtown Minneapolis. Reserve tickets at 612-332-5299 or online at www.dakotacooks.com