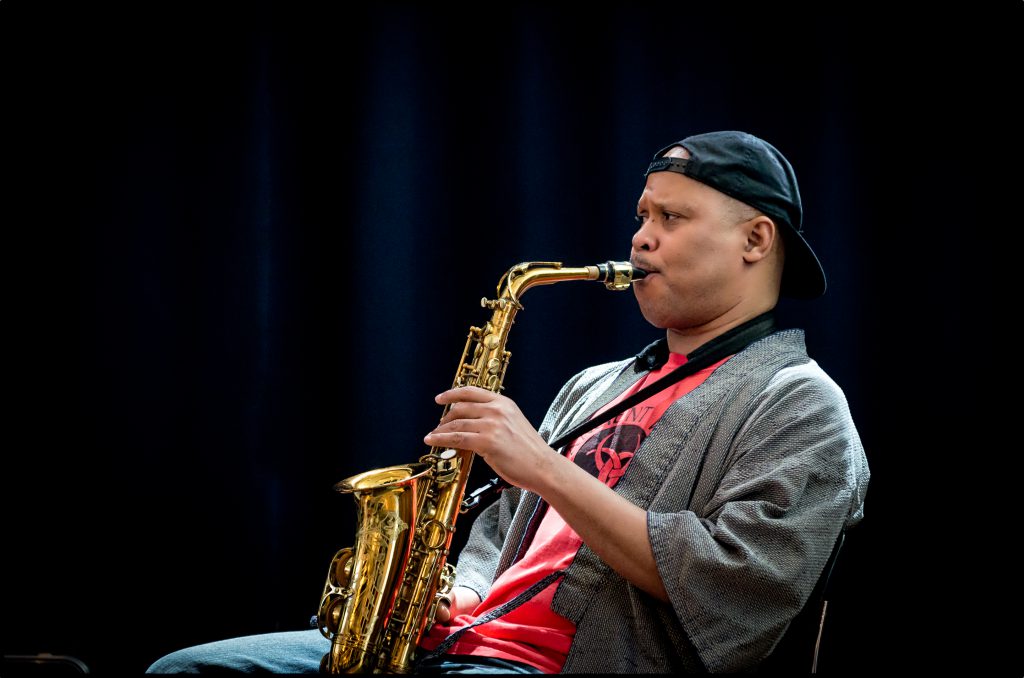 [Ed. note, much of the content of this article is adapted from the Walker and Steve Coleman websites.]
"With strains of Parker and Coltrane, Bartók, and the musics of the Middle East and China … [Natal Eclipse's performance] was something beautiful, indeed essential." —The Nation
Composer/bandleader/saxophonist Steve Coleman, "one of the most rigorously conceptual thinkers in improvised music" (The New York Times), heads a new hybrid chamber-jazz ensemble that explores the very foundations of group improvisation and spontaneous composition. Performing at the Walker Art Center's McGuire Theater on Friday, May 12,
Coleman's eight-member all-star ensemble includes Matt Mitchell (piano), Maria Grand (tenor saxophone), Rane Moore (clarinet), Jonathan Finlayson (trumpet), Kristin Lee (violin), Greg Chudzik (bass), and Jen Shyu (voice). Expect an uncompromising evening of borderless styles, supreme musical fluidity, and post-bop revolution.
Steve Coleman grew up on Chicago's Southside, surrounded by dance music – funk, rock, soul and blues – that gave him a taste for rhythm that he never lost. He learned violin in school, but abandoned it for the alto saxophone at the age of 15, playing in James Brown cover bands. At Illinois Wesleyan University, he was the only African American in the Music Department, quite a shock for someone who says he "did not know any white people until he was 17 or something." Told to improvise in his jazz band, he checked out his record collection to find that his father – a 'Bird' fanatic – had slipped in a Charlie Parker album. He learned the solos, just as he had learned those of Maceo Parker earlier. Returning to Chicago where he attended Roosevelt University, he hooked up with Von Freeman, the legendary tenor player and pedagogue, learning the rudiments of bebop on the bandstand. He moved to New York in 1978 where he soon joined the Mel Lewis – Thad Jones Big Band, later playing in the Cecil Taylor Orchestra and Sam Rivers' Winds of Manhattan group.
As a sideman, he performed with pivotal figures like David Murray, Doug Hammond, Dave Holland, Mike Brecker and Abbey Lincoln. However it was really the influence of Von Freeman and Bunky Green in Chicago, Thad Jones, Sam Rivers, Doug Hammond in New York and listening to recordings of past improvising masters and music from West Africa that got Coleman turned around musically. Colemen spent a good deal of time playing in New York City's streets for small amounts of money with a band that he put together with trumpeter Graham Haynes, the group that would evolve into the ensemble, Steve Coleman and Five Elements. With kindred spirits like Cassandra Wilson, the band developed a concept of improvisation within nested looping structures. These were ideas based on how to create music from one's experiences, which became the foundation which Coleman and friends call the M-Base concept. However, unlike what most critics wrote this concept was philosophical– Coleman did not call the music itself M-Base. In contrast to the post bop music of Coltrane and Brecker, the group played a quirky, electric jazz/funk with a dash of Thelonious Monk and harmolodics, too.
As his ideas grew in the 70s, Steve also learned to incorporate various forms of research to expand his awareness, including learning to program computers to be used as tools to further develop his concepts and developing software he dubbed The Improviser; he also began connecting these ideas to ancient music. These emerging concepts were documented on Steve's albums of the late 80s, and the first M-Base Collective album, Anatomy of a Groove (1991). In 1994, Steve formed the group Renegade Way, at that time consisting of Coleman and Greg Osby on alto saxophones, Joe Lovano and Craig Handy on tenor saxophones, Kenny Davis on bass, and Yoron Israel on drums. More groups followed, including Steve Coleman and the Secret Doctrine, Steve Colemen and Metrics, and Myths, Modes and Means. Increasingly interested in Yoruba and Santeria traditions, Coleman visited Cuba in the mid 90s, ultimately releasing the album The Sign and The Seal by Steve Coleman and The Mystic Rhythm Society in collaboration with AfroCuba de Matanzas. More cultural exchanges followed,  with Steve taking a group of musicians from America and Cuba to Senegal to collaborate with the musicians of the local Senegalese group, Sing Sing Rhythm. Using his own funds he also led his group Five Elements to the south of India in early 1998 to participate in a cultural exchange with different musicians in the Carnatic music tradition. His work led to a commission from IRCAM (the world renowned computer-music research center in Paris) to further develop his ideas, in the form of interactive computer software. In 2000-2001 Steve withdrew from performing/recording and began study sabbatical. During this time he traveled extensively to India, Indonesia, Cuba and Brazil and continued much of his research as a music professor at the University of California at Berkeley and at CNMAT (the Center for New Music and Technology).
Coleman released his first solo sax recording, Invisible Paths (2007). In 2012, he began creating spontaneous compositions which he later orchestrated, leading to the release of Functional Arrhythmias, based on the cyclical movements within the human body. Another sabbatical in 2013 led to a 2014 large ensemble recording, Synovial Joints, again using spontaneous composition. Among many grants and commissions, Coleman has received the MacArthur Fellowship, Guggenheim, and Doris Duke Artist Awards.
Steve Coleman and Natal Eclipse perform in the McGuire Theater of the Walker Art Center (725 Vineland Place near Loring Park in Minneapolis) at 8 pm on May 12; tickets at www.walkerart.org