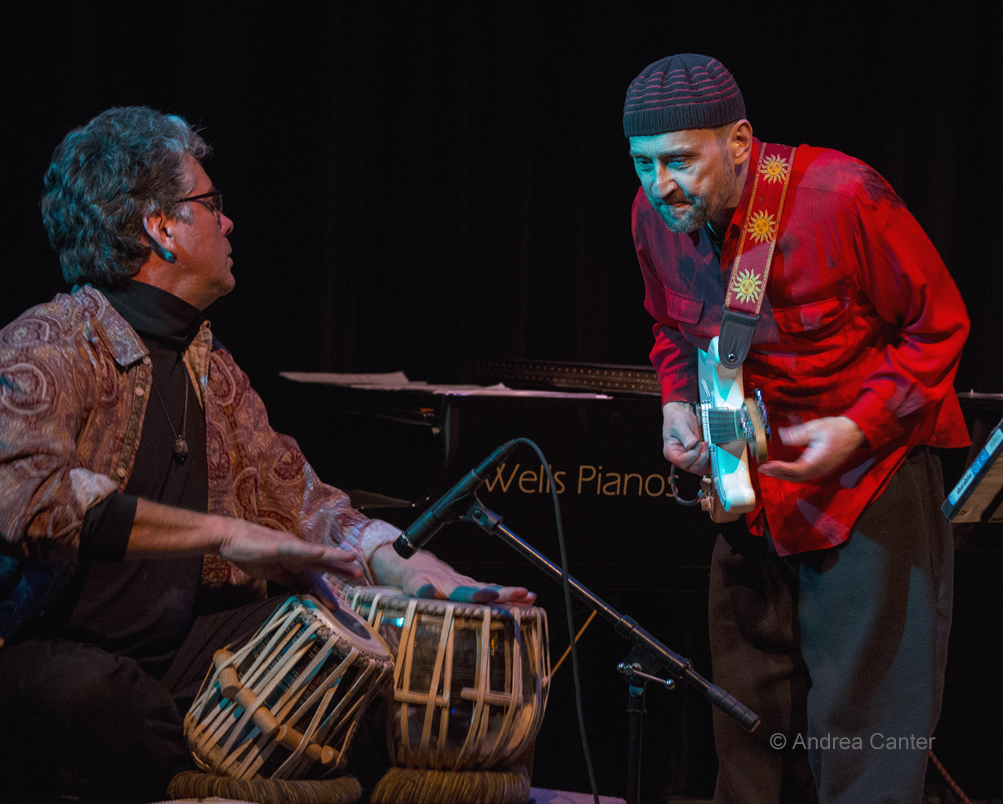 © Andrea Canter
Guitar guru Dean Magraw and tabla master Marcus Wise first met over thirty-five years ago, Magraw returning from a stint in Boston, Wise from studies in India. In that first encounter, as Wise recounts in the liner notes to the duo's How the Light Gets In, the two musicians found "the ability to make music intuitively, without structured written pages, listening for the music between the notes of each others' voices."  The duo released How the Light Gets In in 2010 and have played together sporadically since then. It's definitely time for them to come together, scheduled at Jazz Central for Friday, April 28 (8-10 pm).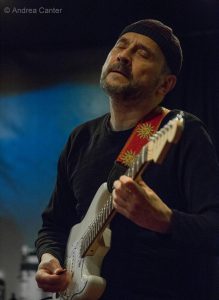 Dean Magraw is one of the Twin Cities' most eclectic musicians, with a nearly four-decade career spanning genres and cultures, from blues to classical to folk and jazz, from Japanese and Indian to Celtic and middle American. Starting out on bugle, the St. Paul native studied classical guitar at the University of Minnesota and Berklee College of Music in Boston. For many years, Magraw was half of a popular partnership with mandolin virtuoso Peter Ostroushko. He has performed with and/or recorded with Ruth McKenzie, Claudia Schmidt and Greg Brown, among others; he has explored his Celtic heritage performing with accordionist John Williams.  Other collaborations include Japanese shamisen prodigy Nitta Masahiro, classical violinist Nigel Kennedy, South Indian vocalist and vina virtuoso Nirmala Rajasheker, Irish supergroup Altan, Garrison Keillor and Prairie Home Companion, jazz bassist Anthony Cox and avant garde French saxophonist Francois Corneloup.  He currently leads the long-running Red Planet with Chris Bates and Jay Epstein. With Epstein and Brandon Wozniak, he has played with Impulso, has often appeared on the bandstand with Bruce Henry, performs in Source Code led by Eric Kamau Gravatt as well as in a duo with Gravatt, and most recently has performed in duos with pianists Steven Hobert and Butch Thompson. With percussionist Davu Seru, Dean also hosts the monthly First Tuesday at the Black Dog.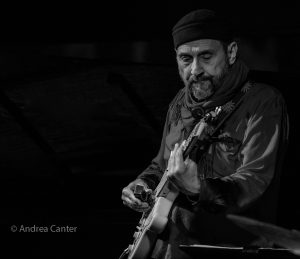 Dean's first solo recording, Broken Silence, won the NAIRD 1994 Best Acoustic Instrumental Album of the Year. Dean released Seventh One in 1998, the solo album Heavy Meadow in 2004, Raven with John Williams in 2006, and appears on Claudia Schmidt's 2006 release, Live at the Dakota with his quintet. In 2007, Dean and his trio with Jim Anton and JT Bates released the acclaimed Unseen Rain, the music filled with ethereal lines, wandering melodies and global influences. In 2008, Dean released a set of solo compositions (Foxfire) and in 2009 released his collaboration with Bruce Kurnow (stringed harp and harmonica) on Healing. He also appears on Francois Corneloupe's 2008 release, Next. With Red Planet, he has released two recordings, Space Dust (2009) and the new Red Planet With Bill Carrothers (2017). His duo with Eric Gravatt, Fire on the Nile, was released in 2015.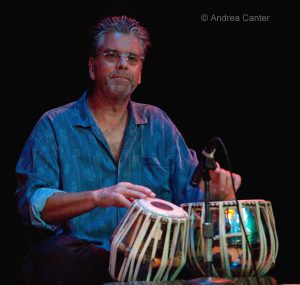 Marcus Wise is not only a master table player, he brings the tabla to American audiences through folk, jazz, gospel and pop genres as well as Eastern classical music. His credits include The Doors' John Densmore, sitar player David Whetstone, R&B vocalist Alexander O'Neal, classical Indian musician Nirmala Rajasekar, jazz artist Anthony Cox, cellist David Darling, sarod player Bruce Hamm and pop producer Jimmy Jam. A native Minnesotan, Wise learned to play congas in Spain and later studied tablas in India with Ustad Diam Ali Qadri, whom he had met when Ustad was a visiting artist at the University of Minnesota. Over his 40-year career, Marcus has toured internationally, including performing for the Dalai Lama at the Nobel Peace Prize ceremony in 1989 and at the 2000 reunion of the Doors for MTV; he recorded with Dean Magraw and Steve Tibbets. Marcus has also worked with poets and playwrights, composed music for the Guthrie Theater's 1991 production of Medea, and played for the opening of the new Walker Art Center in 2005.
This duo recording includes 7 improvisational segments generated by Magraw and Wise in the studio. Dean describes the music as "spontaneous melodies woven into existence along the dancing interplay of mostly listening—listening not necessarily to the other guy or the individual contribution. Rather—created inside the disappearance of 'me,' 'you' or 'us' into an affirmation of 'this is it, now.'" These seven tracks flow like a self-contained suite, which is in fact how the musicians set down the music.  The centerpiece of the set is the multi-segmented, 13-minute "Portals." Sometimes it seems that Dean is playing multiple instruments given the range of sound from his single-note explorations; at times the guitar seems to mimic the tabla.  How the Light Gets In could only come about through a long-standing camaraderie, an invisible communication among two artists who each sense where the other has found the light.
Jazz Central is located at 407 Central Av SE (Minneapolis). The nonprofit venue requests donations of $10 ($5 students). Music at least 5 nights per week– see the calendar at http://jazzcentralstudios.org