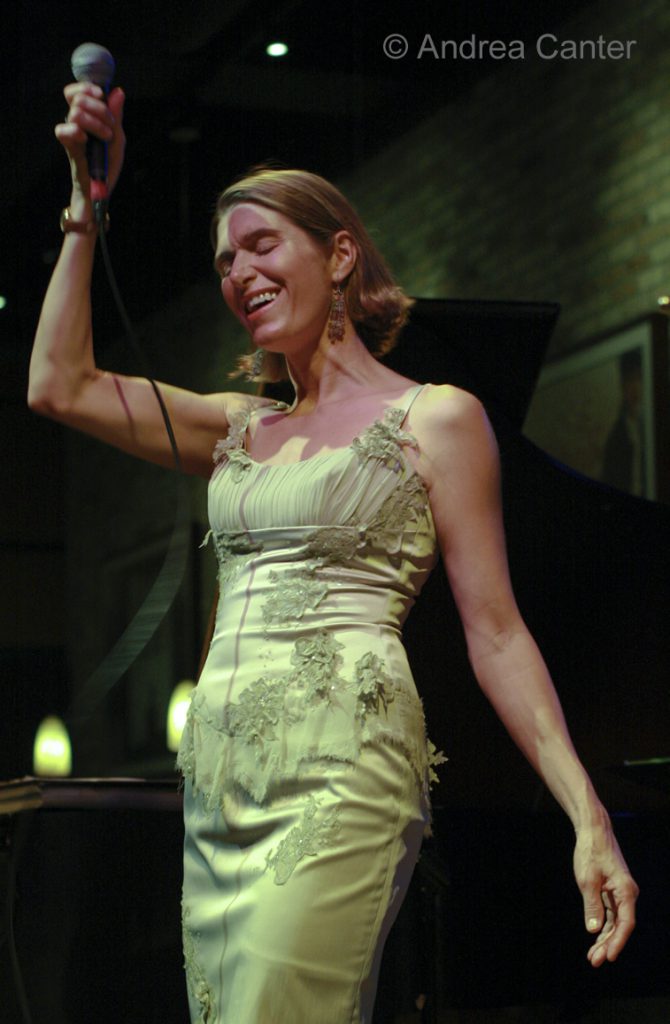 © Andrea Canter
A native of Winona, MN, vocalist Vanessa (Gernes) Trouble has been drawing acclaim from New York to LA and beyond for the past decade. And she's also returned to her home state a few times over the past five years, including a fall date in the Dunsmore Room at Crooners Lounge. Now Vanessa returns to the Dunsmore Room on March 29 (7 pm), again in the company of another Minnesota-New York transplant, trumpter Charlie Caranicus. New York colleague Steve Salerno supports on guitar, and local bass hero Graydon Peterson fills out the band.
Currently the lead vocalist for the Manhattan swing band, Red Hot Swing, Vanessa Trouble has performed with The Flying Neutrinos, Ron Sunshine and Full Swing, Julian Fleisher's Monday Nights at the Starlight Bar & Lounge, and has toured with The Central Park Stompers. In Manhattan her resume includes regular performances at Swing 46, Opia Lounge, The Grand Havana Room and The Bubble Lounge, and Pierre's in Bridgehampton. She's also fronted various jazz ensembles in New York, Los Angeles, Minneapolis, Atlanta, New Orleans, London, Paris, Ireland, Norway and Asia.  With her band, she has also performed for celebrity events including parties and special events for Bill Gates, Clark Terry, Dana Carvey, Penny Marshall, Quincy Jones, Colin Cowie, Melissa Etheridge, Tom Selleck, Ron Perelman, Sheldon Adelson and former New York Governor, George Pataki. Corporate clients include The Walt Disney Company, Honeywell, Calvin Klein, American Express, Lancôme, SL Green, David Yurman and Microsoft.  Among her frequent cohorts is Minnesota native trumpeter Charlie Caranicas, with whom she performed at her Dakota debut in 2009 and her Dunsmore Room debut in 2016. Vanessa also performs regularly with guitarists Nick Demopoulos, James Chirillo and Steve Salerno; bassists Sean Smith, Neal Minor, Jim Whitney and Peter Weiss; and pianists Don Stein, Bennett Paster and Michael Kanan. She has released two recordings to date, 1999's The Summer Sessions and 2004's Too Darn Hot.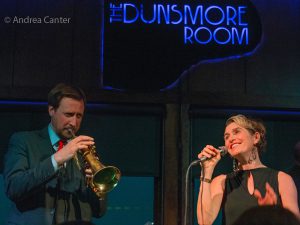 Charlie Caranicus studied music at the University of Minnesota. and was part of that City's music scene before moving to New York City in the early 1990s. Currently Charlie fronts her New York City-based "modern retro" swing band, The Red Hot Swing; co-led the house band at the Blue Note Jazz Club in New York City; and was the trumpet soloist with the renowned Rainbow Room Orchestra.  He has performed with such diverse bands as Vince Giordano and the Nighthawks, the Independence Hall Jazz Band, the Onyx Club Sextet, the Karrin Allyson Group, the Kelly Friesen Quintet, the Chico O'Farrill Afro Cuban Jazz Orchestra, the Vanguard Orchestra, and the Flying Neutrinos, as well as in the pit orchestras for Broadway shows. Charlie has also received a grant from the National Endowment for the Arts. He released a recording with stride pianist Tom Roberts, Move Over, featuring music of the first half of the 20th century (2008).
Vanessa Trouble and Charlie Caranicus perform in the Dunsmore Room of Crooners Lounge, 6161 NE Highway 65 (Central Av) in Fridley, just north of I-694 and 20 minutes north of downtown Minneapolis. Reservations (tickets $20) recommended at www.croonersloungemn.com