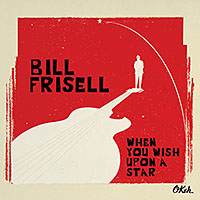 Guitarist Bill Frisell enjoys a kind of Teflon status among musicians and music lovers.  He is a stalker of many musical domains and a nomad, too. Whether he's combing through the Beatle catalogue, exploring electronica via Brazil, or covering sixties surf music as he's done in recent outings, he seems to be not only tolerated but embraced by the so-called gatekeepers.
Chalk this up to two factors:
1) He tempers his love of gadgets and doo-dads such as tape loops, distortion, and feedback with a reverence and musicianship rarely seen in any modern guitarist.
 2) And this applies to his Jazz credentials: He can more than hold his own in the "straight-ahead" arena, especially with a trio or quartet.
Words like "departure" don't apply to Frisell's recordings, they all hold that distinction. His latest, When You Wish Upon a Star, finds him with his working acoustic band , including violist Eyvind Kang and vocalist Petra Haden. Both are very distinctive stylists without whom there might not be a "Bill Frisell Sound."  He happily acknowledges this.
Ennio Morricone's "Once Upon a Time in the West" has had a profound effect on many artists over the years and it's well arranged here, along with "The Godfather," "Happy Trails," and "Moon River." Did I mention the theme-theme?  T.V. and movies are feted.