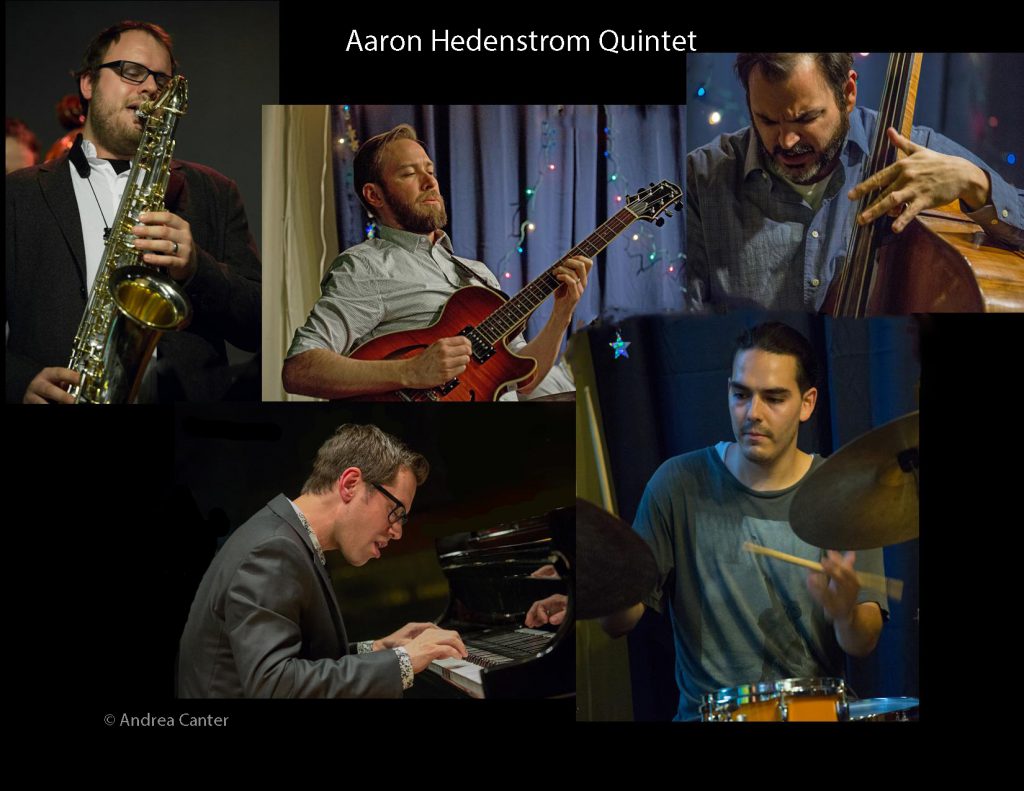 © Andrea Canter
The Saturday Night Jazz at the Black Dog Series is into its third year in St. Paul's Lowertown. One of the first venues to "fill the gap" left by the closing of the Artists Quarter in 2013, the Black Dog has presented over 130 Saturday nights of top jazz under the leadership of curator Steve Kenny. This weekend, March 18, the double header starts with the monthly JazzINK Youth Showcase, a band dubbed Liquid Vinyl led by Totino Grace High School drummer Nick Adams. Following in the headline slot is a quintet led by saxophonist Aaron Hedenstrom.
Liquid Vinyl (7 pm)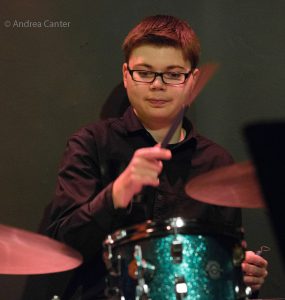 The JazzInk Youth Showcase is pleased to present the debut of Liquid Vinyl, metro-wide band led by Nick Adams (Totino Grace High School) on drums, with Leighton Tuenge (Hopkins High School) on trumpet, Thoger Boyum (Moundsview High School) on alto sax, Charley Mencken (Woodbury High School) on tenor sax, Bruce Acosta (Edina High School) on guitar, Ethan Bogle (Stanford Online High School) on piano, and Harry Mencken (Woodbury High School) on bass. Nick describes Liquid Vinyl as a band "looking to play music with an emphasis on improvisation and individual performance.  The style of music varies, from standards to contemporary jazz and anything else the band wants to play." Additional information can be found at Nick's website, nicholasadamsmusic.com, where you can also find information about his other projects.
Aaron Hedenstrom Quintet (8:30 pm)
Since returning to the Twin Cities after studies at UW-Eau Claire and earning is doctoral degree at the University of North Texas, saxophonist Aaron Hedenstrom has become a busy member of the local jazz scene. His Quintet at the Black Dog includes Zacc Harris on guitar, Bryan Nicholson piano, Chris Bates on bass and Miguel Hurtado on drums.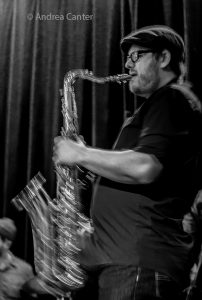 Aaron Hedenstrom was born in Lesotho (Africa) where his parents were teaching; he grew up in the Twin Cities where he developed his interest and talent in music, discovering the area had  "more than enough opportunities to listen to amazing local musicians, study music with them, and partake in fun extra-curricular music programs such as the Minnesota Institute for Talented Youth and Minnesota Youth Jazz Band."  Aaron attended the jazz program at the University of Wisconsin-Eau Claire, performing in the pop/rock band Underdub and with the John Raymond Project. Raymond described Aaron as "a very eclectic kind of guy" and "a monster player… I get so much inspiration from him in his playing, his writing, and just the way he approaches improvising."
Aaron moved to Denton, TX  where he enrolled in the master's degree and then the doctoral programs at the University of North Texas, serving as a Teaching Fellow and performing in the famed One O'Clock Lab Band.  He also performed as a freelancer in the Dallas/Fort Worth Metro area before returning to the Twin Cities in 2015. As a student, Aaron earned a number of composing and arranging awards–2012 Detroit Jazz Festival Arranging Contest (for his arrangement of Wayne Shorter's "Yes and No"), the Herb Alpert ASCAP Young Jazz Composer Award, the Jazz Education Network Student Composer Showcase, 2013 Downbeat Student Award, Best Graduate Blues/Pop/Rock Soloist, and 2014 Downbeat Student Award, Best Graduate Jazz Soloist.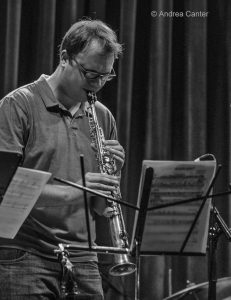 Aaron has released two recordings to date: A Symphonic Jazz Hip Hop Experience was the tantalizing title of his debut recording with his Aaron Hedenstrom Orchestra, released in 2010, bringing together a long list of young area musicians. Supported through a successful Kickstarter campaign, he released A Moment of Clarity on Shifting Paradigm Records in 2014, featuring six original compositions that Hedenstrom noted "represent a part of my daily spiritual journey through life as well as my faith in Christ…  This album is all about creating meaningful art that speaks from the heart. The idea behind the music is to take all of the tools I've learned from my modern jazz training and create something that is both interesting to listen to as well as emotionally moving."
Aaron has performed across the United States as a jazz saxophonist, clinician, and composer; and has written numerous big band works, string arrangements, small group pieces, and chamber works. His collaborations have included saxophonist Bob Reynolds, the University of North Texas One O'Clock Lab Band, vocalist Marlene Verplanck, vocalist Don Most and Sean Carey. As a saxophonist, Aaron has been a featured guest artist at University of Wisconsin-Eau Claire, Wichita State University, and Eastern Washington University. He has performed at top-tier music venues and festivals nationwide including the Dakota Jazz Club, Snug Harbor, Scat Jazz Lounge, Next Generation Jazz Festival, and the Eau Claire Jazz Festivals.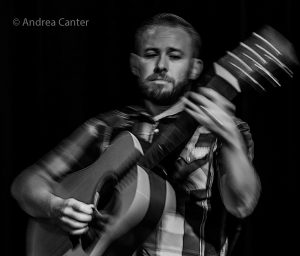 Zacc Harris came to Minneapolis about ten years ago from Illinois, where he graduated from Southern Illinois University. Here he formed the Luminessence Trio (now Zacc Harris Trio), continuing weekly gigs at the Riverview Wine Bar. Zacc also leads his Quartet, Atlantis Quartet, Zacc Harris Group and American Reverie; performs regularly with Dean Granros' Tall Tales, the Babatunde Lea Quartet, and Adam Meckler Quintet, and teaches privately and at Hamline University. He's also curated the Jazz at Studio Z series for five seasons and is co-owner of Shifting Paradigm Records.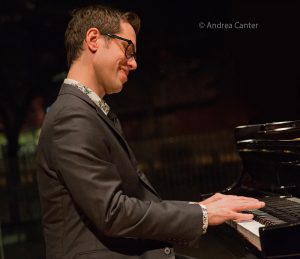 Pianist Bryan Nichols returned to his native Minnesota after studies at Iowa State and gigging in Chicago. A member of the 2004 edition of Betty Carter's Jazz Ahead ("Jazz Stars of Tomorrow"), he performed at Kennedy Center in Washington, DC. He's played with Ari Brown, Maurice Brown, Von Freeman, and more, and has taught at the MacPhail Center for Music and University of Wisconsin-Eau Claire. Locally Bryan is heard with his own trios, quintet and large ensemble, We Are Many; and has performed with the Zacc Harris Group, Nichols/Bates/Bates, Gang Font, vocalist Nancy Harms, drummer Dave King, Jeremy Walker's Atrium Jazz Ensemble, and other cutting-edge artists. He's a frequent duo performer on weekends at the Icehouse. Bryan was a 2010 recipient of a McKnight grant and released his quintet album, Bright Places, in 2011. His solo album Looking North was released last spring on Shifting Paradigm Records.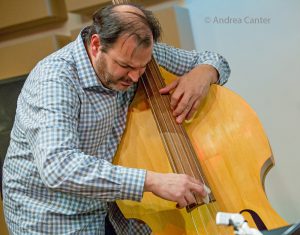 Bassist Chris Bates is one of the busiest musicians in the metro, performing with with Red Planet, Framework, How Birds Work, Tall Tales, Bill Simenson Orchestra, Adam Meckler Orchestra, and many other cutting edge ensembles in addition to Atlantis. In the past few years he has stepped out front as leader of the Good Vibes Trio and Red Five, both of which released debut albums in the past few years. He recently revived another vibes trio, Low Blows, launched a trio with Joe Strachan and Ted Olsen, and curates a monthly improvisation series at Jazz Central, one Wednesday night per month. Chris studied at the University of Wisconsin–Eau Claire and later with Anthony Cox, was an original member of the Motion Poets, and a 1999 McKnight Composer Fellow. He was one of four jazz artists to be awarded a composition commission from Zeitgeist, which was premiered at the 2014 Twin Cities Jazz Festival.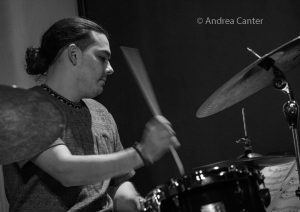 Miguel Hurtado (drums) played throughout the Twin Cities as a teenager with Javi Santiago in several youth bands, as well as with South High jazz ensembles. After graduating from the Manhattan School of Music in spring 2010, he returned to the Twin Cities where he quickly became a busy member of the local jazz scene. He led his own ensembles at the 2011 Twin Cities Jazz Festival and performed at the Artists Quarter and Dakota; more recently he has been heard at Jazz Central, the Icehouse, Black Dog and more. In addition to leading his own bands, he has performed with Jake Baldwin, John Raymond, Jeremy Walker, Javi Santiago, Joe Strachan, Ted Olsen, Courageous Endeavors and Aaron Hedenstrom. He's also expanding his musical resumé, playing with some local pop and R&B singers, particularly Alicia Steele and vocalist/rapper Toussaint Morrison.
Saturday Night Jazz at the Black Dog is a weekly series of top jazz artists curated by Steve Kenny. No cover but donations ($10 suggested) to the tip jar are appreciated to support the performers and the series. The Black Dog is located at 308 Prince Street, main level of the Northern Warehouse at Broadway and E. 4th Street in St Paul's Lowertown. Series schedule at www.saturdaynightjazzattheblackdog.info; full line-up for the Black Dog at www.blackdogstpaul.com