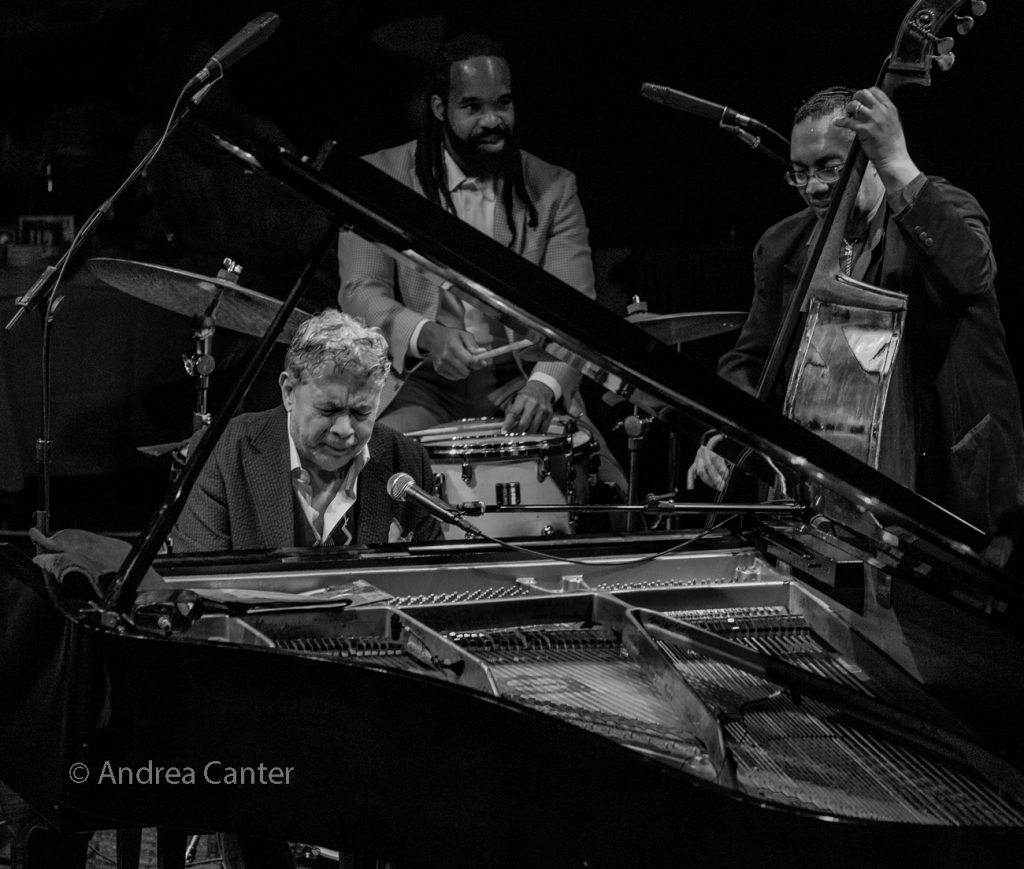 © Andrea Canter
One of the most lauded pianists of his generation, known for infusing his Jamaican heritage into his swinging post bop, Monty Alexander and his trio (with Hassan Shakur and Jason Brown) perform two sets, one night at the Dakota Jazz Club on March 8, 7 and 9 pm.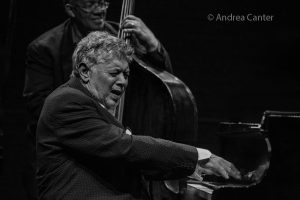 Born in Kingston, Jamaica, Monty Alexander was playing piano by ear at age 4 and began forma lessons at age six. As a youngster, he was often invited to sit in with the musicians working in the island's clubs and hotels. "I soaked up everything—the calypso band playing at the swimming pool in the country, local guys at jam sessions who wished they were Dizzy Gillespie and Miles Davis, a dance band playing Jamaican melodies, songs that Belafonte would have sung," he recalls. In his teens, Monty made his first recordings, both as leader of a group called Monty and the Cyclones, and as a sideman for such legendary producers as Ken Khouri (Federal Records), Duke Reade (Treasure Isle), and Clement Coxsone Dodd at Studio One, and included such subsequently famous artists as trombonist Don Drummond, tenor saxophonist Roland Alphonso, and guitarist Ernest Ranglin.
Monty moved to Miami with his mother in 1961, concentrating more on jazz than his Jamaican roots. Frank Sinatra, who first heard Monty play with a Jamaican Big Band in Las Vegas, helped the young pianist move to New York, where he played with Sinatra at Jilly's and was "discovered"  by Milt Jackson; Monty had regular gigs at Minton's and the Playboy Club, and went on to play with Ray Brown, Dizzy Gillespie, Clark Terry, and Sonny Rollins. Over the next two decades, Monty Alexander recorded as a sideman and increasingly as a leader (over 60 recordings!), and enjoyed diverse projects ranging from frequent appearances at the Montreux Festival, a tribute to Errol Garner at Carnegie Hall, and a Duke Ellington program with opera star Barbara Hendricks, to a symphony orchestra presentation of "Rhapsody in Blue" under the direction of Bobby McFerrin and performances in various formats from American trio to Jamaican Reggae bands.
Over his career, his infectious style has fused his Caribbean roots with the sounds of gospel, swing, blues, and post bop; he's as comfortable with Gershwin and Ellington as he is with funk and reggae. In the 00s, Alexander began to directly put these two directions together with his Harlem-Kingston Express, which earned a Grammy nomination for the 2011 recording, Harlem-Kingston Express: Live and a 2014 Soultrain Award nomination for the sequel, Harlem-Kingston Express 2: The River Rolls On. The band is a double trio featuring Hassan Shakur on bass and either Herlin Riley or Obed Calvaire on drums, along with the Jamaican ensemble of Glen Browne or Courtney Panton on electric bass and Karl Wright on drums. "It fulfills me, because it's my own life experience," Alexander says. "It's like Barack Obama music. We are all cut from the same cloth."
In August 2000, the Jamaican government designated Alexander Commander in the Order of Distinction for outstanding services to Jamaica as a worldwide music ambassador. In 2015, the great modern pianist Donald Vega released With Respect To Monty, which included his interpretations of seven Alexander compositions. In 2016, Monty presided over the seventh edition of the namesake Monty Alexander Jazz Festival in Easton, Maryland, for which he has served as Artistic Director and perennial performer every Labor Day weekend since 2010.
Long-time associate of Monty Alexander, bassist Hassan Shakur (J.J. Wiggins) has led his own trios and performed with his father, jazz pianist Gerry Wiggins. While still a teenager, he played on the Billie Holiday tribute album, With Billie in Mind led by the legendary Teddy Wilson. He also worked with the Duke Ellington Orchestra led by Mercer Ellington before performing with Al Grey and Monty Alexander. A core member of the Bill Easley Quartet, he can be heard on the soundtrack to the 1989 film, The Fabulous Baker Boys.
A graduate of Oberlin Conservatory, drummer Jason Brown studied with the great Billy Hart. For seven years he toured and recorded with Grammy nominated vocalist and composer, Carmen Lundy; appeared with Pat Martino at major festivals, and has worked with renowned artists such as Lizz Wright, Cedar Walton, Nicholas Payton, Wayne Escoffery, and Kurt Rosenwinkel. Currently he tours with Amina Figarova's Sextet and leads his own ensembles.
The Monty Alexander Trio performs two sets (7 and 9 pm) at the Dakota on March 8; tickets online at www.dakotacooks.com or at 612-332-1010. The Dakota is located at 1010 Nicollet Mall in downtown Minneapolis.