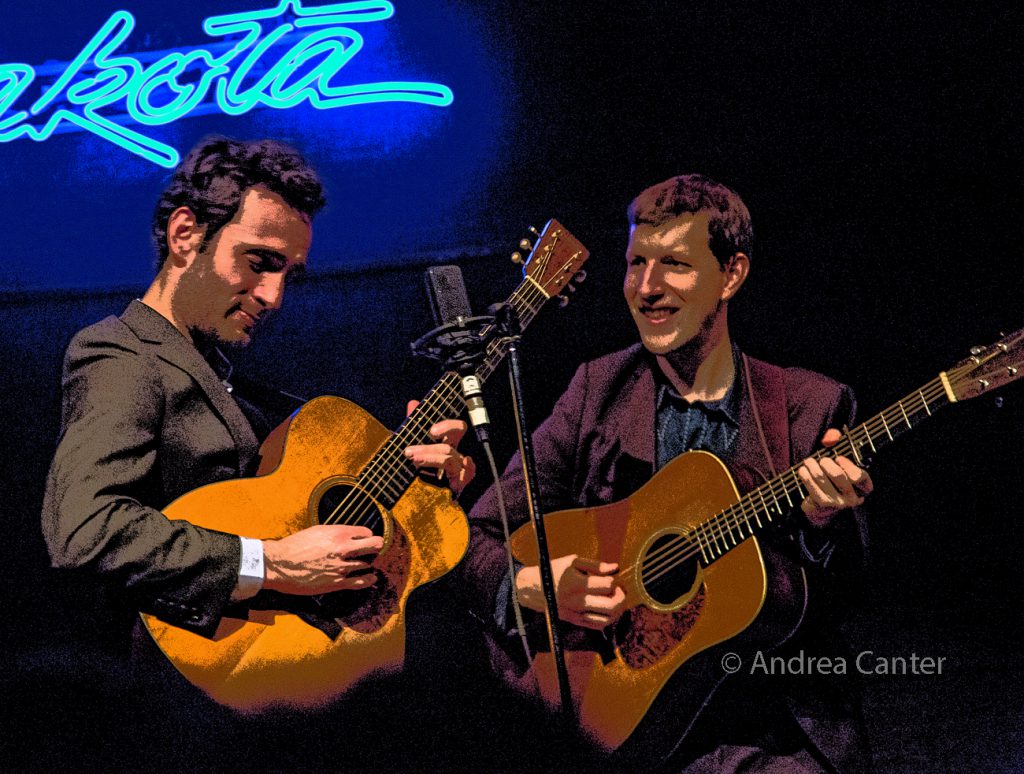 © Andrea Canter
"…the two disparate worlds of these two singular musicians push and pull at one another to create true harmony." –Kenneth Pattengale, liner notes, Avalon
Two outstanding guitarists from two seemingly different musical worlds converge at the Hopkins Center for the Arts on Saturday, February 25. Jazz prodigy Julian Lage and bluegrass hero Chris Eldridge formed their unique partnership about five years ago, now sporting two recordings and wide critical acclaim. The duo last visited the Twin Cities together at the Dakota in spring 2014.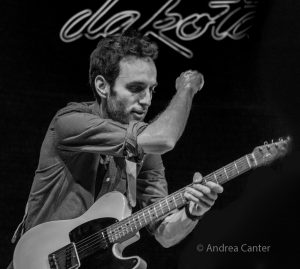 Dubbed a guitar prodigy as a pre-teen in his native San Francisco, Julian Lage is now a veteran performer still in his 20s, enjoying the accolades surrounding the release of his Grammy-nominated debut recording, Sounding Point (2009) and his follow-ups, Gladwell (2011), his first solo release, Worlds' Fair (2015), and new trio outing, Arclight (2016), as well as recent acclaimed duos with Chris Eldridge (Avalon, 2015), Nels Cline (Room, 2014), and Fred Hersch (Free Flying, 2013).  Initially drawn to Muddy Waters and the blues as well as old time acoustic guitar and bluegrass, Lage started on guitar at age 5. He sat in with Carlos Santana at age 8 and was discovered by Gary Burton when he played on the Grammy Awards telecast at age 11. Lage spent his teens learning and touring with Gary Burton's Generations and Next Generation bands before earning  a classical guitar degree from the San Francisco Conservatory and a jazz degree from Sonoma State University; he also studied classical composition at the Berklee College of Music in Boston.
Julian continues to collaborate with Burton in the vibraphonist's quartet. He has also appeared on a Grammy-nominated album by Nnenna Freelon and has long collaborated with pianist Taylor Eigsti, appearing on Eigsti's Grammy-nominated Lucky to Be Me. Along the way he's also performed with such modern jazz greats as Lee Konitz, Charles Lloyd, Martin Taylor, Christian McBride, Herbie Hancock, Billy Hart, Jim Hall, and the late Billy Higgins; he was a guest on Marian McPartland's Piano Jazz in December 2005. His current trio, which appears on Arclight, includes bassist Scott Colley and drummer/vibraphonist Kenny Wollesen.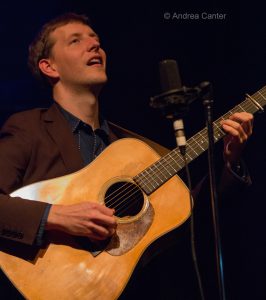 A founding member of bluegrass band Punch Brothers, guitarist Chris Eldridge was initially drawn to the electric guitar. But by his mid-teens, he had developed a deep love for acoustic music, thanks in part to his father, a banjo player and founding member of the seminal bluegrass group, The Seldom Scene. His undergraduate program at Oberlin Conservatory, including studies with legendary guitarist Tony Rice, gave Chris a broad perspective on music. After graduating he joined the Seldom Scene, sharing their Grammy nomination in 2007. In 2005, Chris founded the critically acclaimed bluegrass band, The Infamous Stringdusters, which won the 2007 International Bluegrass Music Association's Emerging Artist of the Year, Song of the Year, and Album of the Year awards for their debut album, Fork in the Road.  Also in 2005, Eldridge was invited to join a project led by mandolinist Chris Thile which became Punch Brothers. The band has since released 4 critically acclaimed albums, received 5 Grammy nominations, and toured around the world.  Chris has also worked with a diverse cast of artists including Paul Simon, Renee Fleming, Justin Timberlake, Fiona Apple, Elvis Costello, Del McCoury, and Julian Lage.
Julian and Chris first met backstage in Boston following a Punch Brothers gig. Recalls Julian, "I had my guitar and he had his and I said, 'Hey, you want to play something?' It was little bit of love at first sight. I thought, this guy gets it. This guy has the same reverence for the acoustic guitar that I have and has such a perfect touch. It's not overly muscular, it's very elegant, very curious, it was just beautiful. And I was really moved." Eldridge was similarly taken with Lage, noting "I hadn't heard him play before so those first couple of tunes were pretty mind-boggling. There was an instant friendship, both musically and personally. Though he is a few years younger than me, Julian is someone I really look up to. He represents everything I love about guitar playing and a lot of what I love about music. He's a total guitar genius, really, but what's more impressive is the tremendous humanity that Julian is working with. He uses these superhuman powers at the service of connection, of connecting on some kind of great human level. You can probably hear that in his playing. I know you can feel it playing music with him."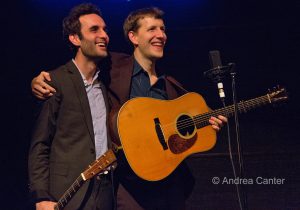 Three years later, they first performed a gig together at Barbes in Brooklyn, and self-released a four-song EP, Close to Picture, in 2013. "The whole point was to explore sounds and textures that are uniquely possible on a flat-top steel-string guitar," says Eldridge. "Traditionally, these old Martin guitars, which are some of the most incredible instruments in the world, have been used for accompanying folk, bluegrass and country songs. There hasn't been a lot of exploration of what they're uniquely capable of, their particular rich tonal palate, what they have to offer to the world that other instruments don't…"  From that point, which Lage refers to as a "grand experiment," Chris and Julian developed a 90-minute show surveying American acoustic music. "It could be a Jimmie Rodgers tune, it could be a more esoteric instrumental original, or it could be a Seldom Scene bluegrass tune," notes Lage. "But there's a common thread. They all sound like us when we play them, and it's pretty cool."
Their 2015 full-length release, Avalon, features songs by Jimmie Rodgers ("Any Old Time"), bluegrass legend Norman Blake ("Ginseng Sullivan"), Paul Craft ("Keep Me From Blowing Away," originally recorded by the Seldom Scene), and George and Ira Gershwin ("Someone To Watch Over Me"), including vocals from Eldridge. Lage also contributed three originals. Now their second duo recording, Mount Royal, was officially released on February 24, 2017 on Free Dirt Records. The company's website notes: "Percolating with tinges of bluegrass and folk, insinuations of jazz and pop, hints of classical and avant garde composition, the album rarely settles into any one particular category; rather, it dances around the territory between genres, never announcing its innovations and prizing soulfulness above chops at every turn. From first note to last, the duo push themselves to find new ways to play their flat-top steel-string acoustic Martins together."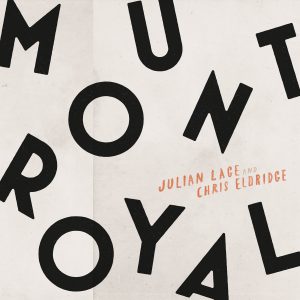 "Playing with Jules, it feels like anything is possible," says Eldridge. "You have no constraints. There's just so much room to move around. It's like playing in a sandbox, which really opens you up to being more creative." Adds Lage: "Our rapport is based on the idea that we're researchers studying this idea of what two acoustic guitars can do together, how you can integrate that into instrumental songwriting and how you can reconcile that with vocal music. Our collaboration is like a big research project that's been going on for years."
Witness their research on stage at the Hopkins Center for the Arts on Saturday, February 25, 8:30 pm.
The Hopkins Center for the Arts is located at 1111 Main Street in downtown Hopkins, about 20 minutes west of Minneapolis. Tickets at 952-979-1111 or online at https://itkt.choicecrm.net/templates/STGS/?prod=HCA