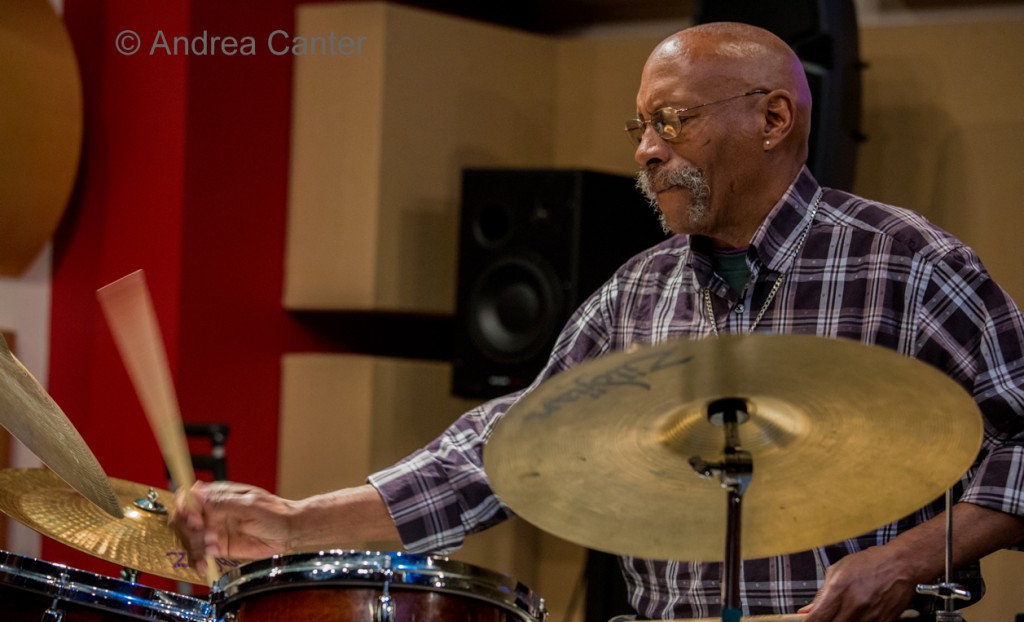 All ages are welcome at Jazz Central: in the audience and on stage. Friday nights typically underscore this trend with a "masters" ensemble followed by bands of high school or college musicians. On Friday January 6, the evening starts (8 pm) with Source Code, a band of accomplished artists led by Weather Report alum, drummer Eric Kamau Gravatt. At 10 pm, Apple Valley High School graduate and Eastman School of Music trombone student Jack Courtright leads a quartet of like-minded young lions.
Eric Gravatt and Source Code (8 pm)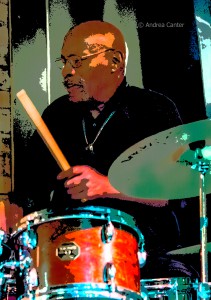 Former Weather Report drummer Eric Kamau Gravatt was already a legend in the 70s, and has enjoyed a resurgence of his career over the past decade, particularly as leader of Source Code. An alum of the bands of McCoy Tyner, Joe Henderson, Freddie Hubbard and Blue Mitchell as well as Weather Report, Gravatt essentially has had two careers in jazz with a couple decades of separation. Like John Coltrane and long-time associate McCoy Tyner, he is a native of Philadelphia. Originally a conga player, Gravatt taught percussion and music in Philadelphia and Washington, DC in the 1960s. Miles Davis invited him to join his band, but Gravatt turned down the Prince of Darkness to follow Wayne Shorter into Weather Report, with whom he toured and recorded. But Gravatt's sound was not exactly what WR founder Joe Zawinul had in mind, and after a while Gravatt was replaced in favor of a more "bottom heavy" drummer. He moved on to the fusion band Natural Life (with Bobby Peterson and Bob Rockwell), a move that brought him to the Twin Cities some 30 years ago. Demands of family and a desire for financial stability took Gravatt out of fulltime music and into fulltime work as a guard at the Minnesota Correctional Facility in Lino Lakes. "I had kids, and Corrections were the only thing being offered that paid that good, and they had (benefits) you couldn't get in jazz," Gravatt told the St. Paul Pioneer Press. Only after retiring from Lino Lakes did Gravatt return to his calling, touring again with McCoy Tyner, performing with his band, Source Code, and engaging in some more experimental improvisations with metro area musicians including Adam Linz, Brandon Wozniak, and, recently, Dean Magraw, with whom he released Fire on the Nile.
Source Code (from software lingo for a collection of instructions to generate the programs that run on our computers, PDAs, cell-phones and toasters) tackles the works of such titans as Coltrane and Jackie McLean—and Gravatt's band has the power to handle the repertoire. His usual cohorts include Solomon Parham on trumpet, Dean Magraw on guitar, Lucia Sarmiento on sax, and Ron Evaniuk on bass.
Jack Courtright Quartet (10 pm)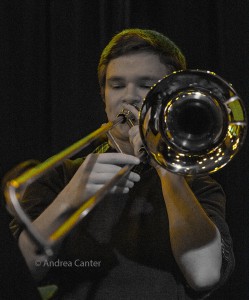 It seems that the Twin Cities jazz scene doubles in size during college summer and winter breaks! This season has been no exception with the collegians home for the holidays and leading a number of ensembles. The Jack Courtright Quartet includes four of the best– Courtright on trombone, Will Schmid on guitar, Charlie Lincoln on bass, and Ben Ehrlich on drums.
Jack Courtright is a 2015 graduate of Apple Valley High School where he performed with a long list of ensembles as well as three years with the Dakota Combo. Now in his second year at the Eastman School of Music in Rochester, NY (Trombone Performance and Jazz Studies), Jack has already distinguished himself by winning the International Trombone Association's 2016 Carl Fontana Jazz Trombone Competition. He spent this past summer performing on the Norwegian Dawn cruise ship on its run from Boston to Bermuda. Last week at Reverie, he joined former Dakota Combo cohort Luke Peterson's sextet, No Exit.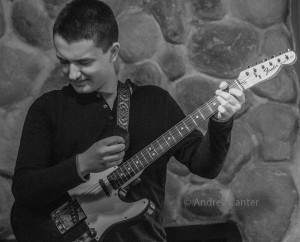 In one configuration or another, guitarist Will Schmid has performed across the Twin Cities and beyond. A 2016 graduate of Minnetonka High School, Will was active in school bands as well as the Minnesota Youth Jazz Band. Throughout his high school years, Will led duos, trios, and quartets at such venues as the 318, Black Dog, Nicollet (now Reverie), Finnish Bistro and Jazz Central. With fellow guitarist Adam Astrup, Will performed in duo at the 2016 Winter Jazz Festival, summer Twin Cities Jazz Festival, and in both duo and quartet at the 2016 Iowa City Jazz Festival. A trombonist as well as guitarist, Will is now studying both instruments as well as majoring in math and physics at Case Western Reserve University in Cleveland. He's led a few ensembles this holiday season, finishing up on January 7 at the Black Dog where he will co-lead a quartet with veteran trumpeter Greg Lewis.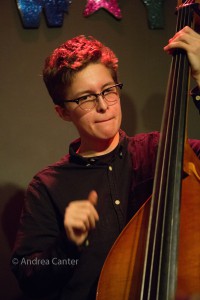 Bassist Charlie Lincoln is in his second year of jazz studies at the Berklee College of Music, where he recently joined Berklee's Global Jazz Institute. A South High alum, Charlie was already a busy gigging musician before graduation, playing with the Dakota Combo, Central Standard Time, the Charles Lincoln Group, and subbing with Eric Gravatt's Source Code. In his senior year, Charlie was selected as one of two winning youth songwriters in the Eric Stokes Songwriting Contest and was on stage for the Young Performers Showcase for the Zeitgeist New Music Cabaret. Last summer, Charlie served as a curator for a monthly new music series at Jazz Central Studios, as well as performing with a number of area bands. Among other gigs this holiday break, Charlie performed and recorded with Hoaxer at Reverie and the Black Dog.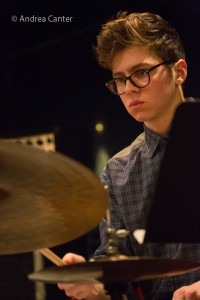 Drummer Ben Ehrlich is a Wayzata High School graduate now in his third year of jazz studies at the University of North Texas. He's a founding member of the quartet Sound Skirmish (with Patrick Adkins, Drew Stinson and Levi Schwartzberg) and an alum of the Dakota Combo.
Jazz Central Studios is a nonprofit performance and education space located at 407 Central Av SE in Minneapolis. Cover $10 ($5 with student ID) supports the musicians and the venue. Jazz 5-6 nights per week — see full schedule at http://jazzcentralstudios.org