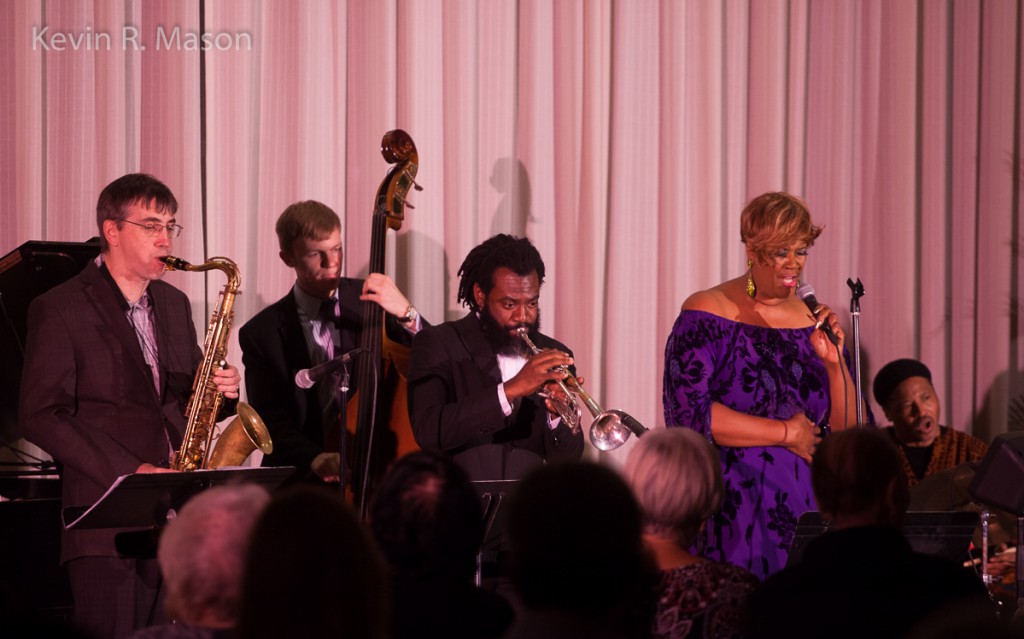 The fall/winter season of Brooklyn's On Stage at Kingsborough is continuing in style, with an October performance by drummer Winard Harper and Jeli Posse as part of the  Jazz at the Lighthouse series, and a November performance of the musical, On Kentucky Avenue.
Winard Harper and Jeli Posse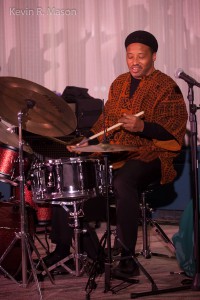 The set began with "Girl Talk" and segued into a song that was a delightful mélange of numerous influences, including jazz, Caribbean, and African music. This song showed how wonderfully a variety of genres can be seamlessly incorporated into jazz when you have the right combination of artists and arrangements. Drummer Winard Harper was joined by bassist Vince Dupont, pianist Tadataka Unno, tenor saxophonist Mike Lee, percussionist Mamadou Konate on the talking drum, trumpeter JS Williams, and tap dancer A.C. Lincoln. Winard said, "It's a pleasure and an honor to be here in such a beautiful place." He thanked the staff of On Stage at Kingsborough, and especially the charming and hospitable Executive Director, Anna Becker.
When asked about his background, Winard said, "Although I've lived in Jersey City, New Jersey for many years now, I grew up in Baltimore where my dad had me learning the drums by the time I was four years old. I was playing music with my family before I was in the first grade. A turning point for me as a youngster was hearing Max Roach and Clifford Brown for the first time. He, Art Blakey, and Billy Higgins were my earliest inspirations, and it still brings me joy to listen to their work. Of course, I owe my career to many jazz greats, including Betty Carter and Dr. Billy Taylor."
Harper continued, "Because of how people helped me at first, I've gotten great satisfaction from mentoring young musicians, and my current band includes some exceptional players. What makes this performance at On Stage at Kingsborough so special is the opportunity to work with one of this country's top vocalists, Denise Thimes. She is from St. Louis, so this is a wonderful opportunity for people in New York to hear her. Next year we celebrate the 100th anniversary of Ella Fitzgerald's birth, and Denise has often been cited as carrying on the great tradition of Ella. We are looking forward to many opportunities to celebrate the First Lady of Song. Jazz is a uniquely American art form, and its spiritual nature has the power to make the world a better place for all of us."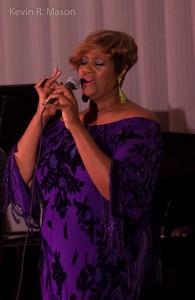 Guest vocalist Denise Thimes came on stage in a gorgeous purple dress, and sang a smoky version of "I Love Being Here With You." A.C. Lincoln added a tap-dance solo that was like an extra percussion instrument, and JS Williams' trumpet work was exemplary. Denise told the story of first falling in love with Shirley Horn's rendition of "Here's to Life," then hearing Winard's version deepened that love. Using her powerful voice, and her assured way with lyrics, Ms. Thimes really sold the song to the audience with great support from the band. Denise sang "Amazing Grace" with passionate conviction, and noted with a smile that even though it wasn't Sunday, they could "still get into the spirit."
Thimes took a short break, but almost as soon as she sat down and kicked off her shoes, Winard called her back to the stage. She put her stiletto heels back on and really tore it up on "Don't Get Around Much Anymore."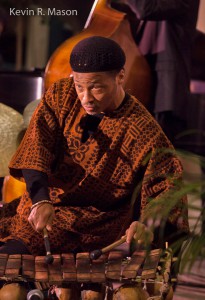 Winard, Mamadou, and A.C. did a beautifully percussive song as a trio, and Winard said, "If it was up to me, we'd be playing all night!" Throughout the set, Winard's solos were a blend of virtuosity and showmanship. He can turn it up to a blistering pace, or soften it to almost a whisper. Harper is a real "Man for All Seasons" on the drum, and played some great riffs on the bafalon, which is a West African version of the xylophone/marimba. He spoke about the genre of jazz, and noted how many jazz musicians have lived long lives, and how much the music added to the quality of those lives.
Before the final song of the evening, Winard introduced each member of the band with a personal detail about their lives, and finished with a hilariously over-the-top introduction of himself that had the audience in stitches. The concert ended with an exquisite interpretation of Stevie Wonder's "Isn't She Lovely," which Harper said was in tribute to all the women who have always gotten things done, but some men are just starting to realize how much.
The Lighthouse at Brooklyn's Kingsborough Community College has a very elegant atmosphere, and some spectacular views of the surrounding area, making it a perfect backdrop for a wonderful evening of entertainment. In addition to the fantastic music provided by Winard Harper and Jeli Posse, guests received two glasses of wine and a delectable plate of fruit, cheese, and olives. You couldn't ask for more in a night out.
On Kentucky Avenue: A Celebration of Atlantic City's Famed Club Harlem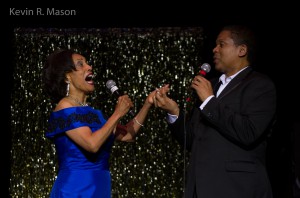 On November 12, 2016, the musical, On Kentucky Avenue was performed at Kingsborough's Leon M. Goldstein Performing Arts Center. It told the story of Atlantic City's vibrant music scene, where Club Harlem was the center of the red-hot nightlife at 32 North Kentucky Avenue. Club Harlem was opened in 1935 by Leroy "Pops" Williams, and remained open until 1986. During the nightclub's heyday, it hosted a bevy of stars, including Duke Ellington, Dinah Washington, Louis Armstrong, Lena Horne, Lou Rawls, Count Basie, Billie Holiday, Cab Calloway, Sarah Vaughan, Sam Cooke, Ethel Waters, Billy Eckstine, Nat King Cole, and many more. One of the most important features of the club was the fact that there were shows running throughout the night, ending with a 6:00 am breakfast show. This all-night feature of Club Harlem allowed headliners from the famous nearby Steel Pier to do a later show, and often, Sammy Davis, Jr. brought his "Rat Pack" friends like Frank Sinatra to the club at an hour when most of the other venues in Atlantic City were closed. Part of the club's appeal and excitement was that in addition to the stellar line-up of performers on the marquee, you never knew who would show up and do an impromptu show.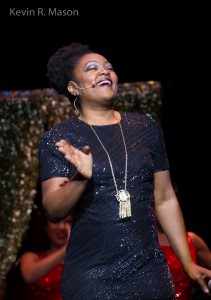 The musical was set in 1969, during a time of social turmoil and change at home in America and war abroad. It was also a time when nightclubs showed every kind of entertainment: elegant vocalists, dancers, hilarious comics, glamorous showgirls, and a top-notch band. The musical unfolded as a dress rehearsal. It also told the story of the return of Betty Jo Stanton, the lead showgirl in "The Sepia Sweethearts," who had been on a tour where she found both fulfillment and turmoil. Many of the characters in the show were based on people who had performed at Club Harlem, and the real Betty Jo Stanton was in the audience, looking fabulous. Charismatic performers brought the period to vivid life. Lee Summers did some funny and slightly risqué sketches as comedian "Slappy Black," who was based on real-life comic Slappy White. Jeree Wade as Damita Jo did a dynamic version of "You're Nobody 'Til Somebody Loves You." The talented ensemble performed a medley of 1960s songs that included "It's in His Kiss," "Rescue Me," "Respect," "Do You Love Me?" and "Shout," as the cast danced into the audience and got people up from their seats. It was a fun and spirited trip down memory lane.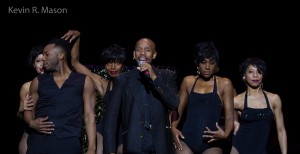 "Neither One of Us" described the unusual and touching love triangle that was at the heart of the show, between Club Harlem's director, Ivan King, the returned Betty Jo Stanton, and her friend, singer Pauline Pierce. What made this triangle different from the norm is that Betty Jo's tour was supposed to be indefinite. No one knew if she'd ever return to Club Harlem. When Ivan and Pauline got involved, it wasn't a betrayal. The story was affecting and realistic, and there were no typical villains. Ty Stephens as Ivan, Renee Ternier as Betty Jo Stanton, and Ramona Dunlap as Pauline all made the story a riveting drama where you pulled for all three. The musical On Kentucky Avenue is a love letter to The Great American Songbook, 1960s soul music, and jazz standards like "'S Wonderful" and "That Old Black Magic."
On Stage at Kingsborough will continue the season with several outstanding performances in the coming months, including ELLA!, a tribute to Ella Fitzgerald's centennial birthday, and Four Women: Nina, Lena, Abbey, & Billie, a celebration of the music of Nina Simone, Lena Horne, Abbey Lincoln, and Billie Holiday. For more information about tickets and show dates, go to www.OnStageAtKingsborough.org, or call (718) 368-5596.