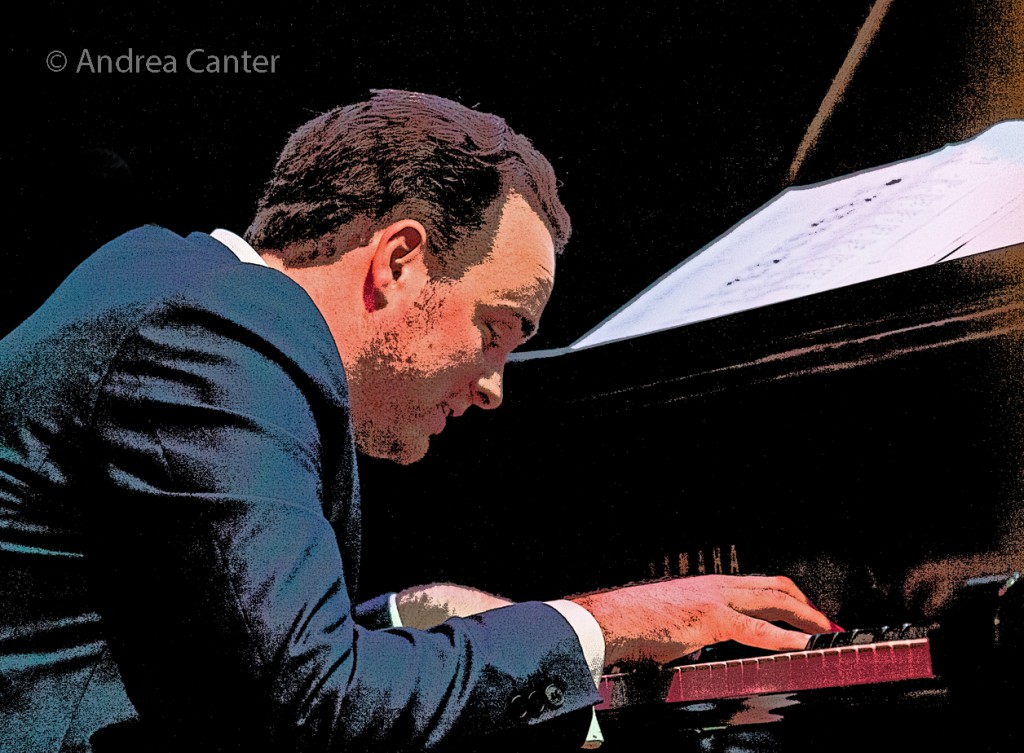 Take one restaurant dining room overlooking a small lake. Add in a 9-foot Steinway D concert grand and a small stage fit for bass and drums and/or vocalist. Further add a kitchen with impressive consistency and variety. Finally, establish a true "listening room" policy in kind but firm terms typically reinforced each evening by the venue owner. This is the Dunsmore Room at Crooners Lounge, fast gaining a reputation as one of the best settings to enjoy music in the Twin Cities. And showing off its fine acoustics and star-bright line-up, the Dunsmore Room hosts three special shows December 12-14: The Andrew Walesch Trio's Holiday Show (December 12), Judy Carmichael with Chris Flory (December 13), and Randy Sieben's holiday CD release (December 14).
Christmas With the Andrew Walesch Trio (Monday, December 12, 7pm)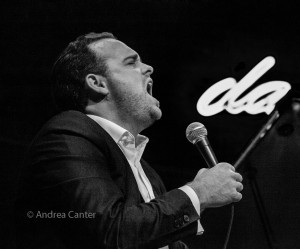 Just in his late 20s, singer/pianist/bandleader Andrew Walesch has become a major player on the Twin Cities Jazz Scene. A 2010 graduate of St. John's University in Collegeville, MN, he has sung and played on the stage of The Bluebird Cafe in Nashville and the legendary Chicago Theater, and has appeared on the nationally syndicated broadcast, Mountain Stage, on NPR. In March of 2015, he premiered his highly successful conception, "100 Years of Sinatra," to two sold-out audiences at Chanhassen Dinner Theatres in the Twin Cities with the Andrew Walesch Big Band, and subsequently brought the show to The Dakota, Crooners, and back to Chanhassan. About a year ago, Andrew released Andrew Walesch Plus Nine, recorded at MPR's Studio M, and is currently working with Grammy Award winning songwriter Jon Vezner on a new project of standards and originals. With Gordy Johnson and Jay Epstein, Andrew performed for the weekly Sunday Jazz Brunch at Crooners Lounge until the series ended in early January 2016. He also curates jazz at Crooners Lounge including music in the Dunsmore Room. Joining Andrew for this night of his favorite Christmas songs will be bassist Jeremy Boettcher and drummer Adrian Suarez.
Judy Carmichael with Chris Flory (Tuesday, December 13, 7 & 9 pm)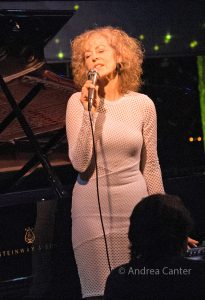 Grammy-nominated pianist/vocalist Judy Carmichael is one of the world's leading interpreters of stride piano and swing. Count Basie nicknamed her "Stride," acknowledging the command with which she plays this technically and physically demanding jazz piano style. A native of California, Judy moved to New York in the early 80's and has maintained a busy concert schedule throughout the world ever since.  In 1992 she was the first jazz musician sponsored by the United States Government to tour China.
Choosing to study jazz piano from its early roots on, she explores the music deeply, infusing it with a "fresh, dynamic interpretation of her own" (Washington Post ).  The National Endowment for the Arts rewarded Carmichael's knowledge of jazz piano with a major grant to present early jazz greats on film and to discuss the history and development of jazz piano with college students across the country. She has written two books on stride piano and numerous articles on the subject of jazz, has been included in a number of jazz anthologies and Who's Who collections.  A frequent guest on Garrison Keillor's A Prairie Home Companion, Judy has been featured on National Public Radio's Morning Edition, Entertainment Tonight, and CBS' Sunday Morning with Charles Kuralt — now with Charles Osgood.
Describe by critics as "astounding, flawless and captivating" (The New York Times),  Judy has played in a variety of venues from Carnegie Hall, to the Peggy Guggenheim Museum in Venice (the first concert ever presented by the museum) to programs with Joel Grey, Michael Feinstein, Steve Ross and the Smothers Brothers.  In addition, Ms. Carmichael has done comic skits and performed her music on radio and TV, and in private recitals for everyone from Rod Stewart and Robert Redford to President Bill Clinton and Gianni Agnelli. She is celebrating her 15th year producing and hosting her Public Radio Show Judy Carmichael's Jazz Inspired,  broadcast on over 170 stations throughout North America and abroad, and on SiriusXM NPR NOW Channel 122.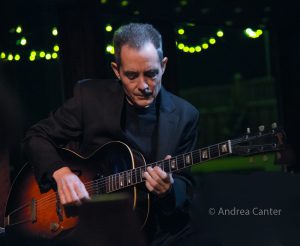 Joining Judy Carmichael in the Dunsmore Room will be renonwed guitarist Chris Flory. A fixture on the New York jazz scene since the late '70s, Flory took his first guitar lessons in Harlem from Tiny Grimes at age 17. He began is pro career in Providence, RI before moving to New York where he worked in one of Scott Hamilton's first bands and toured with Benny Goodman's last ensemble. During his early career, Flory's great sense of time and his Charlie Christian-influenced style made him a favorite with jazz greats Roy Eldridge and Hank Jones, and with vocalists Rosemary Clooney and Maxine Sullivan, with whom he recorded and toured. He has appeared on over 50 recordings, including five as leader.
Since 1986, Chris has had a lengthy association with the stride pianist Judy Carmichael, including several recordings, extensive concert tours of the U.S., and playing for the U.S. State Department in China and Singapore. In recent years, Chris has played clubs and festivals with Judy in Europe and Brazil.
Randy Sabien CD Release Party, Meet Me Under the Mistletoe (Wednesday, December 14, 7 pm)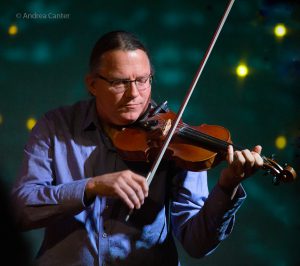 A native of North Carolina where his father was a US Army dentist, Randy Sabien grew up in Rockford, IL. Originally playing drums, Randy began violin studies in fourth grade to fill a gap in his local youth orchestra. But his love for jazz  was inspired by a recording of Stephane Grappelli. Sabien studied classical music at the University of Illinois while also performing as a country/rock fiddler. He went on to study at the Berklee College of Music, where at age 21 he founded and chaired Berklee's Jazz Strings Department. After three years, he left Berklee to record and tour, ultimately settling in Hayward, WI.
In the early 80s, Randy founded the Randy Sabien Jazz Quintet, releasing his first album, In a Fog (1983). He also provided accompaniment to a long list of American singers and songwriters on violin, mandolin, guitar and piano. In 1989 he founded his own record label, Fiddlehead Music. Sabien appeared for 25 years on Garrison Keillor's A Prairie Home Companion, playing in Guy's All-Star Shoe Band. Since the 1980s, Randy has combined performing and composing with conducting workshops for schools, music camps, and youth orchestras. In 2009 he was appointed chair of the Strings Department of McNally Smith College of Music in St. Paul. He continues to perform both as a guest soloist and with his Fiddlehead Band.
Want to be "jazz inspired" this week? Head to the Dunsmore Room, Monday-Wednesday.
The Dunsmore Room at Crooners Lounge is located at 6161 NE Highway 65 (Central Av), just north of I-694 and about 15-20 minutes north of downtown Minneapolis in Fridley, MN. Reservations highly recommended in the Dunsmore Room; cover and dinner tickets available at www.croonersloungemn.com