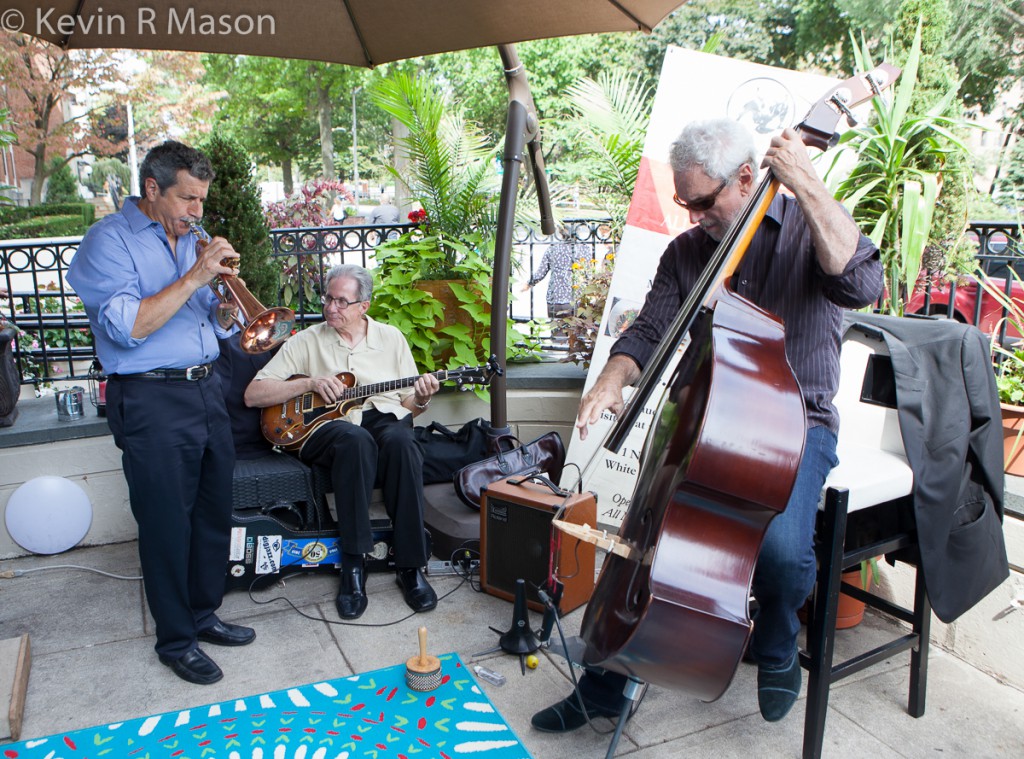 The fifth annual White Plains Jazz Fest took place September 20–25, 2016, and has gone from a one-day event in 2012 to a six-day, citywide extravaganza. The Fest is the brainchild of Wayne D. Bass, Recreation & Parks Commissioner of the City of White Plains, NY, and the goal is to bring free and affordable jazz to the area. White Plains, in Westchester County, is easily accessible by car or public transportation in the New York tri-state area, and the festival was a lovely way to extend the summer festival season for a little longer.
The Mark Morganelli Trio. There was an opening reception on Tuesday, September 20, one of the most beautiful days of the waning summer, at the charming bistro, Gaucho Grill. The audience was treated to music on the terrace by Mark Morganelli on trumpet, flugelhorn, and cabasa; bassist Nilson Matta; and guitarist Vic Juris. Mark Morganelli is also Founder and Executive Director of Jazz Forum Arts, and he organizes jazz events throughout Westchester. The group played a beautiful Jobim-inspired set that included "Wave," "One-Note Samba," and "The Girl From Ipanema." Nilson Matta played a surprising "drum" solo on his bass, and this show was a great kick-off to the Fest.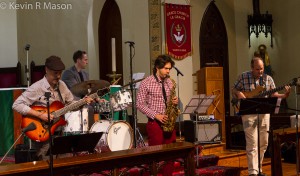 The Music Conservatory of Westchester Jazz Faculty Quartet. On Wednesday, September 21, The Music Conservatory of Westchester Jazz Faculty Quartet–guitarist Rale Micic, bass guitarist John Lang, saxophonist Nicholas Biello, and drummer Jake Robinson–performed at Grace Episcopal Church as part of the Downtown Music at Grace series. The concert featured music composed or recorded by legendary saxophonist Michael Brecker, and included "Nothing Personal" "African Skies," "Choices," "Renaissance Man," and "Funky Sea, Funky Dew." The musicians/educators communicated well as a group and played excellent solos.  Jake Robinson said they were happy to spotlight Michael Becker, who was a leader in the "cool jazz" era, and was credited with applying John Coltrane's musical language to wider musical circles. Robinson added, "The list of people Brecker played with is, well, everybody." This midday concert was the perfect lunchtime break to fill your spirit with great music in a beautiful setting.
After the concert, Jake Robinson said, "The Quartet's experience at the White Plains Jazz Fest was exceptional. Playing for a packed house of avid jazz fans is more than we could ask for, and we were thrilled to contribute to the booming success of the Festival, which is only in its fifth year. To top it off, we received a glowing introduction from Mayor Thomas Roach, and were touched by his support for our program, the Festival, and the musical and artistic movement in White Plains."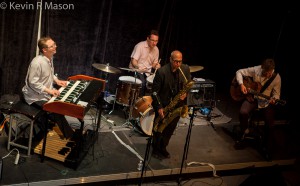 The Gary Smulyan Organ Quartet performed on Friday, September 23 at the ArtsWestchester performance space. Tom Van Buren, Jazz Fest Artistic Director, thanked the sponsors, then introduced saxophonist Gary Smulyan, organist Pat Bianchi, guitarist Peter Bernstein, and drummer Carmen Intorre, Jr. They started with "Sunny" by Bobby Hebb, featuring impassioned solos by each of the band members. The set continued with a swinging "Up in Benny's Room," which was composed by Don Patterson, an organist Smulyan described as one of his heroes. "When Sunny Gets Blue" was a masterful blend of alternating tempos. Stevie Wonder's "Isn't She Lovely" was lovely indeed, and George Coleman's "Apache Dance" had more fine solos. In recognition of John Coltrane's birthday, they played a heartfelt "I Want to Talk About You." Delicious food and drinks were available from Gaucho Grill, making it a great night on the town.
Jazz Stroll. On Wednesday evening, there was a delightful "jazz stroll" featuring keyboardist James Farley and vocalist Inez Wilson at Gaucho Grill; trumpeter and Marine Corps Band veteran Kenny Lee at Copper Face Jacks; and Grammy-nominated guitarist Gil Parris at Ron Blacks Beer Hall. The jazz stroll was perfectly timed so people could enjoy the music and refreshments at each place.
Jazz Workshop & Jam. On Thursday, September 22, the Music Conservatory of Westchester (MCW) hosted a discussion on jazz improvisation, curated by MCW Assistant Dean/drummer Jake Robinson, followed by an open jam session, led by the MCW Jazz Faculty Quartet. The blossoming jazz program at MCW offers private lessons and classes, including Jazz Theory & Improvisation, and scholarships are available. The Music Therapy Institute provides a program for military veterans, Healing Our Heroes.  For more information, go to: www.musicconservatory.org.
On Saturday, September 24, White Plains Performing Arts Center presented the musical, LOUIS-and-ELLA! starring Trent Armand Kendall as Louis Armstrong and NaTasha Yvette Williams as Ella Fitzgerald. The play detailed the lives of the two friends and jazz pioneers. For more information, go to www.louisandella.com.  At the ArtsWestchester venue, The Source International African Jazz Band gave a concert featuring music inspired by Mali and Guinea. The band was founded by Montréal-born multi-instrumentalist Sylvain Leroux, and he was joined by guitarist/vocalist Abdoulaye Diabaté, pianist/keyboardist Emi Yabuno, bassist Mamadou Ba, and drummer Robert Bonhomme.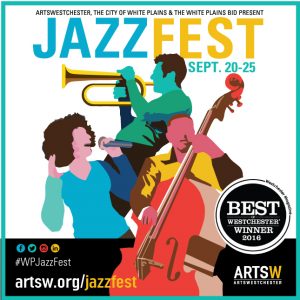 On Sunday, September 25, the free all-day White Plains Jazz and Food Festival was the final event of the Fest. In addition to great music, the open-air celebration featured delicious international cuisine from local vendors. Tom Van Buren welcomed the crowd and said, "We've been lucky for five years to have beautiful weather." That luck continued with a gorgeous day.
Baby Soda. The ensemble Baby Soda started the day with an energetic and fun-filled set, with Peter Ford on vocals and box bass, drummer Rob Garcia, Jared Engel on plectrum banjo, trumpeter Simon Wettenhall, trombonist Jim Fryer, and Tom Abbott on clarinet and tenor saxophone. The group visually evoked the song "Sharp Dressed Man," because they were all quite dapper. They won the crowd over with "Them There Eyes," "When You're Smiling," "Panama," and "East St. Louis Toodle-oo." They also played Louis Armstrong's "I'm Not Rough," a delicious New Orleans gumbo of jazz, parade, and spiritual music, with a mean trumpet solo by Simon Wettenhall, who channeled Armstrong's inimitable singing style. Duke Ellington's "Jubilee Stomp" sounded like a snake charmer mixed with a 1940s screwball comedy soundtrack. Bandleader Peter Ford said, "We love keeping this music alive."
Joe Boykin & Friends. Singer Joe Boykin, who was discovered by Patti LaBelle while he was a bodyguard, moved the audience with his stage presence and deep, rich voice. Boykin received spirited support from guitarist Curtis Smithson, alto saxophonist Art Bennett, keyboardist James Farley, bassist Butch Holland, drummer Curt Jackson, and percussionist Derrick Nation. They played Bill Withers' "Who Is He (And What Is He to You)," and a beautiful "Pure Imagination." Joe was joined by a capella group, The Exhilarators, and they did a wonderfully harmonic "A Change Is Gonna Come," followed by a powerful, timely protest song composed by Boykin.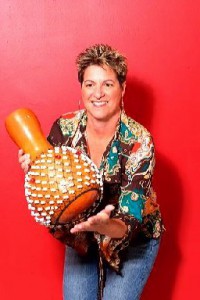 Mayra Casales Sextet. Havana-born percussionist/vocalist Mayra Casales has toured with violinist Regina Carter, founded Cocomama, an all-woman salsa band, and performed with the iconic Celia Cruz. Mayra was accompanied in White Plains by bassist Yunior Terry, vocalists Christelle Durandy and Ariacne Trujillo, drummer Marcos Torres, and keyboardist Nicki Denner. The group literally had people dancing in the streets with their combustible, percussive Latin jazz. The set included "Night and Day" and "Feeling Good," and the music was so alluring that even passing dogs started wagging their tails, along with their people who were shaking their own butts to the beat!
Bob Baldwin. Keyboardist/composer Bob Baldwin got right down to business on a jazz-funk number by Herbie Hancock and continued with Miles Davis' "Nardis," with the help of guitarist Wali Ali, drummer Jason Patterson, and bassist Dave Anderson. The crowd loved the nostalgic charm of "Never Can Say Goodbye." The group also performed Baldwin's Brazilian-inspired "Ipanema Infusion." The set ended with "Sun Goddess," one of Earth, Wind & Fire's most jazz-influenced recordings, and a beautiful tribute to late EWF front man, Maurice White.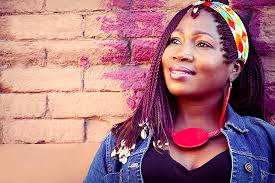 Awa Sangho. Singer Awa Sangho, known as "The Golden Voice of Mali," spoke lovingly of Nelson Mandela, the end of apartheid, and her hopes a better world, before singing "Mandela." Awa's music blends African, Brazilian, and jazz influences with socially conscious lyrics, and her band included Yacouba Sissoko on kora. Sangho dedicated a song to her brother, who died very young, and asked the audience to dance with her in his honor. It was quite touching, participating in a ritual honoring the memory of a loved one, and it demonstrated music's healing power.
Jazz Fest's Tom Van Buren noted that although jazz isn't played on the radio as much as other genres, it's the music that most connects the U.S. to the world. Neighborhood jazz festivals don't get the same buzz as the big-name, long-established fests, but they're still very important. They present jazz to people who don't get to travel. They give local and touring musicians a place to shine, and reinforce the importance of live music in this world of ever-increasing technology. The White Plains Jazz Fest did all these things brilliantly!