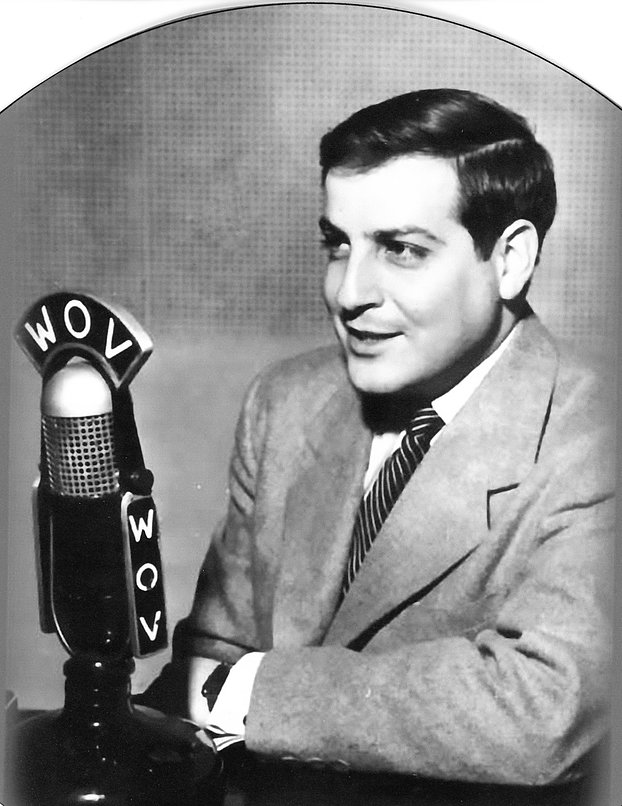 "Mission:  To preserve and share the body of work including audio, visual and written resources of Leigh Kamman, jazz broadcaster." –Leigh Kamman Legacy Project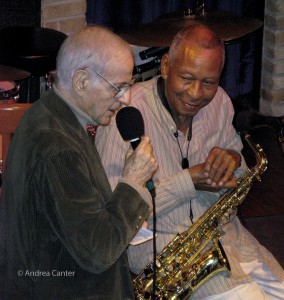 A long and celebrated era in jazz journalism ended in fall 2008 with Leigh Kamman's final broadcast of The Jazz Image on MPR. After a six-decade career including a 34-year run on MPR, Kamman's retirement was truly the end of an era spanning his interview of Duke Ellington as a teen reporter to his shows for Armed Forces radio during World War Two, through broadcasts from Harlem to his long stint at MPR and induction into the Pavek Museum Broadcasters Hall of Fame. Leigh's presence in the jazz community continued despite declining health, with occasional appearances at various jazz events. When Kamman passed away on October 17, 2014 at age 92, he left behind a rich legacy of interviews, broadcasts, and scores of jazz fans who owe him much of our love–and knowledge of–the music.
To ensure that future (as well as present) generations have access to Leigh's library of historical interviews with musicians and the thousands of hours of his sophisticated and elegant radio programming, family and friends launched the Leigh Kamman Legacy Project, a 501(c) non-profit organization. Now housed  in the lower level of the Northern Warehouse in St. Paul's Lowertown, the Project has created a website that currently archives special editions of interviews from the Jazz Image, including interviews with Count Basie, Mary Lou Williams, Duke Ellington, Tony Bennett, Louis Armstrong, Dizzy Gillespie and more, and more than 20 additional interviews with Eddie Berger, Alice Babs, Bill Evans, Max Roach and more. Just visit www.leighkamman.com and you will find a treasure chest of jazz history in the conversations of these legends.
In order to support restoration of audio tapes and well as cataloging of the vast library Leigh left behind, a fundraiser will be held on Wednesday, November 9 at the Dakota, with music provided by the Larry McDonough Quartet, Patty Peterson, Doug Haining and the Twin Cities 7, Steve Blons,  the Santiago Trio, and King Iden Woods. A $10 donation is requested.
Music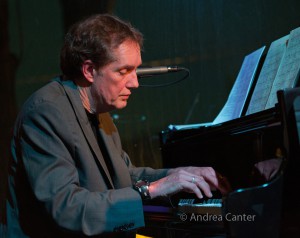 Larry McDonough Quartet. Known for his original piano arrangements and new compositions that often sport quirky time signatures as well as his vocal interpretations, Larry McDonough is a prolific performer (on piano and vocals), composer, bandleader, recording artist and –by day–practicing attorney. His most recent projects have included popular tributes to Chet Baker and Miles Davis, and to Bill Evans and Tony Bennett. Larry's quartet includes Richard Terrill on saxophones, Greg Stinson on bass, and Dean White on drums.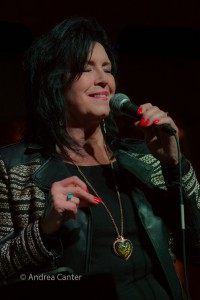 Patty Peterson. Daughter of the late Jeanne Arland Peterson, vocalist and radio personality Patty Peterson is familiar to both live music and radio audiences throughout the Metro and beyond. She has received the Minnesota Music Award 7 times for Best Female Vocalist and Best Group, and for "Best Jazz Recording" for her debut CD, The More I See You. In addition to her singing career and four solo recordings (including her most recent, The Very Thought of You), she has worked as an actress, print ad model, and national anthem singer, and, for seven straight years, was the number one female radio personality on WCCO radio. She's performed from coast to coast with the likes of Sergio Mendez, Donny Osmond, and Ben Sidran as well as with the local quartet The Girls. Currently Patty hosts the Sunday afternoon program, The Playroom, on KBEM Jazz 88.5.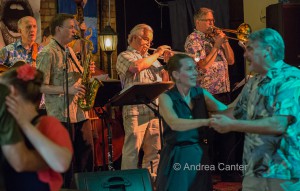 Doug Haining's Twin Cities 7. Saxophonist/clarinetist Doug Haining is well known throughout the metro area for his Explosion Big Band (co-led with Scott Agster) and the smaller Twin Cities 7, which has performed at many area jazz festivals and clubs. A graduate of the music program at St. Olaf College, where he studied classical clarinet, Haining has performed professionally for nearly 40 years, appearing with Steve Allen, Don Rickles, Bob Hope and more, and with the orchestras for such touring shows as West Side Story, Cats, and A Chorus Line. In addition to his long tenure with the Wolverines Classic Jazz Orchestra, he has played short stints with Red Wolfe's Ellington Echoes and the Hall Brothers. In his spare time, Doug teaches privately and co-leads the Edina High School Jazz Ensemble. Doug  founded the Twin Cities 7 in 1999, for which he writes compositions and arrangements. The band features the top echelon of instrumentalists as well as vocalist Maryann Sullivan.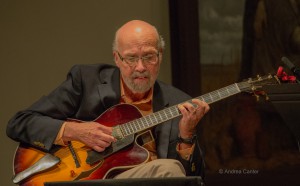 Steve Blons. Guitarist Steve Blons (aka Dr. Jazz) grew up around jazz as the son of Twin Cities' Dixieland musician Harry Blons. Gigging around town as a teen guitarist, Blons pursued other career directions, and worked in higher education, adoption, and conference center management before turning to fulltime music about ten years ago. Blons and Michele Jansen co-hosted Jazz and the Spirit for several years on KBEM radio. For the past decade, Steve has led Soul Cafe, a small ensemble combining jazz and poetry readings. He also appears with saxophonist Irv Williams in duo and trio settings for Happy Hour at the Dakota every Friday, and has recorded with Irv and bassist Billy Peterson.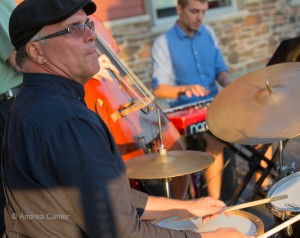 Santiago Trio. This trio is built around the father-son team of Javi (piano) and Mac (drums) Santiago. Mac is a well-known drummer in the Twin Cities, a California native who relocated to the Twin Cities thirty years ago. Over his career, Mac has played in just about every possible configuration and genre, from touring with British rock band Badfinger to playing with area jazz, salsa, country and R&B bands; he's performed in pit orchestras of the Guthrie and Minnesota Opera, with blues legend Mojo Buford, Grover Washington, Jr., Doc Severinsen, Dallas Brass, Savion Glover, Jack McDuff, Paul Bollenback, Dick Oatts and more. Mac has backed a long list of area vocalists and instrumentalists, and has directed community youth jazz groups. He's founder and director of Jazz Central Studios in Minneapolis.
Mac's son Javi is only in his mid-20s but already a veteran performer. He started out in youth bands in middle school, moved on to active teen bands and the first edition of the Dakota Combo while attending South High School, and was selected as a Brubeck Institute Fellow after graduation. After two years with the Brubeck program, Javi completed his college degree at the New School for Jazz and Contemporary Music in New York. A busy performer and composer, Javi leads his own ensembles and works with a long list of local artists.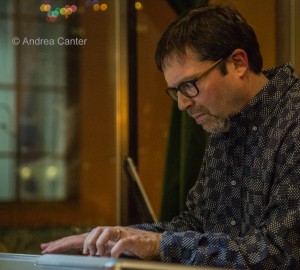 Jon Pemberton and Brad Holden. This piano-alto sax duo features two versatile musicians. An accomplished trumpeter as well as pianist, Jon Pemberton grew up in Fergus Falls, MN, where he began piano lessons at age six, followed by guitar lessons and trumpet studies at age 11. Today, Jon's resume includes performing with the Skatet, Shangoya, the Paul Renz Quintet, George Avaloz, Jim Martentic and more. Leader of his own Pembertones, Trio and larger group tributes to Lee Morgan, Jon is a frequent performer at Vieux Carré and is also a member of No Room for Squares. He's comfortable in straight-ahead as well as more avant garde formats. In addition to performing, Pemberton is a dedicated educator, teaching tuba (!) through the Hopkins School District.
A founding member of Soul Café, alto saxman and Fergus Falls native Brad Holden first became interested in the saxophone after attending a junior high jazz band concert at age ten. Holden worked for a while playing on street corners of New Orleans after graduating from the University of Minnesota. Returning to Minneapolis, he played professionally around town and studied with local legend Eddie Berger. His area gigs have ranged from solos on the rooftop of the old Loring Cafe to the Twin Cities Jazz Orchestra Big Band. Other projects have included Lineup (the music of Lennie Tristano, Lee Konitz, and Warne Marsh), and Soul Café.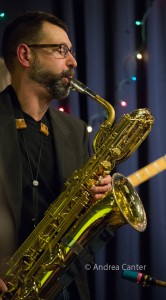 King Iden Woods. This trio includes saxophonist Jeff King, bassist John Iden, and drummer Eron Woods. In addition to leading King Fletcher Woods, Jeff King's main gigs have been the Kurt Jorgensen Band (Americana blues/rock) and Metro Jam. He's also been featured in the Minnesota Dance Theater production of Rumblings and has been heard with The Buzz, Casablanca Orchestra, R-Factor, and Straighten Up and Fly Right (Maurice Jacox). Jeff teaches at Cadenza Music and Minneapolis Community and Technical College, and has released the jazz CD, As the Sun.  John Iden (bass) began his career in Florida, playing with Jay Whitney in a variety of R&B and blues bands, and recording original music. He has shared the stage with Katie Webster and James Cotton. Since moving to Minnesota in the early '90s, John has worked steadily with Willie Murphy, Joe Juliano, Tom Hunter, Paul Mayasich, Jim Ouska and Scottie Miller. John currently plays in RAMM and BLU-7. Drummer Eron Woods started his career with a traveling circus! A graduate of the University of Miami, he has performed with Clint Holmes, Carol Lawrence, Jukes of Hazzard, The Spinners, the Drifters, the Coasters, David Roos, Headspace, Haas/Susag/Woods Trio, Overtones Trio, and more. Eron teaches at Cadenza Music and the MacPhail Center for Music.
The Leigh Kamman Legacy Project Fundraiser takes place at the Dakota Jazz Club at 1010 Nicollet Mall in downtown Minneapolis; reservations at 612-332-1010. You do not need to be at the Dakota to help with this project! Anyone who wishes to support this effort can donate to the Project online at www.leighkamman.com.  The Board of Directors of the Leigh Kamman Legacy Project includes Executive Director Kathy Vye, Secretary/Treasurer Brad Bellows, and members Cliff Koidahl, Don Berryman and Larry McDonough.